The Screen Hotel opened in Kyoto in February 2008, and is the first boutique hotel in the city. A member of the Design Hotels group, the 13 rooms at Screen have been individually conceptualised by Japanese and international designers, each in a unique style.
All rooms are spacious and fascinating, and the decor throughout the hotel echoes the contemporary style of the guest rooms. Rooms include REN cosmetics, flat-screen TVs, espresso machines, iPod docks, Bose DVD players and Jacuzzi bath tubs.
The lobby houses a small boutique store, selling designer items and local goods from Teramachi street, on which the hotel is located. Tea and sweets from generation-old Teramachi tea merchants are served in a traditional 'macha' tea ceremony in the lobby, by the hotel's gracious kimono-clad manager, Mika-san.
There is a roof terrace for relaxing, or evening cocktails, and a stylish French fusion restaurant. As part of the hotel's energy-saving eco-luxe concept a 'Candle Night' is hosted weekly in the lounge. Much of the furniture and decoration has been made using recycled or local materials.
The staff is very attentive, sometimes a little too much when the hotel is not at capacity perhaps, but the service is excellent nonetheless.
Speak to someone who's been there

Start planning your tailor-made trip by calling one of our Japan specialists at 1-855-834-8210
Rooms
All of the 13 rooms are individually designed by local and foreign artists, each with their own take on contemporary art. Each has the usual up-to-date mod-cons with speaker docks, flatscreen TVs, coffee machines and humidifiers.
Semi-suite rooms range between 38-47 sqm and most are either full kingsize beds or hollywood twin bed set-ups. Suite rooms are bigger at between 52-67 sqm and often have separate bed and rest area.
Executive suite rooms number only two of the total rooms (72 and 78 sqm). The first, the Saito suite is designed by kimono designer, Jotaro Saito, and in keeping with his passion and the city's most famous market, this room comes complete with a Nishiki textile wall. The second, the Iga suite, is much more modernist in style with clean fresh white lines and polished materials used throughout.
Location
Sitting in the heart of Teramachi, or the area where most of Kyoto's shops and restaurants are, the Screen is well placed for exploration after a day of sightseeing temples.
Food and Drink
The Bron Bronnery Restaurant, open for lunch and dinner, serves up a mix of local fresh ingredients with a twist of French culinary ideas. In the summer, the top terrace is open where you can enjoy fine wines, aperitifs and some light snacks in the Sho-ki Lounge.
Facilities and Activities
One of the hotel's highlights is the Sky Lounge on the 5th floor with great views over the city. It's open for you to use during the day for a spot of relaxation or sunbathing, and decked out at night with candlelight.
Our opinion
A great and quite unique option in Japan where hotel chains reign, the Screen offers a very pleasant short stay in Kyoto. Some of the rooms can be quite dark but your specialist will always try to recommend a 'brighter' room where possible.
Kyoto itinerary suggestions
Nearby accommodation
Nearby places
Places & hotels on the map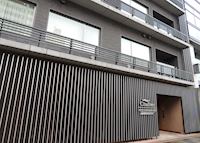 Situated just off Kyoto's main Karasuma Dori, the Citadines boasts an excellent location. It makes a convenient, comfortable stay for travellers, with stylish décor and modern amenities.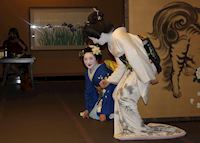 Maiko are trainee Geisha (Geiko in Kyoto dialect) who train for six years before becoming fully fledged Geisha. They learn skills such as dance, singing, instrument playing as well as how to entertain guests with conversation.
Explore around the Gion district and other parts of Kyoto to help shed some light on the exclusive and mysterious world of the Geisha and other aspects of Japanese culture.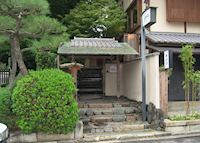 The Hatanaka Gion in Kyoto is located close to Kiyomizu Temple and Yasaka Shrine. It spreads over the wooded hillside, making it a peaceful retreat from the frenetic downtown area.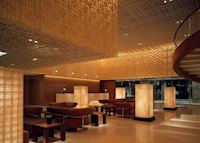 Providing a relaxing stay with all the comforts of an international chain, the Hyatt is a great option when visiting Kyoto. It is clear that the designer of the hotel paid close attention to detail adding thoughtful Japanese touches throughout.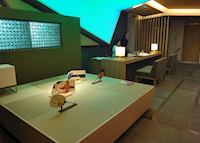 Hotel Kanra is a great boutique hotel offering spacious modern rooms centrally placed for sightseeing in Kyoto. The integration of Kyoto style, whether it is in the hotel's cuisine, décor or design, will make your stay in Hotel Kanra enjoyable and relaxing.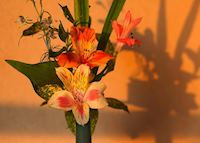 Take the opportunity to learn more about a traditional Japanese pastime of your choice. These courses are instigated and run by the Women's Association of Kyoto and you will visit the home of one of the members.
Like nearby Kyoto, Nara was once the Japanese capital and a source of enormous cultural and religious outpourings. Unlike its more celebrated neighbour, however, Nara has survived relatively untouched by modern advances and remains a relaxed town dotted with temples, shrines and parkland.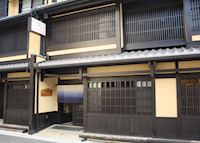 The Sakura Ryokan is only a 10 minute walk from Kyoto Station and offers an excellent stay at a fraction of the price of some of its more distinguished neighbours.