By Scotland specialist Hollie
Dubbed Scotland's Route 66, the North Coast (NC) 500 encompasses the striking scenery and proud spirit of Scotland's north highlands. Think purple-tinged moorland dotted with sheep and Highland cows, mirror-like lochs reflecting time-worn mountains, surging waterfalls, and great sweeps of sand.
As I followed this loop around the most northerly areas of the British mainland, I couldn't help interrupting each drive to soak up the views, follow walking trails, take boat trips to spot whales, dolphins, and seabirds, tuck into the daily catch in tiny fishing towns, and visit castles passed down through generations of dukes and earls.
What is the NC500?
A circular route around Scotland's north highlands, the NC500 spans 830 km (516 miles) of mainly coastal drives. The route is relatively new on people's radars, introduced in 2015 with the aim of bringing income into remote Highland communities. It begins and ends in Inverness — the UK's most northerly city.
How long does it take to drive the NC500?
I recommend taking no less than a week to drive the NC500 so you can fully appreciate the journey. Spend longer in each place and you could easily enjoy a road trip of two weeks or more.
While you can drive it in either direction, I recommend heading north along the east coast and journeying widdershins (as the Scots would say). This route leaves the dramatic scenery of the west coast for later in the trip.
My recommendations for driving the NC500
Inverness to Thurso: Castles & distilleries
Journey time: two and a half hours, not including stops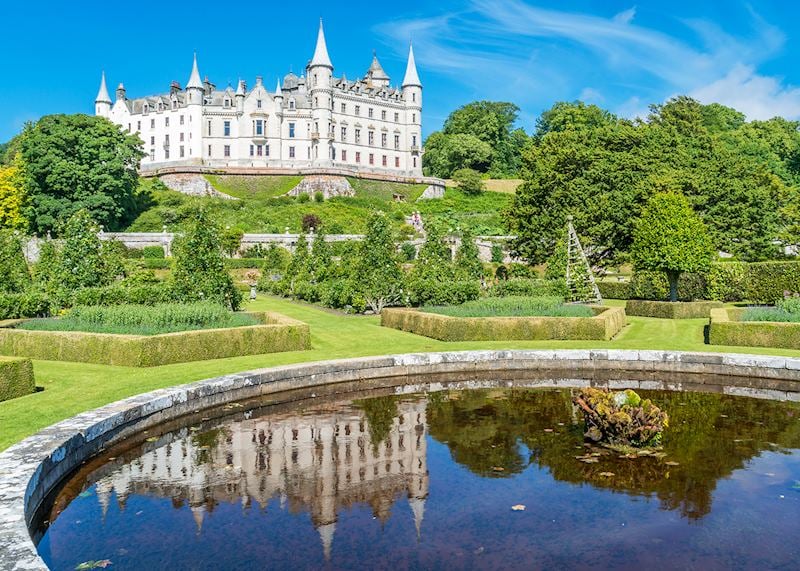 There's lots to see on this first leg of the route along the northeast coast, so I'd make a whole day of it. Just over an hour north of Inverness is Dunrobin Castle. Home to the earls and dukes of Sutherland over the centuries, and still inhabited by the same family today, the grand building rises from manicured grounds which you can stroll. Parts of the castle date to 1275, so taking a self-guided tour sheds light on this region's history.
To venture even further back in time, stop off at the nearby Hill o'Many Stanes — a low hill covered in rows of weather-worn stones set upright. Erected around 4,000 years ago, the stones are thought to have played a role in important gatherings or religious ceremonies.
Continuing north, I recommend a slight detour to take in the ruins of the Castle of Old Wick, which sit precariously on a spine of rock jutting out to sea. It's then worth visiting Wick itself — a small fishing town that was once one of the busiest in Europe. You can explore on foot with a private guide who'll bring the town's history to life and lead you up to the top of the headland for views across Wick Bay.
You'll eventually reach John O'Groats, mainland Britain's most northeasterly village, before taking in the fresh sea breeze from Dunnet Head, the mainland's most northerly point, a little further along the coast. Thurso, where I recommend staying, is just a short drive away.
Things to do from Thurso
You can take a guided walking tour of the town itself, whose history is rooted in the Viking era. There are also several whisky distilleries in this corner of Scotland. I particularly like Wolfburn Distillery, which was founded in 1821. A guided tour lets you look at the whole process of whisky making, ending with a tasting of various single malts. And, for time outdoors, we can arrange for you to take surfing or paddle board lessons along the north coast, as well as boat trips to see wildlife from John O'Groats.
Where to stay in Thurso
The Granary Lodge is a sumptuous B&B set in the grounds of the 16th-century Castle of Mey, just outside Thurso. It has just ten rooms, each with its own timeless style, and offers sea views from its drawing room.
Thurso to Kylesku: Caves, beaches & marine life
Journey time: three hours, not including stops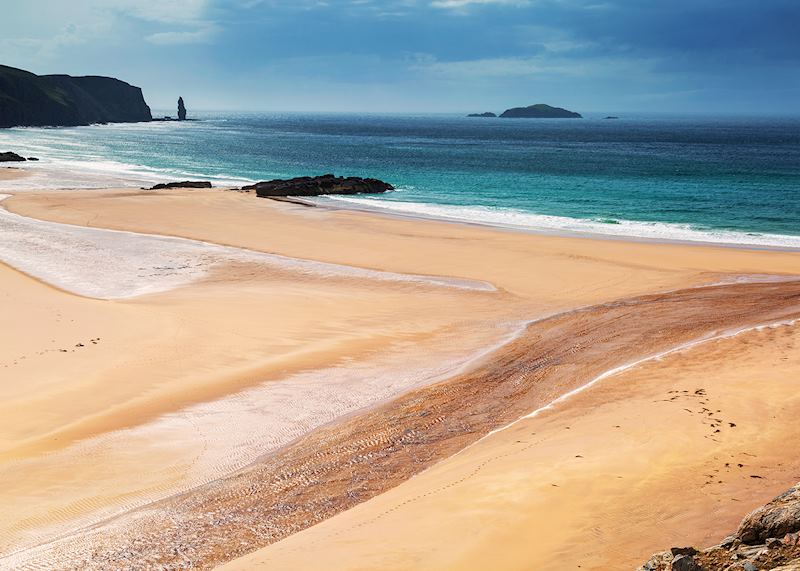 The road hugs the north coast, giving you views over rugged headlands and weather-beaten rocks out to sea. You can stop on a whim to explore tucked-away coves and coastal trails. I took a detour to photograph Strathy Point Lighthouse, a lonely white speck on the edge of a green finger of land.
You could stop for a picnic on the beach at Torrisdale Bay, a crescent of golden sand sheltered by two headlands. Or, continue to the Kyle of Tongue to take in views over the loch and nearby Ben Hope and Ben Loyal mountains — look out for birds including oystercatchers, curlews, and red-throated divers.
Another place I recommend stopping is Smoo Cave, whose 15-m (50-ft) yawning entrance is one of the largest of all Britain's sea caves. You can walk down from the car park to explore the cave's echoing limestone chambers, tinged green by years of waves crashing against the rocks.
Further along the coast, and possibly the highlight of my whole trip, is Sandwood Bay — a large stretch of sand backed by soft dunes, a freshwater loch, and slate-gray cliffs. You can only reach the beach via a 6.5-km (4-mile) walk across moorland and clifftops. It means it's never crowded — I only encountered one other person.
While it's easy to hike to Sandwood Bay yourself, we can also arrange for you to visit with a guide (departing from Ullapool) so you can learn more about the bay's nature and geology as you walk.
Once back at your car, it's less than an hour's drive to the small fishing hamlet of Kylesku.
Things to do from Kylesku
Kylesku sits on the shores of Loch Gleann Dubh and Loch Glencoul, which you can explore by boat. Your captain will point out wildlife such as Atlantic grey seals and birds swooping down for fish. You'll also pass Eas a' Chual Aluinn, the UK's highest waterfall with a sheer drop of 200 m (656 ft).
Alternatively, spend a day spotting wildlife with a private guide on Handa Island, a half-hour drive and 15-minute ferry crossing from Kylesku. The island's home to around 100,000 birds including puffins, guillemots, razorbills, great skuas, and fulmars. It's up to you how long you spend there, but it's typically a gentle two-to-three-hour walk across sandy beaches and past steep cliffs pocked with bird nests.
Where to stay in Kylesku
I love Kylesku Hotel, which sits right on the waterfront and, with just 11 individually styled rooms, feels intimate and welcoming. A telescope in the lounge helps you spot birds and other wildlife, while the restaurant serves freshly caught seafood on a wooden terrace facing the loch.
Kylesku to Ullapool: Lochs, lakes & ruins
Journey time: 50 minutes, not including stops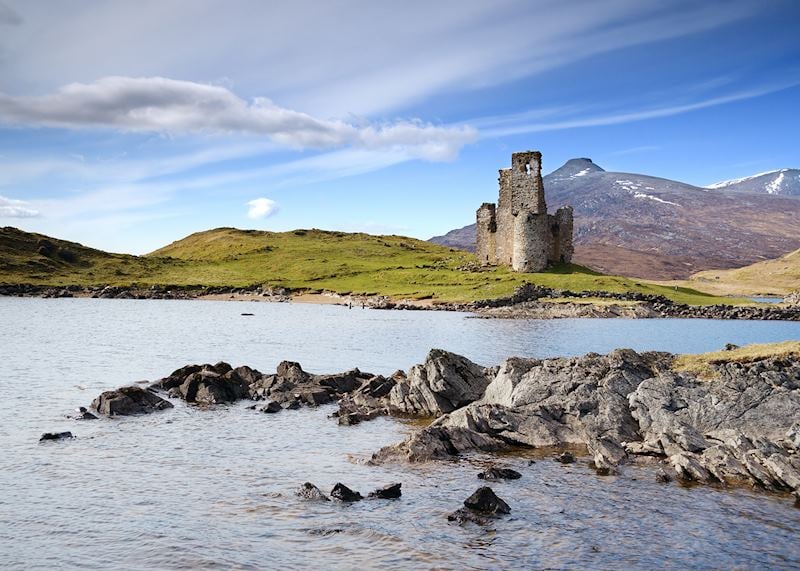 This is your shortest drive, but you'll be passing through one of Scotland's most beautiful regions, Assynt, so it's easy to make a whole day of it. The landscape feels wild and desolate, with barely any inhabitants other than the Iron Age mountains that tower over lochs and moorland.
There are plenty of hiking trails that weave up through the hills, or you could pause for a picnic on the shores of Loch Assynt, where you'll notice the 15th-century ruins of Ardvreck Castle, set right on the waterfront. You can also pull over to follow walking trails in the Knockan Crag National Nature Reserve, which gives you a good overview of the region with its mountains and lakes.
While the quickest route cuts inland, you could follow the coast round for a longer, more scenic option. It's a chance to call in at small fishing towns and to wander along secluded beaches like Achnahaird or Clachtoll, whose near-white sands fool you into thinking you're in the south of France.
Things to do in Ullapool
Despite being the largest settlement on this stretch of coast, Ullapool is still small, with just 1,500 residents and a modest port. It's easy to hire a bike to explore its streets and waterfront or perhaps follow the 14-km (8.5-mile) Boathouse & Picnic route, which climbs to a viewpoint overlooking the glen and Loch Achall. Afterwards, I recommend stopping for refreshments at The Seafood Shack, which served some of the freshest seafood I've ever tasted.
You can also join a wildlife-focused high-speed boat trip on a RIB. It's a chance to spot seals, porpoises, and white-tailed eagles while also enjoying a hit of adrenaline as you zip through the waves around the Summer Isles and Loch Broom at up to 48 kph (30 mph).
Alternatively, you could join a privately guided kayak trip around the Summer Isles while learning about the region's history, including its former Viking residents.
Where to stay in Ullapool
Westlea House Boutique B&B is in the heart of Ullapool and feels like a home-away-from-home thanks to the welcoming owners, Terry and Shirley Rose. There are only five rooms, and you'll wake up to a home-cooked traditional Scottish breakfast prepared to your taste.
Ullapool to Torridon: Waterfalls & heritage gardens
Journey time: two and a half hours, not including stops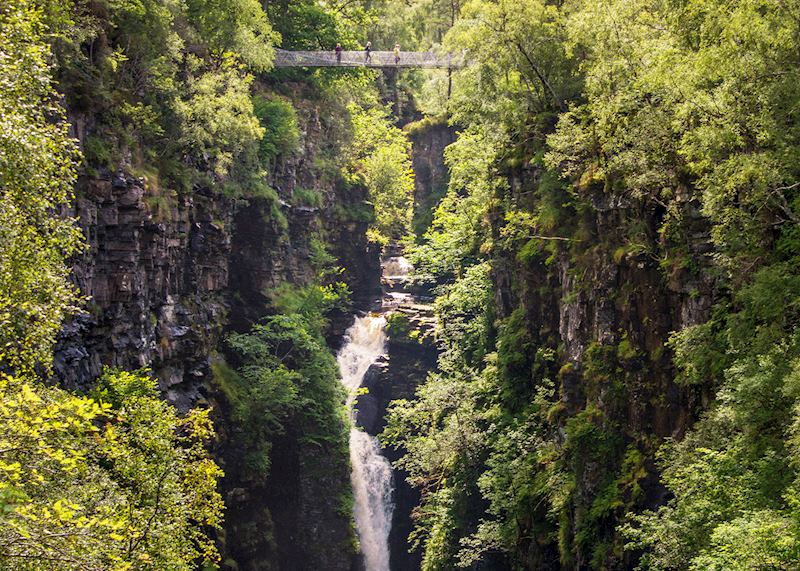 While there's a shorter, more direct route for this drive, I'd encourage you to take the scenic route. It curls around the coast and gives you lots of opportunity to explore walking trails, beaches, and waterfalls.
Not long after setting off, you could stop to visit Corrieshalloch Gorge National Nature Reserve, where a walking trail leads you down to a steep gorge, forged by glacial meltwater. The microclimate here means many fern species thrive, and you can cross a suspension bridge for views over the Falls of Measach — a thin but powerful cascade.
There are several options for beach strolls along the way, but I suggest taking a 3.5-mile (5.5-km) detour to Mellon Udrigle Beach. Depending on the light, its sand can appear almost white, making the water even more vividly turquoise. From here, you have views over the Summer Isles, Gruinard Bay, and the mountains of Assynt rising in the distance.
You'll also find a National Trust property along this route, Inverewe Garden. Established more than a century ago, the garden nurtures plants from around the world, including Himalayan blue poppies, Californian redwoods, and rhododendrons from across Asia. As you stroll the grounds, you can have a go at spotting Scotland's Big Five: red deer, red squirrels, seals, otters, and golden eagles.
From here, you'll pass through the coastal village of Gairloch, somewhere else known for its fresh seafood and an alternative base to Torridon if you'd prefer.
You could also stop to explore Beinn Eighe Nature Reserve. Comprising mountains, pine forests, and lochs, it's home to an abundance of wildlife — look out for golden eagles and elusive crossbills as you follow the walking trails through woodland and up into the mountain peaks.
From there, it's half an hour's drive to Torridon.
Things to do in Torridon
Torridon encompasses both a village and a large area of ancient Torridonian-sandstone hills and mountains, strewn with glassy lochs. It's the classic north highland landscape, so it's no surprise that there's plenty of hiking to do here — take your pick from more than 29 km (18 miles) of trails.
As you explore, you could encounter some of Scotland's most elusive wildlife, including pine martens, otters, and golden eagles, as well as plenty of red deer on the open hills. The area's also known for its rare plant life, as well as mosses and lichens that have adapted to the damp climate.
If you're staying for a few days, you could head back north slightly to Dry Island, parking near the village of Badachro, which is just under an hour away. From here, you can join local fisherman Ian for a boat trip out on Badachro Bay. He'll show you the techniques he uses for catching a wide variety of shellfish, including lobsters, crabs, and langoustines, all while keeping an eye out for marine life like porpoises, seals, and dolphins.
Basing yourself here also means you're within an hour of one of the country's most dramatic and scenic drives, Bealach na Bà. Be warned: it's mostly single track, winding steeply in places among the mountains of the Applecross peninsula, so it almost feels like you're in Switzerland. But, you're rewarded with incredible views over much of the Wester Ross region as well as the Island of Skye, Rùm, and the Outer Hebrides.
Where to stay in Torridon
A grand country house on the shores of Loch Torridon, The Torridon is a 19th-century former hunting lodge with 18 spacious rooms overlooking the water and mountains. There's a fine-dining restaurant and a whisky bar, but I particularly like the wide range of activities you can do here, from sea kayaking to clay pigeon shooting.
Torridon to Inverness: coast to coast
Journey time: an hour and a half, not including stops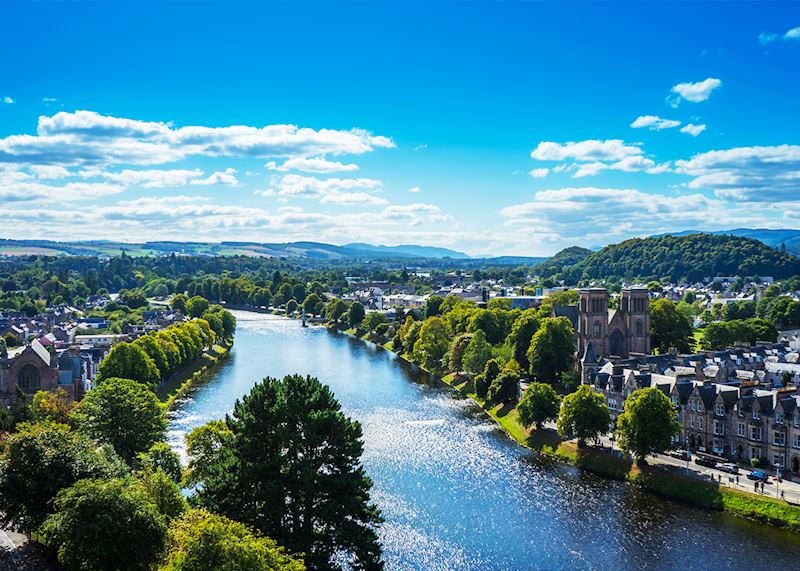 On the last leg of the route, you'll swap coastal views for forested hillsides, lochs, and sleepy villages as you wind through the Highlands between the west and east coasts.
About half an hour before you reach Inverness, lying just off the main road, is Rogie Falls, a series of waterfalls that flow noisily over dark rocks. You can walk along the Black Water River to a suspension bridge that gives you the best views over the falls — look out for salmon leaping from the water as they make their way upstream in summer.
It's then an easy drive into Inverness, marking the end of your NC500 adventure.
Ideas for extending your trip
The NC500 works well as a standalone trip, but there are also plenty of places you could tag on to your journey:
Practical advice for driving the NC500
Be prepared for your journey to take longer than expected, whether it's because there are so many places to stop and explore or you get held up by sheep on the road (I had to shoo them away on several occasions)
You don't need a 4x4 for this drive, but make sure you have enough space to fit all your luggage (and passengers) in comfortably
Fuel stations can be few and far between, so make sure you have enough for each leg of the journey
Some roads can be narrow and winding, so take your time and keep aware of other road users
You can pull over to rest or take in views anywhere in Scotland, just be mindful of blocking traffic
Best time to drive the NC500
You can follow the route at any time of year, but I particularly like spring (April to early June) and autumn (September and October). Temperatures are usually mild, the landscapes are vivid with flora, and it feels quieter than the busier summer months. Rain is always possible in Scotland, and snow and ice is likely in winter, though it's nice to end each day with a hearty meal beside a roaring fire.
Read more about trips to Scotland

Start thinking about your experience. These itineraries are simply suggestions for how you could enjoy some of the same experiences as our specialists. They're just for inspiration, because your trip will be created around your particular tastes.
View All Tours in Scotland
Further reading