Whatever the season, there's a corner of the US you can count on for being at its best. Below, our specialists have picked places and experiences they feel are at their prime during each season.
Summer days could be spent on a ranch in rural Montana. In autumn, you might chase the fall foliage around New England. And, as winter dawns, you could embrace the cold in exchange for a more peaceful experience among landscapes transformed by snow. Then there's the freshness of spring, when everything has thawed out, the humidity and crowds of summer are yet to descend and you can make the most of outdoor activities.
Where to go in the USA in summer
A luxury ranch in Montana's wilderness
Suggested by Alex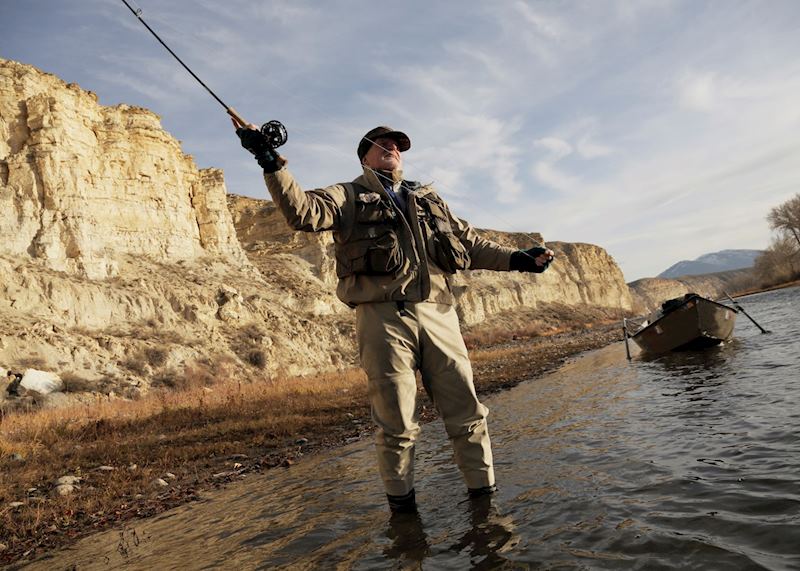 Toasting s'mores on the campfire, riding through steep valleys on horseback and panning for sapphires as early pioneers once did. Staying on a ranch gives you a chance to experience raw nature and switch off from the rest of the world within a remote wilderness setting.
I've found that Montana has some of the most compelling and luxurious ranches in the country. And, because the state gets cold outside the months of June to August, I suggest timing your stay for the summer, when everywhere is vividly green and the river levels are high following snow melt.
Triple Creek Ranch is an adults-only retreat surrounded by the Bitterroot Mountains, rushing rivers and untamed countryside where you can learn how to cast a fly in one of the best areas in the country for fly-fishing. With the help of my guide, it didn't take me long to catch my first fish — a rainbow trout. Another highlight was taking a nature safari within the ranch's grounds, where we saw bison and there's a chance of glimpsing a bear.
After a day's activities, whether you've ridden through the valley or simply relaxed in your cabin among the trees, you can browse the extensive drinks list, dine on high-quality food, which is included in your stay, and sit out under a sky bursting with stars.
Alternatively… head to Glacier National Park
Suggested by Alex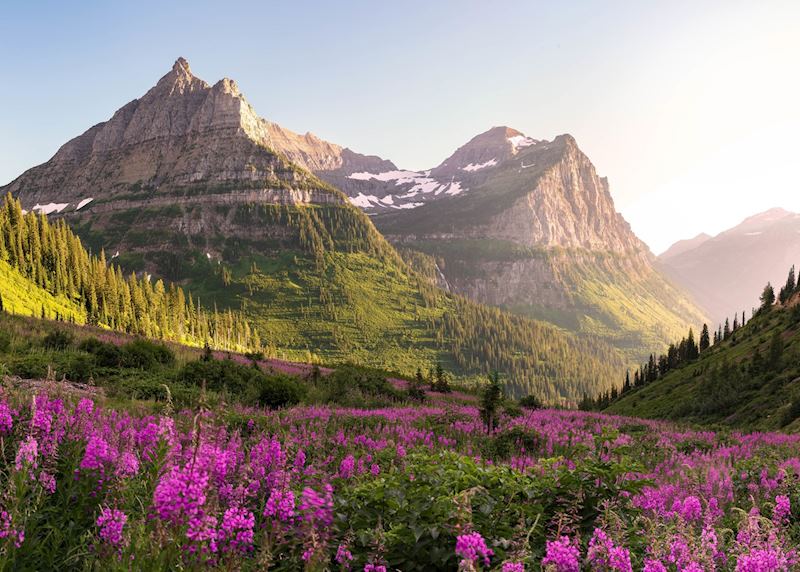 With sharp-pointed mountains, deep glacial valleys and luminous turquoise lakes, Glacier National Park instantly reminded me of the Canadian Rockies. In fact, it's located right at the Canadian border. And, thanks to its remoteness, you'll see relatively few other visitors.
It's best to visit during the summer (between July and early September) when the park's thoroughly defrosted from the snowy winter months. You can spend your days hiking with a guide, who can take you along lesser-known trails. Mine led me on a hike to Iceberg Lake, passing through meadows and alpine forest with a constant backdrop of jagged peaks. The lake itself is fed by a glacier, so the water glows spearmint blue.
Summer is also a good time for white-water rafting, driving the 80-km (50-mile) Going-to-the-Sun Road, which crosses over the Continental Divide, and trying to spot some of the park's elusive wildlife — if you're lucky, you might see beavers, bighorn sheep, elk and bears.
Base yourself in the historic mountain town of Whitefish, about 20 minutes' drive outside the park. The Lodge at Whitefish Lake is set on a lakeshore and has its own spa, hot tubs and lakeside pool.
Where to go in the USA in autumn
New England's quieter corners: Vermont
Suggested by Ellie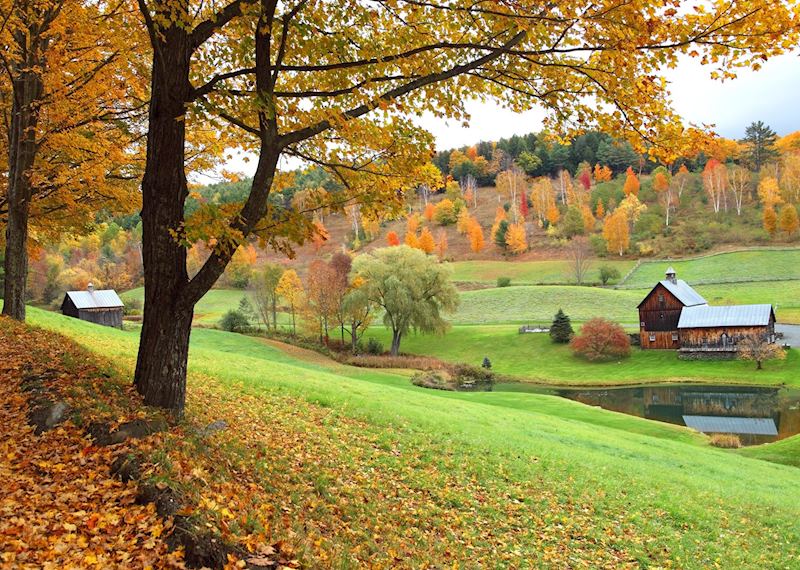 Any New Englander worth their salted taffy will tell you this is the best place to visit in fall. Each person has their own particular way to celebrate the season: apple picking, leaf peeping, harvest fairs, scenic drives and mountaintop picnics, to name a few.
For me, it's hikes through Vermont's Green Mountains. The foliage turns early here, falling across the mountains from north to south like a brilliant patchwork of glowing gold, flaming orange and deep crimson. I particularly like the trails at Smugglers' Notch State Park, which range from short easy strolls suitable for families to challenging summit hikes.
The highest mountain in the state, Mount Mansfield, has excellent hikes to its peak for sweeping views of the surrounding countryside. If you don't feel like the climb, you can drive or take a gondola to the summit.
The state's known for its historic small towns, but there's none so lovely as Woodstock. Driving into town, you're likely to cross one of the three covered bridges. Four of the churches here ring bells cast by revolutionary Paul Revere himself, and the green is ringed by stately red-brick Federalist houses and Greek Revival mansions with elegant white columns.
If you prefer to stay in cities instead of small villages, consider basing yourself in Burlington. A university city on the shores of Lake Champlain, staying here gives you easy access to the foliage and trails of the Adirondack Mountains, as well as a chance to take a paddleboat out onto the lake (look out for the resident lake monster, Champy, considered to be a cousin to Scotland's Nessie).
Alternatively… experience northern California's wine harvest
Suggested by Dani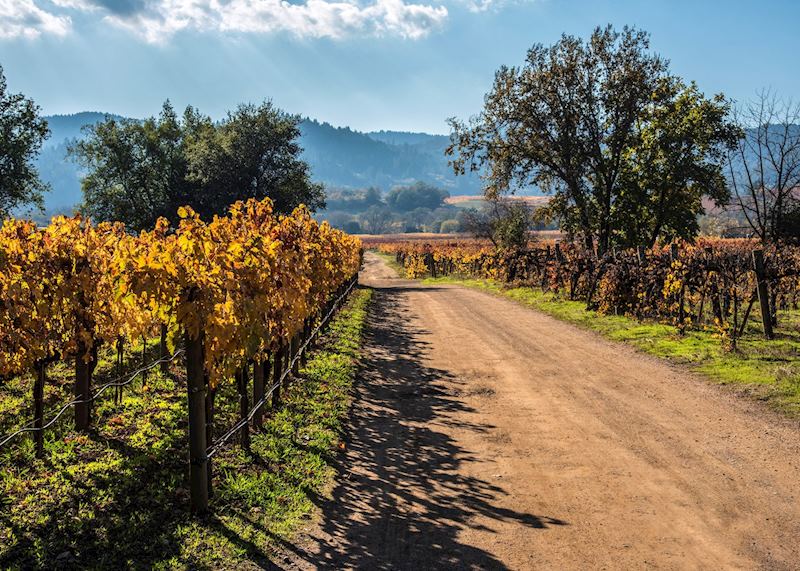 From August to October, the Napa and Sonoma valleys of northern California come to life as 'The Crush' (wine harvest) is in full swing. You can learn all about the process and see some of it in action by touring the regions' many wineries.
There are several ways to take them in, from driving tours in small groups to cycle rides between vineyards and a wine train that covers a range of different routes and accompanying food options.
I joined a cycle tour through the Sonoma Valley on my last trip to the region. Not only do you see parts of Sonoma town you wouldn't notice from the road, you can really take the time to soak up the landscape as vineyard after vineyard stretches out before you.
The experience also feels less orchestrated than your usual winery tour — my guide would pull over on a whim so we could sample some of the grapes as he talked about their cultivation from vine to bottle. You visit at least four different wineries for tastings and to hear about the grape harvest from the owners. Some will be large estates steeped in history, others more intimate, family-run ventures.
As well as wine, the regions are known for their food scene, and there's a high concentration of fine-dining restaurants to choose from. Stay at the Fairmont Sonoma Mission Inn, home to the Michelin-starred Santé, and you won't even need to leave your hotel to visit one.
Where to go in the USA in winter
Yellowstone under winter's spell
Suggested by Victoria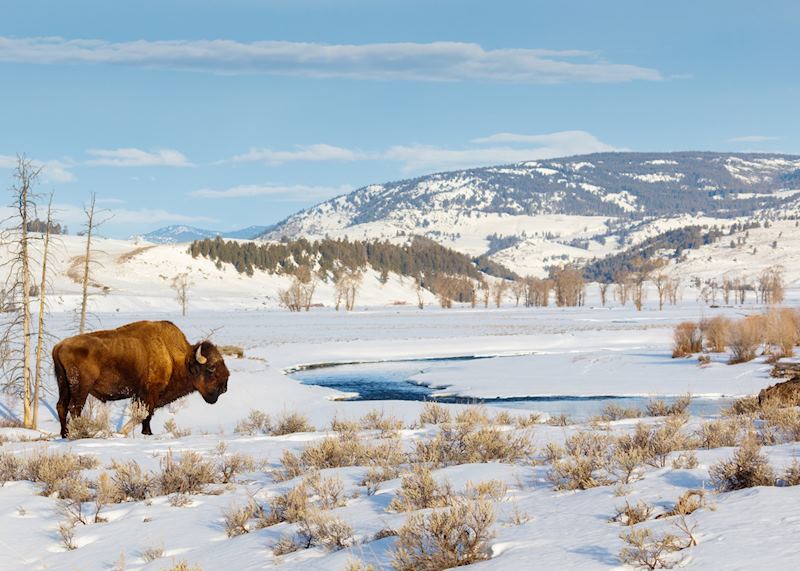 In winter, Yellowstone's landscapes dazzle white, alpine trees shudder under piles of snow and geothermal features create dense plumes of steam. Shaggy bison dot the plains in their thick fur, throwing their heads into the snow to find fresh grass underneath. And, you can see (and hear) wolf packs lolloping through the thick snowfall.
One of the USA's flagship national parks, Yellowstone sees around seven million visitors a year, but only 100,000 venture here during the winter. That means, if you're willing to brave temperatures well below freezing, you'll have many of its highlights almost to yourself — when I visited in winter, there were just four of us waiting for the Old Faithful geyser to erupt, compared to hundreds when I was there during the summer.
You'll need to catch a specially adapted snow coach from Jackson, a few hours south of the park, to get there. Only one hotel, the Old Faithful Snow Lodge, remains open in the park during the winter (December to February). While this means you need to plan ahead, it also ensures visitor numbers remain low.
Once there, you can go snowshoeing or cross-country skiing along dedicated trails. I also joined a guided tour of some of the park's key features. Among these was the Grand Canyon of the Yellowstone, which looked entirely different to when I saw it in the summer, its waterfalls and the Yellowstone River frozen solid and its usually orange-rock walls coated in white.
My highlight, though, came when I took a snow coach to the park's northern half, which is known for its wildlife. Joining a wolf tracking tour, I headed out early and was rewarded with a sighting of a 20-strong wolf pack. That year's young were throwing up powdery snow as they played together, while the adults fed on their latest catch.
Alternatively… soak up some winter sun in southern California
Suggested by Dani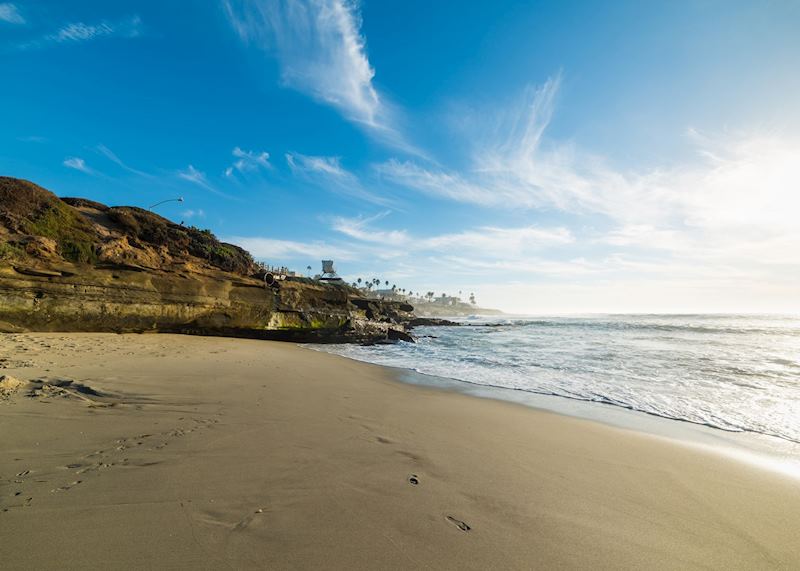 To escape winter's clutches, I suggest heading to southern California, which still basks in sunshine and warm temperatures. As a bonus, between December and April, you'll have a chance of spotting grey whales along the coast as they migrate south to Baja California. Take a boat trip from San Diego or Santa Barbara later in the season and you might see their newborn calves.
I also like exploring this coastline by kayak, particularly around La Jolla, an upmarket surf town just north of San Diego. The cliffs here are rugged and weather beaten, dotted with caves you can paddle into. Look out for seals lounging on the rocks and sea lions bobbing on the water's surface.
The rest of your time in California could be spent hiking coastal trails, relaxing on the golden sands of Laguna and Newport beaches and wine tasting in the Santa Ynez Valley, basing yourself at the Belmond El Encanto in the hills overlooking Santa Barbara. You could also try your hand at surfing: November to March is the best time for swells in this region.
Further inland, browse the galleries of Palm Springs and take hikes through Joshua Tree National Park. Linger there to watch the sunset, when the trees are cast into silhouette against the park's red rock formations.
Where to go in the USA in spring
Georgia's Golden Isles and the islands of South Carolina
Suggested by Kirsten from our US team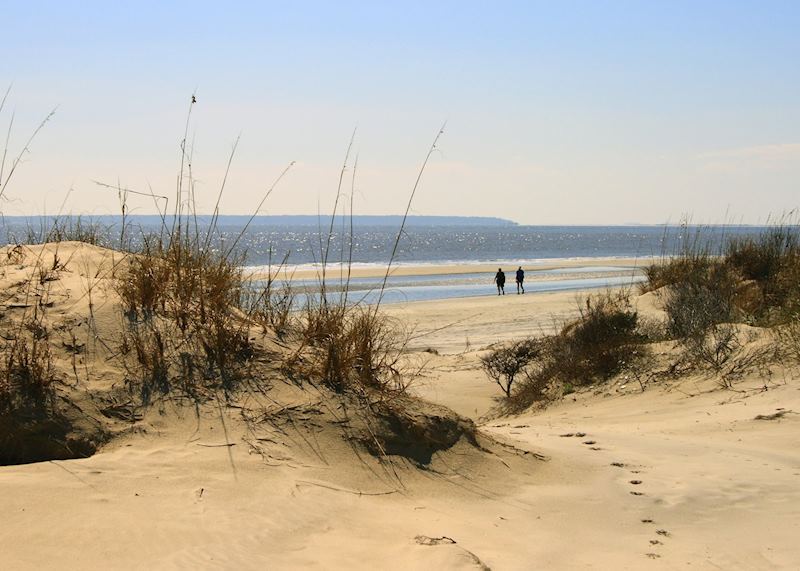 The South gets hot and humid during the summer months, so I prefer heading there during spring (April or May). It's a good time for visiting one of the barrier islands that dot the coastline of Georgia and South Carolina.
Jekyll Island is within a two-hour drive of Savannah and offers the most things to do. It's a delight for those who prefer a natural beach — a jumble of dunes and marshes home to turtles, alligators and birds.
Visiting at this time means you might see newly hatched turtles making their first tentative journey from the sand to the water. You can learn more about the species at the Georgia Sea Turtle Center, which helps rehabilitate injured or sick turtles.
Following the island's walking trails gives you a chance to spot shore birds such as roseate spoonbills, which have the same blushing-pink feathers as flamingos. I watched an osprey hovering above the water before plunging feet first to catch a fish.
You could also rent a bike to explore the island at a leisurely pace. As you pedal, you might pass 19th-century buildings left behind by some of the wealthy families who used to spend winters here, such as the Vanderbilts and the Rockefellers. You can even stay where they once did at the Jekyll Island Club Resort.
Off South Carolina's coast, Hilton Head Island is within a couple of hours' drive of Charleston. Known for its 33 golf courses, some of which have hosted international competitions, the island is also a great place for families.
You can stretch your legs along the wide, empty beaches and hiking trails that wind through wild landscapes bursting with nature. I also recommend joining a boat trip — the waters off this island are a playground for Atlantic bottlenose dolphins, and you might see them gliding and jumping through the water.
Alternatively… try out outdoor activities in the Southwest
Suggested by Maddy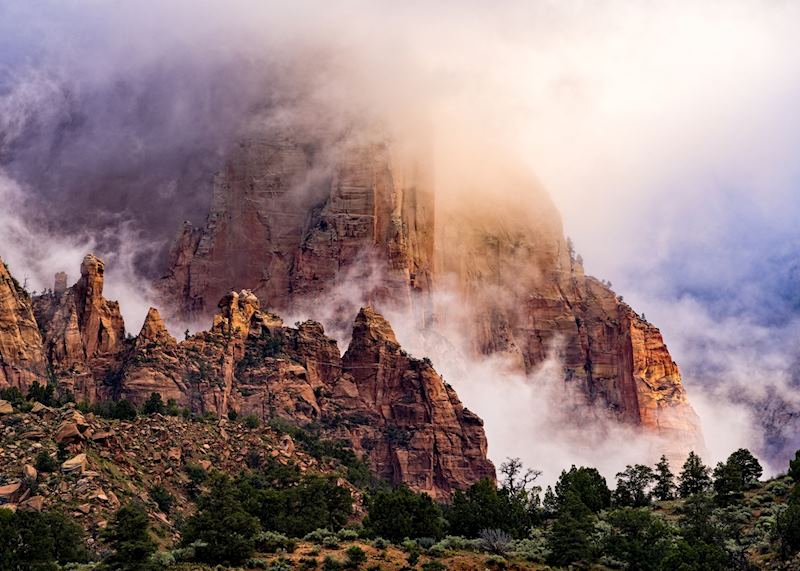 To avoid the intense heat of summer, I think spring is one of the best times to visit the parks of Utah and Arizona. Rivers are in full flow following snowmelt, making it a good time for white-water rafting.
A highlight of mine was horse riding through the distinctive red-rock landscapes of Monument Valley. The park is sacred to the indigenous Navajo people, so having a Navajo guide lead me past its wind-sculpted buttes and wizened rock formations showed it in a different light, as well as opening my eyes to the Navajo culture.
You could also stay for a few nights in Springdale, just outside Zion National Park — I like the Cliffrose Lodge & Gardens. It gives you easy access for exploring the park's trails and viewpoints.
Toward the end of spring, when river levels are slightly lower, you can walk the Narrows — the narrowest section of Zion Canyon. You're surrounded on both sides by high, red cliff faces, so age-worn that they resemble melting candle wax.
As you hike, you're wading through knee-deep water, which helps keep you cool. I loved the atmosphere, too — you meet people along the way, and every time you turn a corner you're presented with another view of the canyon that has you reaching for your camera.
Read more about trips to the USA

Start thinking about your experience. These itineraries are simply suggestions for how you could enjoy some of the same experiences as our specialists. They're just for inspiration, because your trip will be created around your particular tastes.
View All Tours in The USA
Further reading