For us, cruises in Australia aren't about huge ocean-going liners, gala dinners, and endless lounging on deck, cocktail in hand. Although there's definitely scope for on-board relaxation, our preferred voyages are expedition cruises on small ships, where the emphasis is on exploring the landscapes in an interactive way, often with experienced guides.
The Great Barrier Reef lends itself to multi-day and day-long cruises, and these can play either a major part or more of a supporting role in a trip focusing on the area. But, you can also enhance your experience of the Kimberley and even Tasmania by incorporating a cruise into your tour.
Cruises on the Great Barrier Reef
Small-ship cruising allows you to experience this vast, celebrated biome in a more exclusive, intimate way, by taking you to less crowded, harder-to-reach sections.
Day cruise to the Low Isles
By Chris

If you just fancy a taste of cruising the Great Barrier Reef, eschew the commercial, big-group day trips and consider a more intimate day tour to the Low Isles, 15 km (9 miles) northeast of Port Douglas. The isles are a good option if you're prone to seasickness, because vessels never enter the choppier open ocean.
As the name suggests, the Low Isles are a duo of low-lying, uninhabited coral cays topped with frizzy toupées of tropical scrub. They're surrounded by seagrass beds and a fairly healthy reef lying close to the shore — close enough to make it accessible for even the most reticent of snorkellers.
I love these day cruises because they're ideal for non-swimmers as well as those aching to pull on their flippers and explore. You can sit with a book and snooze, or explore the reef via a glass-bottom boat trip. Guides lead walking tours of the island, revealing how some of the earliest scientific surveys of reef ecology took place here.
The real owners of the isles are the population of pelagic birds: mangrove kingfishers, pelicans, reef egrets and even a sea eagle or two. You can tick off several species just by walking around the island. You'll also take a closer peek at the lighthouse that has stood on the smaller isle since 1878. It's now automated — but to think someone was once marooned on these isolated cays to man it…
Cruises along the Kimberley coast
By Paul from our Australia team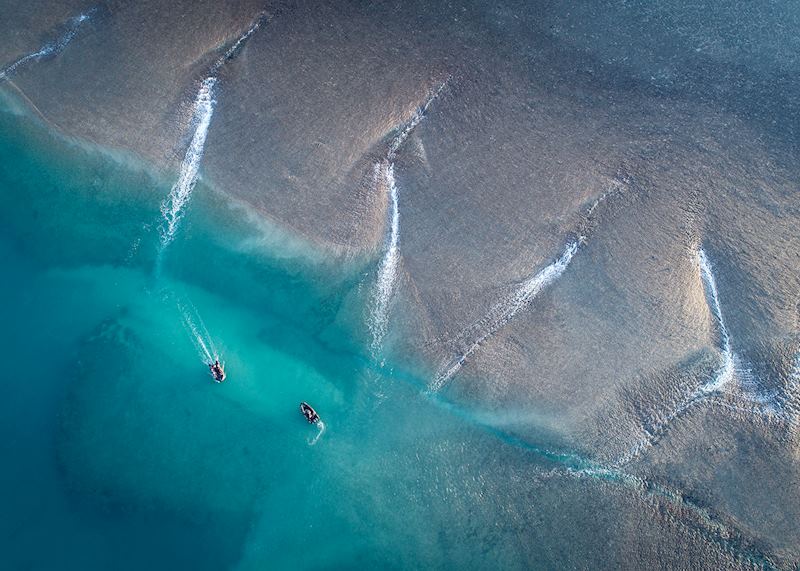 The Kimberley is a gargantuan wilderness, even by Australian standards. Three times the size of England, it's an outback of oxblood plateaus and rock formations, waterfalls, freshwater pools, gorges bursting with native bush, and clumps of bottle-shaped boab trees. Its splintered coastline makes it ripe for exploring via a small-ship expedition cruise, as the boats can access areas that are otherwise completely cut off.
A seven-night cruise from Broome to Wyndham is the crème de la crème of expedition cruising in Australia. Carrying no more than 36 passengers, it gives you a truly exclusive experience of the Kimberley.
Let me put this into perspective. One of the most renowned sights of the Kimberley is Mitchell Falls, where four waterfalls spill into a succession of sage-green plunge pools. But, on the cruise I took, the vessel's on-board helicopter flew me to a three-tiered waterfall in the middle of nowhere. I was able to sit and enjoy a lavish picnic lunch, peering down at the cascades, while all around me the Kimberley's rocky russet landscapes spread out far and wide. Unlike at Mitchell Falls (practically a pit stop for anyone exploring the Kimberley), the only people in sight were my fellow passengers.
Size matters, too: a small vessel can nose its way into the narrowest of gorges, or push the bow under the brim of a waterfall. I remember standing on deck and revelling in the cooling spray.
Each evening, cruise directors explain the schedule for the next day, presenting you with a tempting smorgasbord of activities (which are nonetheless subject to change, as the Kimberley is so tidal). You might get the chance to visit Montgomery Reef, whose sandstone and mangrove islets are best explored at low tide. Or, take part in heli-fishing or walk to a hidden rock art site.
One of the days, my guide led a small group of us through a river system to an overhang. Under its lip was a startling piece of Bradshaw rock art, showing a face with hair fanning out around it. Almost anywhere else in Australia, this would attract busloads of visitors — and yet we had it all to ourselves.
On top of the experiences and landings you can take part in, you're well looked after on board. The food is as superb as you'd expect from an on-board chef who's 'Hatted' (Australia's answer to Michelin stars). He even made fresh sashimi from fish some of my fellow passengers had caught that day.
And, a word on the staff: never overly familiar, nor are they too formal or fawning. Plus, all are incredibly passionate and knowledgeable about the Kimberley's geology, landscapes, and Aboriginal heritage.
Cruises in Tasmania
By Chris

In my books, Tasmania has one of the best day cruises in the whole of Australia. Starting from Strahan, you glide along the Gordon River, which is so placid it often mirrors with crystalline precision the tall Huon pines lining the banks.
Your boat will pull into patches of overhanging trees, the engines turned off so you can hear the chatter of birdlife before continuing into the choppier waters of Macquarie Harbour to reach Sarah Island.
A name that would send shivers down the spine of 19th-century Tasmanians, the island is a former convict settlement and prison that operated between 1822 and 1833. A team of actors lead you through the island's skeletal brick and stone buildings in a promenade-style performance, recounting the harrowing stories of past inmates. Falling trees, brutal chain gangs, military shootings, cannibalistic fellow convicts: Alcatraz looks tame in comparison.
Grim as it all is, it's also gripping stuff. And, if your interest is piqued by the convicts' outlandish biographies, I highly recommend attending a performance of The Ship That Never Was when you return to Strahan that evening. One of Tasmania's real highlights, it's an immersive (and, believe it or not, rib-ticklingly funny) play about a daring escape attempt from Sarah Island, and performances star the same group of actors.
Read more about trips to Australia
Australia and New Zealand
Start thinking about your experience. These itineraries are simply suggestions for how you could enjoy some of the same experiences as our specialists. They're just for inspiration, because your trip will be created around your particular tastes.
View All Tours in Australia