The Kimberley is a region in Australia's Northern Territory occupying the country's northwest corner. Three times the size of the UK, it's mostly wild Outback dotted with fat boab trees in the interior, while its fractured coastline stretching from Wyndham to Broome is wilder still and almost uninhabitable. You can explore it overland or by sea — Tom and Lucy from our Australia team make the case for each.
Land and sea may offer slightly different experiences, but they can also be combined. You could follow up Tom's recommended Kimberley expedition cruise with a land-based stay as outlined by Lucy, or incorporate parts of the Kimberley into a wider tour of the Australian Outback.
The Kimberley by sea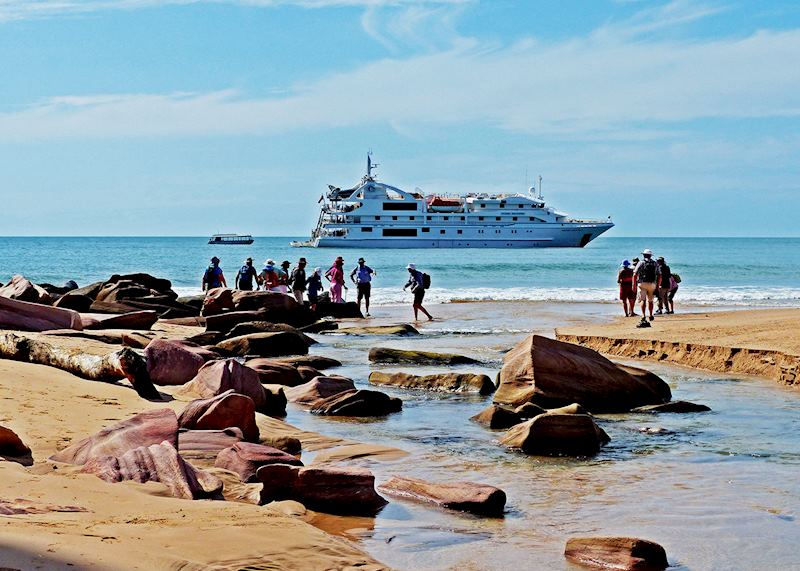 By Tom from our Australia team
Why go on an expedition cruise in the Kimberley?
The Kimberley Coast is so rocky and splintered, fragmenting in places into archipelagos of archipelagos, and washed by volatile tides, that helicopters can't even land on some parts of it. Only the most skilled of skippers can tackle it. An expedition cruise really is the only way to see it.
You'll witness the coast's complex geology up close, observing areas such as Nares Point, where the action of tectonic plates has resulted in great folds and layer cakes of rock.
Thanks to your ship's tenders and Zodiac boats, you'll venture into places few people will ever see. You'll navigate creeks with flourishing mangrove ecosystems, set foot on stark-white beaches, or visit the Lacepede Islands, where frigatebirds and brown boobies congregate along with thousands of green turtles.
You'll be able to look upon some of the oldest known Aboriginal rock art, and search for wildlife such as migrating humpback whales. And, although saltwater crocodiles prevent you from swimming in the sea, there are opportunities to go ashore and swim in watering holes or waterfall pools.
While you're visiting remote and unusual places, you're in the hands of experts. One of my guides, Browny had lived in the Kimberley for 40 years and was writing a book about rock art.
There's also a great choice of activities to take part in to suit your interests — anything from a strenuous waterfall climb to a languid creek cruise.
Highlights of a Kimberley expedition cruise
My advice is to make the most of all your cruise's onshore activities, but there are a few places and experiences that I think really stand out.
One is King George Falls: you hike up an almost vertical rock face to reach the top of them, granting you a view over seemingly endless escarpments. Try to go first thing in the morning, when the stillness of the water makes for some impressive reflections. Climbing isn't the only way to see the falls, though: you can also cruise through the King George River gorge.
At Vansittart Bay, you can walk over mudflats to see the shell of a DCS3 bomber that crashed there in World War II. Nearby, you'll find some of the region's best Aboriginal rock art. At Swift Bay you'll see two different styles of rock art side by side. There are the long, skinny, human-like figures of the Gwion Gwion or Bradshaw style, and the much newer and rounder — and almost unspeakably sacred — Wandjina style. I was fascinated to see depictions of animals which have never been known to exist in the Kimberley, such as the Tasmanian Devil.

I'd also encourage you to see Montgomery Reef. It's completely submerged at high tide, then appears as the tide goes out, like some sort of great barnacled leviathan rising from the seabed. You see it emerge, water pouring off its sides. Then, you scoot through a great channel that's formed in the reef, taking it all in as egrets pick their way through its exposed corals.
There's also the phenomena of Horizontal Falls (a horizontal waterfall), which is caused by an 11 m (433 ft) drop in the tide. You can cross the falls by Zodiac boat: go earlier in the day for a smoother ride, or later in the day to experience swirling rapids.
Kimberley expedition cruise vessels
Each expedition vessel is designed specifically to tackle Kimberley's varying tides and fragmented coastline.
On the Coral Adventurer (120 passengers) and the Coral Discoverer (72 passengers) you're provided with five-star food and drink, an open bridge policy and access to two types of tender. Their Xplorer boats have shaded seating, while Zodiac boats are good at slipping into narrower creeks. Also, they host nightly guest lectures — I particularly enjoyed one by the captain on the history of navigation.
For a more intimate experience, the True North welcomes 36 passengers with 20 staff onboard. This ship's shallow hull renders it possible to reach even more far-flung inlets and islands. Or, take a day trip on one of its six tenders, guided by a naturalist. You'll pick your way down the coastline, weaving your way through (sometimes beneath…) remote waterfalls and narrow tributaries, whilst being fed by fine dining chefs.
The True North is one of the only vessels to come equipped with an onboard helicopter, which allows guests to appreciate the Kimberley's vast scale and access its secluded lookout points. During the cruise, you'll get the chance to fly up the three-tiered Eagle falls, where you'll be hosted at a private picnic overlooking the gushing waterfall below.
Best time to cruise the Kimberley
The dry season runs from April to September. To see full, fast-flowing waterfalls and more greenery, including the Kimberley rose in flower, go in April, May and June. If you're more interested in spotting whales, visit in August and September. If you'd like a bit of both, choose July.
The Kimberley by land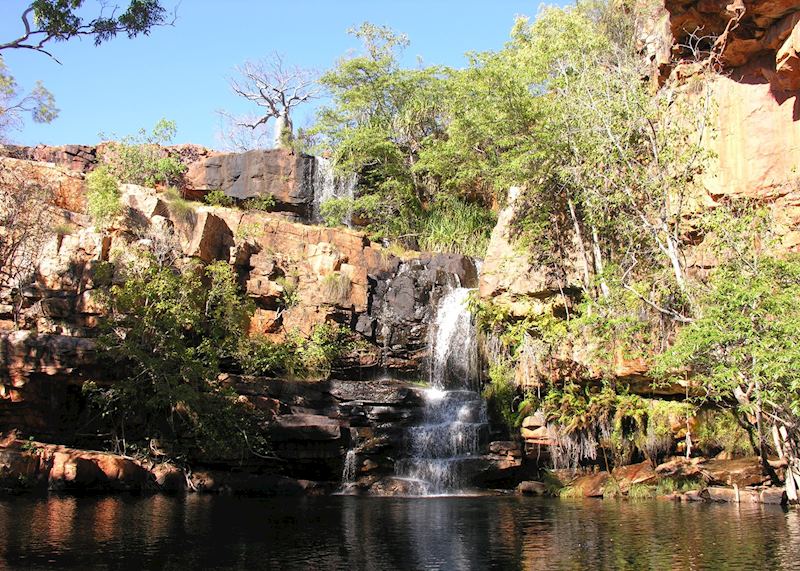 By Lucy
Why explore the Kimberley by land?
Inland Kimberley is one of the last great remote parts of Australia: it's utterly wild and untampered, with cattle stations the size of small European countries planted in the middle of nowhere.
It is, for me, the proper Australian Outback. It's uncommercial and (as yet) relatively undiscovered by the outside world. What it lacks is a modern-day Aboriginal presence — for that, I recommend exploring Kakadu National Park or the Aboriginal-owned territory of Arnhem Land — though you'll find plenty of rock art.
You're here for scenery, and for a taste of Outback farming life, if you're so inclined. Great sandstone gorges, wildlife-rich rivers and spring-fed waterfalls are the stars of the show, along with geological phenomena like the Bungle Bungles.
If you like road-tripping, the whole of the Gibb River Road, an unsealed former cattle trading road, is open to you. The full route takes around ten days, but you can get a feel for its wildness — the ochre-red scrubby landscapes, with vast escarpments rearing up alongside you — by simply driving for a couple of hours on it. It's so empty, the custom is to wave at any passing cars.
Highlights of exploring the Kimberley by land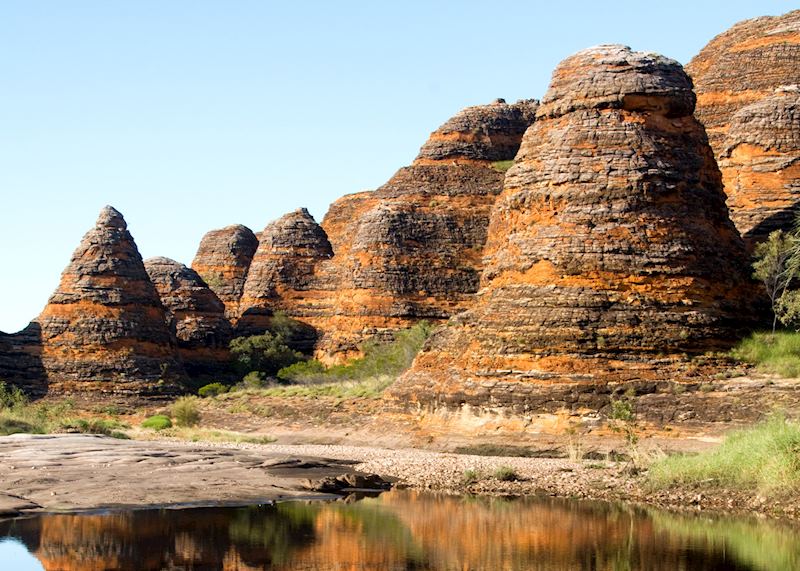 There are plenty of scenic high points to explore when staying on land. The Bungle Bungles are a cluster of humped, orange-and-black striped beehive-like formations. They lie a short scenic flight from Kununurra or El Questro Wilderness Park, and you explore them via walking trails that weave around their wind-whipped shapes. In the wet season, waterfalls stream down their sides.
Then there's Emma Gorge, a 45-minute drive from El Questro Wilderness Park. Part of the rusty-red sandstone scarp of the Cockburn Ranges, its 65 m (213 ft) high walls shelter droplet waterfalls and turquoise pools as clear as glass. There's a good walk which takes you clambering over boulders and criss-crossing creeks to reach a bracingly cold, isolated swimming-hole. Well, it's bracingly cold unless you can find the thermal spring hidden among some of the rocks.
Bullo River Station sits on the Victoria River, where you can try barramundi fishing while keeping an eye out for white-bellied sea eagles. Once I saw one swoop down and catch a turtle, which it clutched in its talons as it flew away.
A river cruise is a great way to take in the Kimberley's ecosystem. I like boating down Chamberlain Gorge, which you can do from El Questro Wilderness Park. Look out for barramundi and freshwater crocodiles, for rock wallabies hopping up the gorge sides and for nurseries of archerfish which spit water. Bonus: there's sparkling wine and fresh fruit on board.
This is also a great area for sunsets. One of the best vantage points is Branco's Lookout, also accessed from El Questro Wilderness Park, where you can enjoy sundowner drinks while watching the daylight fade over the Cockburn Ranges.
Where to stay in the Kimberley

There are two main places to stay outside Kununurra, inland Kimberley's modest gateway town: I recommend you spend time at both.
Bullo River Station
This cattle station is so huge, they muster cattle using a helicopter — though you're welcome to get involved with the ground-level muster if you're a confident horseback rider.
There are 12 guest rooms set apart from the working farm, decorated with sleek minimalism and nods to the ranch lifestyle: lampshade covers are made out of leather and you'll find swag bags labelled 'dusty clothes' for storing laundry in. The rooms overlook a patio and pool area where you can sit with a cold drink and take in the quietness. You eat all meals on site, and needless to say, the steak is delicious.
There's no phone signal, and Wi-Fi codes are kept in a locked box: the owners encourage you to immerse yourself in the land. You could go for bush walks in search of as-yet-unmapped rock art (lots is known to exist in the property grounds), visit secluded swimming holes, or go fishing.
El Questro Wilderness Park
You've a choice here: permanent cabins that ape safari tents at El Questro Station, or El Questro Homestead, which has a handful of luxe rooms overlooking a gorge. The homestead is pricier, but both give you access to all the sights and activities of the park, including the crystalline Zebedee Springs, horseback riding, and bush walks through the grey-and-red earth terrain.
The homestead's most exclusive rooms sit right on the edge of the gorge. Woven around the property's manicured grounds are little stone hotpools and nooks where you can dine privately — there's just enough space for a table for two cut into the rock.
The station's cabins are perfectly comfortable and ideal if you're happy to be independent, have your own transport, and enjoy the freedom of no set itinerary.
The homestead feels much more exclusive, and the service is attentive, albeit more formal than at Bullo River Station. Here you sign up for activities and tours in advance, and they depart at set times. You'll also get private access to places like Zebedee's Springs in the early evening, when most visitors have gone home.
Best time to visit the Kimberley by land
June to September brings slightly cooler weather, making for more pleasant hiking conditions and better wildlife sightings.
Read more about trips to Australia

Start thinking about your experience. These itineraries are simply suggestions for how you could enjoy some of the same experiences as our specialists. They're just for inspiration, because your trip will be created around your particular tastes.
View All Tours in Australia