By Australia specialist Janin
It may seem like an afterthought in comparison to the rest of Australia, but the island state of Tasmania deserves your time. It's a destination in its own right, a concentration of celebrated Australian wildernesses and wildlife. The western side is all verdurous mountains and highland lakes; the east is striated with huge cliff faces and beaches that rival any of the mainland's sandy offerings. Its capital, Hobart, has the personality of Melbourne or Sydney without their busyness. And its food? Some of Australia's finest.
Planning a trip to Tasmania

If you want to really experience everything Tasmania has to offer, I'd aim to spend around 10 to 14 days here — although, of course, shorter visits that focus on only a few areas are also possible. Tassie (as locals call it) can be easily explored via a loop that crosses parts of the island's blissfully undeveloped interior.
Direct flights arrive into Hobart from Sydney and Melbourne. I'd begin your trip with a few days here, perhaps venturing out to Bruny Island, before driving northwest to Strahan. Then cut across east to Cradle Mountain-Lake St Clair National Park, and continue to the northeast corner to spend a few days exploring the remote country around Scottsdale. You could then drive south down the island's east coast, stopping off at Freycinet National Park to explore Wineglass Bay. This Tasmania itinerary is a loose suggestion for structuring your trip.
Roads are winding, and although the distances aren't huge, driving between places can take longer than your sat nav estimates. So try and leave yourself as long as possible, and enjoy the ride.
One important point: Tasmania is all about experiential travel — outside of Hobart (and possibly Strahan), most towns are small and are not really destinations in themselves. So what I'd really like to share here are some of the best quintessentially Tasmanian, one-off experiences you could base your trip around. They range from cultural visits to hiking routes to some of the best wildlife watching I've ever done.
Private wildlife touring near Scottsdale, northeast Tasmania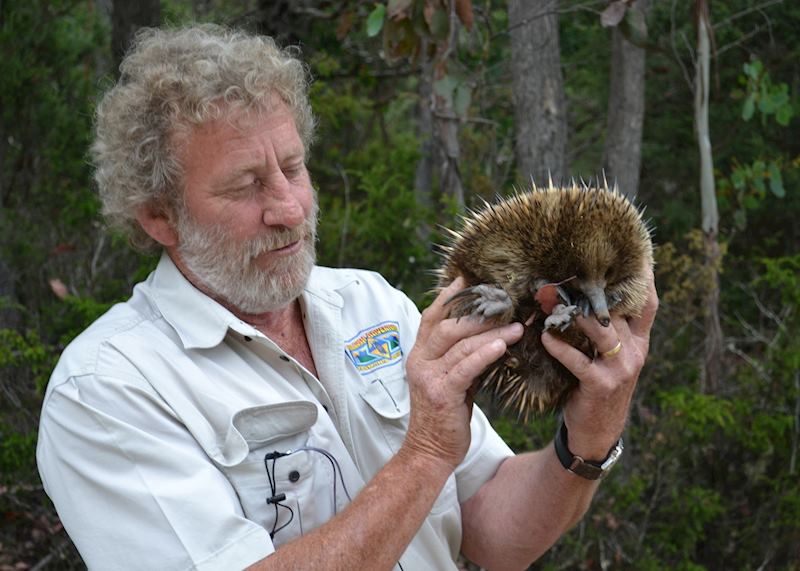 'We just need to pop to the supermarket,' said Bushie, my (aptly named) hirsute guide. Okay, his real name is Craig, but his nickname is well-earned in more ways than one. We pulled over at the side of the road and he wandered off into a patch of dense alpine forest. Moments later, he reappeared clutching a handful of leaves that resembled bay. 'Pepperberries,' he said, matter-of-factly, when he saw the nonplussed look on my face, 'they're for dinner'.
If you only do one thing in Tasmania, I encourage you to take a private 4x4 tour with Bushie. He's a sixth-generation Tasmanian whose ancestors were some of the first European settlers on the island. A gifted tracker, wildlife expert and connoisseur of bushcraft, he'll lead you on a private, tailor-made tour of the northeast Tasmanian backwoods with his son, Ben. If there's a better way of exploring Tasmania's wilderness, I don't know it.
Only minutes after Bushie had picked me up, we stopped by a woodland lake. To my astonishment, a duck-billed platypus was quietly skimming its way across the water. I knew they were rare creatures, and even rarer in daytime. How on Earth did he know it was there? 'The bubbles.' On a wind-free day, look for strings of bubbles gently winking on the surface of ponds and lakes — they're a sure sign a platypus is nearby.
After helping you forage for ingredients, Bushie will cook dinner for you. The setting is a modest log cabin in the middle of a grassy paddock in Ben Lomond National Park. While Bushie prepared my meal, I wandered among the honey-myrtle trees on the fringes of the field, peering hopefully into the understorey in search of that elusive wildlife sighting. Only the forest dim stared back.
Dinner was delicious: wallaby rissoles followed by poached salmon cooked with the pepperberry leaves we'd gathered that morning, then a local cheeseboard and plenty of Tassie wine. The campfire kept burning as we sat sipping our drinks in the gloaming. Gradually, the day faded to black.
And then I saw the shapes. Something snuffled, hopped and scurried there in the dark.
Dark, amorphous blobs were emerging from the treeline. As they approached the light of the campfire, they solidified into the stooped, fuzzy forms of wallabies. Lots and lots of wallabies. Then a creature resembling a squat, stumpy-legged bear came ambling past — a wombat. Next, a couple of wide-eyed possums.
Then — most exciting of all — tiger quolls, carnivorous marsupials who happen to be apex predators (they have a mighty bite) despite looking like polka-dotted kittens-come-squirrels. They're thought to be extinct in mainland Australia.
Meeting Tasmanian devils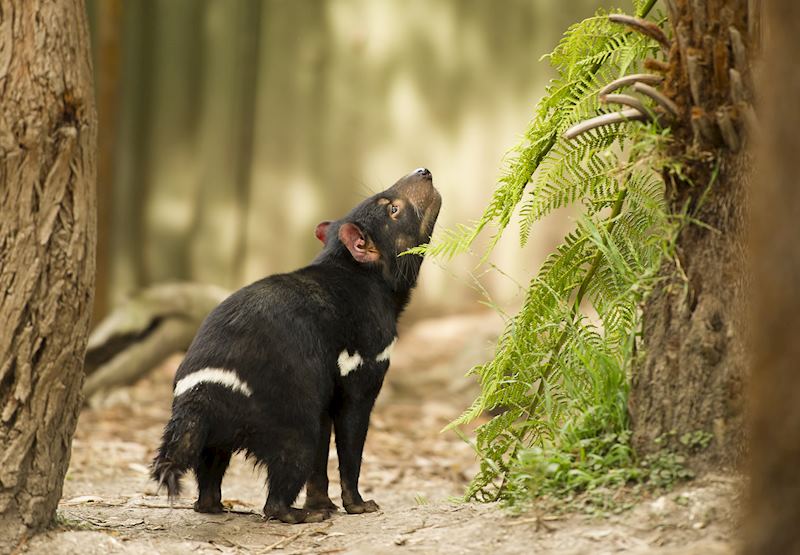 The island's wildlife star is elusive and nigh-impossible to see in the wild. So don't bother trying. I think you get a much better experience ― and understanding — of Tasmanian devils at a protective sanctuary. One such place, Devils@Cradle is easy to include in a visit to Cradle Mountain-Lake St Clair National Park. But don't just wander through the place on your own — go to one of the ranger-led talks, included in your entry ticket.
The rangers explain the origin of the devils' name: when the first settlers arrived on Tasmania and heard their screeching-baby cries, they feared that something diabolic was hiding out there in the bush.
After explaining about their efforts to preserve the devils and tackle the problems facing them — including a devastating facial cancer — rangers will lead you to the wooden enclosures housing these carnivores. The sanctuary also has an area where devils waiting to be rewilded are held: gradually, rangers feed them less and less food, allowing them to hunt for themselves, and phase out their human contact.
Other than at feeding time, when they get their teeth out to fight over the choicest meat portions, you can see the devils skittering around, hiding from each other or taking a snooze. They reminded me of lapdogs — until I got a glimpse of their saber-like front teeth.
Walking in Tasmania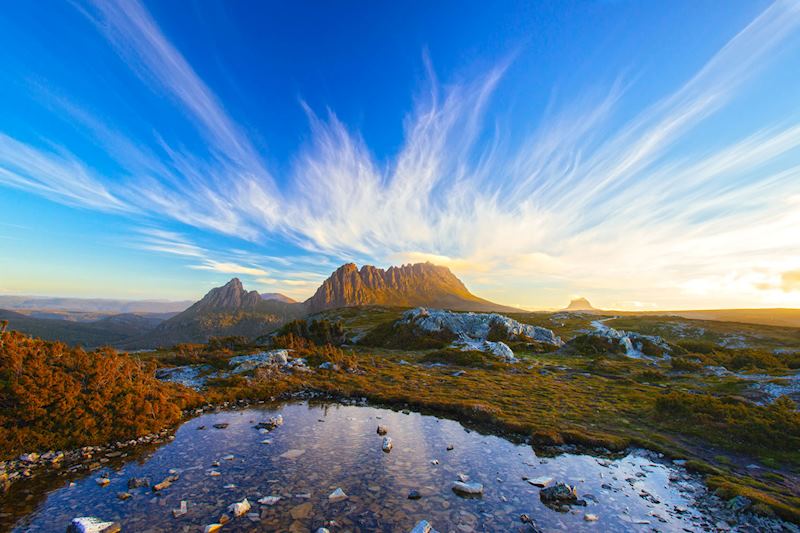 On the island's western flank lies some of its best scenery. Cradle Mountain-Lake St Clair National Park is a wilderness of weathered moorland, deciduous beech forest, sedgelands and glacially fed lakes, overlooked by the dolerite columns of Cradle Mountain itself.
You can take an arduous scramble over scree to summit the mountain, but a better option is the Dove Lake Circuit, a moderate hike that takes about two and a half hours. It's suitable for almost all fitness levels. You follow a loop track around the glassy lake, passing through a variety of terrain with clear views over Cradle Mountain's spiky saddle.
Set off early, as it's the most popular walk in the park, and with good reason. At one point, you lose sight of the mountain as you enter a cool stretch of gum forest that looks like it has been dipped in mosses. Walking through it is like entering some hushed faery realm. The route is also peppered with benches for sitting and admiring the views.
The Freycinet Peninsula, over on the east coast, also offers rewarding hiking. Wineglass Bay, an elegant crescent of buttery-shaded sand, is the focal point of most walks in Freycinet National Park (which encompasses the entire peninsula). You can reach a good lookout point over the bay in about two hours via a steep uphill track.
It's one of those walks where you don't get any teasing glimpses of the endpoint — the big view — until you hit the very top. You're mostly ascending through bush before the trail opens out and deposits you on an overlook. The ocean was still a sparkling turquoise when I last visited — and that was in August, in the depths of the Australian winter.
If you plan on spending time in Freycinet National Park, I strongly recommend supplementing your walking with a cruise around the peninsula. You'll see seals thronging the foot of vertiginous limestone cliffs. Out to sea, there's the chance to spot whales and dolphins. I saw eight humpback whales blowholing and showing off their fins just a little way from the boat, as well as a pod of dolphins playing in the bow waves.
The best of Tasmania's food and drink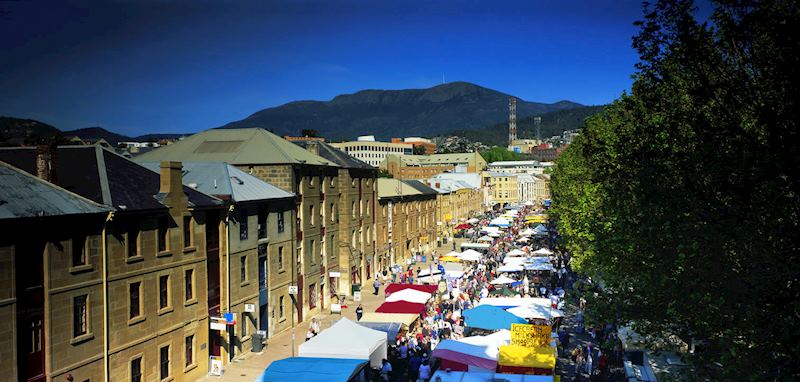 Tasmanians are very proud of their local produce. Just driving around the island, you'll come across roadside apple carts selling crunchy fruits and locally brewed cider. The Tamar Valley in northern Tasmania, while lacking the worldwide acclaim of somewhere like the Barossa, has some really good cellars and dairies.
In fact, you can start your Tasmanian food peregrination as soon as you land in Hobart. On Saturdays, its waterfront comes alive with Salamanca Market, a huge outdoor market selling artisan crafts and fresh produce. In Tasmania's summertime (December to February), you can browse to the sounds of live music.
But what, specifically, should you eat? In Hobart, plump for seafood chowder. It's good everywhere you go, but I especially enjoyed the creamy comfort food option served at the Drunken Admiral pub.
Hobart is also home to several distinguished whisky distilleries ― I popped into one that supplies bottles to Barack Obama. It's very much a cottage industry — the labels are still glued on by hand — so the owners were rather surprised when the former president tried to place an order (they ignored his emails at first, thinking it a hoax).
Then, if you have time, take a 20-minute ferry ride to nearby Bruny Island — the ferry terminal is about a 45-minute drive from Hobart. Really two islands for the price of one conjoined by a sandy isthmus, Bruny is covered in eucalypt forest and does two things extremely well: oysters and cheese.
You can go the whole hog and visit one of the island's oyster farms or (as I did) just go in for a tasting of some freshly shucked, succulent specimens. The cheesemakers also offer tastings and fragrance their wares with herbs such as lavender.
While you travel around the island, keep an eye out for its population of rare albino wallabies. Fortunately, they're not on the menu.
Exploring Tasmania's convict history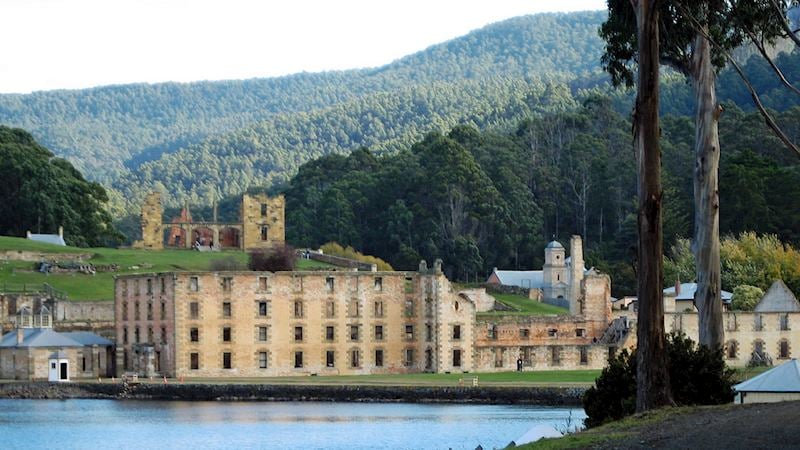 The grim, former Alcatraz-like penitentiary of Port Arthur, about 90 minutes from Hobart on the Tasman Peninsula, is what most people associate with convict history in Tasmania. As intriguing as it is, it's also crowded. So, I say forget about it altogether, and head northwest to Strahan, a scenic port town at the mouth of the limpid Gordon River.
Here, you can visit Sarah Island in the middle of Strahan's Macquarie Harbour, where some of Europe's most wanted were put to work felling pine trees.
But, a much more novel way of learning about Tassie's convict heritage is to catch a performance of The Ship that Never Was. A live open-air play, it's performed nightly in Strahan in the summer months (December to February) by a professional company of actors. It's fizzing, electrical, hilarious entertainment.
Based on the story of some of Sarah Island's criminally inclined past inhabitants, the play recounts their daring escape attempt. It's very interactive — audience members, including children, are encouraged on stage and given their own roles and props — and most people get stuck in. Expect to see at least one slightly bemused audience member adorned with a pirate hat and pretending to quaff rum.
If you're visiting in the winter months, never fear. Although it's not quite as good as the real deal, you can watch a filmed version of the play in Strahan's cinema.
Start planning your trip to Tasmania 

Start thinking about your experience. These itineraries are simply suggestions for how you could enjoy some of the same experiences as our specialists. They're just for inspiration, because your trip will be created around your particular tastes.
View All Tours in Australia