Audley client, Nigel Wright, travelled to Malaysia with Audley in February 2011.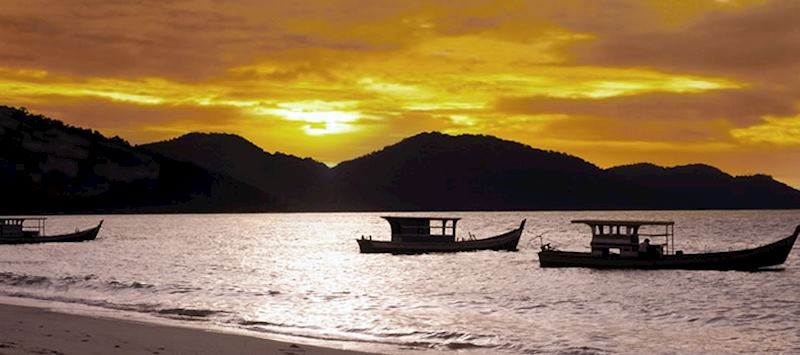 Penang
Happy Bunnies in Penang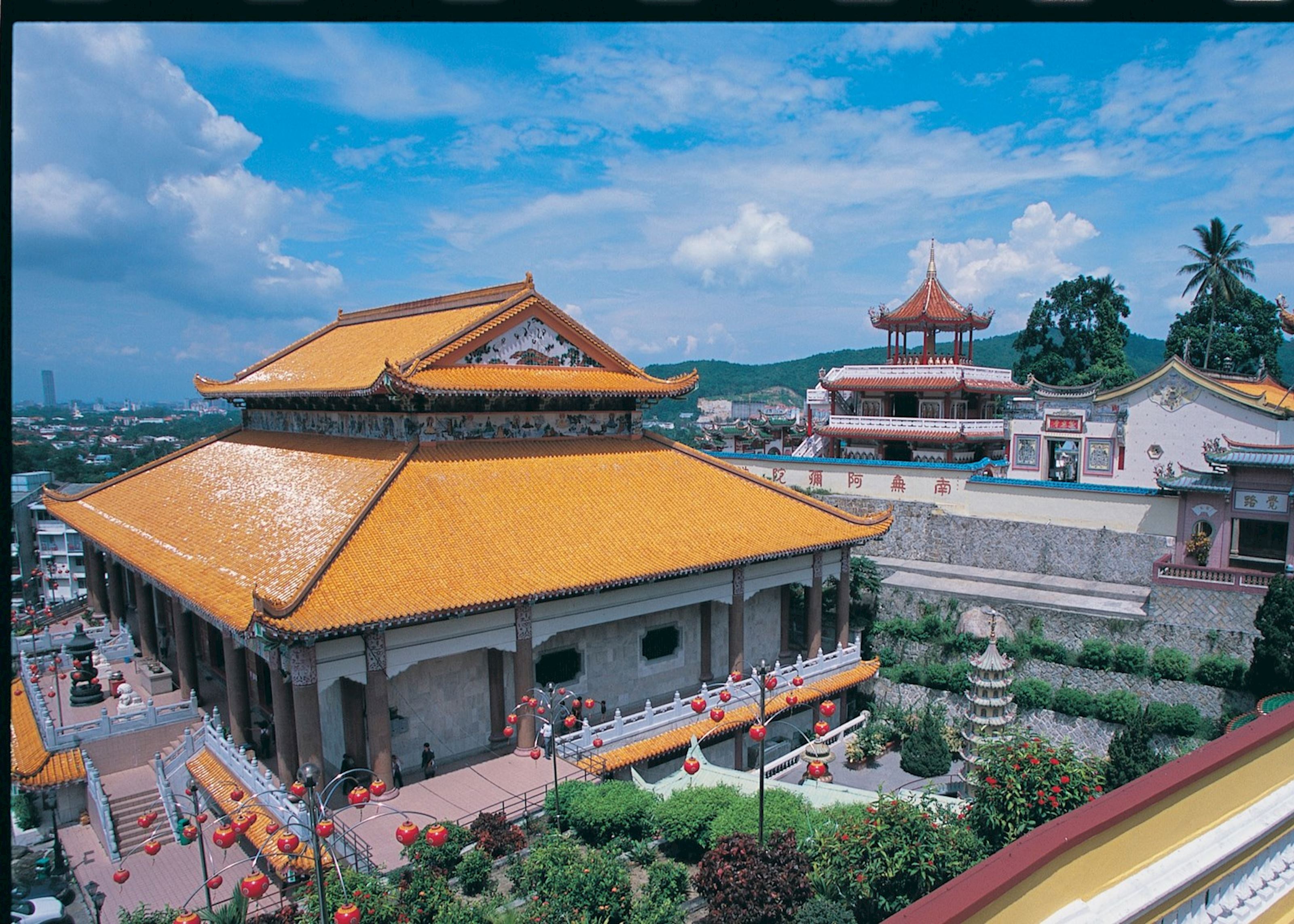 We awoke to the deafening sound of crashing cymbals, beating drums and firecrackers. It was Chinese New Year and we scurried down the stairs to find that celebrations had commenced in the hotel lobby. Skilful acrobats inside two colourful and very agile 'lions' were performing their traditional dance, wheeling, prancing and jumping from table to table high above the guests. The aim was to drive out evil spirits and usher in good fortune and prosperity for the coming year. The dance ended with partially peeled oranges being hurled around for further good luck. We were in George Town, the historic capital of the island of Penang, off the northwest coast of Malaysia. Around half of the population of Penang is Chinese so there was no better place to enjoy the arrival of the year of the rabbit.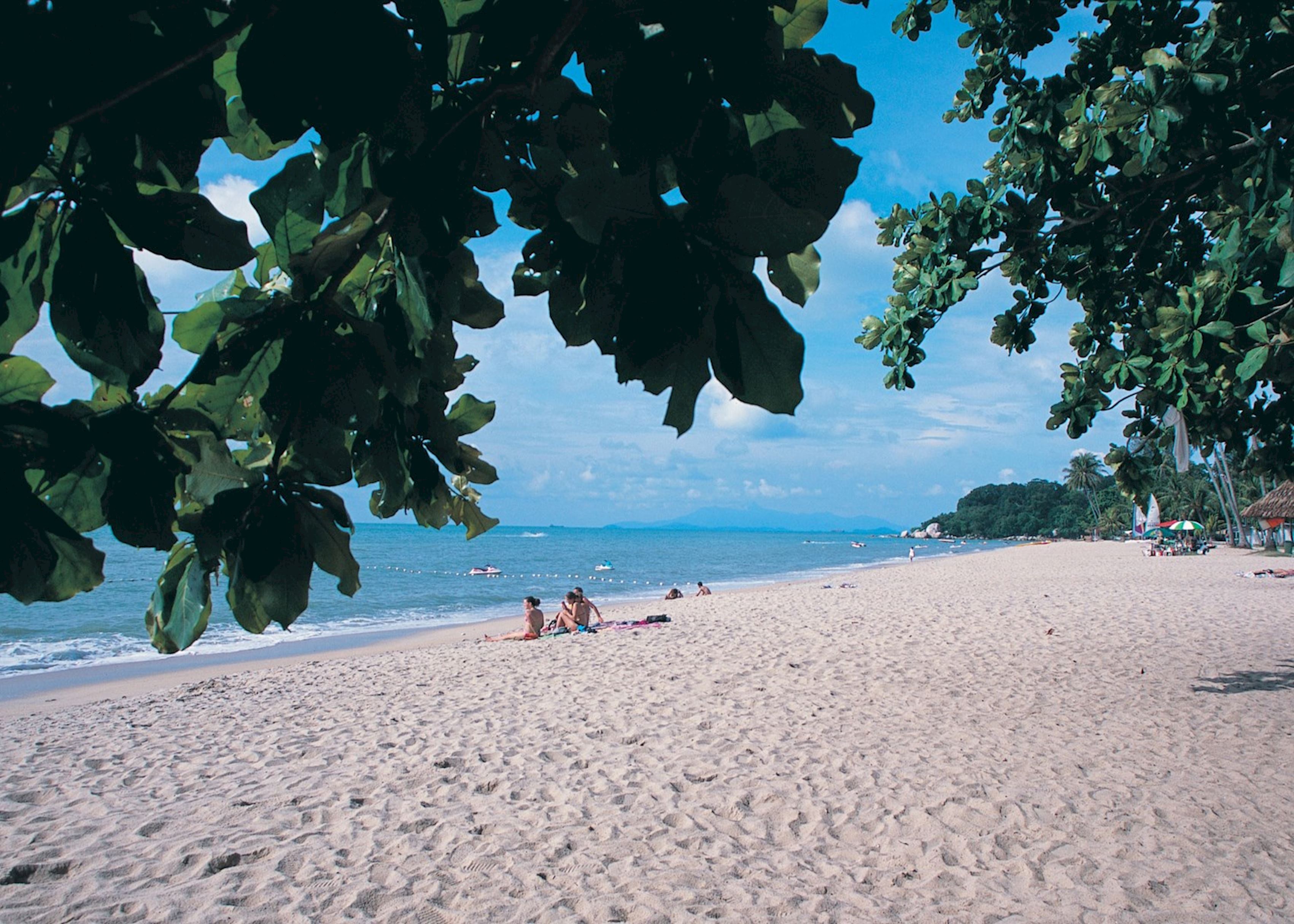 We began our exploration in the little museum in Fort Cornwallis on the seafront, and discovered that Penang Island was acquired in 1786 by the British East India Company from the local Sultan, in return for protection against his warring Siamese neighbours. The port was soon a valuable trading centre for tea, nutmeg, cloves, pepper, opium, textiles and later, tin and rubber. As Penang was at the crossroads of great civilizations, it became an ethnic melting pot of the east, with traders and settlers from Europe, India, China, the Malay Archipelago, Thailand and Myanmar. We admired the stately colonial architecture of the Town Hall and Court Buildings, a wonderful backdrop to the picturesque cricket pitch, where some members of the local Indian population were boisterously enjoying a closely contested game.
These fantastic outdoor eateries are a Malaysian way of life and patronized by rich and poor alike.
Hawker Food and Chinese Clans
A delicious smell of cooking reminded us it was lunchtime so we joined hundreds of cheerful, chattering Malay office workers at a nearby Hawker food centre. These fantastic outdoor eateries are a Malaysian way of life and patronized by rich and poor alike. We were overwhelmed by the choice of dishes (but no pork or alcohol, the native Malays are Muslims) and settled eventually for fiery Nasi Goreng Ayam (fragrant fried rice with spicy chicken), washed down with fresh coconut milk, all for the princely sum of £2.
Harmony on the Hillside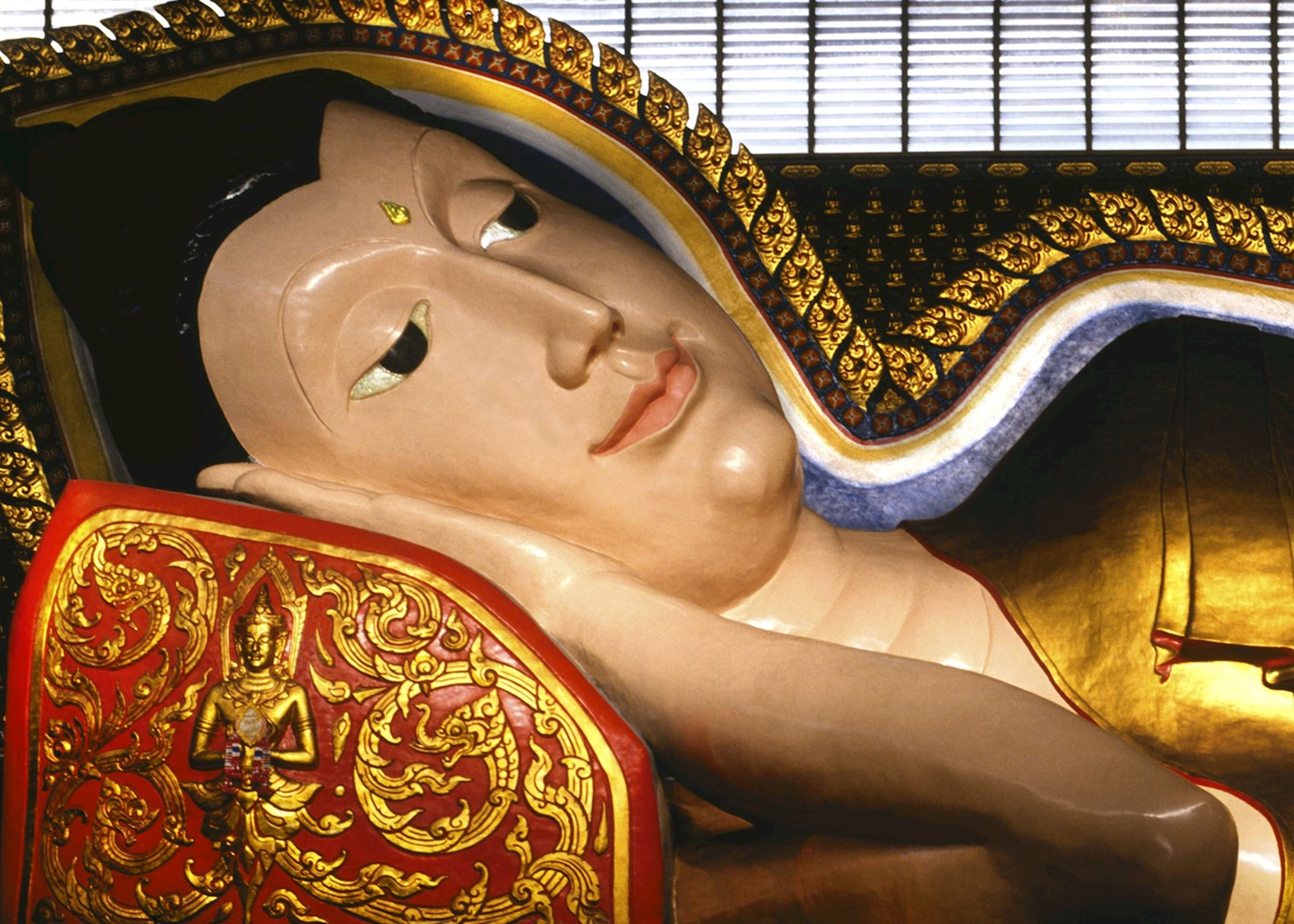 Lofty forested hills provide George Town with a picture perfect backdrop. Used as a respite from tropical heat by the colonial British, the hillsides now provide a variety of excursion opportunities for locals and tourists alike, with some beautiful botanical gardens, a bird park and a funicular railway to the summit. However, the key attraction is Kek Lok Si, also known as "the temple of supreme bliss", the largest Buddhist temple in Southeast Asia. Built on many levels on the steep hill slope, it has a maze of gardens, courts, passages, a seven-tier pagoda and a majestic giant bronze statue of Kuan Yin, the goddess of passion.
Malacca
Hindu Heaven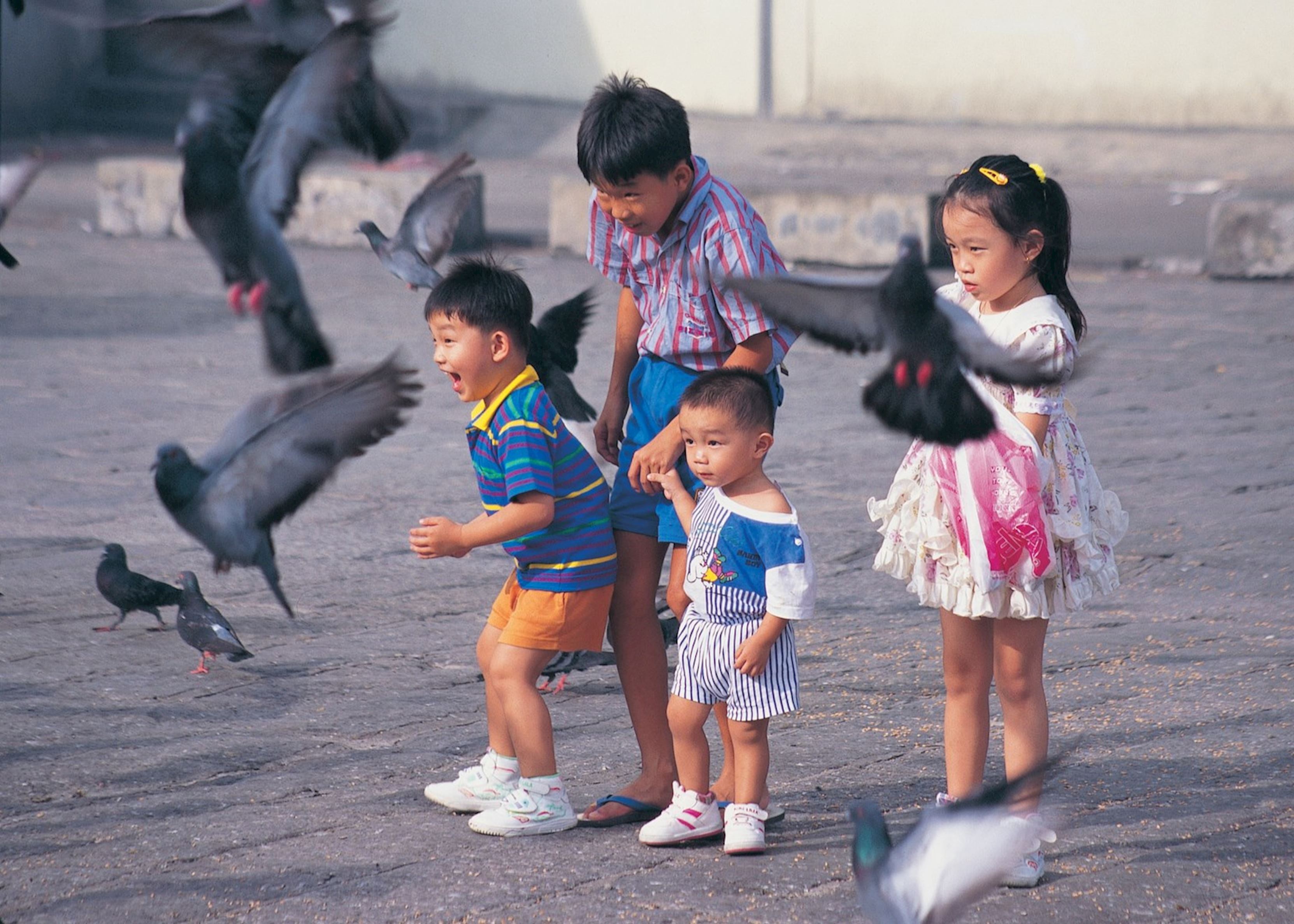 Like everyone else, we counted the 272 steps as we toiled our way up to the vast cave entrance in the limestone cliff. We were visiting Batu Caves, just outside Kuala Lumpur, the most important pilgrimage site for the Indian Hindu population of Malaysia. It was well worth the effort. The stairs led directly to Cathedral Cave, which is the largest and truly spectacular, a huge vault pierced by six metre stalactites with eerie shafts of sunlight streaking down from holes in the ceiling 100 m (328 ft) above. Batu Caves are dedicated to Lord Murugan, the son of Lord Shiva and his giant 43 m (141 ft) high statue guards the complex at the foot of the staircase. Thousands of devotees, some carrying milk as an offering, climb up the steps in the oppressive tropical heat each day to visit the ornate shrines in the caves. We saw many joyful families bringing newborn babies to be blessed at the enchanting main shrine at the rear of the cave.
Melaka's Heritage Trail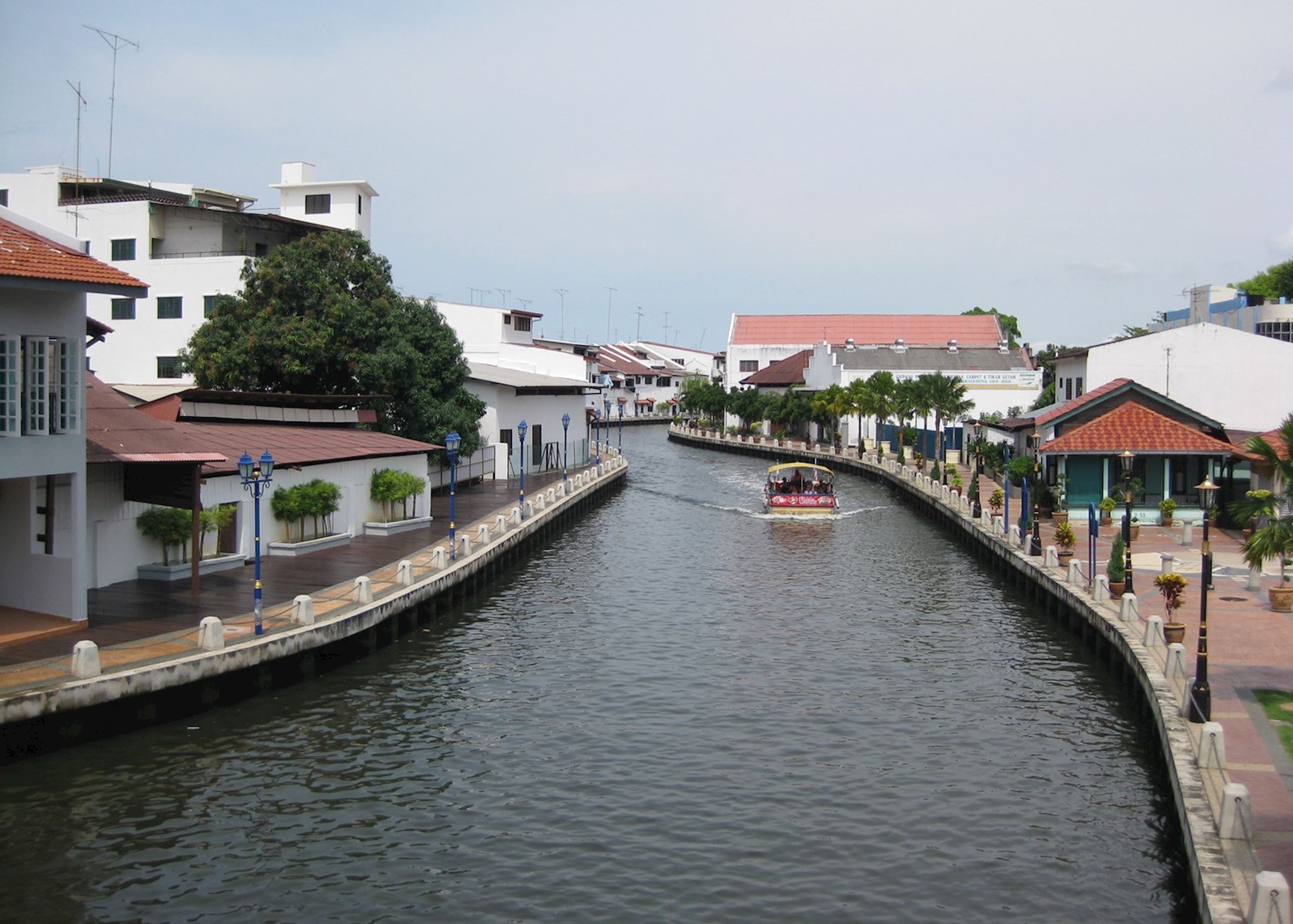 The charming old city of Melaka is undoubtedly the historical heart of Malaysia. Whilst lively KL leaps forwards confidently into the future, sleepy old Melaka looks backwards to its former riches and supremacy in the global spice trade. Our base in Melaka was the peaceful Hotel Puri in the heart of the old city. Originally the ancestral home of a Peranakan (or Straits Chinese) family, it has been beautifully refurbished into a simple but comfortable hotel, retaining many Chinese characteristics with intricately carved wall panels, decorated stairwells and exquisite carp ponds. From here, we strolled the heritage trail along busy Jonkers Street (a shopper's paradise) and visited ornate ancient Buddhist, Taoist, Islamic and Hindu places of worship, on our route down to the river. We were then delayed by a long procession of Malay Muslims chanting rhythmically in celebration of the Prophet Mohammed's birthday. A convoy of trishaws led this colourful pageant, each splendid little vehicle bedecked with flowers. The river winds through Melaka rather like the Grand Canal in Venice and boat trips are popular with tourists. After crossing the waterway, we arrived in a distinctly Dutch colonial area — only the tulips were missing! Here stands the crimson-painted Christ Church, a dignified clock tower and the old Stadhuys (Town Hall) with massive hardwood doors.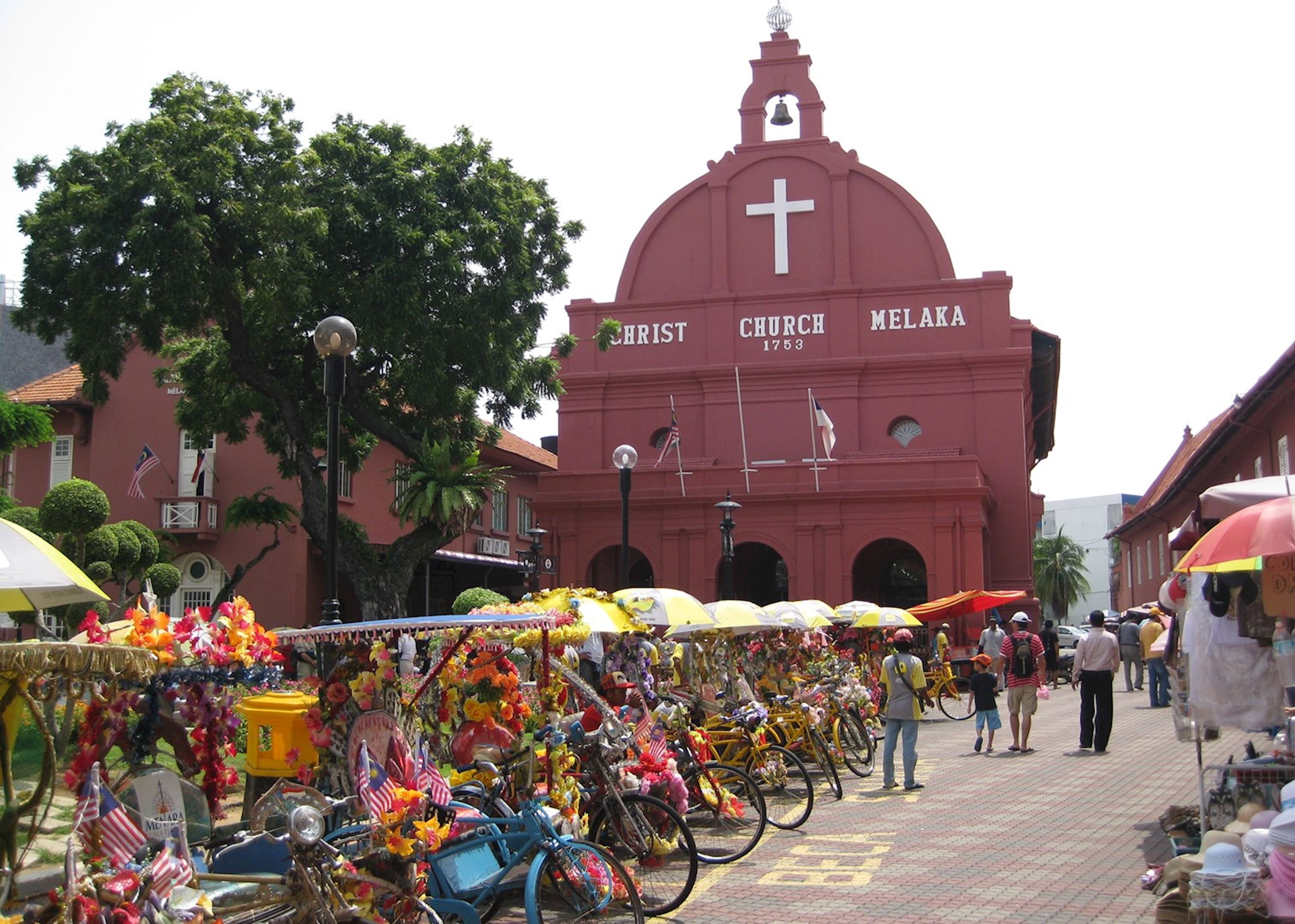 We dined on the spicy and delicious Peranakan cuisine whenever possible whilst in Melaka. The local Straits-born Chinese women have skilfully merged typical Chinese ingredients like pork, noodles and soya beans with Malay spices, coconut milk, tamarind juice and pineapple-enhanced peanut sauce — with mouth-watering results. Our visit to Malacca was an intriguing end to our visit to Malaysia, a country where numerous traditions, religions, cultures and cuisines meet and blend harmoniously. In addition to cities full of astonishing colonial history, there are inviting white sandy beaches, misty highlands and for the more adventurous, pristine tropical jungles to explore. Without exception, we found the people from all ethnic backgrounds to be amazingly warm and friendly. Malaysia is a young country in a hurry to achieve 'developed status'. We hope that in this haste, the people succeed in creating a modern society that still remembers its enormously rich cultural heritage.
Find out more about tailor-made trips to Malaysia
Book a holiday to Malaysia and experience vibrant modern cities to remote villages in pristine rainforest. Good roads and driving on the left make self-driving here a great option.
Further reading