Southeast Asia is a great destination for families and many of our specialists have taken their own children to the region on family trips. With a naturally hospitable and friendly culture in which family traditions are deeply revered, travelling with children is straightforward and full of memorable experiences.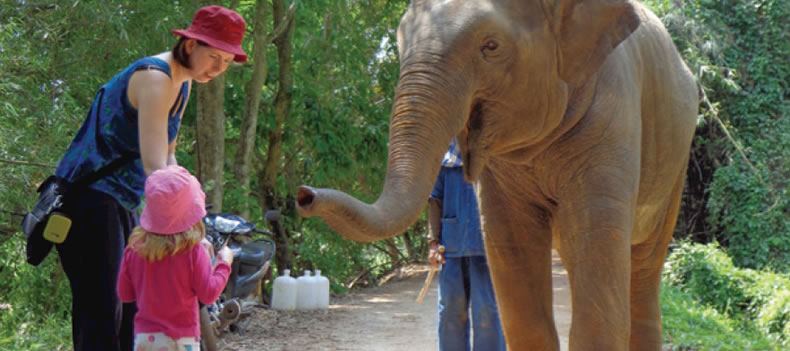 Younger children will love the beaches and the wildlife; seeing elephants at first-hand or visiting feeding posts to observe wild orangutans is unforgettable. Older children can enjoy exciting activities such as jungle trekking, cycling, quad biking, kayaking and rock climbing.
Here is a collection of our favourite hotels across the region for families:
Shangri-La's Rasa Ria Resort, Kota Kinabalu, Borneo
There is a great kids' club at this resort to give the adults a break. In addition the Ocean Wing has its own swimming pool which means fewer younger children in the vicinity when you want to relax. The major draw for the whole family to enjoy will be the onsite orangutan sanctuary. Two daily feeding times offer the chance to see playful orangutans of all ages. This is a good value family friendly resort with plenty of facilities.
Pilgrimage Village Hotel, Hue, Vietnam
Pilgrimage Village Hotel offers fantastic value for money and has a traditional Vietnamese village feel, plus the family rooms are huge. The children can enjoy the pool while the parents don't feel like they are disturbing the other guests as this hotel welcomes families.
Veranda Natural Resort, Kep, Cambodia
This is a quirky, characterful resort. It has a great pool and bakery and the kids will have plenty of fun exploring the various walkways. Lovely boat trips can also be organised to tropical islands off the coast.
Victoria Beach Resort, Hoi An, Vietnam
This beachfront hotel is blessed with a large pool, kids' club, tennis courts and recreation areas. In addition it has family friendly staff and child friendly menus in the restaurant. All in all, this is a great beachfront resort that's at its best during the UK school holidays at Easter and in the summer.
Anantara Resort, Golden Triangle, Golden Triangle, Thailand
This resort has huge grounds and a beautiful swimming pool for kids. The views start with the resort's own elephant conservation centre and then stretch over the Mekong River into Laos and Myanmar.