Joanna Lumley's television series showcasing Japan really resonated with our style of travel. It was exciting to see some of our best-loved areas of Japan on the screen.
If you enjoyed watching Joanna's journey, our specialists have recommended some like-minded experiences to include in a trip to Japan, taking you to Japan's oldest geisha district, across virgin jungle and through the ocean in an undersea bullet train tunnel.
Spotting Japan's migrating cranes
There's an audible gasp from Joanna as she watches red-crowned cranes perform their erratic courtship dance in Hokkaido. These white and black cranes (there's a circle of red on their heads if you look closely) have become such a quintessential Japanese sight that they're often known as the Japanese crane.
The Arasaki Crane Reserve, on the southern island of Kyushu, hosts one of the largest concentrations of cranes in Japan. The backdrop of murky wetland may not seem as photogenic as Hokkaido's crisp snow, but the sheer number of cranes — more than 13,000 migrate here each year — creates an impressive sea of feathers. Volunteers supplement the crane's food with donations of corn and rice creating a noisy party atmosphere as the cranes scrabble to claim their share.
This vast fen attracts a variety of crane species. Squat, dark grey hooded cranes guzzle small fish alongside the elegant necks of the white-naped crane. Through binoculars at the observation tower you'll spot the rare sandhill and Siberian species.
While the nearest city, Izumi, is proud of its cranes (crane motifs decorate manhole covers and road signs), you'll find few international visitors.
Riding the bullet train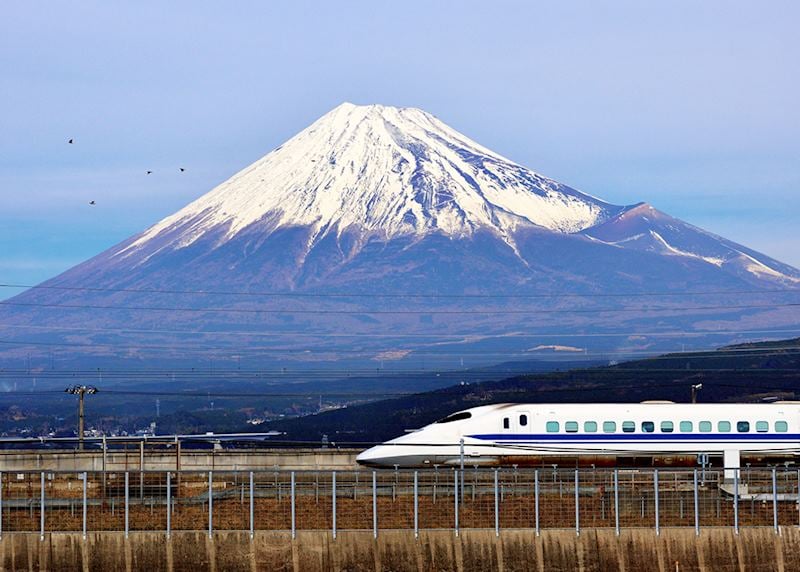 Appropriately enough, Joanna arrives into technologically advanced Tokyo by the most modern of transport, the sleek Shinkansen (bullet train). Tokyo now provides one end point for a new bullet train route on Japan's super-speed train network: Tokyo to Hokkaido. A route previously only possible by a flight, or a tedious train and boat journey, you can now travel the 856 km (532 miles) in four hours — the equivalent of travelling the length of the UK.
You'll glide through rural Japan at speeds reaching 320 km per hour (200 mph), passing along tunnels that bore right through mountain ranges — and under the sea. The new trains have been decorated with a purple stripe to symbolise Hokkaido's lavender fields. Travel from mid-July to August and you can watch the flower fields in full bloom from your train window.
Walking the Nakasendo Way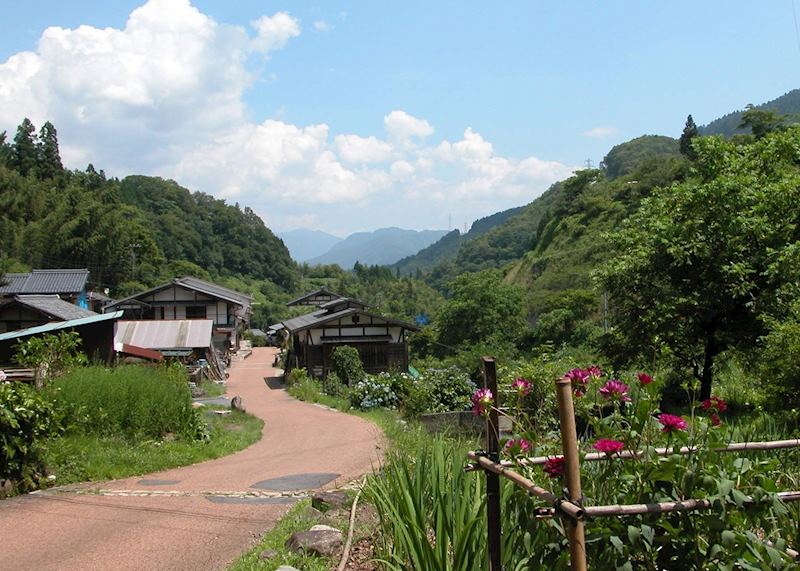 Once a busy highway trekked by samurai and royal messengers, the Nakasendo route has become a rite of passage for many modern Japanese wayfarers. The route traverses 500 km (310 miles) from Kyoto to Tokyo, and Joanna explores a section from the midway post town of Tsumago. As one of the most accessible points of the highway, many of the small, Edo-period ryokans (traditional inns) in the area sell out far in advance.
Further north, the post town of Narai makes a convenient alternative. You'll find no flashes of neon or advertising here, the 200-year-old wooden-fronted buildings are carefully protected from modern development, and illuminated by lantern light. The town acts as a gateway to the Kiso-Tori Pass, a 6 km (4 mile) section of the highway. Following a cobbled, tree-lined path, the route takes you past the tiered roofs of Shinto shrines, stone statues and red torii gates standing guard. On finishing this section, you can hop on a train back to Narai.
Meeting the elusive geisha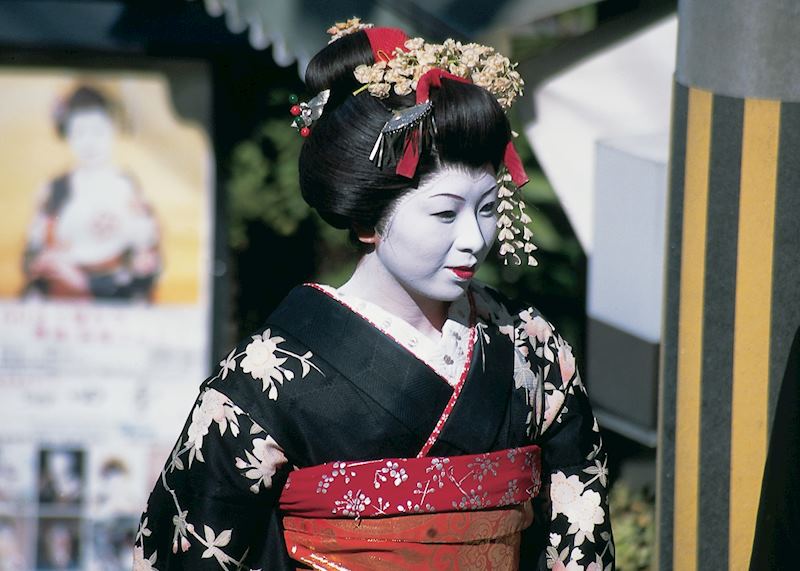 In an interview with Joanna, a geiko (trainee geisha) explains her lifestyle, including being one of the few Japanese without a mobile phone. Kyoto's geisha district is notoriously secretive and doesn't pander to the curious visitor: it's only possible to meet a geisha or geiko if you're extremely wealthy, or a famous television presenter like Joanna. Kanazawa, on the northwest coast of Japan, boasts Japan's oldest geisha district, and it has a more open attitude to visitors.
Some of Kanazawa's ochayas (geisha houses) welcome visitors, enabling outsiders a rare glimpse of gold-trimmed tea ceremony rooms and red-walled banquet rooms. You might see one of the geisha practising her skills. The house of Kaikaro, run by the flamboyant Lady Baba, has a small museum and shop as well as a programme of seasonal geisha performances.
Learning about Japan's nuclear history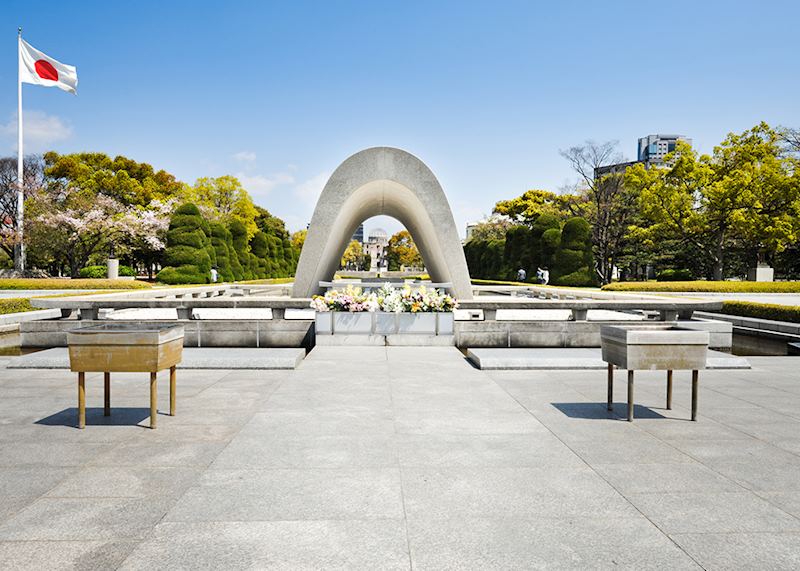 Nagasaki and Hiroshima have risen past their infamy as atomic bomb sites to become thriving cities. Residents in Nagasaki show Joanna around a school that survived the explosion, where she meets current students and staff. While Joanna gained special access to visit the school, Japan doesn't shirk away from publicly commemorating the importance of the attacks it suffered, and we suggest visiting Hiroshima which has more in place for visitors than Nagasaki.
Hiroshima's Peace Memorial Museum is currently undergoing an extensive regeneration programme, with a grand opening scheduled for October 2017. Plan a visit for late 2017 and you'll be able to explore the museum's new facilities, including a science museum and a viewing tower (which is already finished). Volunteers provide guided tours in English, taking you through the peace gardens, museum and into the city itself.
Observing unusual monkey antics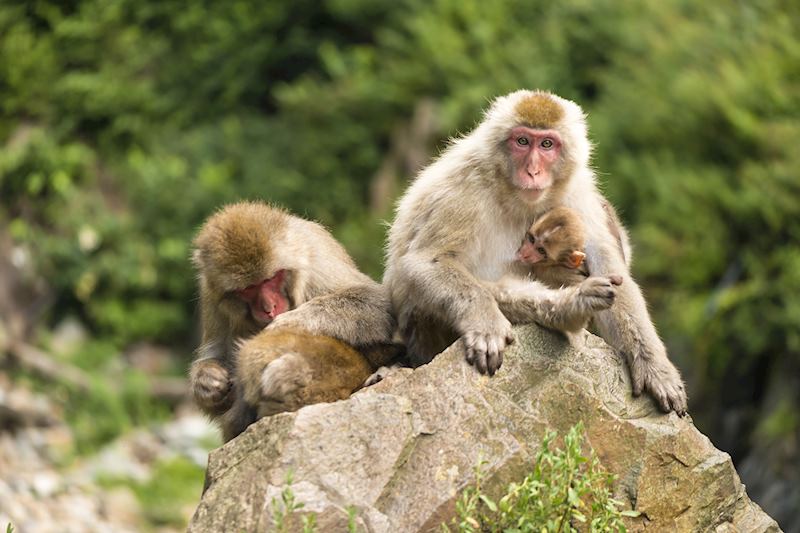 The satisfied face of a fluffy Japanese macaque, sat in the steaming waters of an onsen (thermal bath) has graced many television documentaries, including Joanna's. The Japanese macaque can be found across Japan, and it's not only the snow monkeys of Jigokudani that have developed interesting habits.
Yakushima Island lies in the East China Sea on Japan's southern tip. Hike through the island's virgin rainforest and you might be able to spot a unique phenomenon — Japanese macaques riding on the backs of sika deer.
The monkeys use the deer as a form of transport; the deer may look nonchalant, appearing not to notice when a monkey climbs aboard, but this is a symbiotic relationship. Each time the monkey jumps off to feed, the deer are in just the right place to eat otherwise unreachable fruit dropped from the trees. The monkeys groom their steeds for parasites such as lice, a useful source of protein, but harmful to the deer. Scientists from Kyoto University have discovered that the deer have also learned to understand the monkeys' feeding calls, leading them to newly found crops of fruit.
Robotic encounters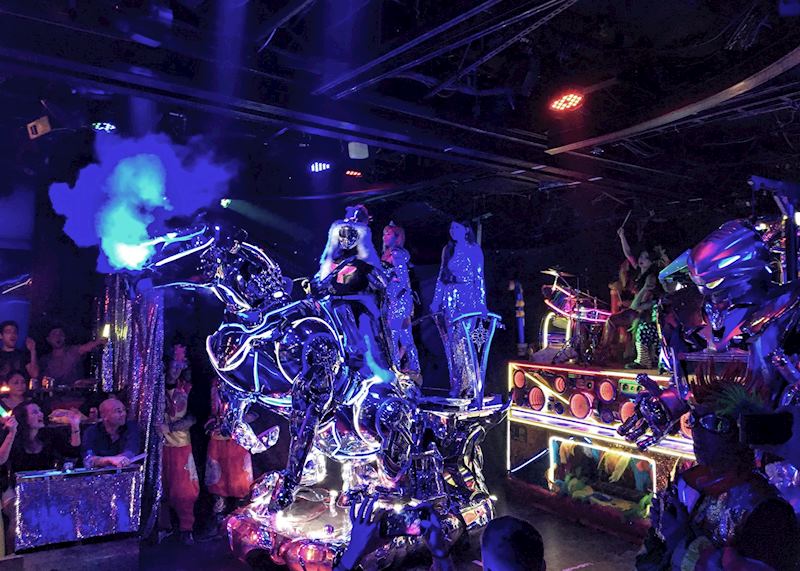 Henn-na, the world's first robot-run hotel, taps into an affection for robots that's intrinsic to Japanese culture. Joanna meets the robotic check-in staff before luggage is carried to her room by a robotic porter. Room service is provided by a smiling pink in-room robot that resembles a children's toy.
If you aren't going to southern Japan, where the hotel is based, you can try a robot show in Tokyo instead. Duck below street level in the city's lively Shinjuku district and you enter the kitsch world of the Robot Restaurant and its accompanying nightly show.
In an explosion of neon lights, a parade of sequin-clad showgirls ride a startling variety of robotic floats past guests, to a pulsing electro-beat. It's a noisy carnival atmosphere with dancing dinosaur robots, a mock robot battle and flame throwers. This is low-tech robotics — most robots are dancers in costume — with a distinctly homemade feel, but it's idiosyncratic Japan at its best.
Discovering the secrets of old age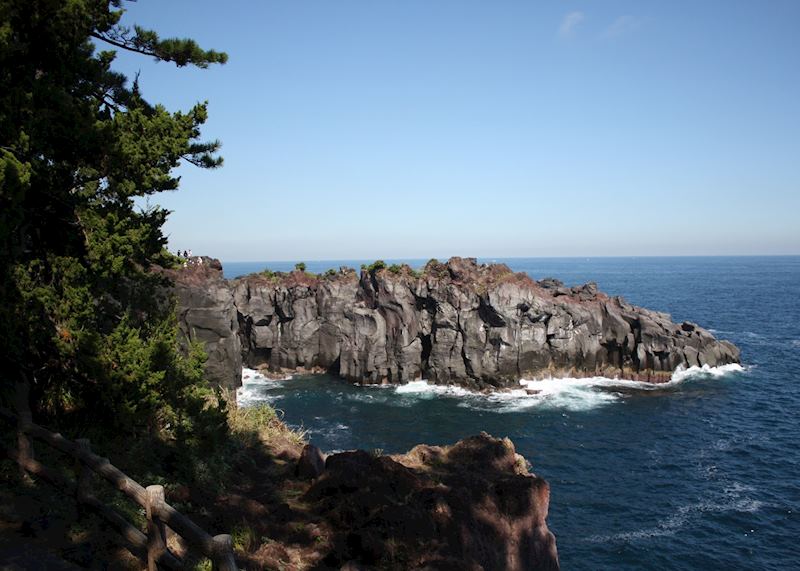 The lengthy life expectancy of the Japanese has been attributed to a healthy diet of fish, regular sake and even a cultural penchant for living by the rules. Joanna's final destination brings her to the island of Kohama to meet its elderly pop-star residents, who recently topped the Japanese charts. As one of Japan's southern points (it's closer to Taiwan than Tokyo), it can be tricky to fit the island into a trip.
Ago Bay, on the Izu Peninsula, is only a three hour train ride from Kyoto, and offers an intriguing alternative. Amanemu, a minimalist hotel that's part of the luxurious Aman Group, has developed a relationship with the local ama — female free divers. Diving down more than 30 m (98 ft), the ama hope to find pearls but also collect shellfish, seaweed and sea urchins, a catch they cook over a beachside barbecue. You can join one of the women for dinner to learn more about their dwindling way of life and, with many surpassing 90, how they still dive well into old age.
Exploring Japan's World War II sites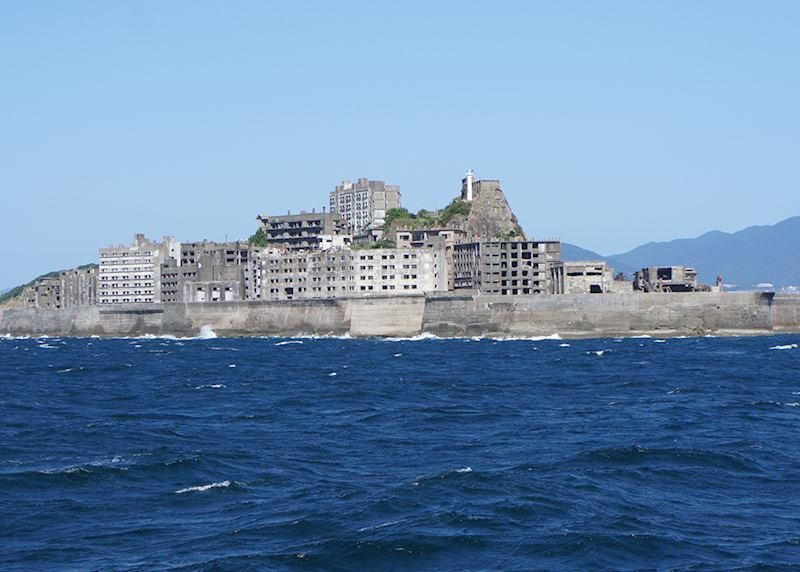 Okinawa saw one of the bloodiest battles of World War II, and Joanna toured the battleground. The outlying island is only accessible by flight but Hashima Island, located off the coast of Nagasaki, is easier to reach. This concrete-walled island is now better known as Gunkanjima (Battleship) Island due to its huge sea walls marking the location of a vast undersea coal-mining operation.
During the war, the mine became home to Chinese and Korean prisoners of war who worked the mine for many years. The island held the unenviable position as the most densely populated place on Earth with families, including Japanese miners, crammed into concrete tower blocks. It's now an abandoned grey shell, with the skeletons of apartment blocks, a school and hospital still remaining. On a tour of the island you're limited to a small sectioned-off area, but it's enough to give a vivid idea of how life must have been for the inhabitants.
Start planning your trip to Japan

Start thinking about your experience. These itineraries are simply suggestions for how you could enjoy some of the same experiences as our specialists. They're just for inspiration, because your trip will be created around your particular tastes.
View All Tours in Japan