We really want to explore Vietnam and Cambodia possibly spending three weeks with a mixture of culture, history and wildlife opportunities (spotting not eating!). We'd like time to stop and soak up the atmosphere and appreciate good local knowledge and guides. We'd like to use some local transport when possible and practicable. Some friends traveled with you and recommended your service VERY highly. Can you help?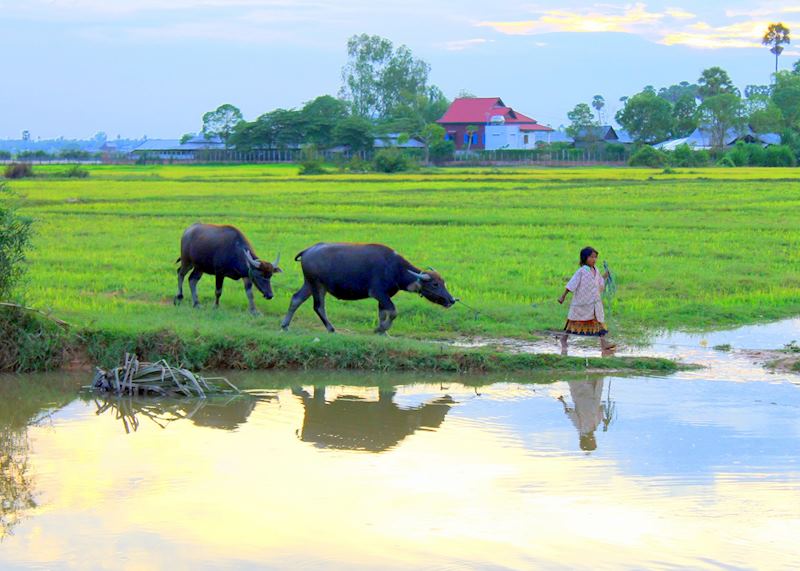 Answer
Hello Pip,
Thank you again for contacting Audley to find out more about Vietnam and Cambodia, both very different countries in terms of geography, climate, history and culture. As there is a lot to see, I think three weeks is an ideal amount of time to visit the main sightseeing spots and get a good understanding of each.
Vietnam
Vietnam is really quite a diverse country, from the towering mountains in the North to the lush green paddy fields of the Mekong Delta in the South.
In Northern Vietnam it is possible to visit hill tribes in the mountainous and forested region of Sapa, cruise around the limestone outcrops in Halong Bay and experience the bustling city of Hanoi.
In the center of Vietnam there is the ancient city of Hue which is full of enchanting pagodas and has a fascinating history. Within a few hours drive is my favorite place in Vietnam, Hoi An, a bustling town of merchants houses and shops as well as excellent restaurants in a beautiful river setting.
Down in Southern Vietnam you can tour around the fascinating city of Saigon with its elegant colonial French boulevards and captivating mix of East and West. The south of Vietnam also boasts the verdant Mekong Delta region where you can pass through the floating markets by boat and see how daily life revolves around the river.
If you need a bit of "beach time", Vietnam is also a great destination with a number of beautiful resort areas throughout the country.
Cambodia
Like Vietnam, Cambodia has come through a turbulent and tragic period in its history and is beginning to emerge as a tourist destination with a difference. Now is the perfect time to visit it for an "off the beaten track" experience.
The most famous attraction is the Angkor Wat complex, a series of fascinating ancient temples surrounded by jungle and easily the most impressive site in Asia.
Cambodia does, however, have so much more to offer; in the North-Eastern rainforests you can swim in waterfalls and stunning crater lakes; the south coast offers expansive mangrove forests and mountaineering or delicious crab feasts in the sleepy town of Kep; finally the capital city of Phnom Penh has the beautiful Royal Palace and the Silver Pagoda as its jewels in the crown.
As you travel around the country you can't fail to be taken in by the beauty of the countryside, the pagodas surrounded by frangipani and palm trees, ritual-performing monks and villagers tending to their cattle.
Summary
Audley began its business in South East Asia, so we're confident we know it inside out.
We have excellent relationships with our tour guides who are all local, speak good English and are a great source of information about their area. They take great care in making sure your trip is a memorable and comfortable one so that you can enjoy a fun and stress-free vacation.
All our tailor-made itineraries include private transfers and most tours are on a private basis. To get a unique and authentic experience, where possible we encourage use of local transport such as a cyclo (tuk-tuk bike) in Hanoi, a longtail boat ride through the floating villages of Tonle Sap or jumping on a bike and seeing village life in the Delta.
Vietnam and Cambodia have so much to offer within its landscapes, history, culture and people and are definitely ideal destinations for the discerning traveler.
I hope that provides a bit useful information but please do not hesitate to contact me and we can look to make an itinerary which is ideal for you. In the meantime, please also say "thank you" to your friends for recommending us. I'm very happy they had such a good time with us!