Some trips are all about adventure; others focus on relaxation. Our country specialists choose the places they like to escape to, including a lodge set deep in the rainforest of Borneo, a far-flung tea plantation in India and a tiny desert island off the coast of Mozambique.
Some of these places and properties are remote; others cleverly shut themselves off from the world through their design.
By Seychelles specialist Layla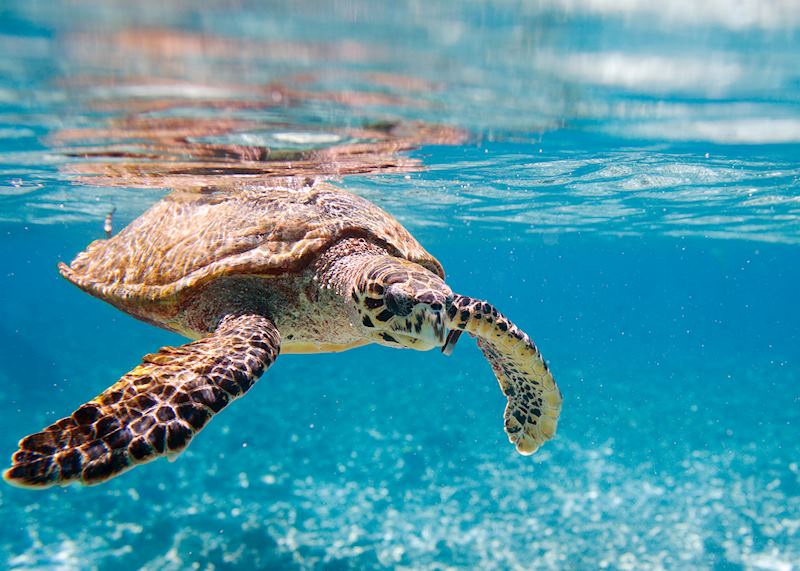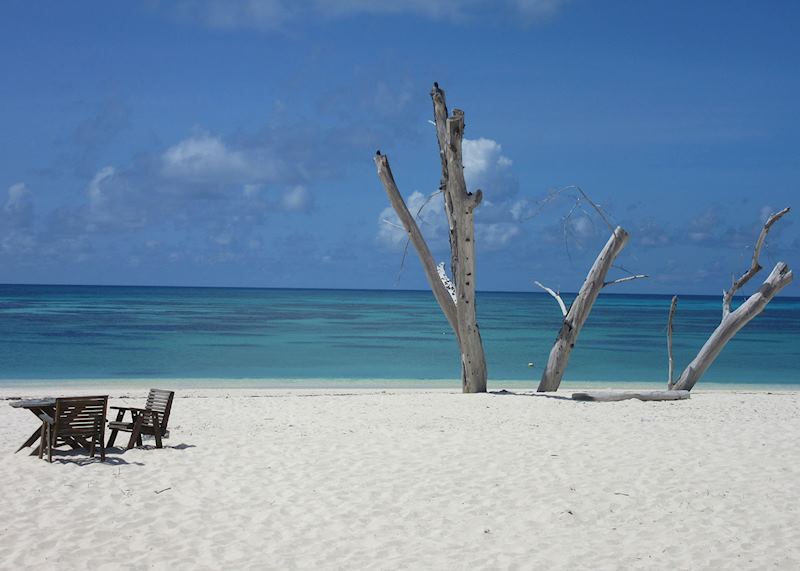 Curved like a wishbone, rimmed by beaches of silky fine-grained sand, covered in coconut palms and takamata trees; Denis truly feels like a castaway island. The only hotel, a chic ecolodge, blends into the island's lush foliage and offers understated, discreet service. The overall atmosphere is relaxing and restful: take off your shoes when you arrive, and you won't need to put them back on until it's time to leave.
If you're not content to doze on the beach there are plenty of activities, from deep-sea fishing, diving and snorkeling to canoeing, sunset cruises and guided nature walks. Between April and October, it's sometimes possible to see green and hawksbill turtles, who come to lay their eggs on the island's beaches.
If you ever need to escape the heat, there are many shady lounge areas in which to enjoy a cocktail. For the true castaway experience, I like to seek out the pair of seats in the dedicated 'sunset spot' (or just simply sit on the sand). In fact, it's a great place to kick back with a drink at any time of day, not only sunset. Driftwood pokes out of the sand and crabs scuttle on the shoreline. The horizon stretches away as far as the eye can see, the jewel-like cyan hue of the shallower waters surrounding the island contrasting with the deeper blue of the Indian Ocean beyond.
How secluded?
The island can only be reached by a 45 minute light aircraft flight from Mahé, the Seychelles' main island. Rooms have no Wi-Fi or phone signal, so you really do feel disconnected from the outside world. There is, however, a well-stocked library.
Read more about Denis Private Island
Start planning your trip to the Seychelles
By India specialist Andy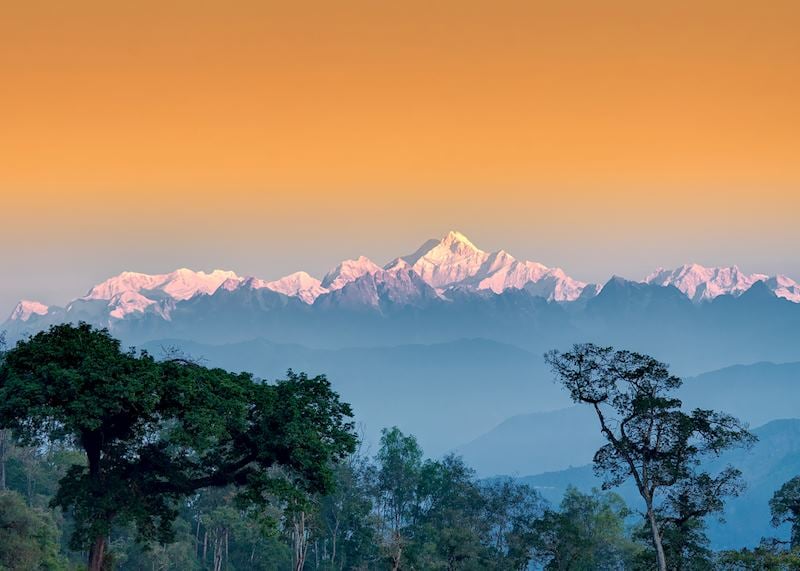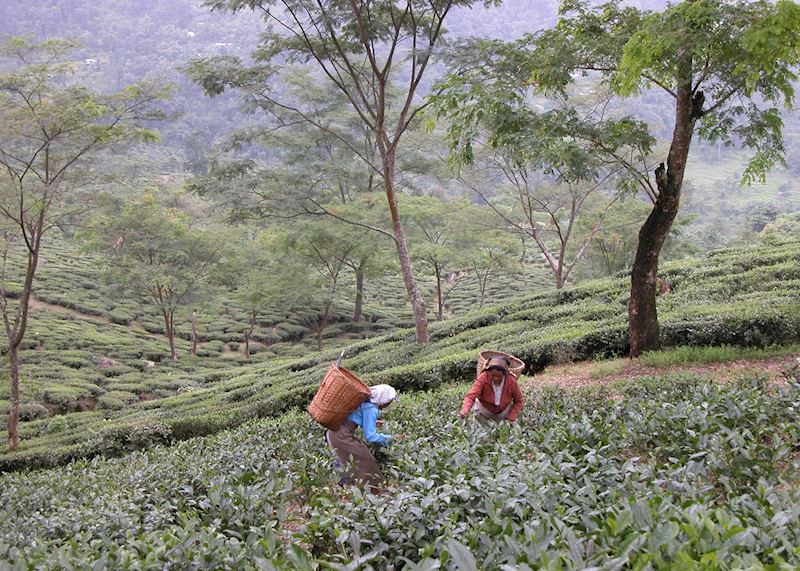 Getting to Glenburn Tea Estate takes a little effort. It's an international flight into Calcutta, a domestic flight to Bagdogra, the nearest airport, then a five hour drive along an uneven road. I often find that some of the best places are hard to reach, and Glenburn is no exception.
I still remember the first time I visited. After watching the seemingly endless rise and fall of tea-covered hills pass by the car window, a pastel-walled bungalow with a pine-green roof came into view. On stepping out of the car I was ushered onto the veranda for a welcoming cup of tea. The ground drops down steeply to the valley below. The emerald-green hills of the lower Himalaya stretch upwards, framed by snow-capped peaks above. On a clear day you can see Kanchenjunga, the third highest mountain in the world.
Eight spacious suites have been built in this former 19th-century planter's house. The estate itself is still a working tea plantation and tea tasting can be arranged. I spent my time here relaxing in one of the wicker chairs, book in hand, under a swishing fan. The hotel is popular with artists and writers, who tend to tuck themselves into a quiet corner of the garden or lounge.
For a complete escape, spend a night in the estate's River Camp. A three hour hike down from the tea bungalow leads to a wooden cabin on the shore of the Rangeet River. The cabin has a simple bathroom and bedroom and no electricity, lit only by lanterns and candles.
How secluded?
The hill station town of Darjeeling is an hour's bumpy drive away. Glenburn can arrange a guided day trip there, where you can visit the Himalayan Mountaineering Museum, Buddhist monasteries and take a scenic ride on one of India's last remaining steam trains.
See our suggested India itinerary
Start planning your trip to India
By Borneo specialist Rebecca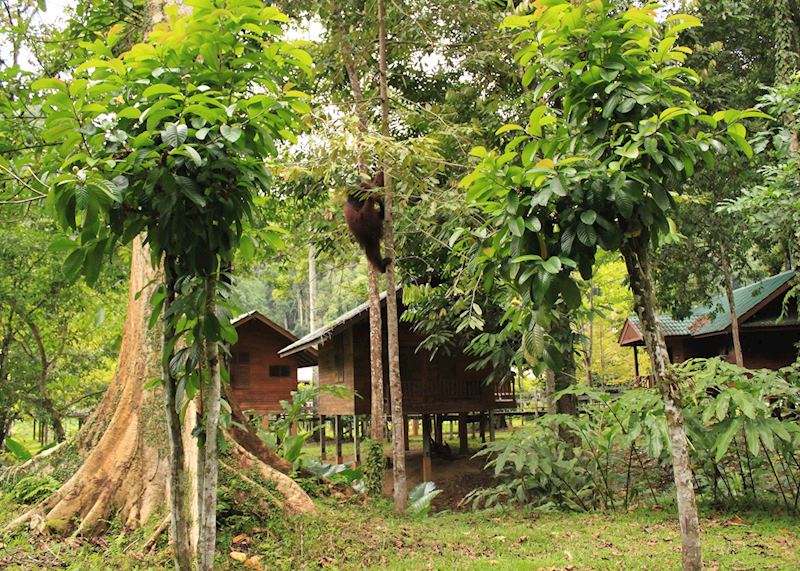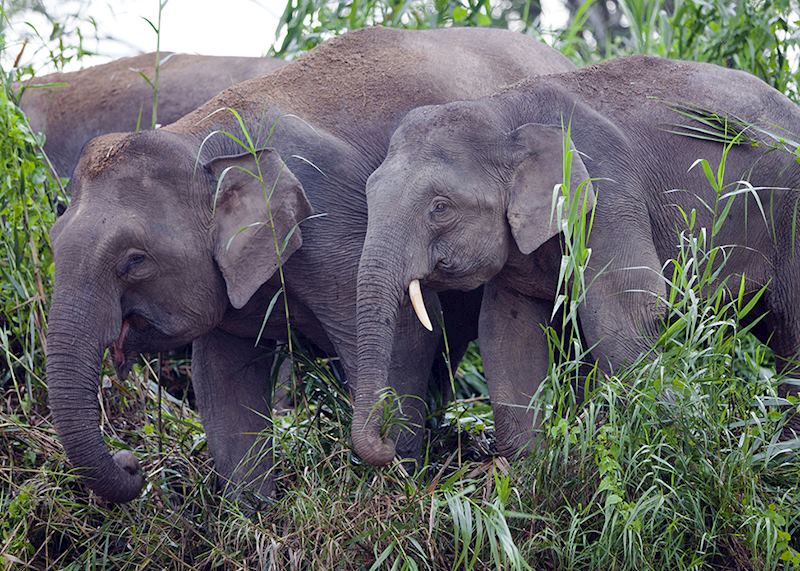 Our vehicle was stationary. Having been driving for over an hour already, I knew we still had at least an hour to go before reaching our destination, but the reason to stop was a good one. To the right of the vehicle was a pygmy elephant, endemic to Borneo and notoriously difficult to spot. We had already seen bearded pigs scurrying along the road and hornbills soaring overhead, and we hadn't even reached the primary rainforest yet.
The Borneo Rainforest Lodge, in the Danum Valley, Malaysian Borneo, is remote. Find it on a map and you'll see that the only thing for miles around is a scientific research station. From the lodge's tree-top canopy walkway all you can see is rainforest stretching out in every direction.
There are 20 chalets dotted along the banks of the Danum River. My tip would be to rise early, head out onto your balcony, and listen to the whooping calls of the gibbons in the distance. There are no TVs, and don't try to connect to the Wi-Fi (it's intermittent at best) — this is a place for a modern-day detox.
The only people you'll encounter are the few other guests and the experienced guides. You're allocated your own guide on arrival and you can spend your time here exploring the surrounding jungle, hiking to a nearby viewpoint or settling into a secluded spot to birdwatch.
How secluded?
Most visitors fly into Lahad Datu, a simple transit town. It's then a two to three-hour drive along a rutted road to Borneo Rainforest Lodge, the most comfortable accommodation option in the valley.
See our suggested Borneo itinerary
Start planning your trip to Borneo
Azura Quilalea Private Island, Quirimbas Archipelago, Mozambique
By Mozambique specialist Sam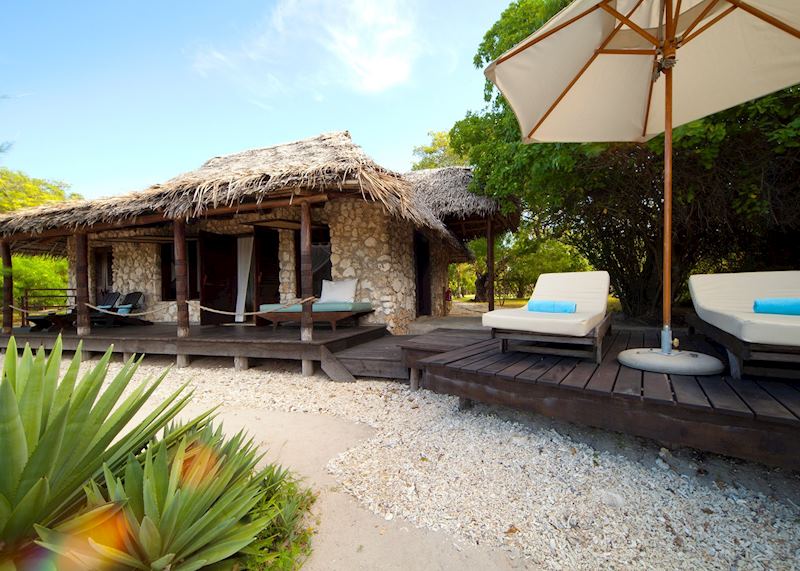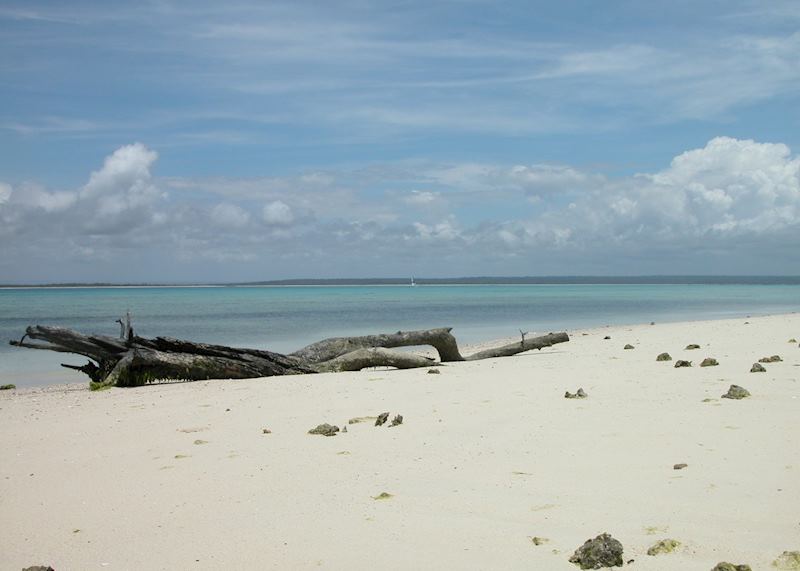 Flying over Mozambique's turquoise waters and sandy coastline in a helicopter and landing on a desert island, it felt like I was escaping to an exclusive hideaway. This was how I arrived on Quilalea Island, part of the Quirimbas Archipelago of 32 islands.
Surrounded by coral reefs ripe for snorkeling, the island is exclusive to guests staying at Azura Quilalea Private Island, an intimate lodge with just nine beach villas. Made from local stone topped with makuti-thatched roofs, the spacious villas blend in with their surroundings. You have your own private decking area furnished with sunloungers looking out to sea, and the Villa Quilalea even has its own infinity pool.
During the day you could indulge in a spa treatment or relax with a book on the white-sand beach, occasionally cooling off with a dip in the sea. If, like me, you prefer to keep active, the island's PADI-certified water sports base offers diving, fishing and kayaking. Another option is to set sail in a traditional dhow boat — look out for dolphins and breaching humpback whales between July and November.
A personal highlight was following the walking trails through the island's leafy interior. The forests show you a different side to the island, with giant baobabs and a wealth of birdlife. I followed a trail to Turtle Beach, a great spot for picnics and a turtle nesting site between November and April.
In the evening, return to the lodge for a candlelit dinner of fresh crayfish or crab — the chef can even prepare dishes you have personally requested, if asked in advance.
How secluded?
The island is only accessible via a 25 minute helicopter flight from the port town of Pemba. You can take a day trip to nearby Ibo Island to explore its colonial Portuguese architecture, churches and forts, and to browse its markets.
Eagle's Nest, Bay of Islands, New Zealand
By New Zealand specialist Sarah-Kay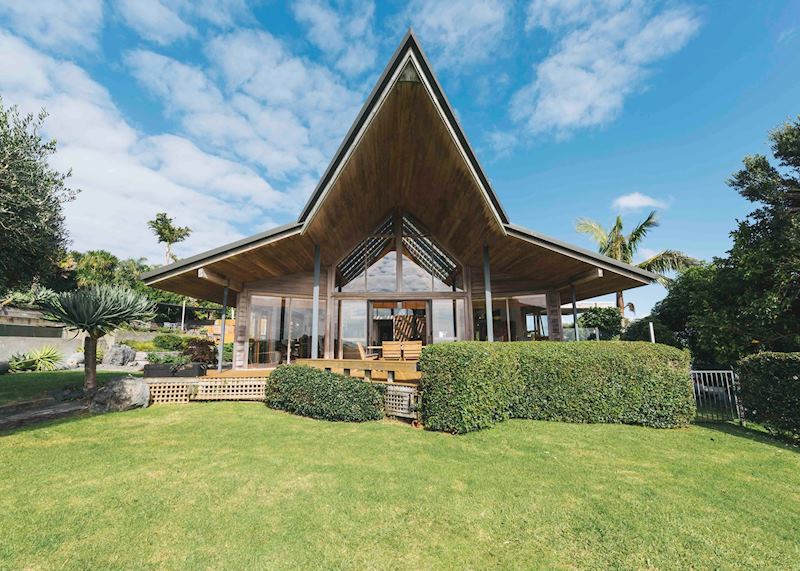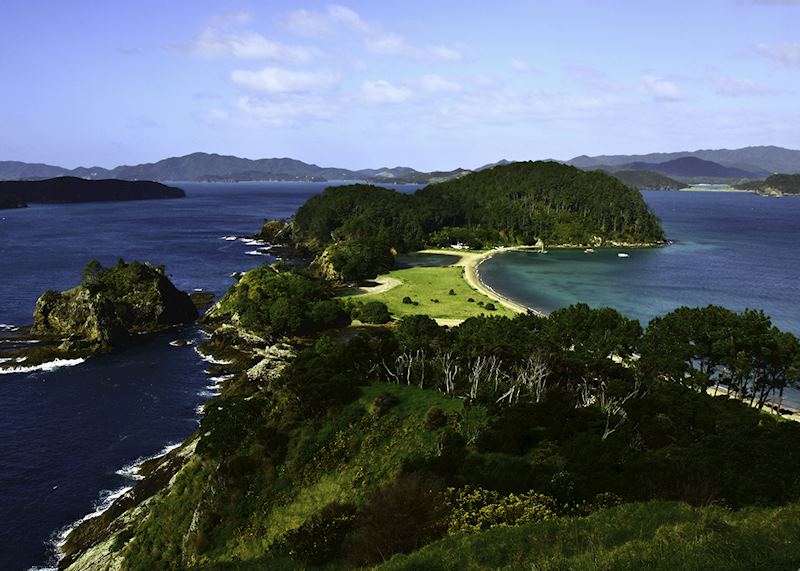 Uninhabited islands covered in greenery and farmland break up the long horizon, with the lawns of the Waitangi Treaty Grounds winking in the distance around a headland. This is the view you'll get from Eagles Nest, a property that enjoys (as the name indicates) a lofty perch on the west of the Russell Peninsula.
Across from the Bay of Islands' main town, Paihia, a steep hill leads up to leafy grounds concealing five villas (and a helipad or three). Tucked away amid the foliage and shrubs, these gated villas are ultra-elegant retreats for those who want their every whim catered for while enjoying the bay setting. Heating, music and lighting is all controlled via tablet, meals are cooked by private chefs and each villa has its own particular draws, such as an ocean-facing infinity pool or private cinema.
Rahimoana, the largest, even has a sliver of beach that can only be accessed via a cliffside path leading down from the villa's private gardens.
What I like about coming here is that you have the option to hole yourself up on the property's promontory and drink in the views. Alternatively, you can venture back and forth at leisure while exploring the area. You can take part in big game fishing trips, searching for blue marlin and swordfish in the bay, or simply take a complimentary transfer into Paihia and Russell to eat at one of the local waterfront fish restaurants.
How secluded?
Eagles Nest is a straightforward two and a half to three hour drive from Auckland. Though initially easy to reach, its location at the top of a sheer-sided bank at the western edge of the Russell Peninsula means that it's not the kind of place that sees passing traffic.
Read more about the Bay of Islands
Start planning your trip to New Zealand
Punta Faro, Isla Múcura, Colombia
By Colombia specialist Kate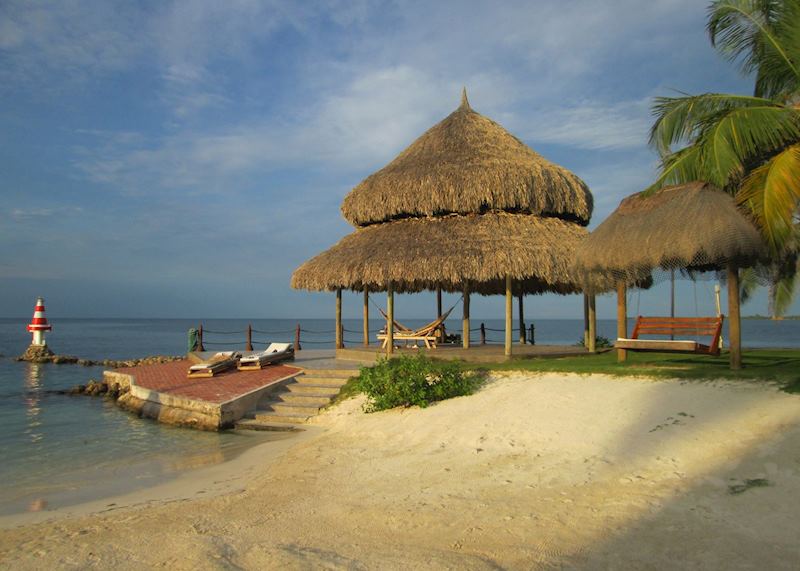 When it comes to island getaways, I think that Colombia has one of the best. A two hour speedboat ride from Cartagena takes you to Isla Múcura, surrounded by the coral reefs of the San Bernardo Archipelago and dense with palm forest. It takes about an hour to travel around the entire islet by kayak. It's home to only one hotel, Punta Faro, as well as a small local community.
You're welcomed with a freshly husked coconut to drink as you're led to your room. They're hardly ever locked — a good example of the laid-back, relaxed Caribbean ambiance that seems to permeate the whole island. Meals are buffet-style and the emphasis is on fresh local seafood, so expect lobster and prawns.
There's a plethora of activities for those who want them. Shaded bicycle trails snake around the island; the hotel also offers nature walks during which you'll be introduced to the island's vegetation and wildlife (look out for iguanas, sloths and, at certain times of year, hatching turtles). Explore a nearby mangrove by boat, or take part in diving, snorkeling, tennis and golf. One of the standout experiences involves a night-time boat trip out to sea, where you'll swim in pitch-black water that suddenly blazes into life with bioluminescence.
This isn't a large resort, and you won't find any structured entertainment schedule, dedicated children's activities, or blaring music come evening. I was mostly content to wade out to the cabañas that are set just offshore from Punta Faro's horseshoe of private beach, and lounge in a hammock suspended in the water — it was deliciously cooling.
How secluded?
Isla Múcura feels like a true island escape without being logistically difficult to get to. In fact, the boat ride there and back is a highlight in itself, as on the return leg you'll get a widescreen view of Cartagena's skyline.
Start planning your trip to Colombia
The Amanemu, Ise-Shima National Park, Japan
By Japan product executive, Jake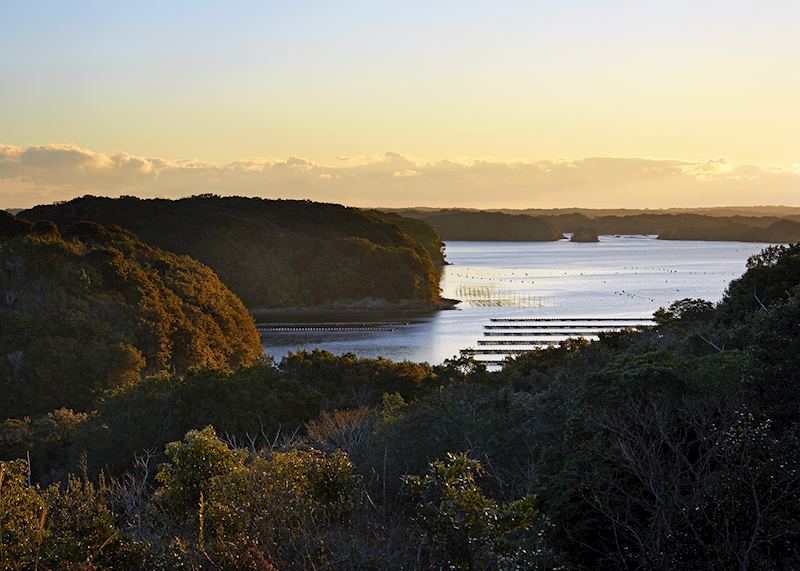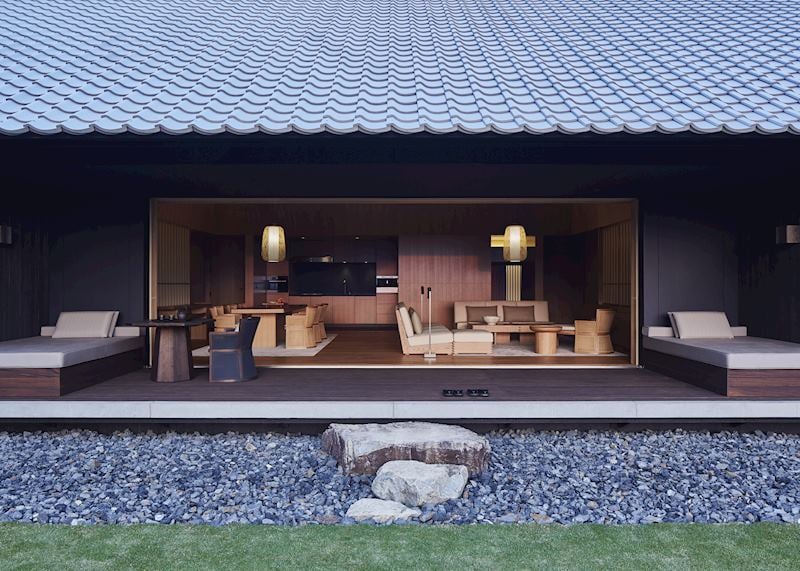 My adventure down to Ise-Shima National Park was one of excitement; a new area of Japan I had never been to but one I had heard great things about for its natural scenery of coves and rugged coastline. At the end of my seashore train ride, a driver took me to the Amanemu, part of the global Aman chain but its first countryside property in Japan.
I wasn't disappointed — a collection of 28 beautiful villas and pavilions occupying a remote hill of Ago Bay are designed by renowned architect, Kerry Hill, who took his inspiration from the surrounding beauty spots including the grandiosity of Ise Shrine in its communal areas down to each villa or suite taking their form from old country farmhouses called minka. Even the roof has wave-shaped tiles to reflect the bay. I particularly enjoyed the deep sunken bath complete with own hot spring tap/faucet directly from the source for an extra hot natural bath after my relatively long day of travel.
I'd been told to check out the hot spring spa, and I can categorically say I have never seen anything like it. An institution in Japan, hot spring or onsen bathing is another level at the Amanemu. There are terraced pools, sunken loungers, an outdoor fire pit, not to mention massage and Jacuzzi areas too.
But what makes Amanemu extra special is its location. You can enjoy beautiful views of Ago Bay, or the Bay of Pearls, monikered so for its rich tradition with the ama-san, or female pearl divers. These now elderly ladies* have free-dived for centuries collecting oysters and now enjoy cooking up these and other deliciously fresh seafood to Aman guests all the while regaling with sea-faring stories of the past. It's like this and other really unique experiences offered by the property that make the stay even more exceptional.
How secluded?
The Amanemu is located off the classic tourist track in the countryside of Ise-Shima National Park. Three hours by train from Kyoto and four from Tokyo, the hotel is located on a hilltop and surrounded by forest with stunning sea views.
Further Reading