My husband, Tone, and I had recently watched Judi Dench's Wild Borneo Adventure, which inspired us to plan our own walk on the wild side with Southeast Asia specialist Mat.
Sepilok Orangutan Rehabilitation Centre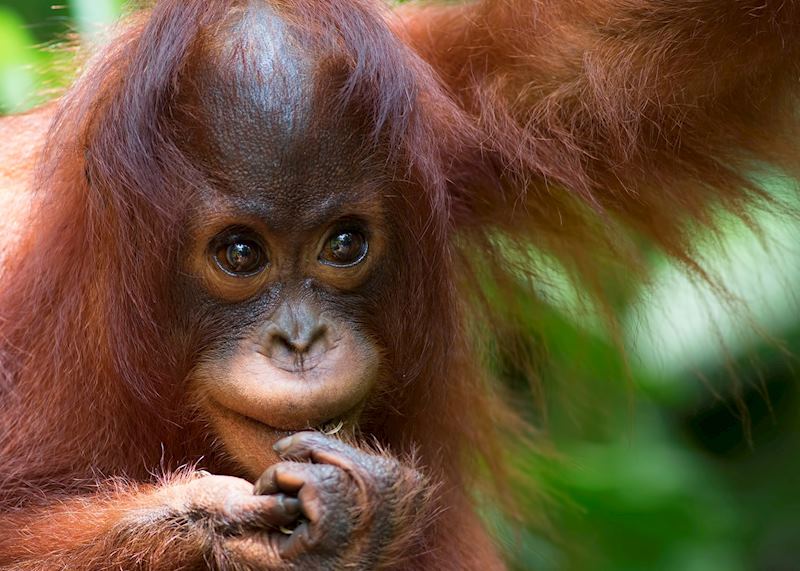 Our first stop was Sandakan and the Sepilok Orangutan Rehabilitation Centre. The viewing gallery behind two-way glass provided a discreet area for viewing the feeding of a mother and her baby. Apparently, the mother had been born in the sanctuary but was now living fully in the wild. She had returned for additional food as she was nursing her baby and she certainly was hungry — she took over one feeding platform completely. A short walk to the second feeding station afforded views of wild orangutans also just popping in for supplementary snacks.
River cruises along the Kinabatangan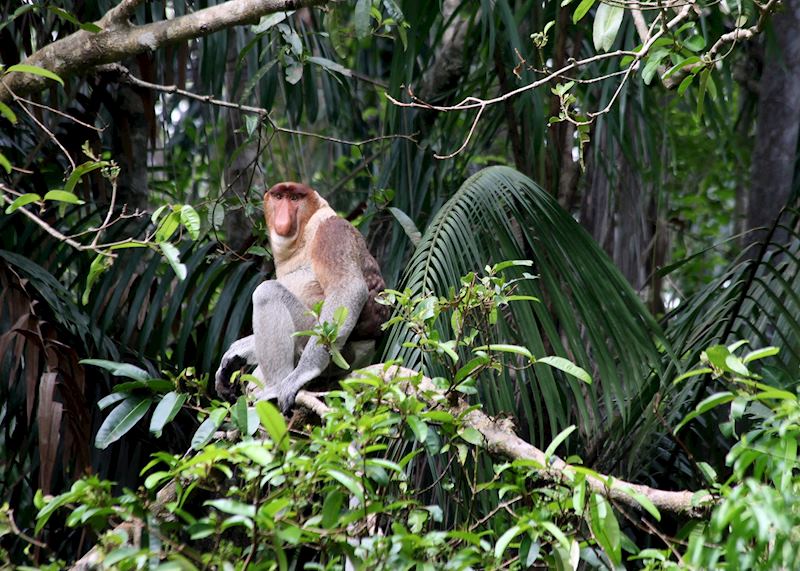 After Sandakan, we took a boat to the Abai Jungle Lodge. Wandering out of our room later for a river tour, we were startled by a mother wild boar and four piglets snuffling around under the boardwalk outside our room. They were regular visitors, as were the long-tailed macaques who attempted to steal food. There were several large stuffed husky dogs around the property that caught our attention — it was explained that they provided some sort of deterrent to these cheeky thieves.
The river tours were amazing. Our exceptional wildlife guide, who together with my husband (now known as Tracker Tone), spotted so many of the animals we had hoped to see — proboscis monkeys, orangutans, crocodiles, birds, fireflies, long-tailed macaques and spectacular kingfishers. Our boat stopped below a tree and 20 feet overhead was a beautiful, pregnant orangutan, munching mightily and totally oblivious of our presence.
Abai village is fully involved with the jungle lodge and we were invited to lunch with the locals. This was a very special experience and everyone made us feel so welcome, inviting us into the house. I looked around the door into a room with a girl on a prayer mat. Thinking she was deep in prayer I hastily withdrew with respect, until I saw she was actually engrossed in her mobile phone.
The highlight on our last evening river tour was a family of proboscis monkeys settling down for the night. The alpha male was settled already but his many wives and children were taking some time to relax. One skirmish resulted in the separation of a mother from her baby, who sat bewildered and blinking at us on a lower branch. Seeing she had mislaid him, she leapt back to the branch and with an almost audible 'Come 'ere you!' she snatched him back.
Human connection on Gaya Island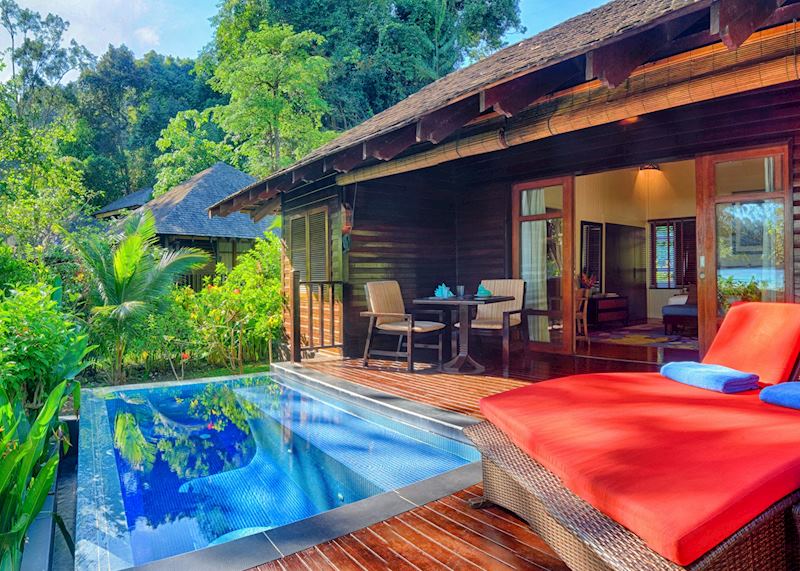 Bunga Raya Resort on Gaya Island was our final stop. The food was exceptional, as was the service. The young and enthusiastic team guided by an inspirational manager, Laurent, made our stay so incredibly special. Every member of staff knew our names from the start and they interacted so warmly. We felt we were genuinely part of the family.
We shared our space with wild boars, chameleons, monkeys and a pair of hornbills — nicknamed George and Mildred — who graced us with a fly-past each evening at 5pm to roost in a tree close to our fabulous villa.
Leaving Bunga Raya was a wrench — the staff and the manager were there to say goodbye, and as we sped away on a boat, two of the team waved from the quay. We never return to a destination or property as there are so many other places in the world to see. But you know what? For this property — we just might.
Start planning your trip to Borneo

Start thinking about your experience. These itineraries are simply suggestions for how you could enjoy some of the same experiences as our specialists. They're just for inspiration, because your trip will be created around your particular tastes.
View All Tours in Borneo