By Southeast Asia specialist Sophie
I find that when most people think of Borneo, they think of dense jungle filled with animal calls... but there are so many more layers. The island is made up of three different countries: Malaysia, Indonesia, and tiny Brunei. We're just focusing on Malaysian Borneo here, but within that, there are Indian, Chinese, and Malay cultures, as well as at least 95 indigenous groups.
Animistic tribal beliefs exist side-by-side with Hindu and Muslim communities, forming a rich cultural and culinary heritage. And the jungle? It's a varied sprawl of ancient forests, mangroves, wetlands, and rainforests, supporting a cast of wildlife so big I can't list them all. I've designed this route through Sarawak and Sabah, two of Borneo's most varied states, to capture the variety that's kept drawing me back to the island.
Kuching: street food & tribal life
How long? Four nights
Stay at: Ranee Boutique Suites, plus a night in a simple house with the Bidayuh tribe
The logistics: fly into Kuching International Airport via Kuala Lumpur.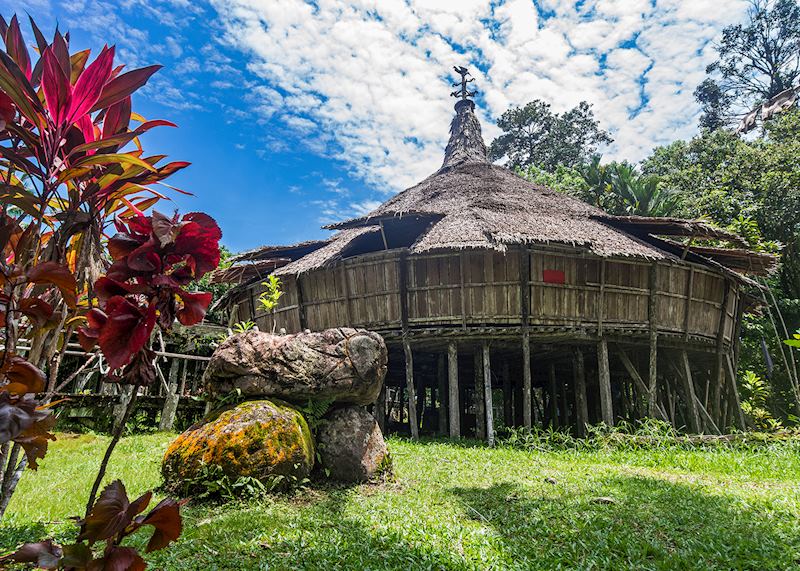 I'm using the word 'city' loosely, but Kuching, in the state of Sarawak, is Malaysian Borneo's largest city, where the smell of street-food stalls fills the air and there's a hubbub of people going about their daily life all around you. This urban start to your trip introduces you to the history and culture of the island, as well as some of the best food.
On my most recent visit, I enjoyed a private cycling tour that took me into the kampongs ('little villages' in Malay) that surround the city. You start in the chaos of the main bazaar, but quickly turn off into suburban areas where stilted houses are banked up along the river. Your guide will share the background to each village you pass through — including the former British-colonial administration district, where grand houses have been passed down the generations.
As on almost any tour here, there's time to stop and try some street food. The freshly grilled peanut satay makes me hungry just thinking about it, and if you take the tour in the morning, you can try laksa, a noodle soup dish. Every Malaysian will tell you their laksa is the best, but for me, Sarawak laksa really is.
To end the trip, you'll be chugged along the river back to the heart of Kuching on a sampan. These small wooden boats are a dying trade, so we try to incorporate them into trips where we can, both to keep the tradition alive and because it makes for a relaxing finish.
I've suggested Ranee Boutique Suites, a comfortable city stay for most of your time here, but I also recommend spending a night with one of the many indigenous communities that surround Kuching. Many people you meet will have links to these communities, like my guide Wayne, whose mother was from the Iban tribe and his father from the Bidayuh tribe — he had tattoos from both tribes on his arms.
Many tribes open their villages to guests as a vital way to supplement their income. I enjoyed my recent stay with the Bidayuh community, particularly because the younger members of the tribe spoke English, which made it easier to slip into the swing of daily life.
Their village is a boat trip away from Kuching across Bengoh Dam and you'll stay in a traditional village house. You'll have the opportunity to see their pepper plantations and pineapple fields, but the highlight for me was a night walk.
It was pitch black with only flashlights to light the way. I was focusing on where I was stepping when my guide told me to turn my torch off. Immediately, I noticed these things glowing out of the gloom. As my eyes adjusted, I could see the outlines of fluorescent mushrooms growing all around me.
Mulu National Park: cave exploration
How long? Three nights
Stay at: Mulu Marriott Resort & Spa
The logistics: a short domestic flight from Kuching to Mulu Airport.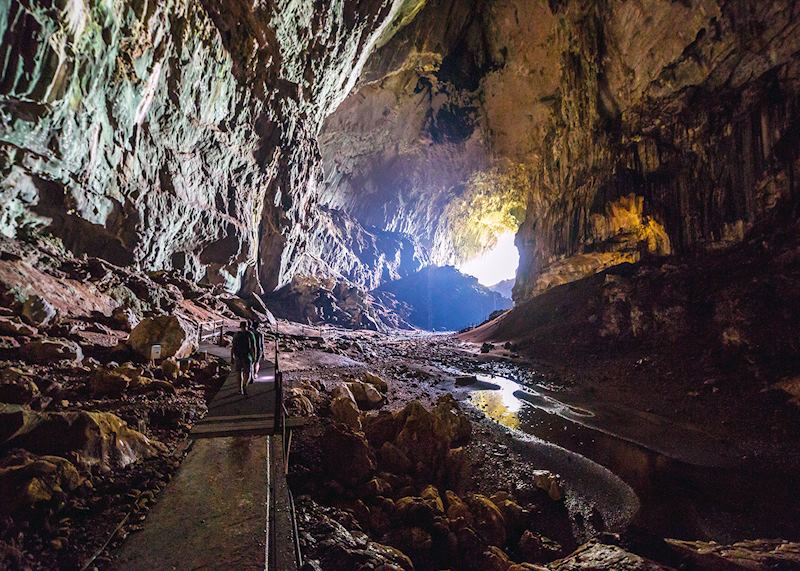 Step off the plane in Mulu Airport and you'll find the luggage carousel is someone handing over your bag from the hold of the plane. This remote national park can only be reached by aircraft, and showcases another side to Borneo: a rare limestone karst topography cratered with some of the world's largest caves. It's just a few minutes' drive to the only hotel, perhaps surprisingly, a Marriott. I hesitate to use the word luxury, but it's definitely comfortable.
I'd spend your first day here with a Mulu park ranger, who'll help you explore the caves. Many areas are lit up to help you see, and you'll find occasional boardwalks to help with access, but these aren't show caves.
The tropical forest that surrounds them is so thick that, despite the caves' size, you don't know they're there until you make out a gaping darkness in the vegetation ahead. You'll finish the day at Deer Cave where, as the sun sets, there's a bat exodus so large that it looks like a huge trail of smoke emerging from the cavern entrance. I didn't expect to be quite so transfixed, but I think it was partly because usually, in other parts of the world, there'd be a huge crowd watching, whereas here there are only ever a small number of visitors in the entire national park.
Spend the rest of your time here following the canopy walkways through a natural environment that UNESCO rated as being of Outstanding Universal Value for its endemic flora and fauna, including more palm species than anywhere else on Earth. Or, if you want more of a challenge, a number of treks weave up into the limestone pinnacles above you.
Gaya Island: a secluded retreat
How long? Three nights
Stay at: Gaya Island Resort
The logistics: a short domestic flight from Mulu to Kota Kinabalu, and a scenic speedboat ride to the island.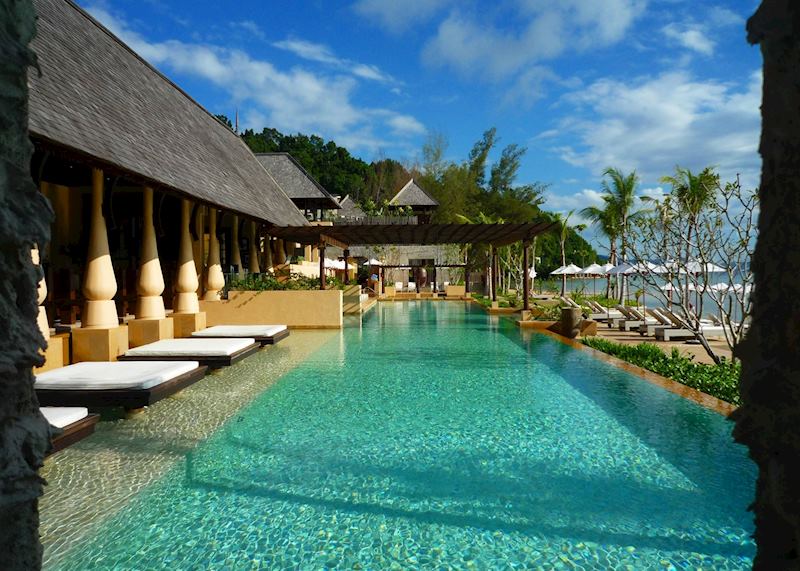 If you prefer to wait until the end of your trip for a beach stay, I urge you to reconsider here. By this time on a journey through Borneo, I often find you need a breather, plus it helps you to recuperate your energy for the final stage of your trip.
Gaya Island is the largest of the five islands within Tunku Abdul Rahman Park, which lies just off Borneo's north coast. As you arrive by speedboat, you'll begin to pick out the tiered roofs and low-rise pavilions of Gaya Island Resort hidden amid the greenery.
Scott Mayback, the resort's resident marine biologist, runs the Gaya Island Resort Marine Center, which hosts a series of talks and tours across the island, as well as a number of projects designed to protect the island's abundant wildlife.
You can snorkel right from the beach, where rainbow runners and glittering shoals of angelfish flit among the coral. I opted to hire a kayak and paddle through the mangroves, where you can spot crabs scuttling up the branches. But, even if you simply flop on the sand, you're likely to have bearded pigs, land monitors, and proboscis monkeys sharing it with you.
Sepilok: orangutans & sun bears up close
How long? Two nights
Stay at: Sepilok Nature Resort
The logistics: a 50-minute flight from Kota Kinabalu to Sandakan, then a short drive to Sepilok.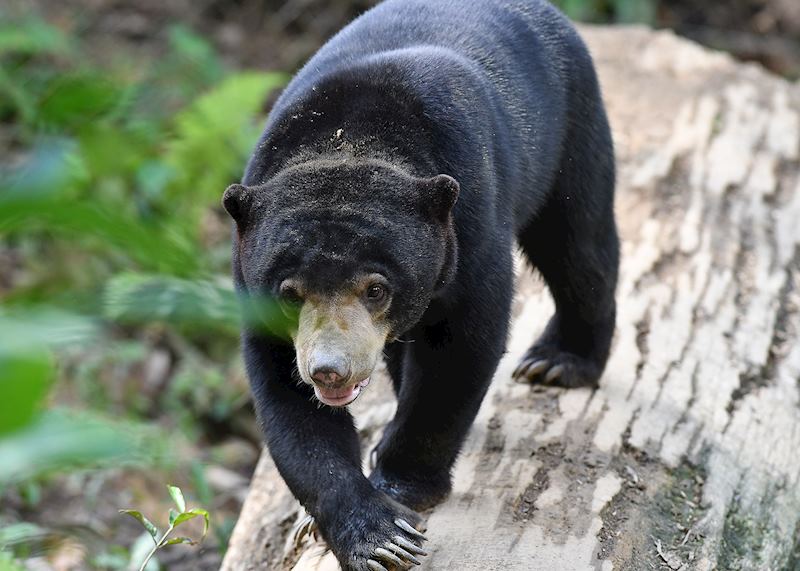 What better way to end your time in Borneo than with a focus on the wildlife in Sabah? And Sepilok is the best place to start.
You can't beat the excitement of seeing orangutans in the wild, but Sepilok Orangutan Rehabilitation Centre gives you the chance to see them up close. During the morning and afternoon feeding sessions, orangutans sweep down from the trees for their meal. However, the idea is that once they're mature enough to survive and forage on their own, they'll stop coming back.
It can get busy here, but most visitors only stay in the area for one night and attend the morning feeding, meaning the afternoon feeding is much quieter (in terms of humans, the orangutans are harder to predict).
On my last visit, I had such a great experience at the sun bear sanctuary next door, too. The best way to experience the sanctuary is on a private tour with its founder, Dr Wong, who'll introduce you to the bears and help you take a closer look using the telescopic lenses set up around the site.
There's also the Rainforest Discovery Centre nearby, which has a series of canopy walkways spidering out into the forest. My top tip is to go early, before the visitor facilities open. It means you can be on a canopy walkway with the morning mist below you and the sun rising above — just pay your entrance fee on the way out.
The Kinabatangan River: boat safaris
How long? Three nights
Stay at: Kinabatangan Wetlands Resort
The logistics: a 30-minute drive from Sepilok, then a one-and-a-half-hour boat trip.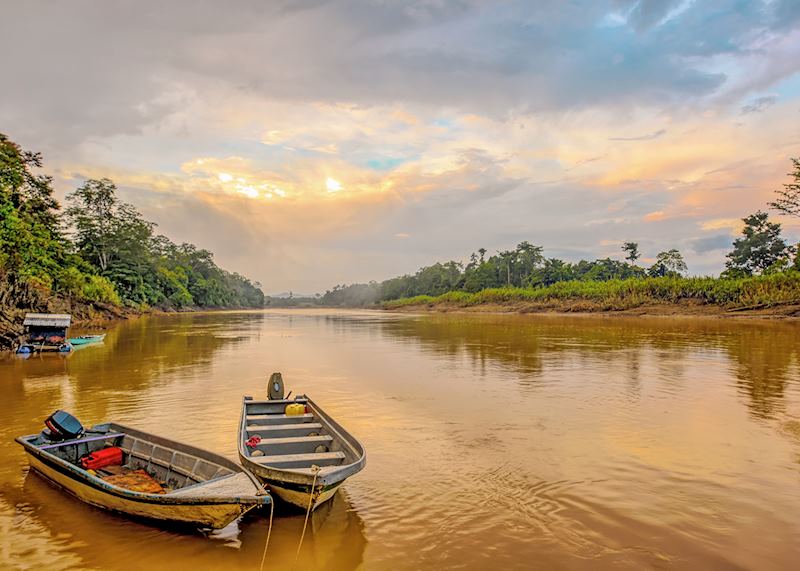 I've been to Borneo five times, yet whenever I've stayed on the Kinabatangan River the wildlife never fails to amaze me. Kinabatangan Wetlands Resort is my recommended place to stay as you can only reach it by boat, and there's only one other lodge in the area, so it's very quiet. You can take guided night walks on the resort's boardwalks looking for flying lemurs, frogs, and bearded pigs, but your main activity is cruising the river.
I suggest opting for a private boat and guide so your day can be tailored to you. My guide, Dido, took me away from the main river channels down a narrow tributary where we stopped for an hour to watch a male orangutan build a nest up in the canopy.
Thinking I'd peaked with this experience, the next day we cruised to a spot Dido knew was popular with orangutans. We cut the engine and after a short wait, an orangutan emerged just across the river and slowly began to munch his way through the fruit on the trees. He then let out an almighty mating call and swished away through the foliage.
Deramakot Forest Reserve: a showcase of endemic wildlife
How long? Three nights
Stay at: Simple guest chalets run by the forest reserve team.
The logistics: a boat trip back to Sandakan, followed by a slightly bumpy four-hour drive.
Time for the big finish.
One of the first FSC-certified forestry reserves, this mixed dipterocarp rainforest has become a blueprint for how to run a sustainable commercial project to halt deforestation across Borneo.
It's a remote research facility, not a hotel, so you stay in a simple chalet that's maintained by the forestry team. To explore, you and your wildlife guide drive deep into the forest in a 4x4, armed with a spotlight if you're heading out after dark.
Careful stewardship of the forest has encouraged a long list of wildlife, and it's the only place you can potentially spot all five of Borneo's cat species. There's a healthy population of orangutans, as well as gibbons, sambars, macaques, and pygmy elephants. Wildlife sightings can come thick and fast (though never guaranteed) as you spend your final days in this remote enclave, miles from anywhere.
Get me there: Grand tour of Borneo.