While you might be tempted to go into hibernation mode in winter, in Canada, it's a time when new opportunities for spending time in the great outdoors open up. Activities in winter are geared toward being active and appreciating the country's natural beauty, from mountains dressed in a thick coat of snow and forests dappled green and white, to frozen waterfalls and icy canyons.
Canada specialists Lucy and Nathalie have picked some of Canada's best winter experiences, all of which are likely to get your blood pumping. They include snowmobiling up a mountain, ice climbing in a canyon or exploring frozen forest trails by electric fat bike.
You can include each of these activities in a wider winter Canada trip. You might want to get active in the Rockies, try out new experiences in British Columbia before seeking the northern lights in the Yukon, or explore Canada's eastern cities and countryside pursuits.
5 of the best active winter experiences in Canada, chosen by experts
Snowshoeing on Fortress Mountain, Alberta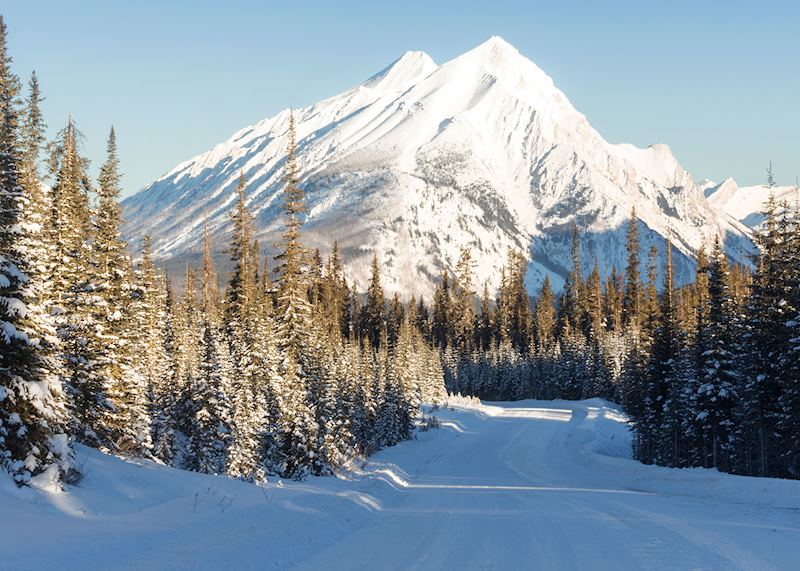 By Lucy
A lot of places can be described as 'off the beaten track', but Fortress Mountain, in Kananaskis Country, really is. I knew it as soon as I saw the abandoned chair lifts swaying and creaking in the wind. A ski resort built in the 1980s but shut down in 2004, it's a place where snow is left undisturbed, remaining deep, powdery and dazzlingly white.
But, you can join a group snowshoeing tour that takes you into this otherwise untouched wilderness, crossing landscapes that have been used in films such as Inception and The Revenant. After a morning pick-up from Banff or Canmore (both are about an hour away), you arrive at the former ski area, where old buildings still stand.
You then board a heated cabin that's tugged up the mountain by snowcat — a tractor-like vehicle usually used to flatten snow for recreational use. Once at a suitably ear-popping altitude, you have time to take in views over the surrounding snowy peaks and attach snowshoes to your boots.
Then, you walk, passing trees heavy with snow as you crunch and slide down the slopes. The snow's so deep that it cushions any falls. Your guide will tell you more about the area and its history as you explore.
Once back at the snowcat, hot chocolate and freshly baked cookies await. You're taken to several different spots for your walks, each as remote as the next, before returning to Banff or Canmore in the mid-afternoon.
Climbing a frozen waterfall in Jasper, Alberta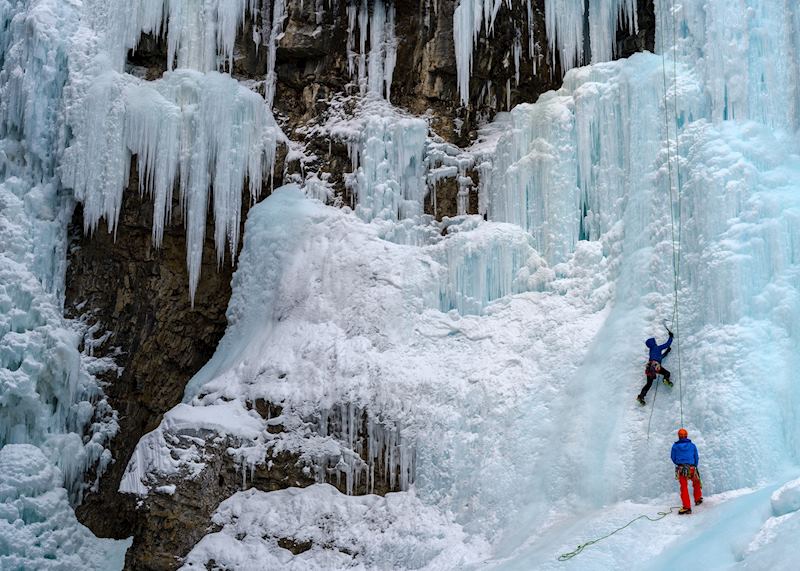 By Nathalie
I'd been rock climbing before, but now, instead of using my fingers and toes to cling to a cliff face, I was using ice picks and crampons. And instead of a cliff face, I was scaling a waterfall, its cascade frozen solid in Canada's winter chill. As I edged my way upwards, the group of people below seemed far away and my heart rate seemed to double. I was nearly at the top…
Welcome to ice climbing in Jasper National Park's Maligne Canyon. Your guide is an experienced and highly qualified climber — mine, whose name was Tim, made even those of us with no climbing experience feel completely safe, even when we had to abseil down into the canyon at the start.
Once you've made it down, you have time to wander along the canyon floor — something you can't do unaccompanied. In summer, the Maligne River rushes through here, but at this time of year everything is frozen, the canyon's walls dripping with ice stalactites.
Once you get to a suitable waterfall, your guide climbs it first (making it look effortless). Then, in pairs, you take it in turns to climb, with the other person staying on the ground to control their partner's rope.
There's no pressure to get to the top — you simply climb as high as you feel comfortable with. I found the crampons and ice picks stuck to the ice really well, and luckily no one in my group had need for the ropes.
An e-fat bike trip in Mont-Tremblant, Québec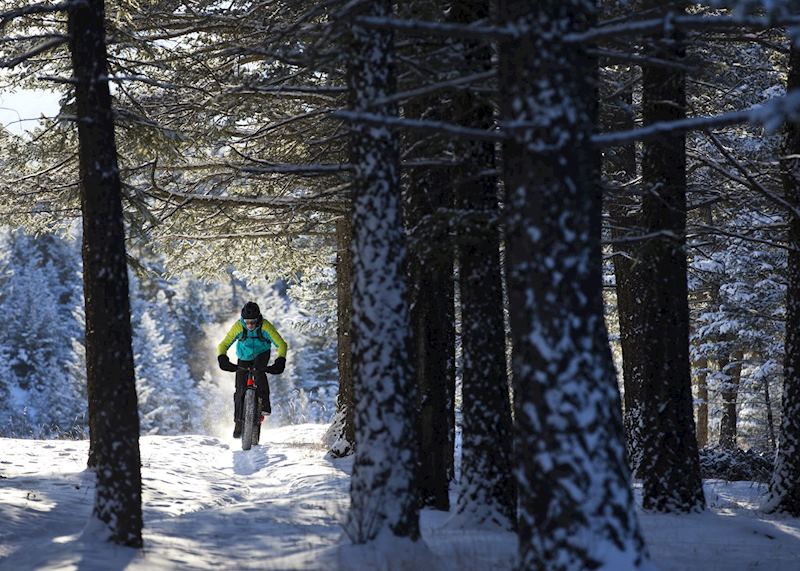 By Lucy
As a break from eastern Canada's cities and rural towns and villages, I recommend heading to Mont-Tremblant for some outdoors time. For a big dose of fresh air, consider joining this two-hour cycle tour with a difference. The bikes not only have thick, wide tyres designed for snowy terrain, but are also electrically powered so you can choose how much pedalling you want to do and speed up hills with ease.
In a small group, you cycle for 20 km (12.4 miles), following an undulating bike trail along the snowy banks of La Diable River, which might be partially or completely frozen depending on the temperatures. Your guide will show you how to use the electric power, which ranges from eco mode for cruising along flatter paths to turbo mode for tackling steep sections or just adding a bit of speed to your ride.
In the distance, you'll see the Laurentian Mountains — my guide explained that this mountain range is so ancient, erosion over time has meant it now resembles hills rather than sharp peaks.
While the bikes are fairly heavy, I found the controls were easy to use — and when I did unfortunately fall off after misjudging a hill, I was so padded by the snow that I barely felt it.
Mushing a team of huskies, British Columbia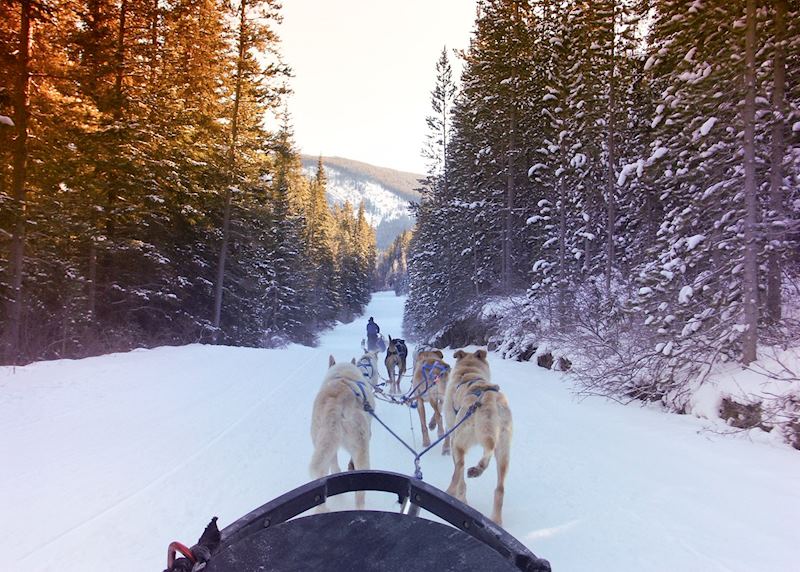 By Lucy
This was the coldest I'd ever been. But having a team of eight Alaskan huskies pull me with ease along a deserted, tree-lined creek surrounded by mountains was an experience worth the icy conditions.
Setting off from Jasper, Alberta, you're driven to Cold Fire Creek in Valemount, BC to have a go at mushing your own husky entourage. Before you set off, your guides teach you the commands ― 'gee' for left and 'haw' for right — and you're introduced to your enthusiastic team of dogs. Mine were barking in anticipation, their breath creating clouds of steam in the crisp air.
My guide explained that they position the most intelligent dogs at the front so they can steer the rest of the pack and the strongest dogs at the back to power the sled. Being in command of the dogs while moving at speed was a little daunting at first, but my guides were on hand to help and I soon felt in sync with my pack.
The air's certainly fresh, but you can take it in turns to mush, sitting down among warm blankets when not on duty. And, if you'd rather not have a go, you can choose to just sit back and enjoy the ride.
After sledding for 10 km (6 miles), you stop for sustenance: a hearty lunch cooked by your guides over an open campfire. I had homemade hot dogs with onions and ketchup, followed by cookies and brownies and washed down with a flask of hot apple cider.
While you wait for lunch, you can go over to give the dogs some TLC and take photos. It's clear how much they enjoy the experience — mine were quite vocal as they waited impatiently for us to set off again.
After making the return journey along the same trail, the dogs are rewarded with bowls of warm chicken broth, which is gratefully guzzled down in seconds.
Snowmobiling and a mountainside breakfast, British Columbia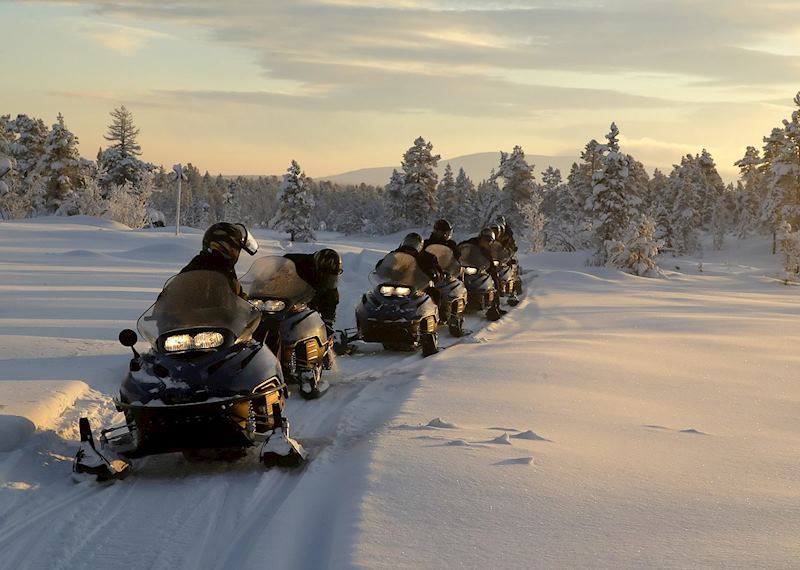 By Nathalie
The mountain resort town of Whistler is alive with activity in winter. But, you don't have to venture far to reach seclusion. I find a snowmobile trip is a good way to explore the area's backcountry while also getting a kick of adrenaline.
Setting off in the morning and led by a guide, you carve your way through the frozen countryside, snowdrifts either side of you as you pass fir trees enclosed in fresh snow. Eventually, you reach a log cabin tucked away on the side of Sproatt Mountain.
While you warm up inside or take in views over the surrounding fir-scattered mountains, your guide cooks up a full Canadian Yukon breakfast on a wood stove — crisp Canadian back bacon, Yukon gold potatoes, scrambled eggs, cheddar cheese, sautéed onions and bell peppers, as well as pancakes with maple syrup. Hot drinks are also handed out, and soon you're suitably warm and full.
After breakfast, you have more time to zip through the alpine landscape on your two-seater snowmobile, perhaps driving in circles across the nearby frozen lake.
Best time to visit Canada in winter
Generally, mid-December to mid-March is the best time to visit Canada if you're planning a winter trip. All the activities above benefit from snow, which is at its best between January and early March, when it's deep and powdery.
Read more about trips to Canada
Start thinking about your experience. These itineraries are simply suggestions for how you could enjoy some of the same experiences as our specialists. They're just for inspiration, because your trip will be created around your particular tastes.
View All Tours in Canada
Further reading