Despite Canada's size, weather patterns are largely the same across the country, with defined seasons similar to those in Europe. While there are variations - coastal regions are usually more temperate than prairie provinces and mountain ranges attract higher rainfall and snow in some areas than others – it's cold everywhere in winter and warm in most locations in summer. The summer months are most popular, offering sunny days and pleasant temperatures. Springtime starts in late April through to early June and can be a delightful time of year to visit, with gradual snow melt revealing forests and wildflowers and a re-emergence of Canadian wildlife from the long winter hibernation. September's considered the peak of the salmon run, attracting large numbers of bears. It also marks the start of autumn, with spectacular fall foliage lasting into October.
Speak to someone who's been there
Start planning your tailor-made trip by calling one of our Canada specialists on 01993 838 700
Month-by-month guide to travelling in Canada
Visiting Canada in January - March
The weather is unquestionably cold at the start of the year, but if you're prepared and have packed appropriately you can enjoy the many activities and festivals that take place during the Canadian winter. There are popular cultural and sporting events and some incredible wildlife experiences, but perhaps best of all is the amazing phenomenon illuminating the dark winter skies known of course as the Northern Lights.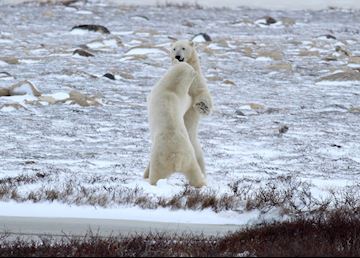 ---
Events & Festivals
Quebec Winter Festival (last weekend of January to February) Lasting 14 nights, this is the world's largest winter carnival, notable for incredible ice and snow sculptures. Visit Québec »
---
---
Why travel with Audley?
100% tailor-made journeys
A specialist plans your trip
Fully protected travel
Established for 20 years
Travel Advice
Flight times are roughly Between 5½ and 11 hours. Request a brochure
Our detailed brochures feature trip ideas and travel experiences recommended by our specialists.
Canada Climate Guide
Place
Jan
Feb
Mar
Apr
May
Jun
Jul
Aug
Sep
Oct
Nov
Dec
Jasper

-7°C

39mm

-1°C

23mm

3°C

20mm

10°C

25mm

15°C

37mm

19°C

60mm

22°C

63mm

21°C

60mm

16°C

46mm

10°C

34mm

1°C

32mm

-4°C

33mm

Churchill and Northern Manitoba

-24°C

16mm

-22°C

15mm

-15°C

17mm

-5°C

25mm

3°C

33mm

11°C

44mm

17°C

50mm

16°C

61mm

9°C

53mm

1°C

45mm

-9°C

36mm

-19°C

21mm

Montréal

-5°C

69mm

-3°C

64mm

2°C

72mm

11°C

74mm

19°C

72mm

24°C

86mm

27°C

90mm

25°C

98mm

20°C

89mm

14°C

76mm

6°C

90mm

-2°C

92mm

The Northern Peninsula

-5°C

100mm

-5°C

77mm

-1°C

83mm

4°C

62mm

9°C

71mm

14°C

95mm

18°C

94mm

18°C

107mm

14°C

96mm

8°C

101mm

3°C

103mm

-2°C

97mm

Halifax

-1°C

144mm

-1°C

117mm

3°C

121mm

8°C

113mm

14°C

104mm

19°C

96mm

23°C

96mm

23°C

105mm

19°C

92mm

13°C

122mm

8°C

148mm

2°C

156mm

Ottawa

-6°C

57mm

-4°C

54mm

2°C

59mm

11°C

65mm

19°C

72mm

24°C

82mm

26°C

82mm

25°C

84mm

20°C

82mm

13°C

73mm

5°C

79mm

-3°C

77mm

Québec City

-6°C

84mm

-5°C

71mm

1°C

71mm

9°C

72mm

17°C

80mm

22°C

115mm

26°C

118mm

24°C

108mm

18°C

105mm

12°C

82mm

4°C

94mm

-4°C

108mm

Banff

-6°C

41mm

-1°C

29mm

2°C

25mm

7°C

39mm

14°C

59mm

18°C

74mm

22°C

54mm

21°C

53mm

15°C

47mm

10°C

32mm

0°C

32mm

-4°C

38mm

Calgary

-5°C

17mm

-1°C

16mm

2°C

19mm

10°C

32mm

16°C

51mm

20°C

82mm

23°C

64mm

22°C

56mm

17°C

44mm

12°C

18mm

3°C

14mm

-1°C

17mm

Toronto

-2°C

55mm

-1°C

52mm

4°C

58mm

12°C

64mm

18°C

67mm

24°C

68mm

27°C

71mm

25°C

82mm

21°C

73mm

15°C

61mm

7°C

72mm

1°C

67mm

Vancouver

5°C

176mm

7°C

134mm

10°C

115mm

14°C

74mm

17°C

61mm

20°C

52mm

23°C

36mm

22°C

42mm

19°C

67mm

14°C

136mm

9°C

178mm

6°C

196mm

Whistler

-1°C

156mm

2°C

104mm

5°C

84mm

10°C

58mm

15°C

53mm

18°C

52mm

22°C

39mm

21°C

44mm

17°C

57mm

11°C

122mm

3°C

154mm

0°C

166mm

Whitehorse

-15°C

20mm

-8°C

15mm

-1°C

13mm

6°C

9mm

13°C

14mm

19°C

29mm

21°C

37mm

19°C

37mm

13°C

33mm

5°C

24mm

-5°C

21mm

-11°C

20mm

Yellowknife

-24°C

14mm

-20°C

13mm

-13°C

13mm

-1°C

11mm

10°C

17mm

17°C

23mm

21°C

37mm

18°C

41mm

10°C

32mm

1°C

34mm

-10°C

26mm

-20°C

18mm
Trip ideas and travel guides to exploring Canada