Choosing Canada as a self-drive destination requires little deliberation. Its well-maintained roads are easy to navigate and, depending on where you are, relatively empty. Its landscapes vary from cloud-nudging mountains and emerald lakes to wave-lashed coastlines and wildflower-scattered countryside. And, along the way, places lure you to stop for a hike, a picnic or to uncover local history.
A harder decision is which region of Canada to visit. You might want to explore the Canadian Rockies away from the crowds, discover Québec's French roots, visit the lighthouses and traditional fishing villages of the Maritime provinces, or chase the ghost of the gold rush in the Yukon.
Self-driving in western Canada: mountains and coastal scenery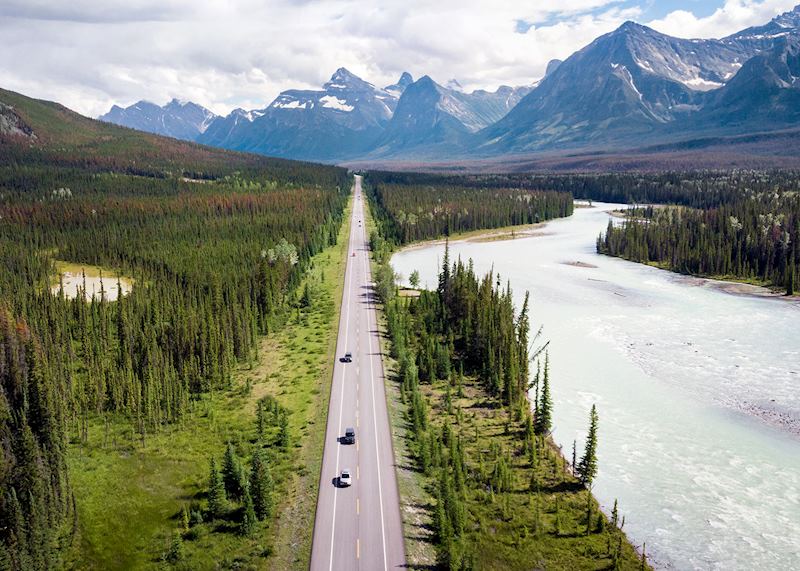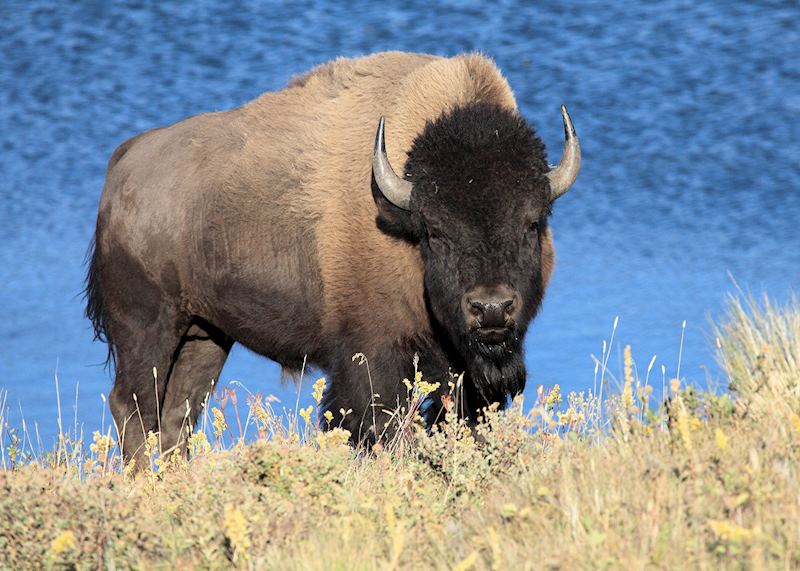 From British Columbia's wild coastline to the snow-blanketed pinnacles and glacier-fed lakes of the Rockies in Alberta, western Canada presents the country's most striking landscapes.
Taking to the wheel, you can follow a well-traversed route through the Canadian Rockies to see some of the region's most remarkable natural features, such as the Athabasca Glacier and Lake Louise. You'll visit both with a drive along the Icefields Parkway.
This 232-km (144-mile) road cuts through sheer-sided, glacier-clad peaks between Jasper and Lake Louise, following the milky waters of the Athabasca River past aquamarine lakes and frothing waterfalls. You can pause to follow forested hiking trails or picnic at one of the viewpoints.
It's plain to see why this area is so popular, but roads do get busy during the summer months. There are alternative routes to escape the crowds, though.
Taking a self-drive trip through western Canada's lesser-known areas brings you in contact with small towns and villages within the Canadian Rockies, such as Fernie, Nelson and Golden. These settlements have retained a traditional feel with their clutches of wooden buildings cradled among the mountains.
On the same route, you can kayak on the glassy waters of Waterton Lakes National Park and hike through its wildflower meadows, where bison and black bears graze. Away from the mountains, the Okanagan Valley's vineyards form a patchwork across gentle hills and invite you in for wine tastings.
If coastal scenery is more your thing, British Columbia's Sunshine Coast Highway curls along the forested seaboard north of Vancouver. Pausing for a few nights at one of the waterside properties gives you a chance to kayak on the sheltered waters, stroll nearby walking trails and relax with a spa treatment.
Then, cross over to Vancouver Island, driving through the island's wild interior to Tofino for a chance to see bears foraging along the shoreline. You can make another stop in Victoria — arguably the best place in Canada for seeing orcas.
Self-driving in Ontario and Québec: exploring history and rural corners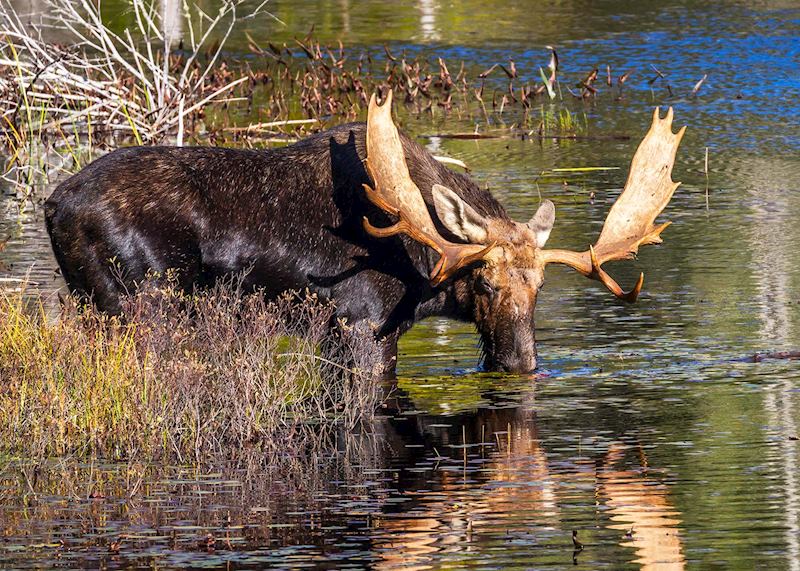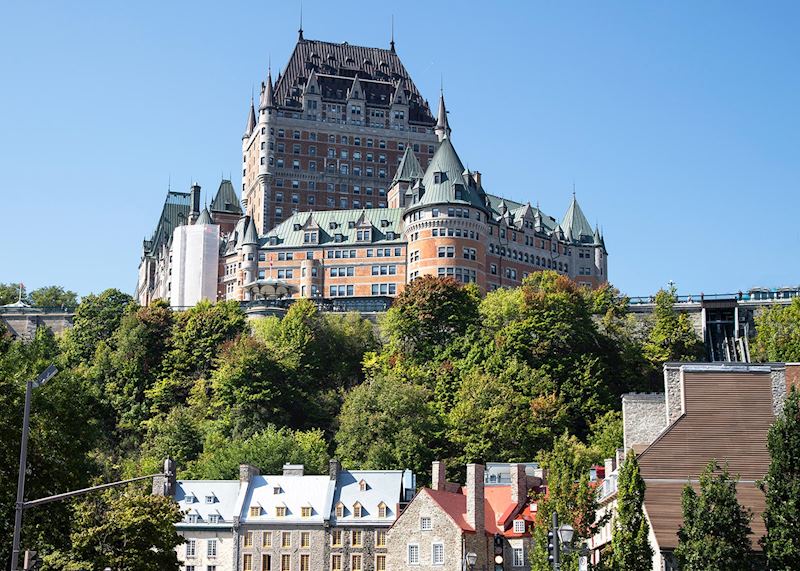 Showcasing influences from both British and French settlers, Ontario and Québec are rewarding to visit separately or in one combined trip. Rich in history and architecture, with countryside that's barely touched by human presence, the provinces offer a contrasting view to Canada's western side.
Driving in Ontario and Québec lets you take in rural towns and villages and lesser-known parks, without having to drive longer than four hours at a time or contend with any winding, mountainous roads.
Your time self-driving in Ontario can swing between its busy cities and peaceful countryside. Alongside exploring Toronto and Ottawa's museums and markets, you could see Niagara Falls by boat or helicopter, and canoe close to moose in Algonquin Provincial Park, staying in a quintessentially Canadian log cabin.
The drives in-between take in large swathes of countryside that include shimmering lakes, rushing streams and pockets of forest that set the landscape ablaze with reds, yellows and oranges come fall. And, between Toronto and Niagara Falls, you can pause at a local winery to taste some of the wines produced in the region.
Meanwhile, driving through Québec's Charlevoix region sees you weave through gentle valleys to stop off at French-speaking towns and villages. Here, you can pick up local cheeses, meats, pâtés and chocolates, sip coffee outside cafés and visit white clapboard churches.
Elsewhere, you can spend a few days hiking, mountain biking and kayaking among the precipitous mountains and deep-cut valleys of Parc des Hautes Gorges de la Rivière Malbaie. Visiting the park couples well with searching for whales and photographing lighthouses along the Gaspé Peninsula, and exploring the history and food of old Montréal and Québec City on guided walking tours.
Self-driving in the Maritimes: coastal drives and high tides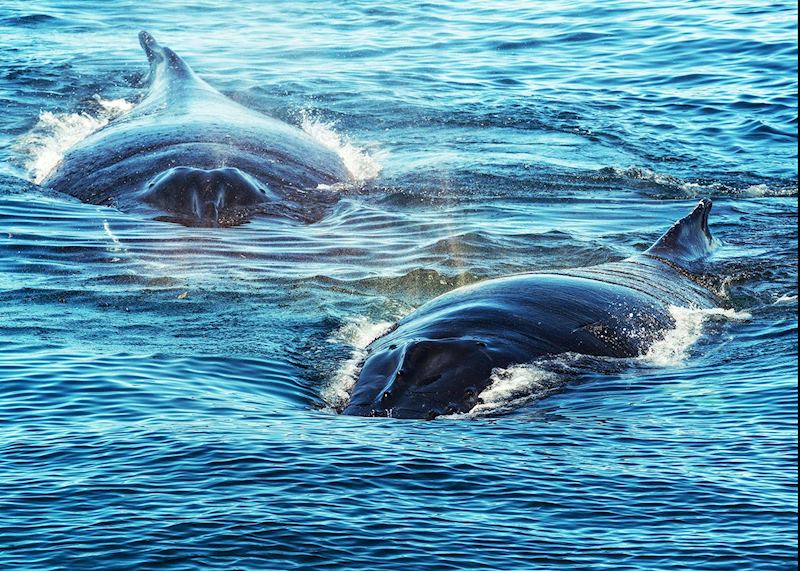 An under-discovered corner of Canada, the Maritime provinces of Nova Scotia, New Brunswick and Prince Edward Island almost feel like they're part of a different country. From the Irish and Scottish lilts in residents' accents to the stilted clapboard houses that line the waterfront of traditional fishing villages, the provinces have a distinct personality and the feel of a bygone era.
Exploring the Maritimes on a self-drive trip, you'll find roads are quiet and journeys are relatively short, though the coastal views are likely to entice you into stopping frequently.
You can choose to take in all three provinces on one trip (as outlined in our Maritime Treasures trip idea) or focus in on self-driving Nova Scotia or New Brunswick as stand-alone destinations.
Nova Scotia is where you'll experience some of the region's most scenic drives. There's the Lighthouse Route, which hugs the coastline between Halifax and Lunenburg, taking in secluded bays, inlets and distinctive lighthouses such as the red-topped beacon Peggy's Point.
The most revered, though, is the Cabot Trail, which curls around the wave-battered northern coastline of Cape Breton Island on Nova Scotia's eastern tip. You'll have views over the sheer cliffs stretching ahead throughout the 297-km (185-mile) drive, with the chance to spot moose and eagles.
Over in New Brunswick, you can drive along the coast to the Bay of Fundy to witness the world's highest tides — 160 billion tonnes of seawater flows in and out of the bay each day. You can also take whale-watching trips to see humpback, minke and finback whales, which migrate to the bay each summer to feed and calve.
Home to coppery-red beaches, blinking lighthouses and woodland-scattered coastal parks, Prince Edward Island is a pleasure ground for driving and compact enough to explore in its entirety in just a few days.
Island life was the basis for Lucy Maud Montgomery's 1908 novel Anne of Green Gables. You can visit 19th-century Green Gables Farm (the setting for the book), along with uncovering the history of Canada's Confederation in Charlottetown, dubbed the 'birthplace' of Canada.
Self-driving through the Yukon: from gold-rush towns to lake-strewn parks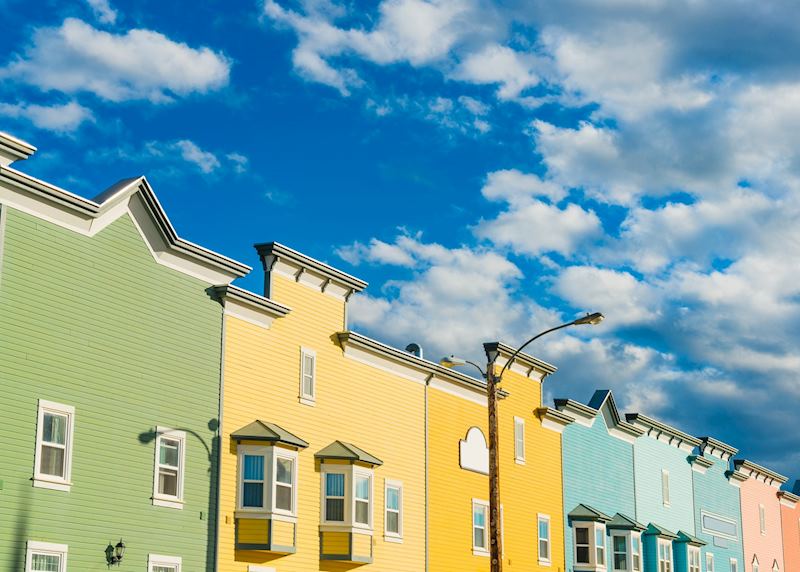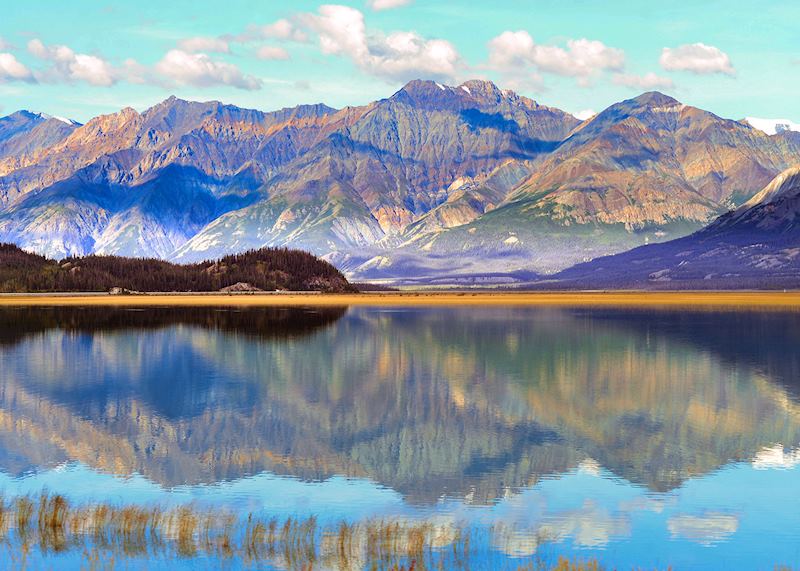 Timeless towns dot a starkly beautiful landscape of mountains, glaciers, lakes and raging rivers. Almost every person you meet seems to have a story to tell. And, there's a feeling of being somewhere completely untamed. This is Canada's Yukon, a northerly territory that the modern world seems to have forgotten.
On a self-drive trip through the Yukon, you can visit historic towns that popped up during the Klondike Gold Rush and have changed little since. Wooden buildings once used by exhausted gold prospectors line the unpaved streets of Dawson City, while following the Silver Trail gets you to Mayo and Keno City, where old silver mines lie abandoned at the mountains' feet.
East of Dawson City, your drive takes you along the Top of the World Highway, where you can pause to gaze over miles of hills and mountain peaks untouched by humans. The highway slips into Alaska before taking you southeast into Kluane National Park. Here, you can spend time hiking through forests, ice fields and mountainous valleys, and see Mount Logan — the highest peak in Canada.
End your drive in Whitehorse, taking a train ride on the White Pass & Yukon Route — a 19th-century railroad that winds around mountains to the Alaskan town of Skagway. Alternatively, spend a couple of days at Marsh Lake, where the water has the same turquoise shade as the lakes in the Canadian Rockies, but with far fewer visitors.
Good to know, if you're self-driving in Canada:

Roads are generally well maintained and well signposted.
Service stations can be few and far between, so fill up whenever the opportunity arises.
You're generally uninsured if you drive on non-government-maintained gravel roads.
Hire cars are fully inclusive, wherever possible, with unlimited mileage, GPS, a full tank of fuel and full insurance.
Choose the right type of vehicle for you — your specialist can help you decide which best suits your trip.
You'll need to take a credit card to process your hire vehicle's deposit.
Read more about self-drive trips in Canada

Start thinking about your experience. These itineraries are simply suggestions for how you could enjoy some of the same experiences as our specialists. They're just for inspiration, because your trip will be created around your particular tastes.
View All Tours in Canada