By Canada specialist Jon
'It seems it's been since the beginning; It seems it will be to the end,' wrote poet Robert Service about the Yukon's timeless quality. Wherever you stand in this huge, untamed wilderness, your surroundings could have been plucked from centuries ago.
Glaciers, raging rivers, dense forests and the highest mountains in Canada still form a frontier ripe for exploring. Even the towns, which are few and far between, seem locked in a time warp, left over from the Klondike Gold Rush years.
I find that a self-drive trip in the Yukon gives you a sense of adventure akin to that felt by early explorers and gold prospectors, who trod these paths centuries before.
About the route
The only good way to get around the Yukon is by car. I recommend taking a two-week circular route through the Yukon's predominantly uninhabited landscape.
Along the way, you dip into Alaska, Kluane National Park and the gold-rush town of Dawson City, where earthen streets and wooden buildings have remained unchanged since weary gold prospectors rested their heads there.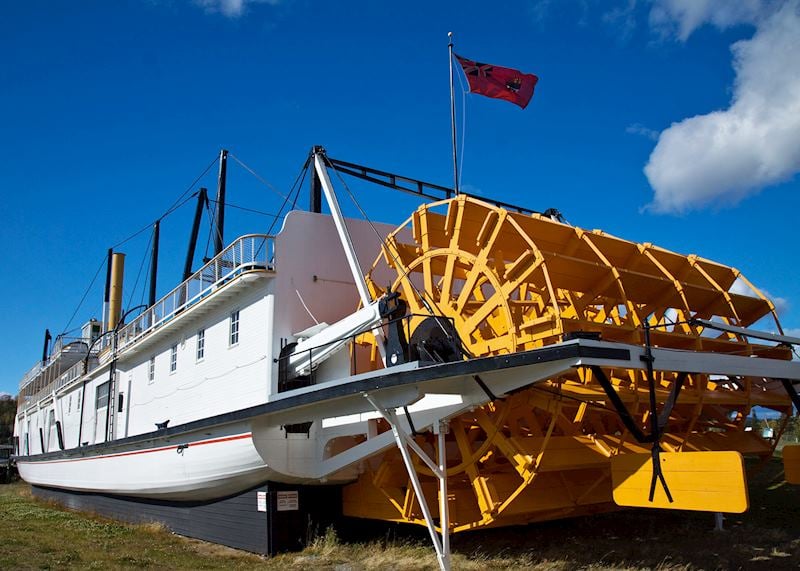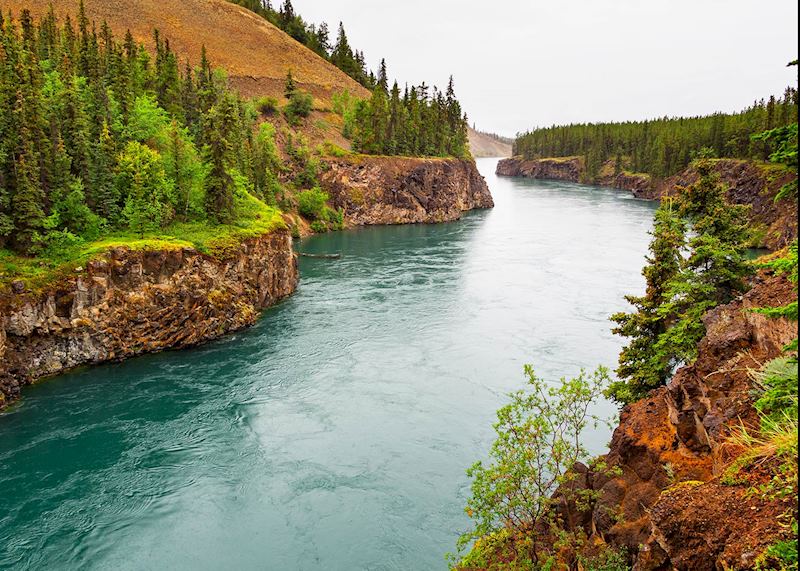 Starting your journey in Whitehorse
The journey begins and ends in Whitehorse — the territorial capital — which you can reach via a two-hour flight from Vancouver. Though it's by far the largest settlement in the Yukon, the city still has a population of under 30,000.
This is typical of the Yukon's tight-knit communities. The territory has so few residents that even those living in villages hours apart know each other. It takes a certain kind of person to live in such remoteness, and it's not surprising that most people you meet have a story to tell.
You can hear about early European settlers to the Yukon and the quest for gold at Whitehorse's MacBride Museum. There's also the Yukon Beringia Interpretive Centre, which has exhibits on the Yukon's geology, Ice Age wildlife and Indigenous Peoples.
Alternatively, you could tour the SS Klondike, a restored paddle steamer that once linked the Yukon and the rest of the world. On the outskirts of Whitehorse, you'll find many trails for walking or you can paddle in a canoe along the Yukon River.
Whitehorse to Keno City
Drive north for about four and a half hours along the Klondike Highway, before veering off along the Silver Trail. It leads you to the former silver-mining settlements of Mayo and Keno City, where wooden buildings and old mining sites sit at the foot of fir-covered mountains.
Visit the Keno City Mining Museum to learn more about the Yukon's silver-mining industry through original mining equipment and photographs. Afterwards, head next door to the Alpine Interpretive Centre, which explores the local flora and fauna.

Keno City to Dawson City
Continue your drive to Dawson City, passing through four hours' worth of untouched scenery where lakes and rivers seep into tree-covered valleys, and mountains loom on the horizon, shrouded in cloud.
Never has history felt so tangible as when I was in Dawson. Wooden boardwalks link buildings, many housing rustic bars and small theatres. In one bar, I met a man who carried a golden nugget around with him in a leather pouch.
You could pay a visit to the Dawson City Museum, which holds more than 25,000 items related to the Klondike Gold Rush and tells you about the everyday lives of the miners.
In the evening, the streets come to life. Have a drink in one of the rustic, locally frequented bars, or visit Diamond Tooth Gerties Gambling Hall to experience a recreated 1898 saloon, complete with dancers in corsets and can-can skirts. You can also tour the 19th-century Palace Grand Theatre, established by Wild West showman Arizona Charlie Meadows.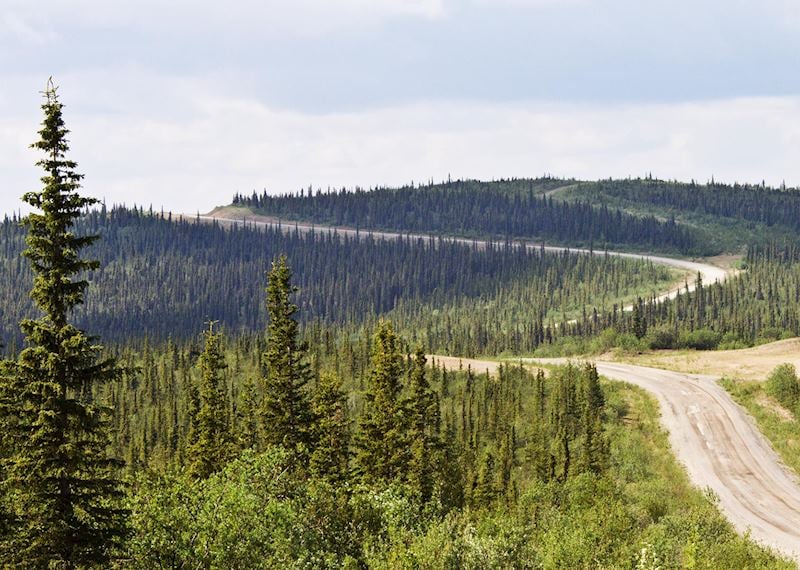 Dawson City to Beaver Creek
The next leg of your drive takes you southwest along the Top of the World Highway, which stretches along the top of a mountain range, crossing the border into Alaska. The road is unsealed and requires careful driving, though I found it was often the scenery that slowed me to a halt.
Hills and mountains slope into each other all around you, the shadows of passing clouds sliding over them, playing with light and shade. There are points where you can get out of your vehicle and gaze across miles of untouched land, the peaks and crests of mountains rising and falling in the distance.
You could stay overnight in the Alaskan town of Tok, or continue along the highway to Beaver Creek, back in the Yukon. Both are primarily rest stops but give you a taste of life in remote communities.
Beaver Creek to Kluane National Park
Heading southeast, you pass Kluane Lake, whose still, blue waters make a peaceful backdrop for a picnic. Basing yourself at Haines Junction, you can spend the next couple of days hiking through the mountains, forests, icefields and sheep-filled valleys of nearby Kluane National Park, home to Canada's highest peak, Mount Logan.
Your time in Kluane National Park is all about soaking up the great outdoors. There are many hiking trails to viewpoints overlooking glassy lakes and snow-covered mountains. We can also arrange for you to head out with a private guide if you'd like to know more about the area's geology, history and wildlife, which includes bald eagles, moose, lynx, wolves and grizzly bears.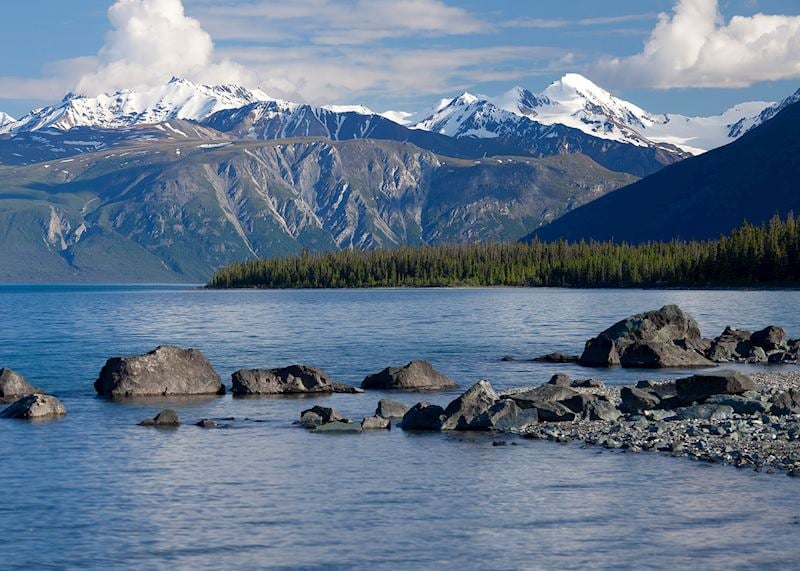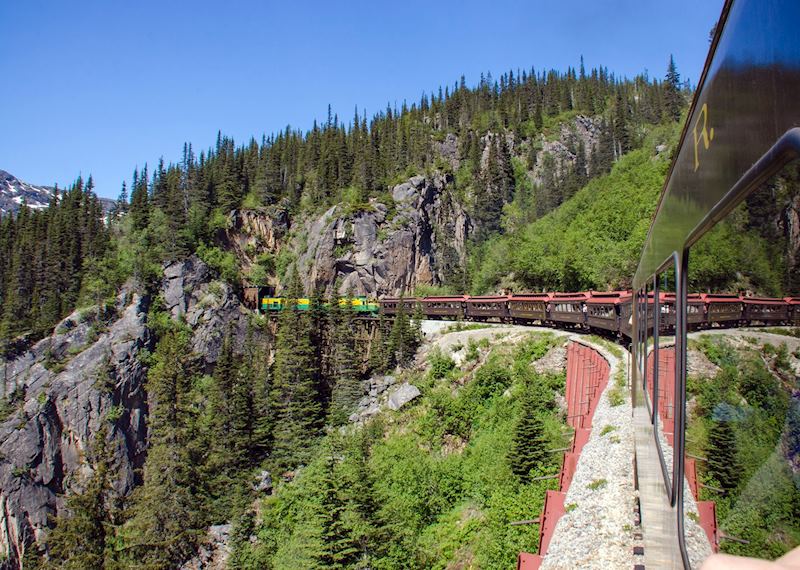 Kluane National Park to Whitehorse and Marsh Lake
I then suggest heading back to Whitehorse. From here, you could spend a day along the White Pass & Yukon Route, a scenic train journey following the line constructed in 1898 to open up the gold mines. Running between Whitehorse and Skagway in Alaska, it winds its way around mountains that drop into steep valleys spilling with waterfalls. You can read more about the route in our guide to Canada and Alaska rail journeys.
Before you fly back to Vancouver, I'd also spend a relaxing couple of days at Marsh Lake, south of Whitehorse. The lakes here have the same glowing aquamarine water as those in the Rockies, only you're likely to have them all to yourself.
I see it as a place for quiet strolls around the lakes, laid-back fishing trips and gentle canoe or kayak rides out onto the water.
Read more about self-drive trips in the Yukon

Start thinking about your experience. These itineraries are simply suggestions for how you could enjoy some of the same experiences as our specialists. They're just for inspiration, because your trip will be created around your particular tastes.
View All Tours in Canada