By Ecuador specialist Caroline
If, for you, Ecuador equals the Galapagos, you're not alone. I often speak to people who are quick to pass up mainland Ecuador for the islands. But, I'd tell you don't be too hasty. As much as I love the Galapagos, inland Ecuador has all the ingredients for an equally rewarding (if very different) trip.
To show you what I mean, I've concocted my own two-week dream itinerary, taking inspiration from this 13-day luxury Galapagos and Ecuador tour, but focusing purely on continental Ecuador.
It's grand in the scope of places you visit (you'll take in both the cloudforest and the Amazon, the northern highlands and two weighty Spanish colonial cities, and you'll witness some of the planet's most active volcanoes). And, it's grand in the sense that some of my suggested places to stay do carry a higher price tag than other options. But, I'd argue they're worth the extra investment: there are few places like them in South America.
Days 1 to 3: The northern highlands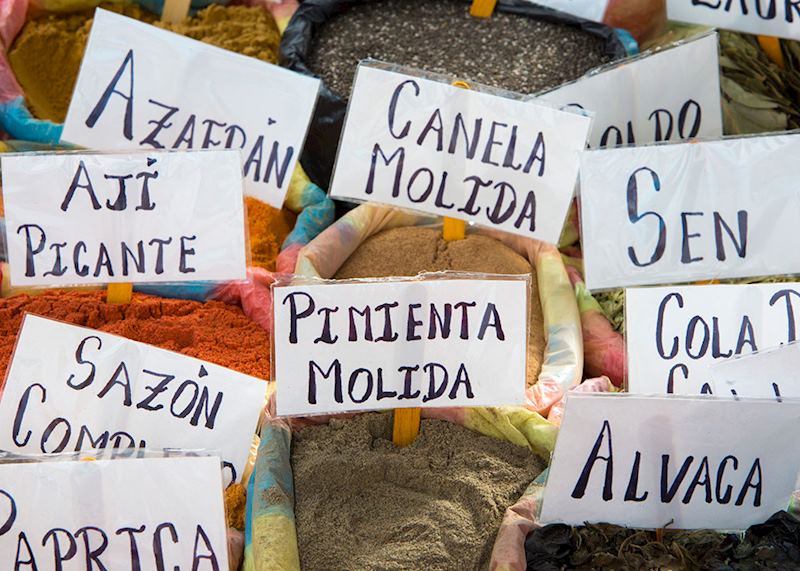 Most people begin their trip in Quito, their entry point to the country, but I suggest starting your tour more sedately. Make the two-hour drive out of the capital and into the fertile northern highlands. Here, the brawny shoulders of the Andes are softened and tamed by all kinds of neatly planted crops, flower farms, and small weaving communities.
You can squirrel yourself away for a few days at Hacienda Zuleta, the ne plus ultra of stately Spanish colonial country homes. It's a bit like staying in a living museum dedicated to the history of the Spanish dynasty who built the place in the 17th century — you're surrounded by the family's lovingly preserved antique furniture and plush textiles.
This 'home from home' ethos is taken one step further by the current owners. You're encouraged to do as you please, and can take part in the daily life of the property and its working farm, if you wish.
You can roam the hacienda's vegetable patches with the cook, helping him select produce and then cooking with him in the kitchen (he insists on being called a cook, not a chef, because the emphasis here is on authentic Ecuadorian home cooking).
I'd also take a tour of the property's cheese factory. Or, just wander the fertile grounds, which are laden with trails. I might pop into the hacienda's Condor Huasí rehabilitation project, which rewilds once-captive birds. If you're a rider, you can take out the property's fine Zuleteño steeds.
From Zuleta, I also recommend taking a day to visit Otavalo, a market town with a strong indigenous community and a celebrated crafts market.
Days 4 and 5: The cloudforest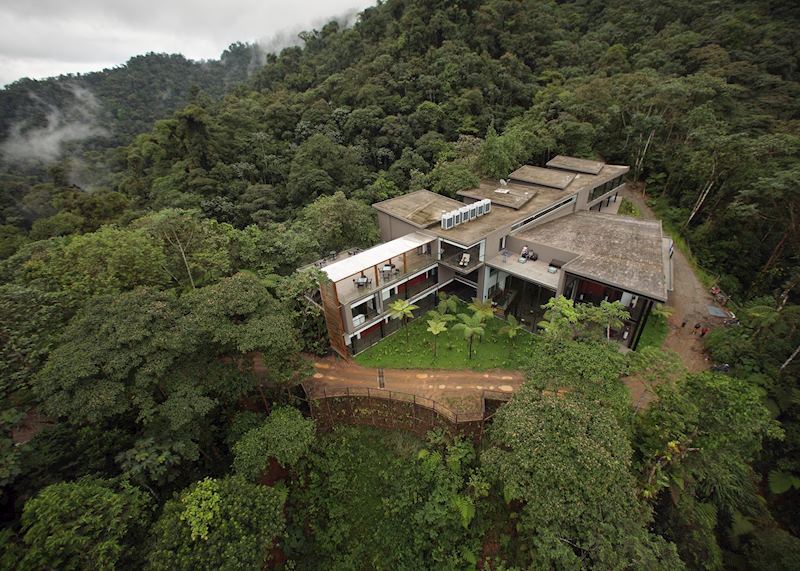 From Zuleta, you'll travel for four hours cross-country to reach Ecuador's cloudforest. You're staying in Mashpi Lodge. Forget rustic, wooden jungle huts — Mashpi is a small palace of glass and sleek, high-spec modernity.
Yet, its contemporary design doesn't detract from the authenticity of your cloudforest experience. If anything, it enhances it. Two walls of your room are given over to floor-to-ceiling windows, making you feel as though you really are dwelling among the canopy.
It's also a highly sustainable property, constructed to help protect its tranche of cloudforest from destruction. And, it provides jobs for the many locals left unemployed after the demise of the area's logging industry.
A whole roster of guided activities are included in your stay, aiming to help you thoroughly explore and understand the cloudforest's ecosystem. I'd urge you to try the Dragonfly. Suspended in the air in a gondola, attached to cables that cross the forest, you slowly glide over and through the canopy. An on-board guide will stop the gondola if you see any wildlife or plant life you'd like to observe more closely.
But, the standout activity, for me, is the chance to sit on Mashpi's birdwatching terrace for hours, accompanied by guides who'll help you see a range of species.
I've counted lots of toucans on my travels, but my best avian sighting was the rare long-wattled umbrellabird. I was entranced when I saw this coal-black creature with its Elvis-like quiff and long scarf-like pendant. To top it all off, your guides might just surprise you with a bottle of wine and some snacks to sustain you as you keep watch.
Days 6 and 7: Quito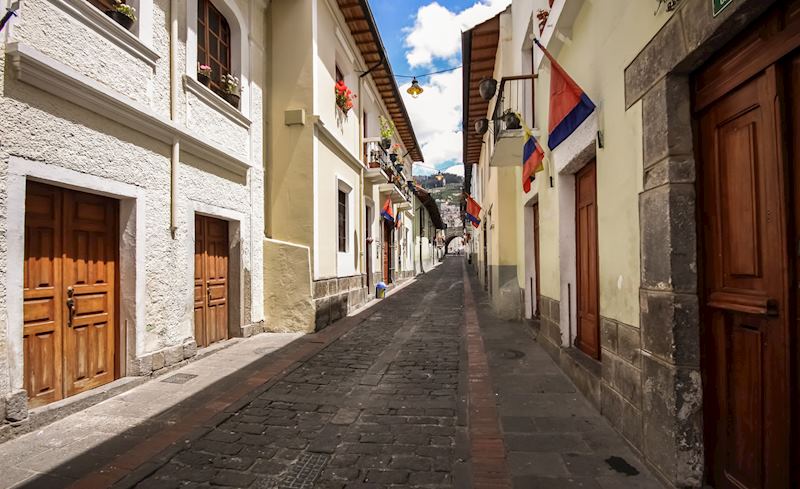 By this stage of a trip, I'm usually ready for the energy of a city. Quito is fairly relaxed as capital cities go, and you can spend a pleasant day or two soaking up its colonial old town, a higgledy-piggledy cluster of plazas, churches and former seminaries. You'll get even more out of it if you base yourself in the heart of the old town, too. I particularly like Casa Gangotena, a converted mansion with Art Nouveau touches.
I'd make a point of seeking out some of the old town's chocolatiers, and walking up to a viewing platform where you can look out over the foreboding green pyramid of Pichincha Volcano.
Days 8 to 10: the Amazon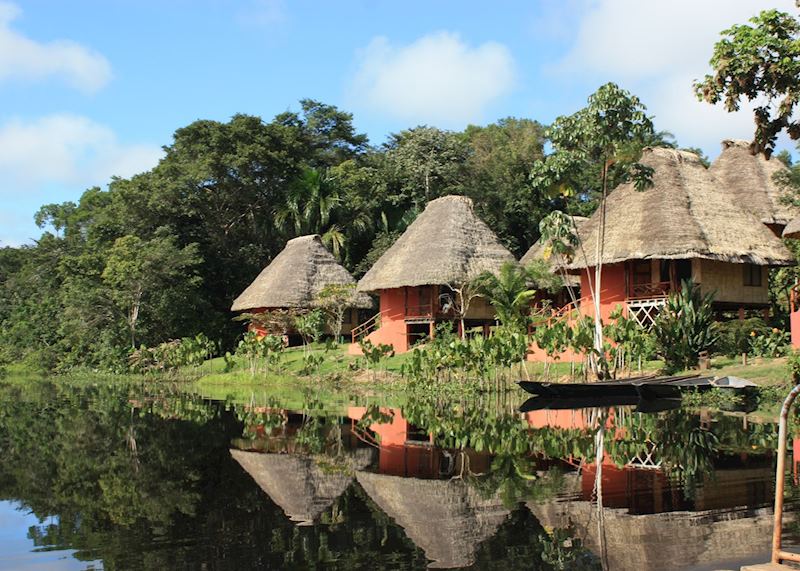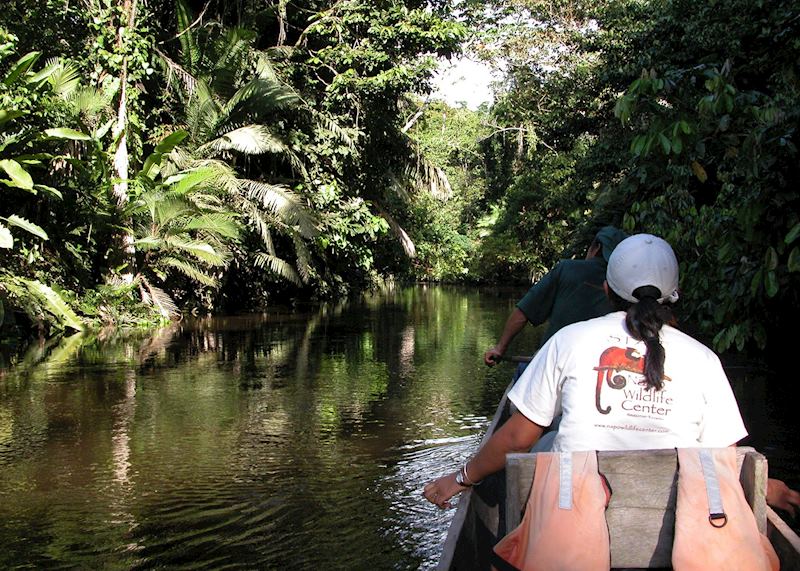 From Quito, you'll fly down to Coca for your voyage deep into the Ecuadorian Amazon.
Getting to Napo Wildlife Center is undeniably a lengthy journey, but it's hard not to feel your anticipation building as you progress from taxi to motor-driven canoe to smaller paddle canoe.
You'll branch off from the main Amazon into a winding tributary, where it feels as though the rainforest is truly closing ranks. Trees start to arch over the waterway, and you might see monkeys swinging overhead.
You eventually emerge from this darkened backwater onto the vast open lake on which Napo sits. You'll arrive around twilight, and you can hear the rainforest awakening around you.
Napo is a collection of thatched-roof huts. Although its facilities are simple, I always recommend coming here for the quality of the guiding.
You head out each day on short hikes with a guiding duo. There's a professional English-speaking naturalist guide, and a local resident — a man whose understanding of and intimacy with the rainforest seem woven into his very being. They work together, the locally born guide often spotting species and the English-speaking guide providing informed commentary.
I could wax lyrical all day about why Napo is one of the very best places to see Ecuador's wildlife beyond the Galapagos Islands. Take the opportunity, if you can, to go birdwatching from the property's canopy tower — it was here I saw flocks of macaws in flight, and a curious pygmy owl.
If you're looking for larger mammals, go out on a paddle cruise, where you have a good chance of seeing beefy giant river otters (they change location depending on the water levels). Look down into the water, too electric eels haunt the silty rivers and lakes. And, keep your eyes peeled for an anaconda. It's possible to see them here, though they've eluded me so far.
Days 11 to 13: the Avenue of Volcanoes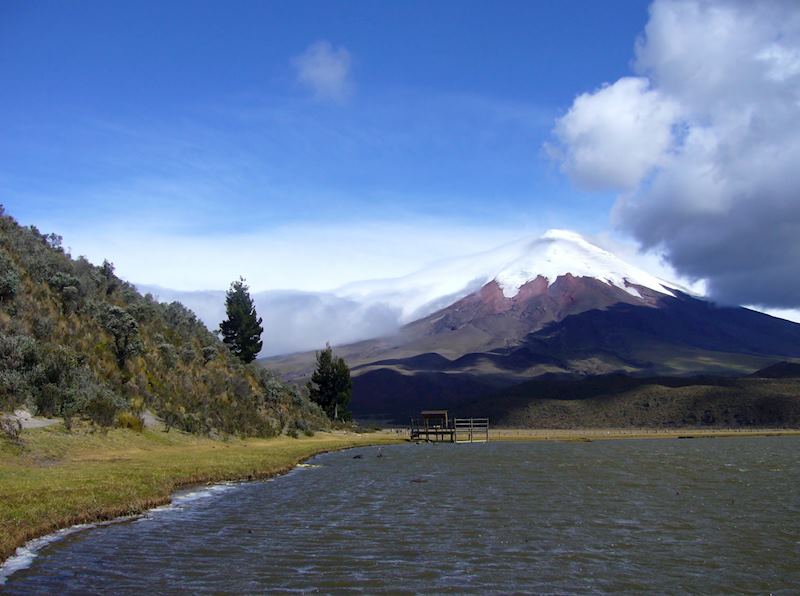 After flying back to Quito, you begin a road trip in a private car down the Pan-American Highway to Cuenca. This will typically take two days, and you break your journey overnight at a simple hacienda such as Hacienda Abraspungo. It's nothing to write home about, but you'll have the luxury of a wood-burning stove in your room: the nights are chilly here.
Your route takes you through Cotopaxi National Park, where you'll skirt the base of a behemoth stratovolcano, the almost textbook-perfect Cotopaxi. Its cone is smothered in snow and around it lies a landscape shaped and scarred by lahars (mudslides from an eruption).
Days 14 to 15: Cuenca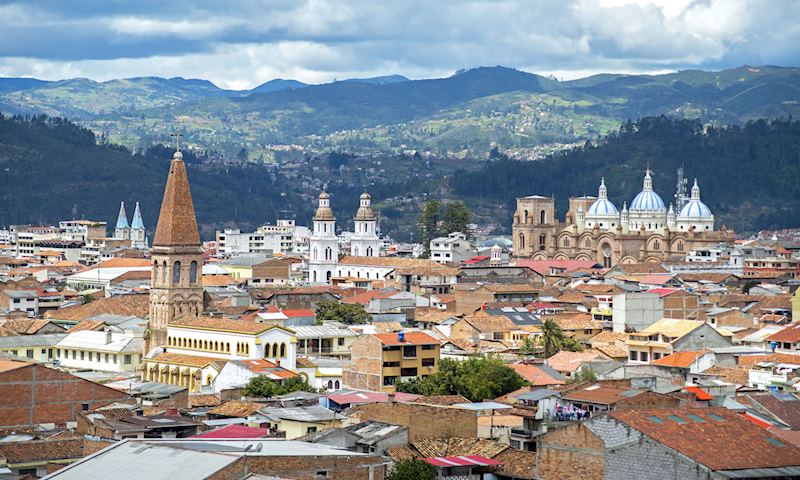 Even calmer than Quito, Cuenca wears its conquistador footprint well. It's known as the Florence of Ecuador, a reference to its terracotta forest of rooftops and cupola-and-tower-topped churches.
Most visitors make a beeline for the city's famed Panama hat workshops. For a less obvious souvenir, I'd encourage you to visit the studio and shop of Eduardo Vega, a local son and eminent ceramicist.
The last time I was here, I bought a bowl decorated with a toucan motif. So, if I were taking this trip, I might go in hunt of another piece for my collection, stopping off for a lazy coffee or two on the way.
Stay in Hotel Cruz del Vado, a historic building with a rooftop bar that gives you expansive views across to the domes of the city's cathedral. From Cuenca, make your way to Guayaquil. This four-hour road journey transports you from cool mountain passes to banana plantations and the tropical heat of this coastal city, from where you fly home.
Read more about trips to Ecuador
Ecuador, Galapagos Islands

Ecuador, Galapagos Islands
Start thinking about your experience. These itineraries are simply suggestions for how you could enjoy some of the same experiences as our specialists. They're just for inspiration, because your trip will be created around your particular tastes.
View All Tours in Ecuador