Egypt offers first-class diving opportunities, particularly the Red Sea, where it's world-renowned.
With incredible underwater visibility, take the opportunity to see some of the 1,500 species of sea life in the Red Sea. Spot lionfish, stingrays, octopus, trigger fish, dolphins, dugong and sharks.
Even if you aren't a seasoned diver, you can still enjoy all the Red Sea has to offer by snorkelling in its clear waters.
Start planning your dive trip to Egypt

Start thinking about your experience. These itineraries are simply suggestions for how you could enjoy some of the same experiences as our specialists. They're just for inspiration, because your trip will be created around your particular tastes.
View All Tours in Egypt
The sea, once it casts its spell, holds one in its net of wonder forever.
Red Sea dive resorts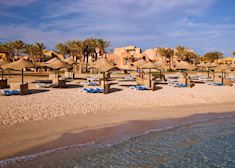 El Quseir is a small, sleepy resort still relatively unaffected by tourism and retaining a charm all of its own. It is most commonly reached via a scenic two hour drive south from Hurghada.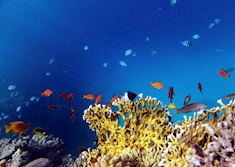 Originally a fishing village, Hurghada has been transformed over the years to a bustling tourist destination. Its proximity to Luxor also makes it easily accessible and a wonderful place to snorkel or dive on the legendary reefs.
Selected Red Sea accommodation options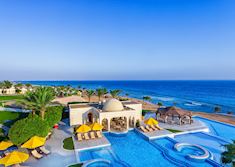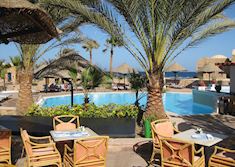 Get the most out of your diving trip
Dive courses in the Red Sea
As part of a package, we can include PADI dive courses in some areas. This is an ideal opportunity to learn to dive over four days and see some of the incredible underwater life.
Snorkelling on the Red Sea
If you prefer the freedom of snorkelling, you may want to try some of the following PADI courses: underwater photography, coral reef conservation and PADI skin diver.
House reefs
Many of our featured hotels on the Red Sea have their own reefs. This is a convenient way to try out snorkelling without venturing too far. The shallow reefs are easily accessible from the beach or pier and are surprisingly full of fish and sea life.
When is the best time to go diving and snorkelling on the Red Sea?
Diving is available all year round, but the summer temperatures can reach 40°C (104°F), therefore it is recommended to avoid July and August. The winds tend to be weaker during the full moon, so the sea is less choppy then.
How long should I go for?
For a tour of Egypt, including four days of snorkelling or the four day PADI open water diving course, it is best to plan for ten days to two weeks.
What do I need?
Sun cream, sunglasses, swimming suit, towel, to be able to swim confidently, and if you wish to dive, a completed PADI medical certificate.
Further reading