Having been a teacher for several years following university, I moved to Audley so that I could share my passion for adventure and discovery.
I have travelled extensively with my husband to different cities in Europe, staying for short weekend breaks and walking 18 miles (30 km) a day in order to see as much as possible. I've also lived in New Zealand, which showed me how fortunate we are to have the vast array of cultures, cuisines and landscapes on our doorstep and, in my opinion, Greece surpasses most countries in all aspects. From the towering mountains in Meteora, to the volcanic black sand beaches of Santorini; the sleepy fishing town of Galaxidi, to the bustling city of Athens — there are so many places to explore, including many ancient sites that can be found across the country.
Since joining Audley I have had the pleasure of touring Greece extensively, exploring much of the mainland and several islands. I am excited to share my ideas and create memorable trips for my clients.
Speak to Anna

Start planning your trip to Greece with Anna
Q&A with Anna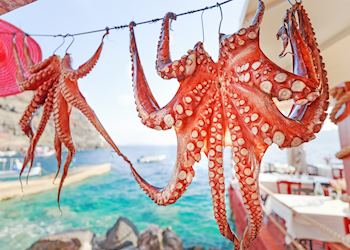 What's the best local dish you've tasted?
Grilled octopus is a delicacy around Greece and especially delicious in Milos, where restaurants 'sun grill' octopus on washing lines. It's an especially tasty lunchtime meal along with local wine and a typical Greek salad or dakos. Make sure you visit the Medusa in Mandrakia, a quaint little village with colourful fishing port and swimming spots, and see the octopus hanging-out with the local cats hoping for a tasty treat.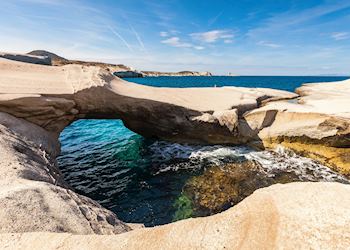 What's your most vivid travel moment?
Kayaking along the south coast of Milos is remarkable. On my trip we set out early to explore the many caves and beaches that dot the island's south shoreline, where the sea has cut away at the 'tuff' sandstone cliffs. Our guide led us to a secluded grotto, away from where larger sail boats can access; the sun's rays were shining directly into the cave, illuminating the warm volcanic walls and glistening off the sapphire water. Floating there was such a peaceful and serene moment that no photo could ever have done it justice.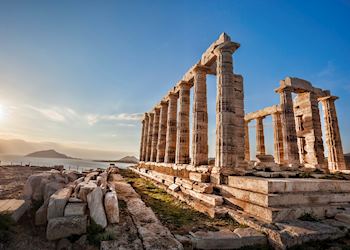 Your best piece of travel advice?
My Dad used to always tell me: "the early bird catches the worm", and when travelling I have to agree. I can take 'that' picture and enjoy the area with the crowds; it's also much cooler, which I find much more pleasant than the driving midday heat. I then have the rest of the day to enjoy a long lunch and a siesta.