I didn't get the opportunity to travel abroad until the age of 16. The feeling of freedom and being able to explore new places and cultures ignited a passion and I've been making up for it ever since. Having visited Brazil and twice working out on the Kazakh Steppe I moved to Amsterdam for university.
I spent the next six years with Europe as my backyard, flying off for weekends here there and everywhere to see new sights, eat new food and experience new cultures. Working as a concierge in Amsterdam and helping guests make the most of the city, seeing the look on their faces after a day's exploring gave me immense satisfaction. Being able to combine the two and help people make the most of their trip to Iceland has got me to this point in my career.
Speak to Huw

Start planning your trip to Iceland with Huw
01993 838 900
Q&A with Huw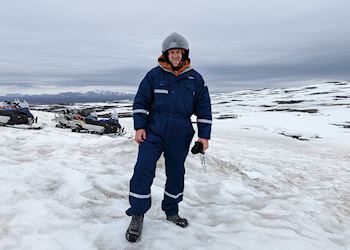 What's the one thing you always pack?
It may be a little obvious, but I'd say a power bank. Especially in Iceland, there's always something to take a photo of. Between that and monitoring maps to make sure you're still on the right path, the battery can drain quickly. I wouldn't want to be off the beaten path with no form of contact, so a power bank always has a place in my bag.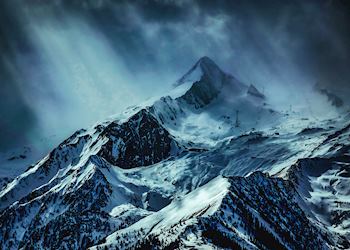 What's your most vivid travel moment?
My first school trip abroad as a teenager in Austria. Being stood on the Kitzsteinhorn Glacier and learning about its make-up and movement. The sheer size of the glacier, the age and history that can be understood from studying the ice. I've never felt so small and inconsequential within nature's power. The experience gave me a whole new perspective and respect for the Earth, and led me to visit Iceland, where you get exactly that same feeling everywhere you look. Feels like Mother Nature is definitely in charge.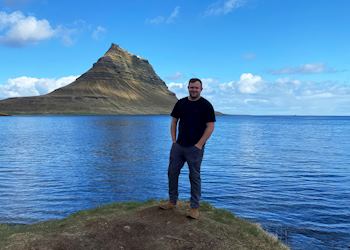 Your best piece of travel advice?
Best piece of advice I can give, for Iceland specifically is making sure you have a set of waterproofs and a swimsuit and towel in your backpack. The weather changes rapidly, you can be walking in shorts and a t-shirt one minute and a blizzard the next. The good thing is it works both ways. In Iceland you're never far from a geothermal spring or pool. Nothing is better after a long day exploring than soaking in a hot spring.