By France specialist Jesse
When I was seven years old and visiting Paris for the first time, one morning my father woke me up in the early hours, before the sun came up. We walked through the dim streets as the city stirred to life, following our noses to a boulangerie where the bakers had been hard at work for hours and the air was redolent of freshly baked bread.
He bought me a pain au chocolat and I will always remember that first bite — the golden-brown exterior that shattered into flakes, the warm puff of yeasty steam on my tongue, the buttery layers inside and the molten chocolate core.
Decades later, after countless meals in France, that first bite remains one of my fondest memories of France.
Eating in France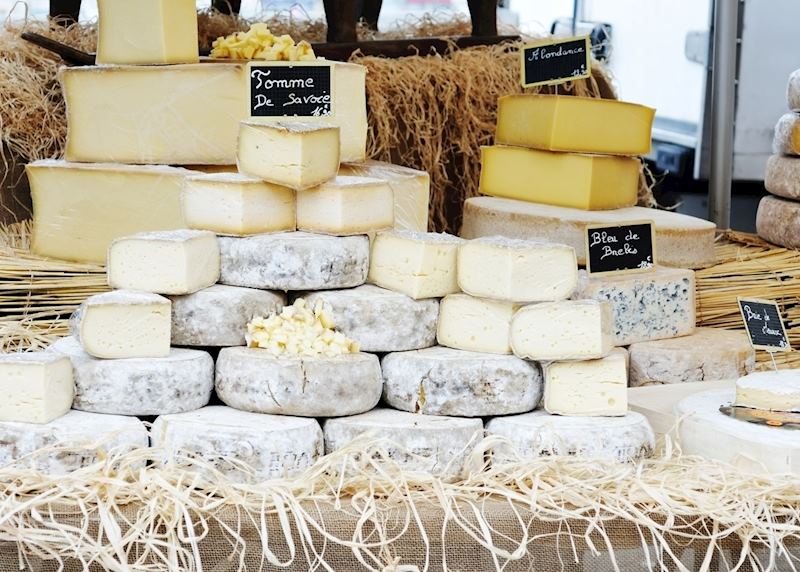 In France, dedication to food goes well beyond the simple acts of cooking and eating. Food is prepared, plants are grown and livestock is tended in ways that date back centuries, with respect for the ingredients' terroir.
Terroir is a word that means, roughly, the taste of the land. A grape grown in the rich, cool hills of Normandy will taste different than the same grape grown in the dry rocky soil of Châteauneuf-du-Pape, because they have different terroir.
In order to protect the traditional culinary practices that depend upon specific terroir, the government grants Appellation d'Origine Controlee (AOC), a certification that protects distinctive agricultural products like wine and cheese from specific geographic regions. For example, in order to be called Camembert de Normandie, the cheese must be made in the traditional way in the Camembert area of Normandy.
For me, this dedication to terroir and tradition are at the heart of France's culinary soul. Meals at three-Michelin-star restaurants are exquisite, of course, but eating one is a rare event. Instead, when I visit I like to partake in the simple meals and everyday food rituals of the locals, whether it's a picnic in Provence or the first bite of a warm pain au chocolat, fresh from a Paris bakery in the early hours of the morning.
Macarons in Paris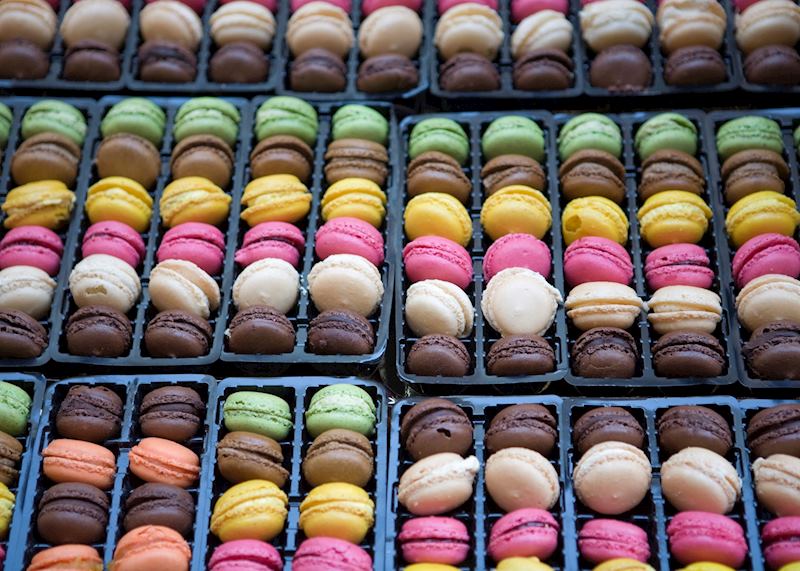 'Precisely five seconds,' said Chef Marthe, cheerfully.
It was hard to imagine that such a brief action would have any effect on the confections that were cooking in the oven. But who was I to second-guess centuries of French culinary tradition? So I opened the door to the oven and counted — one, two, three, four, five — and closed it again. The blast of moist heat from the oven smelled amazing.
I was learning to make macarons, those brightly-hued little pastries that seem to be everywhere in the city. Almost every patisserie offers a rainbow of options, from the traditional (pistachio) to the innovative (matcha tea).
Macarons are only just becoming popular in the US, but they have a long history in France dating back to the Renaissance. That's when Catherine de' Medici arrived from Italy with an entourage of pastry chefs who introduced the treats.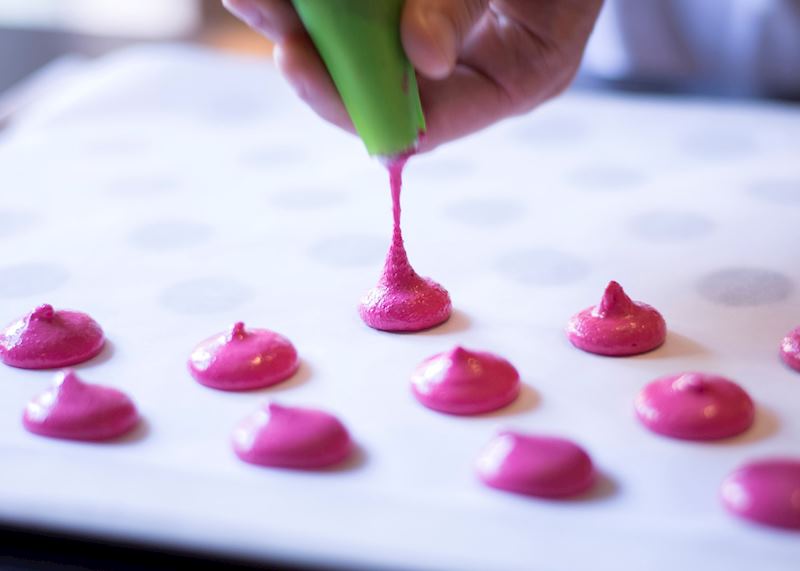 These early versions were simple, made from almonds, egg whites and sugar, served plain. It wasn't until much later that chocolate or spiced varieties appeared and filling was added, creating the modern silhouette. The recent surge in popularity is attributed to Pierre Hermé, a fourth-generation pastry chef with a rock star reputation in France. In 2005, he declared 20th March to be 'World Macaron Day', catapulting the confection into a global spotlight.
Despite their international fame, however, macarons remain distinctly Parisian and last time I was in the city I decided to learn to make them. Which is how I met Marthe, the experienced pastry chef who insisted that I must open the oven door for precisely five seconds.
'It lets out the moisture,' she explained when I asked why.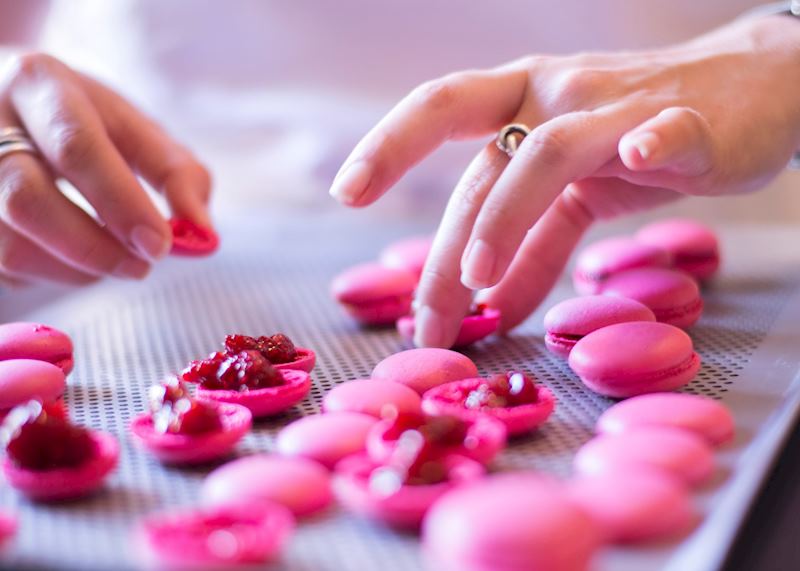 Indeed, the meringue circles that emerged from the oven had the pearl-smooth shell that I'd seen in countless patisseries around the city, hiding a slightly chewy interior. As they cooled, we made our fillings, including coconut-chocolate ganache and shocking pink raspberry jam.
The lesson took place in Marthe's own kitchen inside her classic Haussmann apartment, where the walls were full of art and the kitchen was small, at least by American standards. I did everything under her tutelage using tools that you can find in any well-equipped home kitchen, instead of high-end professional utensils. That meant that I could replicate the recipe in my own kitchen back home.
Crêpes and cider in Normandy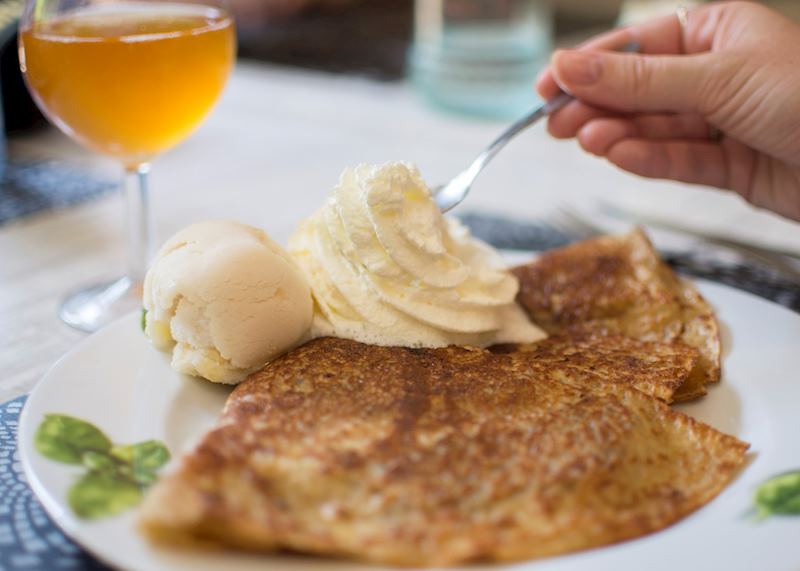 In a country famed for its wines, Normandy is an aberration. The cooler, more volatile climate is better suited to apple orchards than grape vines and the hills are covered in ranks of gnarled fruit trees. There are literally hundreds of varieties of apples, each subtly different, which are cultivated for taste rather than appearance. Most of the fruit is small and bumpy, with irregular blushes of russet and green.
The bounty is reflected on Norman menus, which are filled with small-batch hard ciders from local producers. It comes in three varieties: cidre doux is sweet and has lower alcohol content; brut is dry and has higher alcohol content; semi-dec is somewhere between the two extremes. This is also the only home of calvados (apple brandy), which is protected by an AOC designation.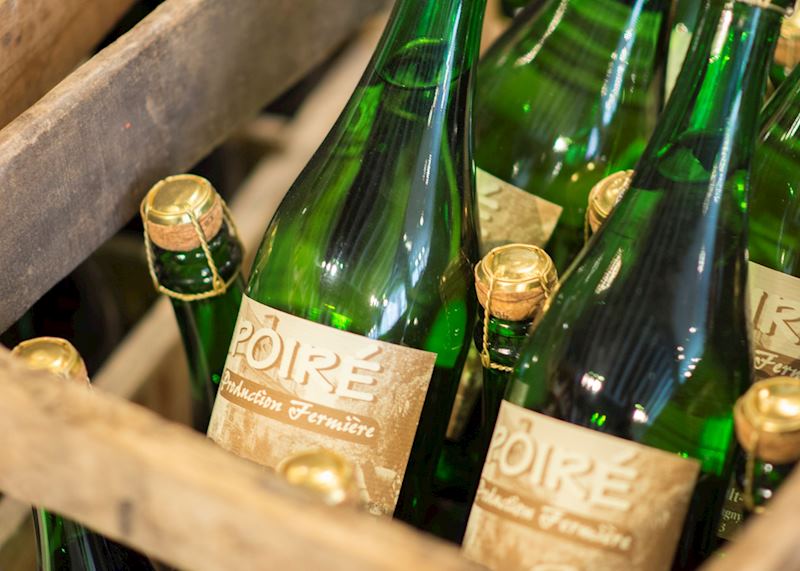 Normans treat their cider with the same respect that their fellow countrymen give to wines, for good reason. The varieties here are more sophisticated and complex than what I'm used to in the States. The difference is hard to put into words — I can only describe Norman ciders as more passionate.
The same climate that is so perfect for apples also supports dairy farmers, and the region is renowned for the richness of its milk, butter and cheeses. The AOC-protected Camembert de Normandie perfectly showcases the lushness of the region's cream.
When I'm in Normandy, I like to order a galette — a lacy pancake that is similar to classic crêpes, but with an earthy, nutty taste thanks to the buckwheat flour. Filled with ripe, buttery camembert and walnuts, then drizzled with warm golden honey, it offsets and complements the bright cider.
A market meal in Provence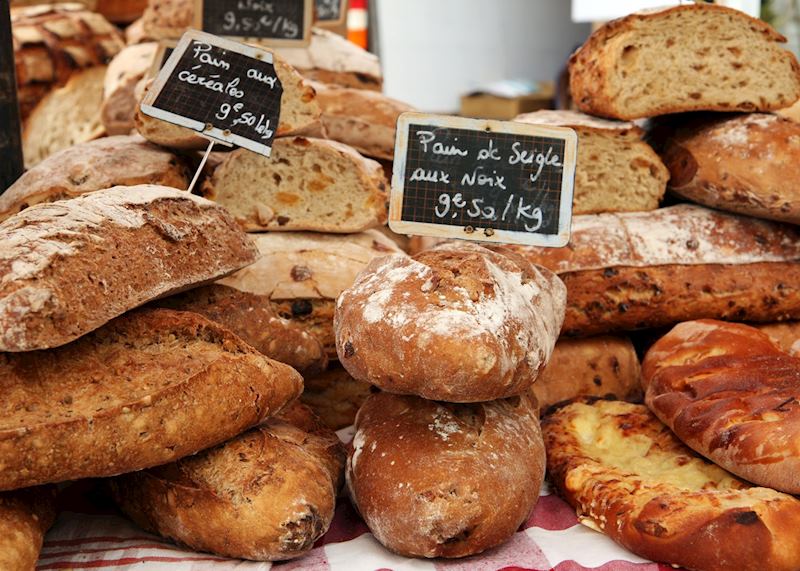 About once a week, in each of the little medieval towns that dot the hilltops of Provence, the streets turn into an open-air market. Bright umbrellas and canopies unfurl over stands filled with local produce — herbed goat cheese, dried peppers, fragrant plums, crisp vegetables, buckets of cheerful sunflowers and jars of jam that glow like jewels under the sun.
Walking through the market, I cannot stop myself from buying a bite of this or a bag of that. Every time I venture into one of these bazaars, I come out with enough food for a spontaneous picnic.
Recently, I happened to be in Provence just as cantaloupe was coming into season. The melons there are a revelation, nothing at all like the mild, pastel fruits that I am used to. The flesh was perfumed, almost floral, with a melting texture that felt cool in my mouth.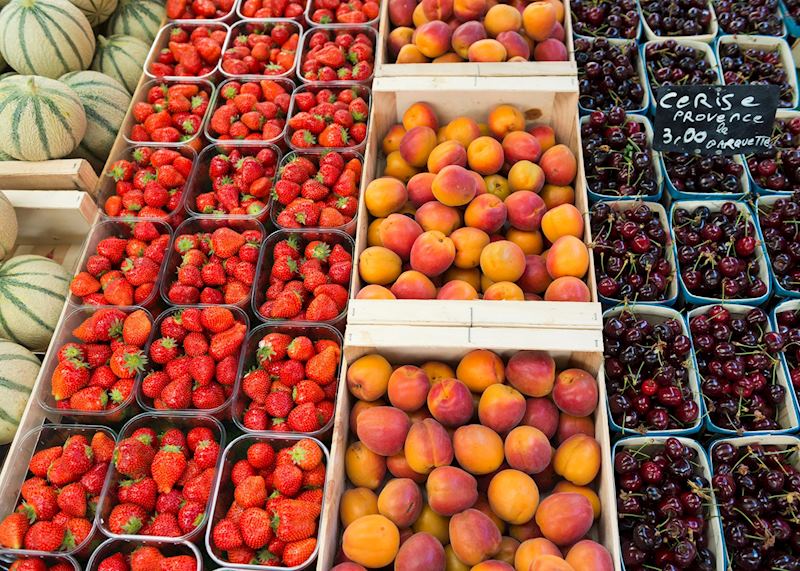 Frankly, I gorged myself on melons every chance I got and based all of my market meals around them. I wandered through the busy aisles, picking up anything that seemed like it would taste good with a sun-warmed cantaloupe: a bag of rosemary-spiked olives, a jar of oily tapenade, a loaf of crusty bread, a bunch of slender carrots and a saucisson (a dry cured sausage).
I added a good bottle of wine and headed away from the market. Once I couldn't hear the buzz of shoppers any more, I found a quiet ledge overlooking the roofs of the town and the countryside below and settled in for a private feast.
Sea bass on the French Riviera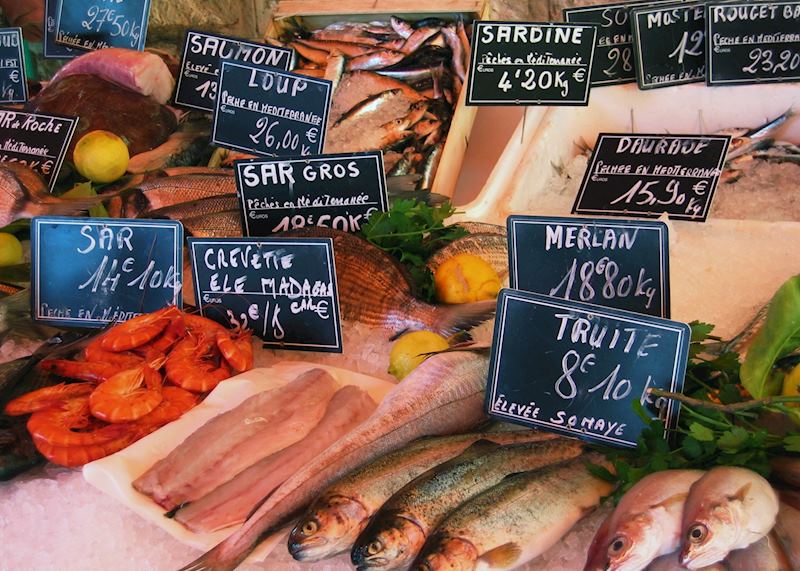 The French Riviera is the place to be when you want fresh seafood, simply prepared.
The long, crowded coastline is dotted with cafés that overlook the water and serve a menu of fresh fish and a good meal is usually easy to find. But sometimes the views seem more important than the menu, so I like to head away from the waterfront and try small family-run restaurants where the quality of the food is the focus.
Saint-Jean-Cap-Ferrat is a small village on a peninsula that juts into the Mediterranean. Last time I was visiting, my driver Marcin suggested that I try Capitaine Cook. Located on a hill away from the port, the restaurant doesn't have a seaside view, but it was one of the best meals I've had on the Riviera.
Seated on a vine-shaded terrace, I started with a summery salad, greens tossed with tiny shrimp, tender avocados and yet more fragrant cantaloupe. That was followed by a whole grilled sea bass, filleted at the table by the owner and served with a creamy beurre blanc. I always enjoy whole fish because I think that the cheek is the best part on a fish, a small sweet bite. The fish was served with another salad and pan-fried potatoes that I used to sop up the last smears of the sauce.
I finished off the meal with a small glass of house-made liquor. To keep it cold, the chef had frozen the stoneware jug in a bucket of water filled with the same purple blooms that grew on the terrace. The waitress heaved the heavy block of floral ice up onto the table and poured a measure into an old-fashioned footed glass. The cold, thick liquor was bright orange and redolent of sweet citrus.
A picnic on the Loire River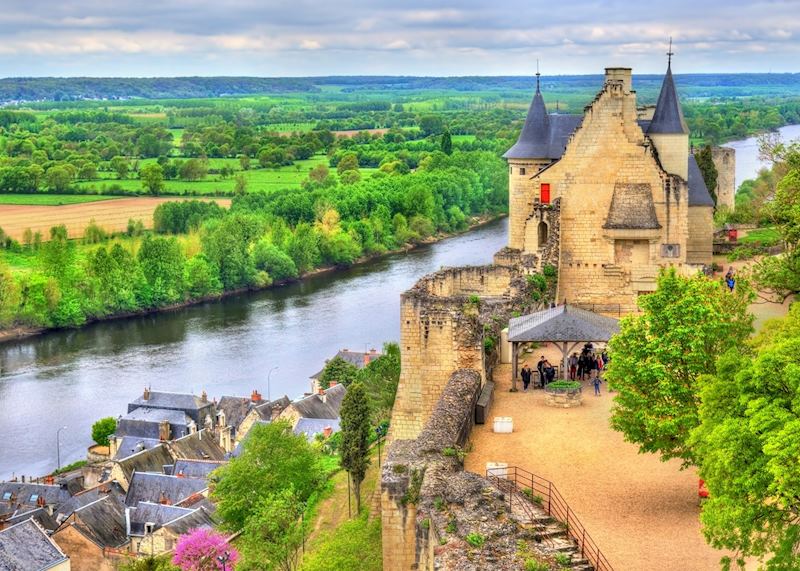 The Loire Valley's reputation is dominated by its many chateaux and vineyards, which means that its culinary traditions sometimes get overlooked. That's a shame, because I'm very fond of the local cuisine.
Fromage de chèvre is the most common cheese in the Loire Valley, which accounts for most of France's goat cheese production. I was unprepared for the depth and range of tastes that goat cheese could possess, from mild with grassy notes to tangy with an almost gamey aftertaste.
Another regional specialty is pork rillettes. There's no equivalent that I've been able to find in the States — paté is the closest, but it's an inexact comparison. Rillettes isn't a smooth paste and it doesn't contain any organ meats or other adulterations. Instead, a cut of pork is slowly braised in dry white wine, sometimes with a little bit of garlic, until the meat falls apart in into tender, succulent tatters. The shredded meat is mixed with rendered lard to create a spreadable texture.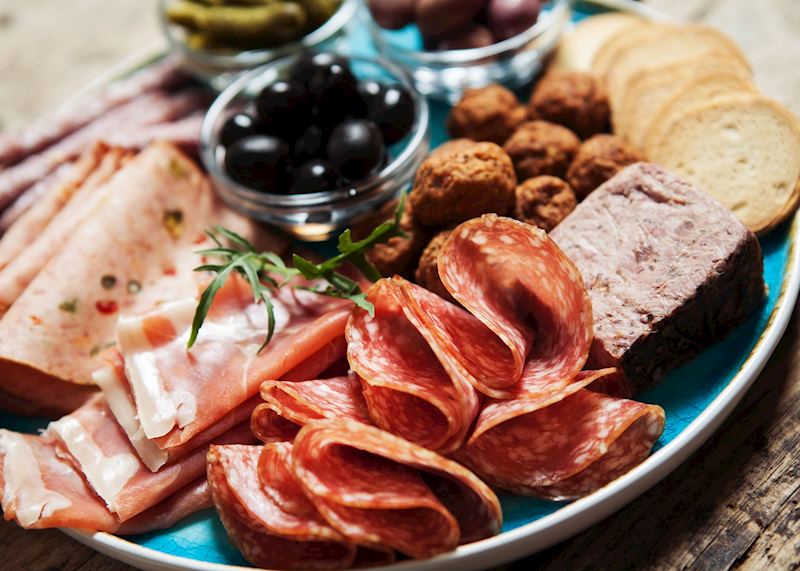 The resulting dish is good on bread or crackers, and is often served with small, tart pickles on the side. The rich, sweet pork meat also pairs well with a strong chèvre.
Last time I visited France, I filled a basket with local goods — a pyramid of chèvre, rillettes, a baguette, some pickles, a bottle of red wine and a jar of jam — and had a picnic on the grounds of the Château de l'Islette.
The privately owned chateau sits on the banks of the Indre, one of the region's many meandering rivers. Built in 1530, its white limestone walls, slate roof and sturdy turrets lack the Gothic flourishes that are common on many of the region's castles. That elegant simplicity is reflected in the grounds, which include formal gardens and open parkland.
Seated under a willow, I ate my rillettes and sipped my wine and watched the river burble by.
Start planning your trip to France

Start thinking about your experience. These itineraries are simply suggestions for how you could enjoy some of the same experiences as our specialists. They're just for inspiration, because your trip will be created around your particular tastes.
View All Tours in France