By French Polynesia specialist Joshua
When it comes to cruises around French Polynesia, the best option, for my money, is a route that strays far from the headliners of Tahiti, Moorea and Bora Bora. The Aranui, half cargo ship and half cruise ship, travels to some of French Polynesia's farthest-flung archipelagos, the Marquesas Islands and the Tuamotus. It's a rewarding passage, which you can easily complement with a luxe land-based stay. Who does it suit? Anyone with a spirit of discovery, eager to see a part of the world that's unspoiled, virtually uninhabited, and still free from the trappings of mass tourism and hard-nosed commerce.
Where in French Polynesia does the Aranui go?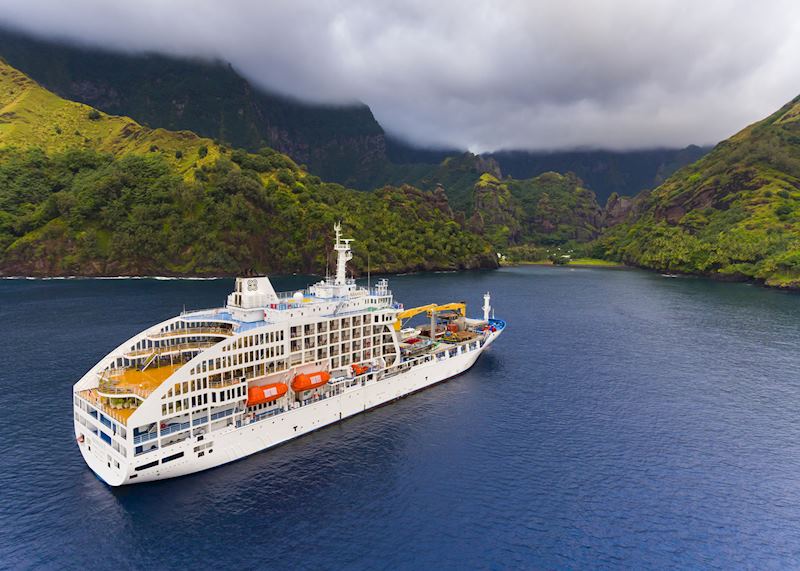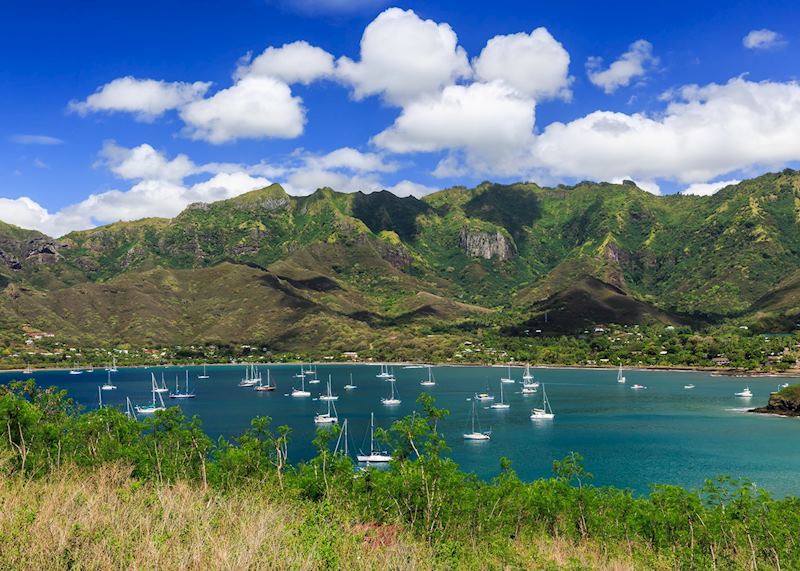 Although some of the Aranui's itineraries do take in Bora Bora and Moorea — the photogenic white-beach-and-sapphire-sea French Polynesia of your imagination — the Aranui sets its sights on altogether wilder country. The Marquesas are a scattering of geologically young volcanic islets (some so small, they're hardly deserving of the term), 1,448 km (900 miles) northeast of Tahiti.
Battered by easterlies, with no protecting coral reefs to ward against the crashing ocean, the Marquesas have almost aggressive-looking sheer cliffs, needles and peaks. The islands are bisected by mountain ridges and swathed in voluminous vegetation. The beaches are rock-lined and the sand dark caramel rather than stark-white. You won't spend time on them — the real riches lie in the islands' interiors.
Depending on your cruise routing, your first stop might be the more placid-looking Tuamotu Islands. Topographically, these isles are a world apart from the Marquesas, though both belong to French Polynesia. The Tuamotus are little more than sandbars circling a lagoon, and completely flat. On many islets, such as Fakarava, the water is spearmint-blue on one side, and a deep navy on the other.
You'll only likely spend a couple of days at sea throughout the entire cruise. The focus is very much on visiting the islands themselves, and the experience is intended to have an expedition feel. You won't go from beach to beach, snorkel gear in hand, followed by stretches of lounging on deck. If you're looking for unfettered leisure time, I suggest tacking on a few days on Bora Bora, Moorea and/or a private island (more on them, shortly).
Life on board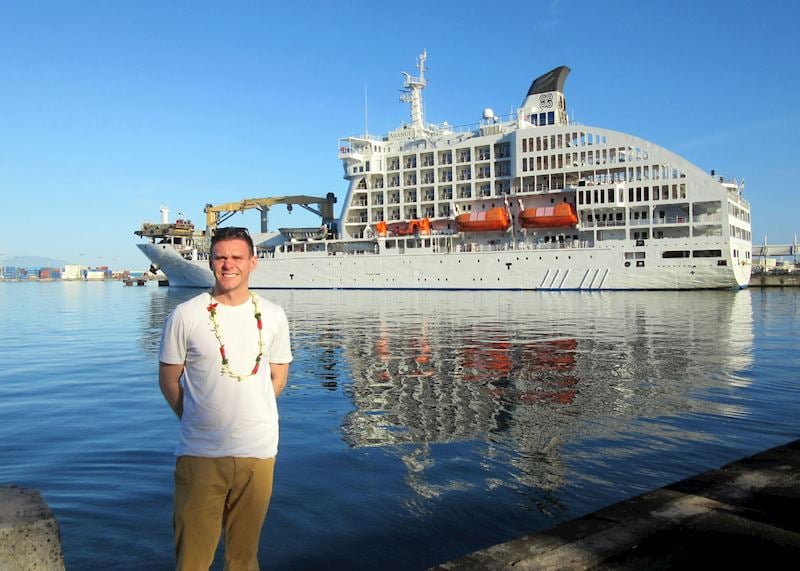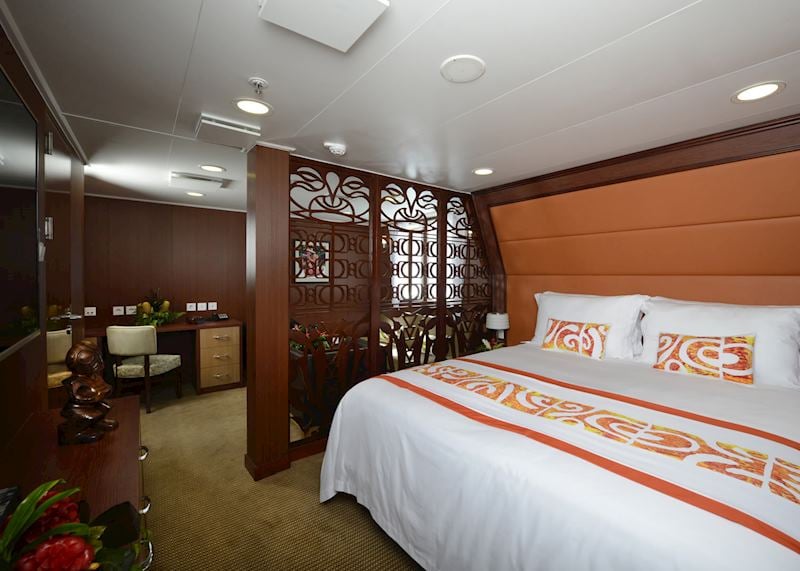 Being a hybrid of cargo and cruise ship, the Aranui doesn't offer opulence. It's comfortable, the food (and wine) is good and plentiful, and there's a swimming pool on the top deck. But, if you're looking to don evening wear for dinner every night, this isn't for you.
She holds up to 280 passengers, but there will be fewer souls on board at quieter times of year (outside of May to September). Many are Francophones.
Guests dine in shorts and T-shirts, and the crew (especially the guides) often join you in the evenings to clink glasses. Guides generally have Polynesian heritage and speak French, so can act as interpreters on tours.
Evening entertainment is low-key but enjoyable, and there's an emphasis on learning. Lectures are held at dusk to introduce you to what you'll be exploring the next day.
I highly recommend having a cabin with a balcony. I rose at dawn and sat on mine, drinking coffee as the mountains of the next island hove into view, their outlines gradually thrown into sharper focus by the rising sun.
Exploring the Marquesas and Tuamotu Islands

When coming ashore, you'll often stroll down a small dock to the sounds of a ukulele band and traditional singing. While this welcome can feel forced, that initial step onto terra firma is always fun.
The mingled smell of sizzling fish and meat assaults your nostrils (there are often barbecues going, even in the mornings), and there's much joyful chaos as the crew start to unload the Aranui's freight. Incidentally, the ship's dual identity as a cargo ship has zero impact on your cruise — if anything, it's interesting to watch the ship going about its business at each port of call.
Island culture and crafts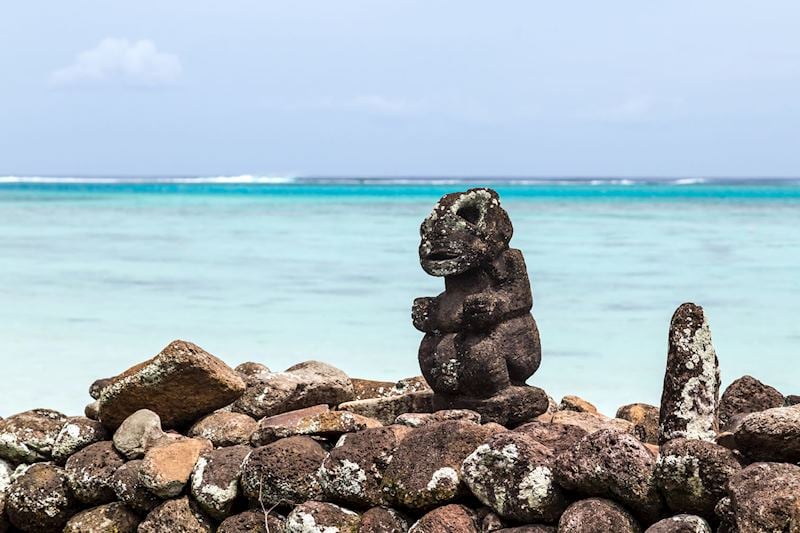 Tours on the islands often have a cultural focus. The Marquesas have some of the most important and enigmatic tiki sites in the world, outside Easter Island. You'll likely visit clearings peppered with stone platforms once used in human sacrifices, and carved stone statues and heads. Some seem to sport slightly fiendish grins. At Taiohae Bay in Nuku Hiva, you can visit a cathedral where you'll learn how Catholic missionaries brutally sought to stamp out islander culture.
You'll observe island-honed crafts, or even try your hand at them. One of the most interesting, for me, was the tapa cloth of Fatu Hiva. It's made from bark that's hammered flat, then decorated with charcoal patterns.
You might be treated to an umu, a traditional feast where a pig is cooked underground over hot rocks, and wrapped in banana leaves. The air is heavy with the smell of loamy earth and sweet, tender pork. The meat is served alongside other delicacies, such as goat cooked in coconut milk and spices, and poisson cru (raw fish marinated in citrus and coconut). You'll also have the opportunity to fresh, tropical fruits on different islands, and you'll often be given a banana leaf in lieu of a plate.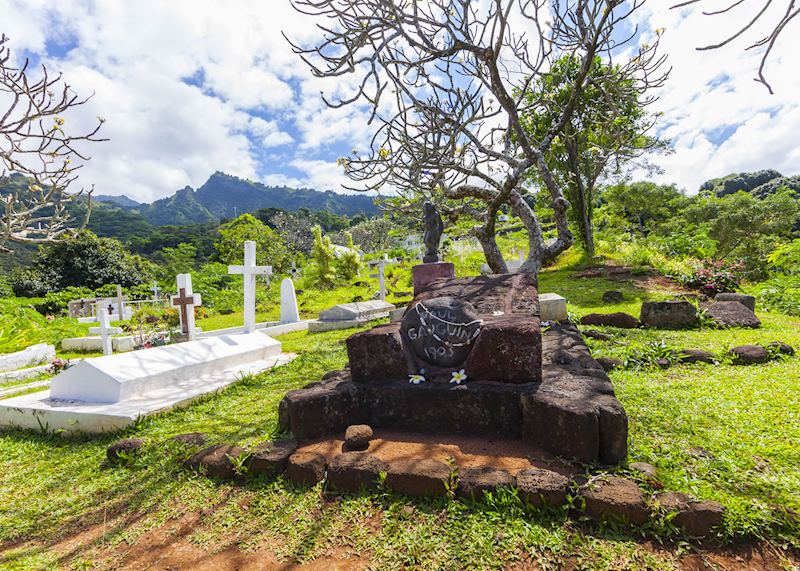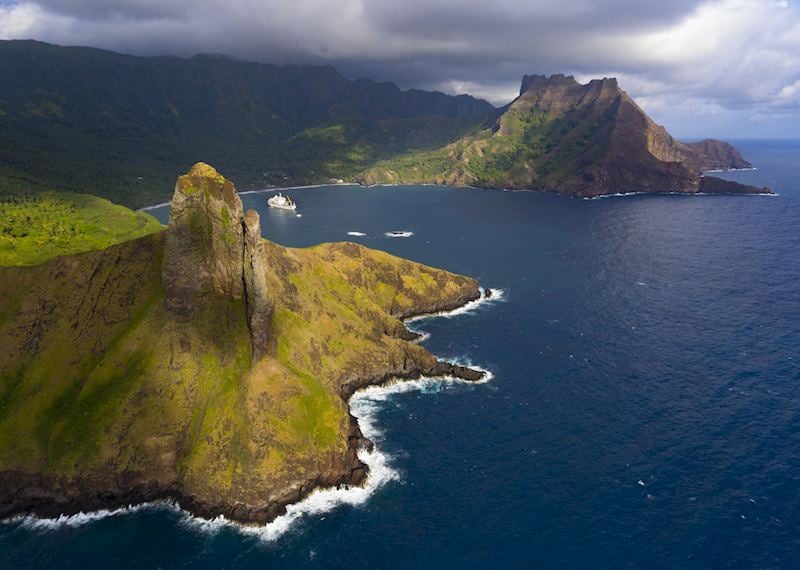 Some islands have tiny populations, and I found it particularly interesting to visit the Tuamotu isle of Fakarava, a skinny strip of an island. You can walk from one side of the island to the other in about 30 seconds, passing a few small houses bunched together in the middle.
A handful of locals eke out a living by drying coconut flesh and laying it out in great sheets along the beach to make copra, the base material for coconut oil. It's back-breaking work: so for locals, paradise this ain't, despite the dreamy blue shade of the ocean.
Other islands have much more of a Western influence, although development is nascent. On Hiva Oa, where Gauguin is buried, there's a coffee shop, bank, post office and a small soccer field.
Hiking on Fatu Hiva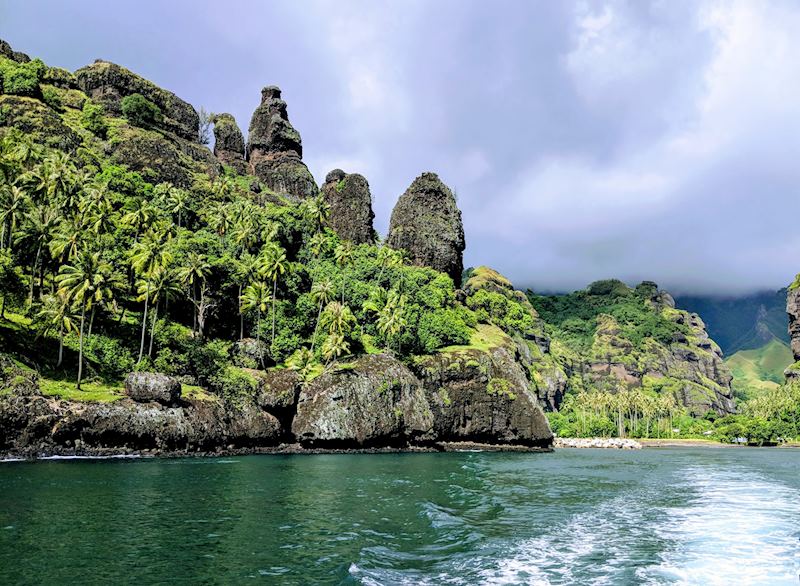 One of the best things I did during my voyage on the Aranui was a 10 km (6 mile) hike over a mountain saddle on the island of Fatu Hiva. The trail coils through thick pandanus rainforest, with leaves the size of small cars brushing your head, and everywhere the syrupy scent of fermenting breadfruit.
There are about 6 km (3.7 miles) of ascent to contend with, and the humidity can make this a sweat-drenched walk. But, you'll stop for lunch en route, and the hike is fully supported.
The reward comes when you crest a ridge and look down to see the Aranui moored in Hana Vave (the Bay of Virgins, named after a rock apparently shaped like the Virgin Mary that guards the cove's entrance). Your vessel looks like a speck in the water, surrounded on all sides by sharp drop-offs and spiky basalt columns draped in greenery.
Extending your stay in French Polynesia: relaxing after your cruise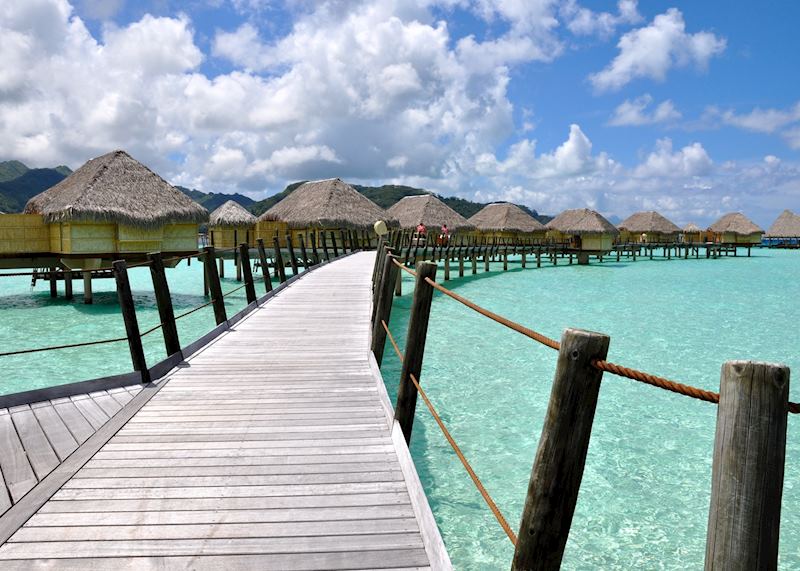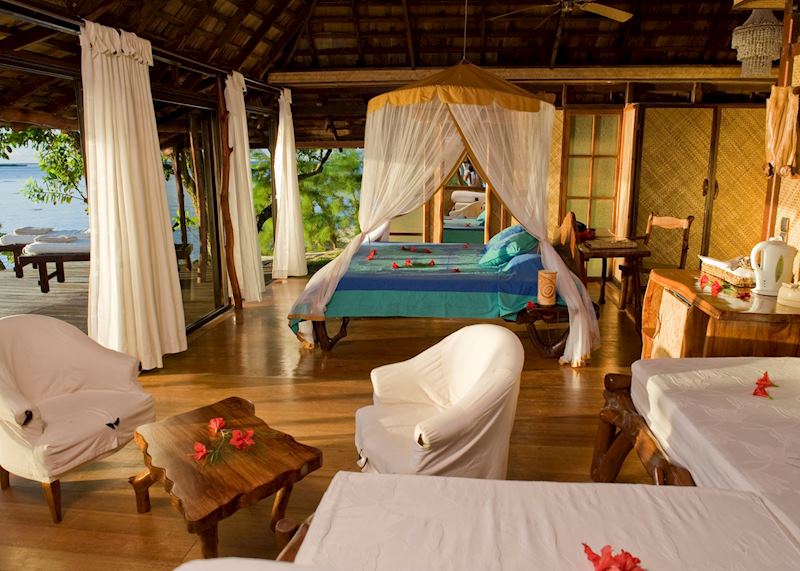 The Aranui does offer itineraries that take in the classic corners of French Polynesia: the lagoons and motus of Bora Bora, and forested, waterfall-dotted Moorea with its pineapple plantations and coconut groves. But, if you're looking for a suitably languorous coda to your trip, you might choose to stay for several nights on one of these islands. There are also ultra-exclusive private islands and resorts, such as Vahine and Le Taha'a.
I admit that before visiting a place like Bora Bora, I was never one for spending my days slumped on a beach, marking time with the odd idle snorkel. But now, I'm a convert. On Bora Bora, you can stay in overwater villas with glass floor panels so you can watch rainbow eddies of fish from the comfort of your suite. Private steps lead down to the water's edge, so you can dip in and out of the lagoon whenever you like. The water is so clear, it's like you're in a swimming pool.
That said, there are more active options even in the most luxurious resorts. For example, on Bora Bora, you can head out on a small boat trip to snorkel with blacktip reef sharks.
As the boat slipped out of the shallow aqua-blue water of the bay into the darker blue of the open sea, I started to feel a bit apprehensive. Gradually, fin tips began to emerge. But the sharks simply swirled and darted around me, nonchalant. Though, I did nearly lose my cool when a 3.6 m (12 ft) lemon shark glided underneath my feet (it's harmless, though it doesn't look it). Later in the day, I even managed to snorkel alongside a manta ray with a 5 m (16 ft) wingspan.
You can read more about Bora Bora, along with Moorea, Vahine Island and Le Taha'a, in our highlights guide to French Polynesia, as well as our honeymoons guide.
Best time of year to cruise in French Polynesia
May and October tend to be the best times to visit the islands. March can also be a good period to visit the Marquesas, as it's quiet and offers good value. You just need to accept the likelihood of short but heavy downpours each day, or that you might get two days of rain in the course of a two-week trip.
Read more about trips to French Polynesia
Cook Islands and French Polynesia
Start thinking about your experience. These itineraries are simply suggestions for how you could enjoy some of the same experiences as our specialists. They're just for inspiration, because your trip will be created around your particular tastes.
View All Tours in French Polynesia