By French Polynesia specialist Lisa
Before you even touch down in French Polynesia, you can see the group of archipelagos that make up the country from the air: narrow ribbons of sand and coral stretch around massive lagoons, encircling mountains that seem to come out of nowhere.
It's so green and dramatic, and, because the lagoons are so shallow, the hues change every time a cloud drifts by. It's the most beautiful place I've ever visited, and a honeymoon destination where you can relax totally after the busy time that surrounds a wedding.
Honeymoon hotels in French Polynesia
Private island resort of Le Taha'a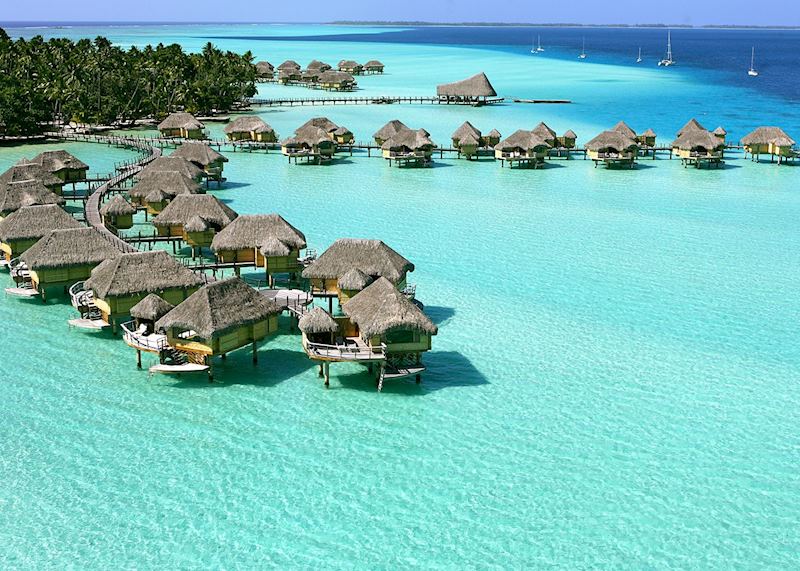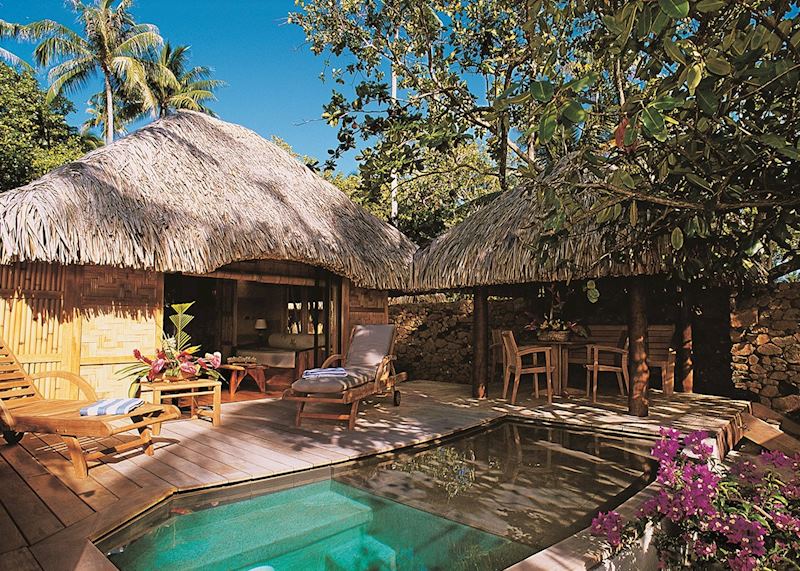 One of my preferred properties for honeymooners in French Polynesia, Le Taha'a is set on the remote, private islet of Motu Tautau, facing the island of Taha'a on one side and Bora Bora on the other.
As you approach the island by boat you will see the green of the palm trees rising above the deep blue water. Le Taha'a is, in my opinion, one of French Polynesia's most luxurious hotels, yet it retains an authentic air, unlike some of the larger chains. There are touches of the local culture at every turn and around 95% of the staff are local.
There's a little sandbank just off the mainland, with the reef beyond, which is a beautiful spot for a private candlelit dinner. Your waiter serves your meal as the sun dips down behind Mount Otemanu across the water on Bora Bora. The island also has the most amazing coral nursery.
Enjoy a canoe breakfast at Le Taha'a
If you are staying in one of the overwater bungalows, one lovely way to surprise your new spouse is with a canoe breakfast. Staff in vibrant traditional clothing will deliver pastries, fruit, coffee and juice to your bungalow on a flower-decked canoe and serve it on your terrace.
Relax at the Bora Bora Pearl Beach Resort & Spa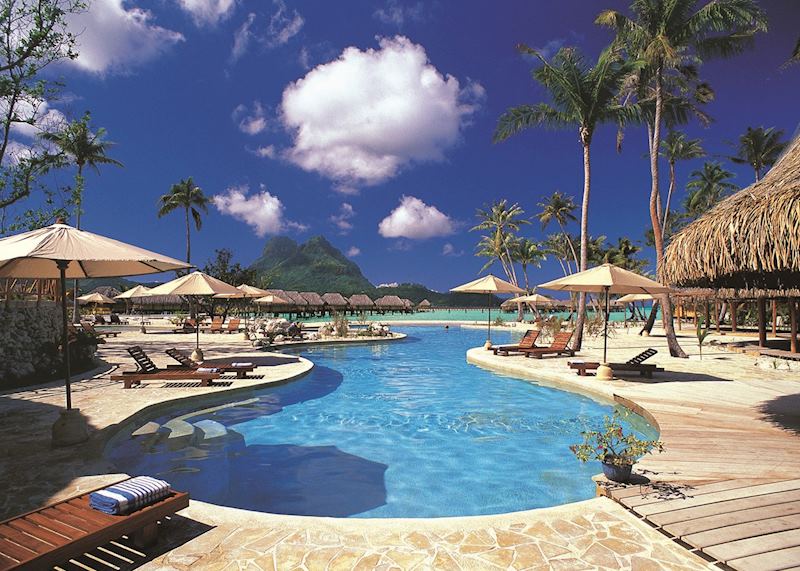 Another worthy honeymoon retreat is the Pearl Beach Resort and Spa in Bora Bora. A short light aircraft flight from Tahiti, the views from the plane are spectacular.
The resort is on a private motu — an isolated sandbank that halos the island — so you have views of both the multi-hued turquoise-blue lagoon and forest-covered, Jurassic-like Bora Bora, which rises steeply out of the water.
There is a choice of beach villas or overwater bungalows. The beach villas are right on the sands and, as well as the views, have private, flower-filled gardens with plunge pools and hammocks. The overwater bungalows have steps straight into the lagoon and feature underwater spotlights.
This retreat is the only resort off the island's west coast, so from your room you can gaze out across uninterrupted crystal-clear waters. As it's on a natural sandbank, there's more of a beach here than at hotels on the mainland.
Memorable honeymoon experiences
Take home your own Tahitian pearl

Most hotels in French Polynesia present brides with a Tahitian pearl, said to be among the world's best for quality, which is a unique touch for honeymooners.
For a gift to take home, you can buy pearls from source at one of the many pearl farms. As well as learning about the farming process, you can create a bespoke piece of jewellery from the iridescent, green, white or the famous black pearls.
Snorkel with manta rays
French Polynesia's secluded coves are a gathering place for manta rays, and expert locals will sail you to crystal-clear lagoons where you can swim and dive near the graceful rays as they glide through the water. I took a trip as part of a group of six, but you can opt to cruise privately on a traditional Polynesian boat.
Walk with birds and butterflies through jungle interiors

The island interiors are lush, with mountains that rise vertically out of the sea. There are plenty of guided rainforest walks following scenic trails that pass waterfalls with natural pools you can swim in. You are likely to spot numerous butterflies as well as bird species including black winged petrels, Pacific swallows and white terns.
Take part in a tiki night
I'd recommend going along to a traditional tiki night, which is unique to French Polynesia. The dance is an important part of Polynesian culture and history, and fire plays a central role with torches lighting up the sands as the dancers perform in traditional costume. It's usually followed by a beach barbecue of local dishes featuring lots of vanilla and coconut, which are grown on the islands, and are used in much of the cuisine.
Extending your honeymoon
Island-hopping honeymoon in French Polynesia

Allowing 10 to 14 days, you could extend your honeymoon to include time in two French Polynesian resorts.
As well as your main honeymoon property on either Bora Bora or Taha'a or one of the other outlying islands, I'd recommend a stop on Moorea. This is a verdant island, covered in green coffee and sugar cane plantations, where you can rub shoulders with the locals and see day-to-day island life up close. Manava Beach Resort and Spa offers a relaxing place to stay with overwater, beach and garden bungalows to choose from.
Stop in Los Angeles en route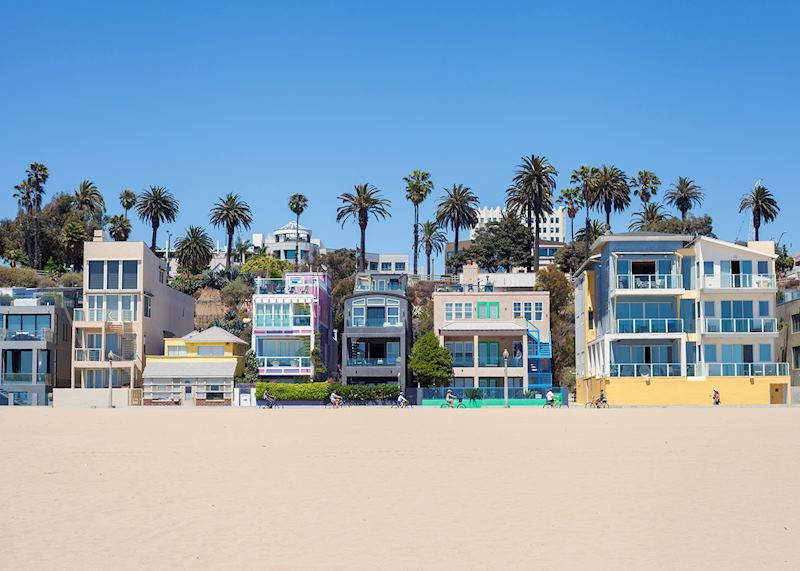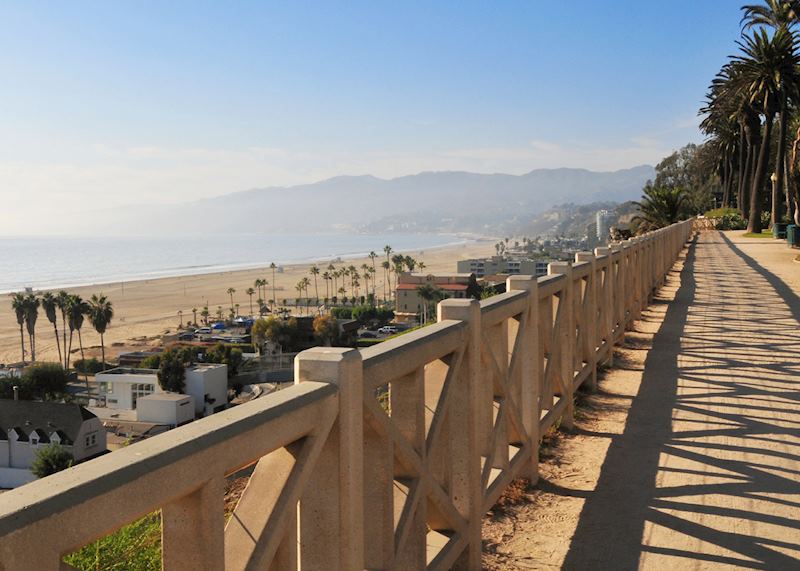 Time in French Polynesia combines well with a stop in Los Angeles before and after your flight to the islands. This can add another dimension to your honeymoon and break up longer flight times, depending on where you're flying from.
On the outbound journey, you could stay in West Hollywood. The renowned Andaz hotel has welcomed famous rock stars like The Rolling Stones and The Who and displays all sorts of interesting rock memorabilia. Its rooftop pool, which featured in Rolling Stone magazine, has incredible views over West Hollywood and Beverly Hills.
On your way home, I'd recommend staying in a different area of LA, like Santa Monica. From the choice of hotels here, I'd pick Loews or Palihouse, both within easy reach of Santa Monica's most famous attractions.
See the moai in Easter Island

There are only two places in the world with direct flights to Easter Island, and one is Tahiti. This easy connection serves well for combining some beach time in French Polynesia with a week on the remote, wind-swept island with its monolithic moai statues. You can stay in a lodge and all tours and cultural experiences are included.
When to honeymoon in French Polynesia
French Polynesia's temperatures hover between the high 20s to early 30s Celsius (60s to 80s Fahrenheit) year-round.
The island's lush greenery means rain does fall, so to avoid wet weather, the best months to travel here are between May and September.
I personally would avoid July and August, as the islands can be busy with other visitors during the school holidays.
Start planning your honeymoon in French Polynesia

Start thinking about your experience. These itineraries are simply suggestions for how you could enjoy some of the same experiences as our specialists. They're just for inspiration, because your trip will be created around your particular tastes.
View All Tours in French Polynesia