Like you, we know that the best trips are made up of individual experiences. Singular, sometimes once-in-a-lifetime experiences that provide a burst of awe and delight, a window into another culture, or simply a deeply relaxing, sensual stay in destinations known for their sheer beauty. But, we wanted to know: what places and activities are you longing to experience the most on your travels?
So, we asked over 2,000 travellers from around the UK to share with us their travel ambitions and most-desired experiences. Here's what they came up with.
Top 10 bucket-list destinations & experiences
What's clear from the results — which we've collated below to form the ultimate travel wish list — is that there's a real appetite for a range of experiences. Some sing of adventure, such as embarking on an epic cross-country — or even cross-continental — voyage. Some involve taking in wonders of the ancient world, while others focus on the thrill of close encounters with nature. Which speak to you?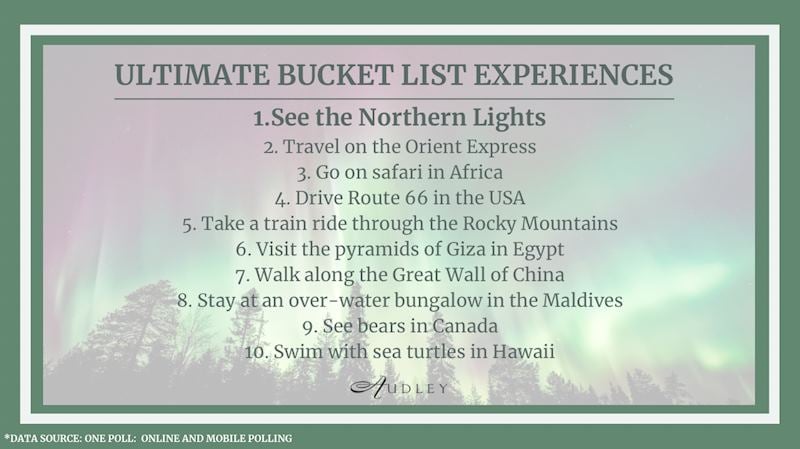 1. See the northern lights
Rippling curtains of cosmic green, fleeting streaks of bright blue, and shimmering sheets of glowing purple… the northern lights were at the top of our recent survey ranking bucket-list experiences. You might see this celestial show almost anywhere near the Arctic Circle, but to improve your chances, consider a trip to Iceland.
Iceland's primal landscape, shaped by glaciers and volcanoes, is a playground for outdoor adventures like hiking, ice climbing, and snowmobiling, as well as viewing the aurora borealis. Our experts can create an Iceland trip that gives you the highest likelihood of seeing this elusive, ethereal phenomenon.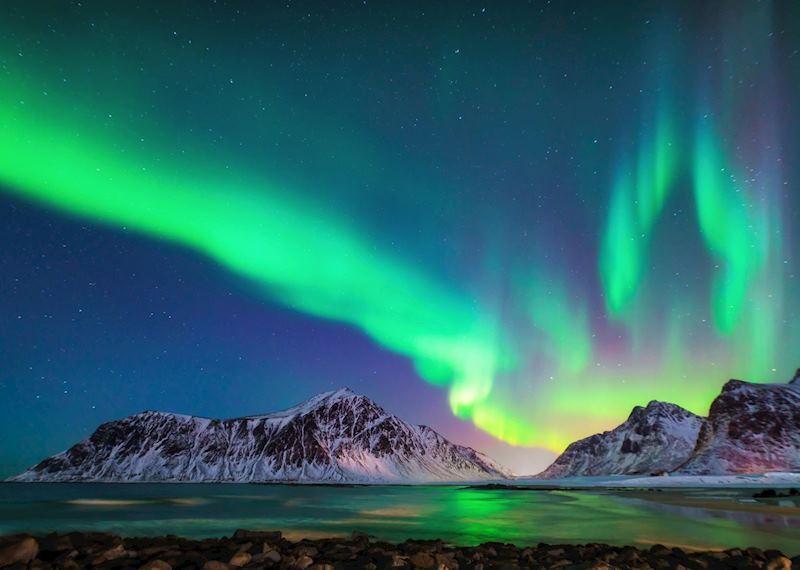 2. Travel on the Orient Express
One of the most celebrated train journeys in the world, the opulent Venice Simplon-Orient-Express offers a sumptuous way to travel between Venice, Paris, and London. This bucket-list experience captures the glamour of the 1920s with the train's restored Art Deco decor, three different dining cars, Champagne bar, and bar car where you can sip a cocktail while listening to a live pianist. Period attire is strongly encouraged. You can board the train at any of the three cities, but we suggest starting in Venice — you'll arrive in Paris just 24 hours later.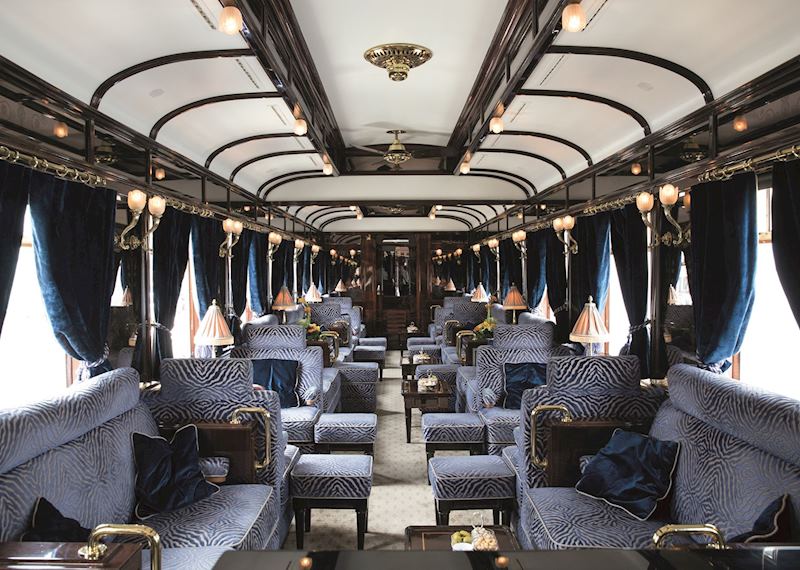 3. Go on safari in South Africa
When deciding where to go on safari, there are a lot of bucket-list destinations to choose from, so it often depends on what you most want to see and experience. If it's your first time and you're looking to spot the Big Five, we suggest South Africa.
Staying in a private reserve like Sabi Sands, which borders Kruger National Park, gives you a chance to head out on private game drives where there are fewer visitors, so you'll often have sightings to yourself. The reserve is particularly known for its big cats, but you could also encounter elephant, giraffe, and wild dog.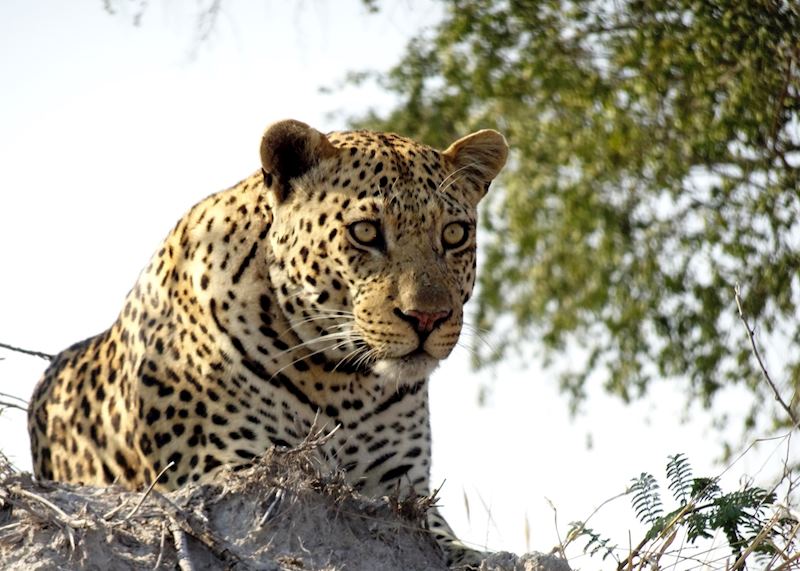 4. Drive Route 66 in the USA
Stretching across the heart of America between Chicago and Santa Monica, Route 66 is the quintessential US road trip. Getting behind the wheel to drive all or part of the route is a one-of-a-kind bucket-list experience. Immerse yourself in nostalgia, following in the tracks of those who ventured across the country in search of a better life during the Great Depression.
While much of the original route has been replaced by highways, we'll plan your trip so you'll still pass through small, characterful towns and see giant novelty objects, retro diners, and cacti-dotted deserts, experiencing places that have inspired songs, novels, and movies.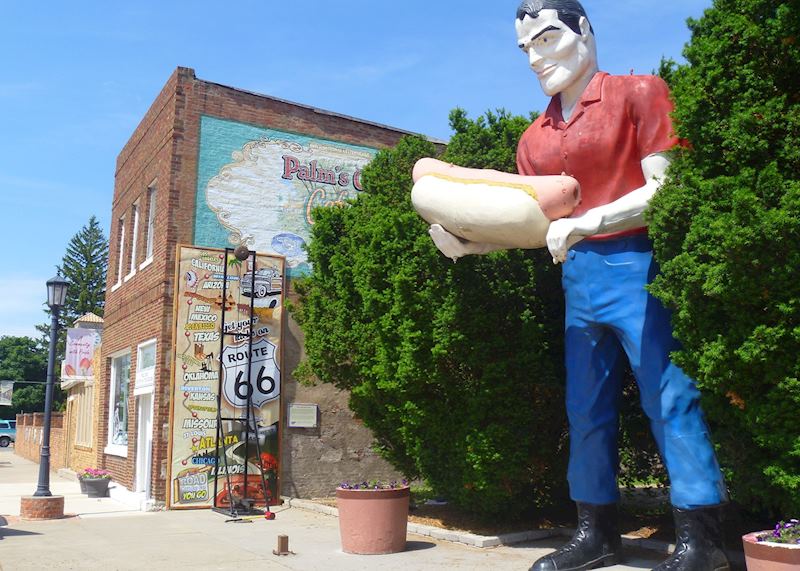 5. Take a train ride through Canada's Rocky Mountains
Soaring mountains, dazzling glaciers, dense firs, and lakes that glow spearmint blue: the Rocky Mountains of Canada provide a captivating backdrop to any trip. However, journeying through them by train features firmly on many people's travel bucket list.
Whether aboard The Canadian or the Rocky Mountaineer, you can watch the landscapes slide by from the comfort of your private cabin or from the glass-ceilinged observation car. And, there's time to disembark to explore the Icefield Parkway's scenic hiking trails scented with pine, ply the lakes' teal waters by boat or canoe, and admire powerful waterfalls.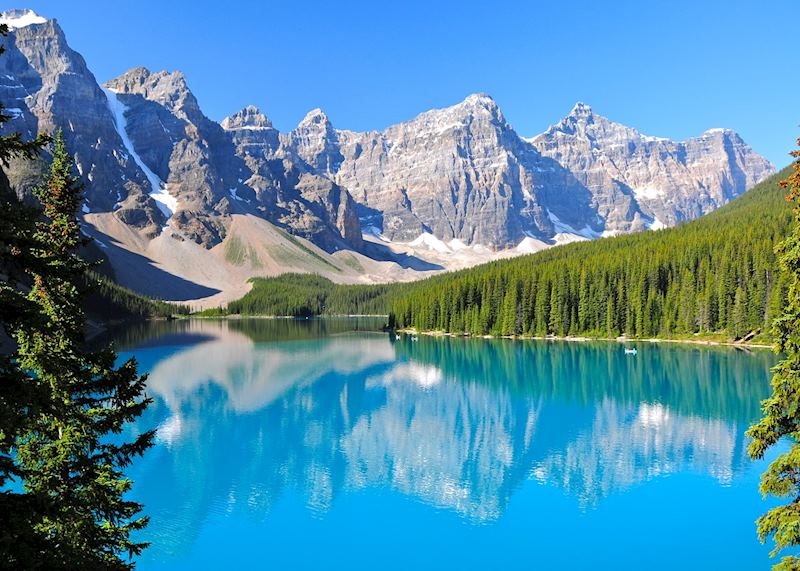 6. Visit the pyramids of Giza in Egypt
The pyramids of Giza have been a bucket-list destination since (at least) 450 BC, when Herodotus wrote about his visit. Rising from the sands of the Egypt desert for millennia, these timeless monuments form an instantly familiar tableau on the edge of Cairo, with urban streets to the north and east, and the vast, sun-baked desert to the south and west. Just beside them, the enigmatic Great Sphinx stares off in inscrutable silence. A guided tour from an expert Egyptologist can help you understand their place in the country's 5,000-year history.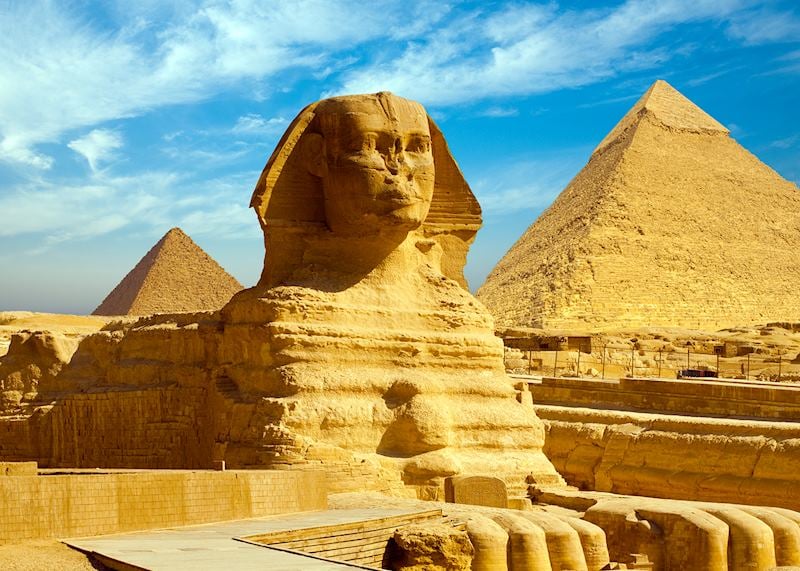 7. Walk along the Great Wall of China
The Great Wall of China, constructed more than 1,400 years ago during the Northern Qi dynasty, is an architectural behemoth that's over twenty times the length of the Grand Canyon. Our China specialists will weave a visit to the wall into your trip to the Middle Kingdom, whether you'd like to hike alone along a crumbling, thrillingly remote strip, or visit a restored section closer to Beijing.
Whichever part you visit, you'll gaze out over this dragon's backbone of a structure as it snakes up and down mountains stretching into the far distance, before disappearing into the haze.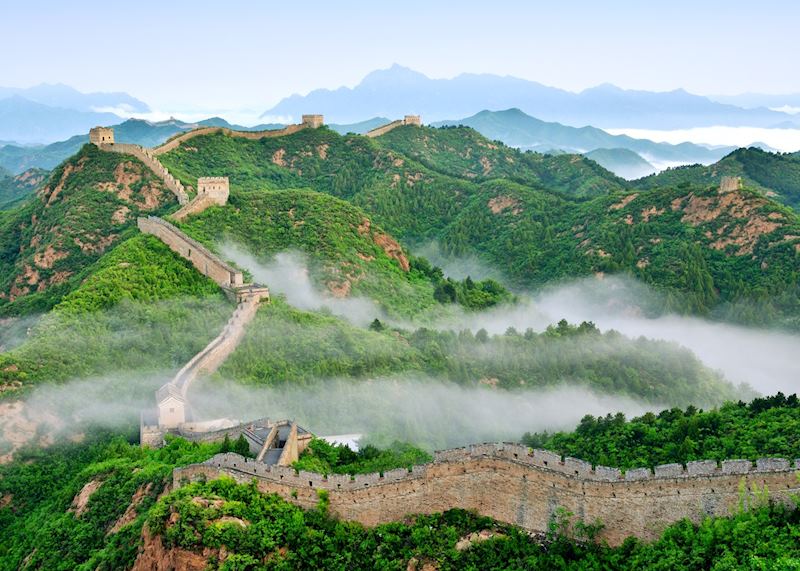 8. Stay at an overwater bungalow in the Maldives
Balmy water that's gin clear, white-sand beaches with barely a footprint, swaying palms, glorious tangerine sunsets: just some of the ingredients that make the Maldives such an enticing location. It lends itself to relaxed honeymoons, but it's also a deeply rewarding destination in its own right.
For real seclusion, you can stay in an overwater bungalow, and slide straight into the ocean from your deck. And, there's a welter of exclusive experiences to be found here: think private sandbar dinners, dolphin-spotting dhoni cruises, state-of-the-art spa treatments — or even snorkelling the house reef in the company of a marine biologist.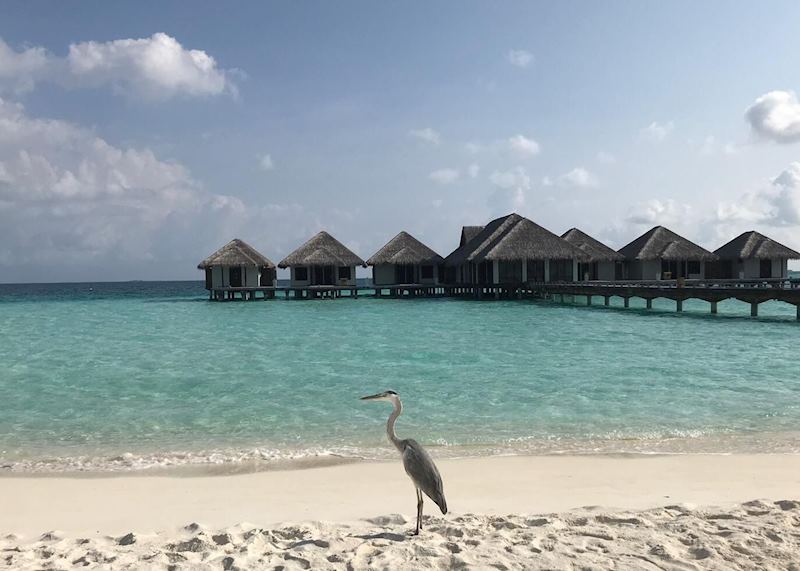 9. See bears in Canada
For the best chance of seeing bears in Canada, stay at a dedicated bear lodge set deep in the remote wilderness of British Columbia's coastal rainforests. Here, naturalist guides know the best places to look so you can observe them in their natural habitat.
You might explore by boat or on foot, looking for tell-tale signs of their presence — pawprints in the dirt, scat, clumps of fur on a tree trunk… And, during the salmon run (September to October), you can watch from viewing platforms set along the river as grizzlies snatch fish from the water.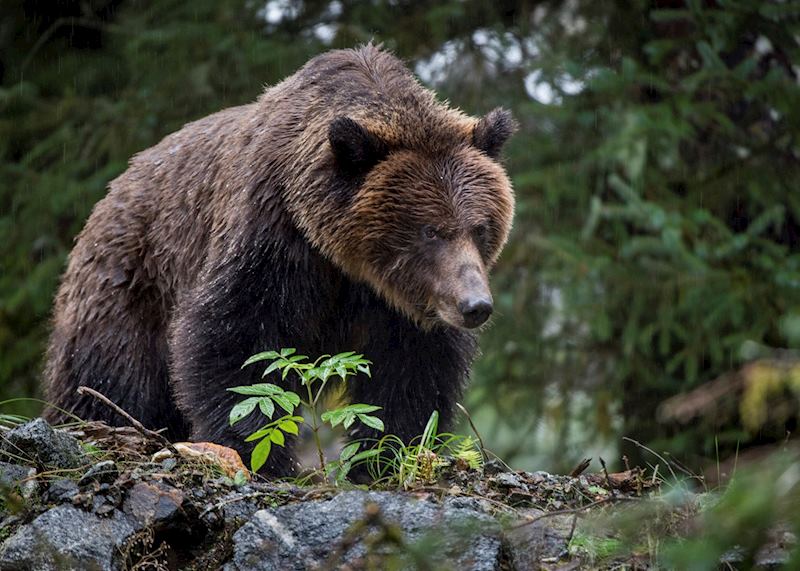 10. Swim with sea turtles in Hawaii
Hawaii instantly conjures images of a tropical paradise with golden beaches, swaying palms, and tangled rainforests hiding idyllic waterfalls. You can indulge in peace and relaxation here, or stay active by exploring the islands' landscapes and offshore highlights.
For the latter, you could check off the bucket list experience of seeing and swimming with sea turtles. You can often watch them scuttling across the sand on Laniakea Beach — aptly nicknamed Turtle Beach — on Oahu's north shore. Or, join a snorkelling trip to Molokini Crater, off the coast of Maui, where you might encounter them in the water alongside a host of other marine species.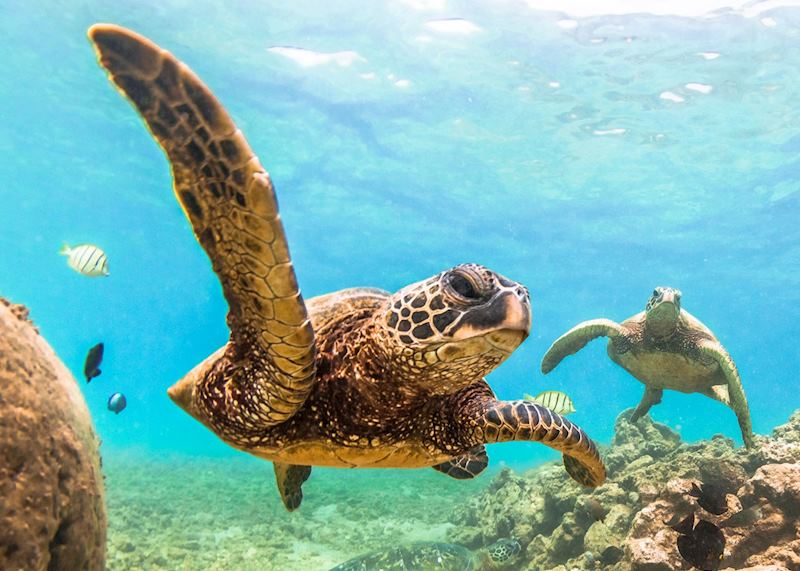 Inspired to seek out your own one-of-a-kind travel experience? See all the destinations you can visit with Audley, or speak to one of our specialists, who'll craft a bespoke, meaningful trip just for you.