When winter tightens its chilly grip on northern latitudes, our thoughts turn towards sunnier climes with beaches, blue skies, warm days, and balmy nights. We know we're not alone. From the palm-shaded beaches of Thailand to the steamy rainforest lodges in Costa Rica, some of our most treasured destinations seem designed for soaking up the sun from December until March. The question becomes — what are the best places for winter sun?
To help you narrow down your search, we compiled a Winter Sun Index. Using 14 different metrics across more than two dozen countries, we've ranked the best winter sun destinations. As travel specialists, we know different customers are looking to explore different experiences when travelling around the globe. That's why we have also calculated the top three destinations for families with either young children or teens, for people looking for culture, and for couples.
---
Top 5 best winter sun destinations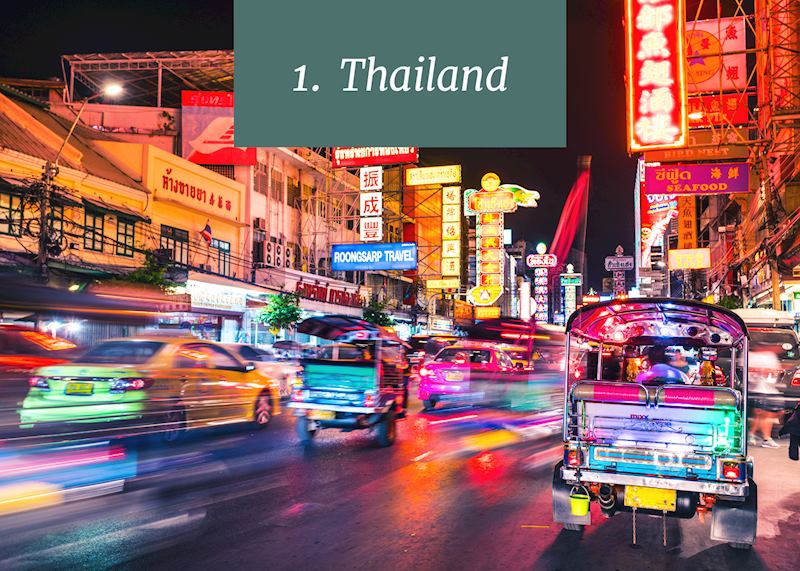 Thailand: street food, wild elephants & long stretches of coast
Thailand is known for its wide range of beaches and is reliably warm and sunny from November to March. However, there's more to the country than simply sand and sea. We gave it the top spot, at least in part, because of the welcoming attitude that earned it the nickname Land of Smiles. Everywhere you go, you're likely to be greeted with flowers, cold drinks, and warm smiles.
Additionally, the country's capital, Bangkok, is renowned for its exceptional food and thrumming energy. Meanwhile, in the countryside, you can see elephants roaming the rainforest or kayaking down the Sok River.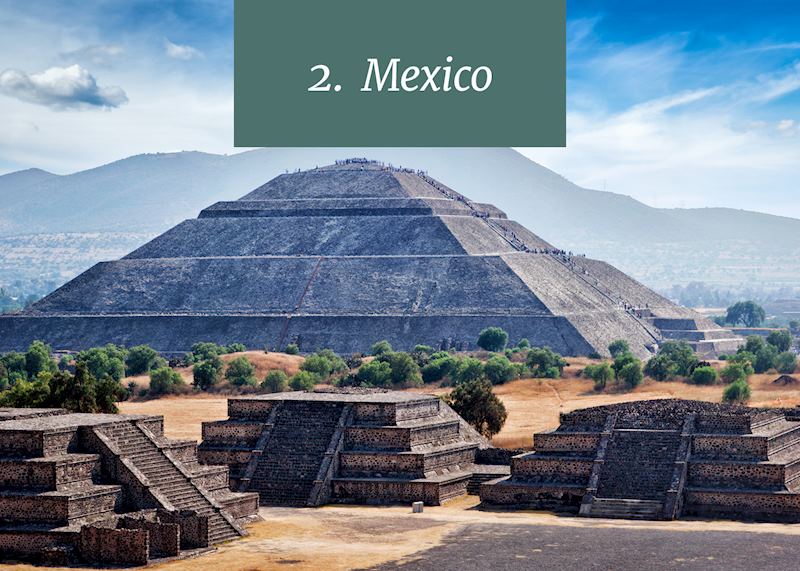 Mexico: Maya ruins, golden-sand beaches & whale watching
Mexico holds the second spot thanks to its blend of history, culture, and remarkable beaches. You might explore Maya temples at Teotihuacán and Chichén Itzá or head to Baja California for a whale-watching trip to spot migrating humpbacks. If you'd like to dig into the country's renowned cuisine, we can arrange a private cooking class so you can learn to make mole sauce. And, of course, Mexico boasts plenty of beaches, from the white sands and turquoise waters in the Riviera Maya to wild stretches of golden sand in Oaxaca.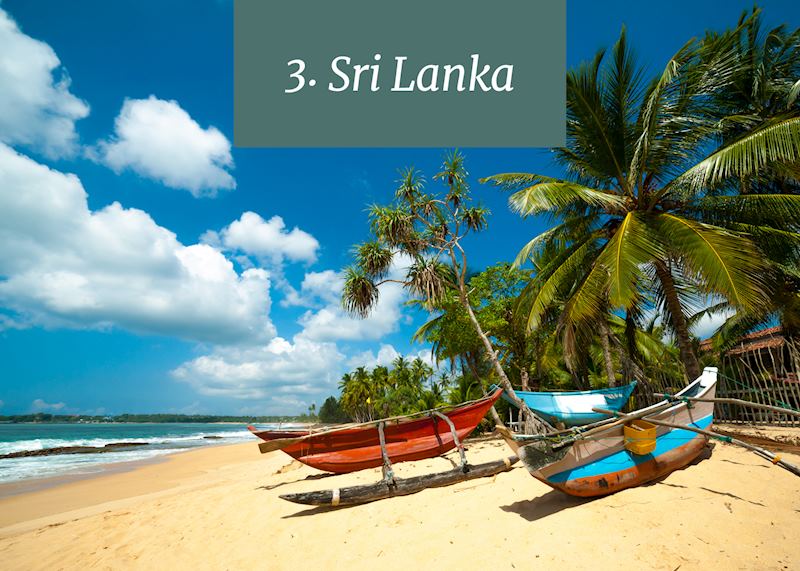 Sri Lanka: rose-gold beaches, tea plantations & temple caves
Sri Lanka packs a lot into a relatively small package. You can climb to the top of Sigiriya's rock fortress to watch the sun rising over surrounding hills or take a tour through two millennia of Buddhist sacred art and history in the cave temples of Dambulla. Then, you could visit one of the national parks to look for elephants, tropical birds, and slow lorises. On your drive, you might pause to sample one of the island's 29 banana varieties from a roadside stand.
For a relaxing coda to your trip, head to the rose-gold sand beaches in the southwestern part of the island, or to Nuwara Eliya in the heart of Sri Lanka's tea country.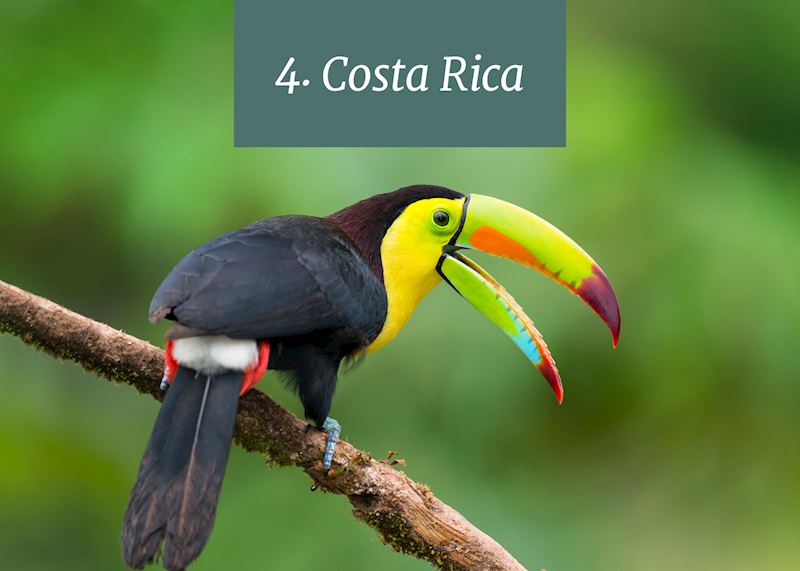 Costa Rica: rainforest ecolodges, two coasts & birdwatching
Dense rainforests alive with birds, white-water rafting on unspoiled rivers, untamed Pacific beaches, rumbling volcanoes, and thoughtfully run ecolodges — all these together earn Costa Rica its spot in our top five.
A highlight for adventurous visitors is the area near Arenal Volcano. Here, you might explore natural history on a guided walk through the nearby hanging bridges, go kayaking on the lake, hike through the rainforests or on the slopes of the volcano itself, or simply soak in a natural hot spring. You can also visit the jungle-fringed coastlines for sun and sand on either the Pacific or Caribbean coast.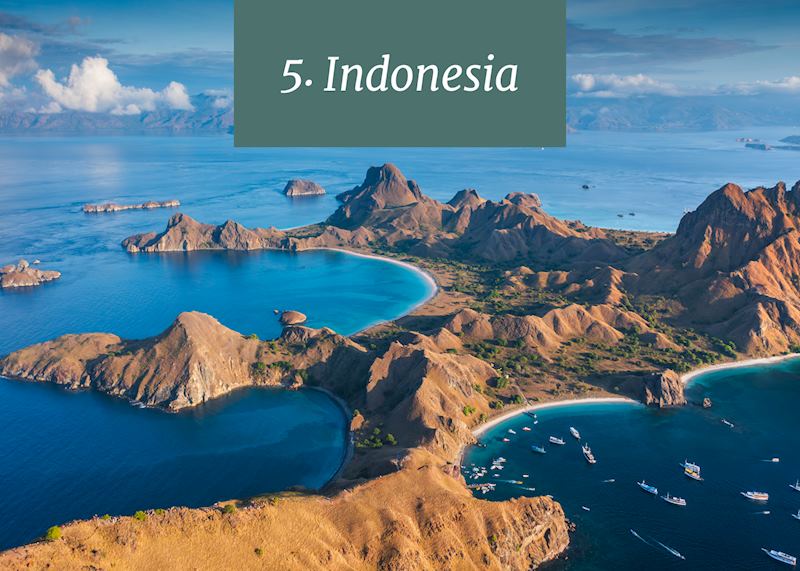 Indonesia: volcanoes, gilded temples & world-class snorkelling
Rounding out the top five best winter sun destinations, Indonesia is a sprawling archipelago of more than 17,000 islands that boast a wealth of wildlife and cultural options for those visiting from November to March.
Wildlife seekers can search for orangutans in Sumatra's preserved jungles, look for dragons in Komodo National Park, or snorkel past shoals of glimmering fish in the Gili islands. If you're looking for culture, you might like to explore Borobudur Temple Complex, go cycling at the ancient Jatiluwih rice terraces in Bali, or watch traditional kecak dance at the world's largest Hindu temple at Candi Prambanan.
Top 3 best winter sun locations for couples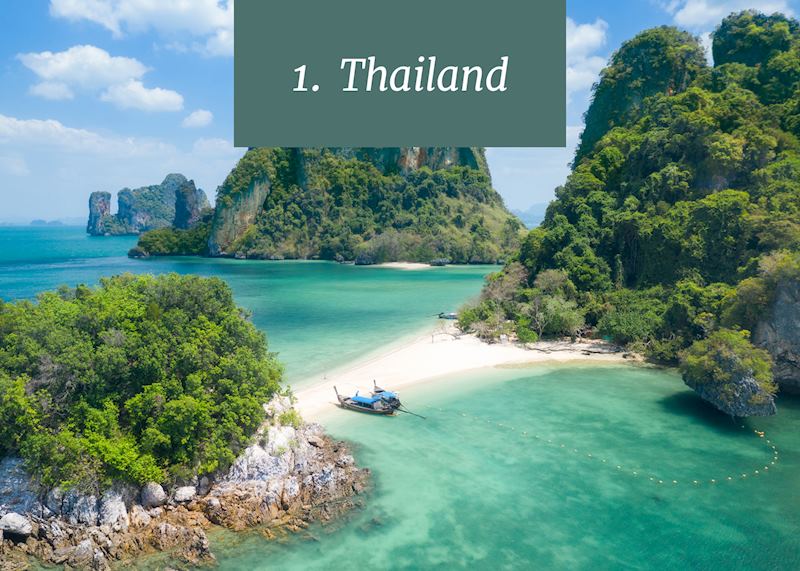 Thailand: beaches & more
After topping our list of best winter sun getaways, Thailand returns as our best couples' destination. The beaches are a big draw, of course, ranging from deserted tropical islands to huge swathes of palm-shaded sand to boulder-strewn coves. You can spend your whole trip swimming, snorkelling, diving, or simply lounging on the beach in the dappled shade.
However, if the two of you want something more, we can also arrange in-depth explorations of the rest of the country. Buzz through Bangkok's electric nightlife with a local guide, float through Ang Thong National Park on a boat trip and glimpse the oversized residents of an elephant sanctuary.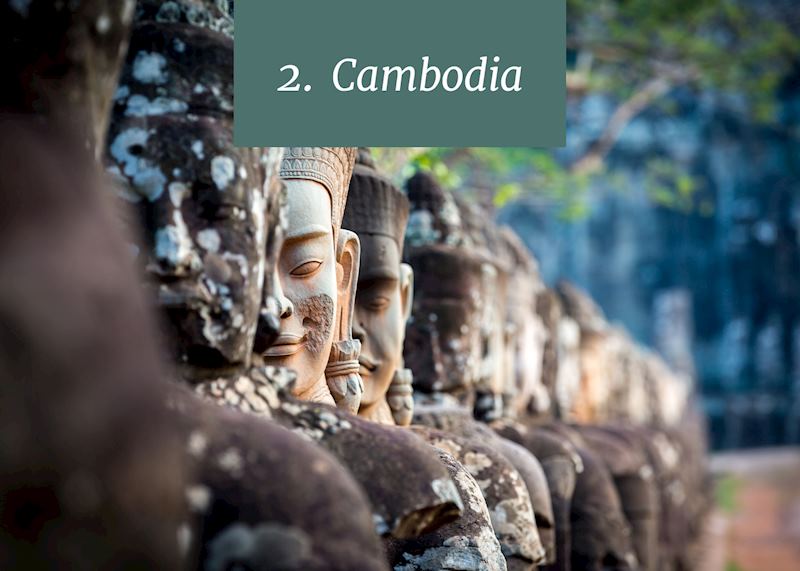 Cambodia: temples & local cuisine
Overgrown temples at Angkor Wat, great swathes of wilderness, and floating villages on Lake Tonle Sap... Cambodia overflows with things to do and experience. You can visit elephants in a sanctuary, join a Khmer chef on a trip to the market followed by a cooking class to sample the traditional cuisine, or glide through the mangroves in Reap National Park on a guided boat trip.
We can also show you less-visited temples around Angkor Wat, directing you away from the crowds and giving you a different perspective on the country's best-known sights.
Afterwards, we suggest relaxing on one of the country's beaches. The islands near Sihanoukville offer sun, sand, and sea in any combination you like, from splendid isolation to big stretches of sand thrumming with nightlife.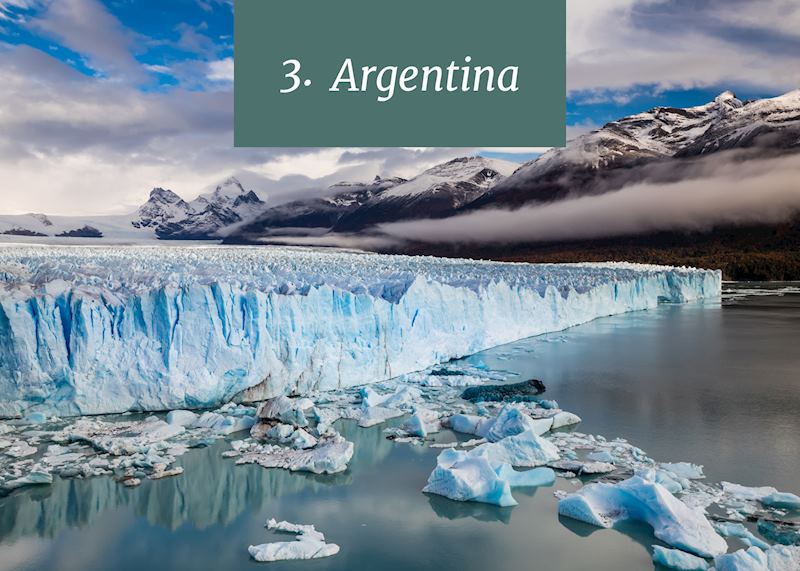 Argentina: gauchos, red wine & mountains
For couples who like lots of variety, may we suggest Argentina? Here, you can indulge in pristine wilderness, witness a singular cowboy culture, watch romantic flamenco dancers, and sip some of South America's best wines, all in one country. We recommend starting in Buenos Aires with a guided tour of the local parrillas and a tango performance.
You could then head to Patagonia, where we can arrange for you to go hiking in Los Glaciares National Park to see its namesake glaciers. Alternatively, take a 4x4 tour of Tierra del Fuego to see the grumbling volcano. In the Pampas, you can explore Argentina's homegrown cowboys, the gauchos, before ending your trip with some relaxation in its renowned wine country.
Top 3 winter sun destinations for families with young children
Menus approved by picky eaters, hotels with pools, a preponderance of adjoining rooms, and child-friendly attractions — there's lots to consider for families looking to travel with younger children. Our expert specialists weighed in to determine which destinations were well-suited for young families. We then weighed their choices against the climate and preponderance of beaches to come up with our top picks.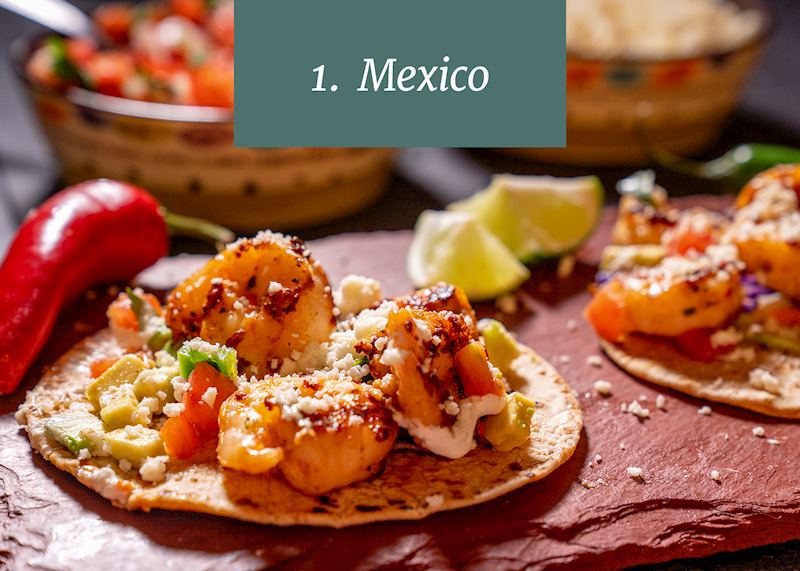 Mexico: familiar foods & sunny beaches
With coasts in the Gulf of Mexico, the Gulf of California, and the Pacific, Mexico is blessed with a huge array of beaches, so it's easy to find one that suits your family's preferences. You can spend long, lazy days soaking up the near-constant sun on the soft sands or opt for a more active trip with parasailing, snorkelling, and other water sports. Additionally, food here is child-friendly, with familiar items like tacos on many menus.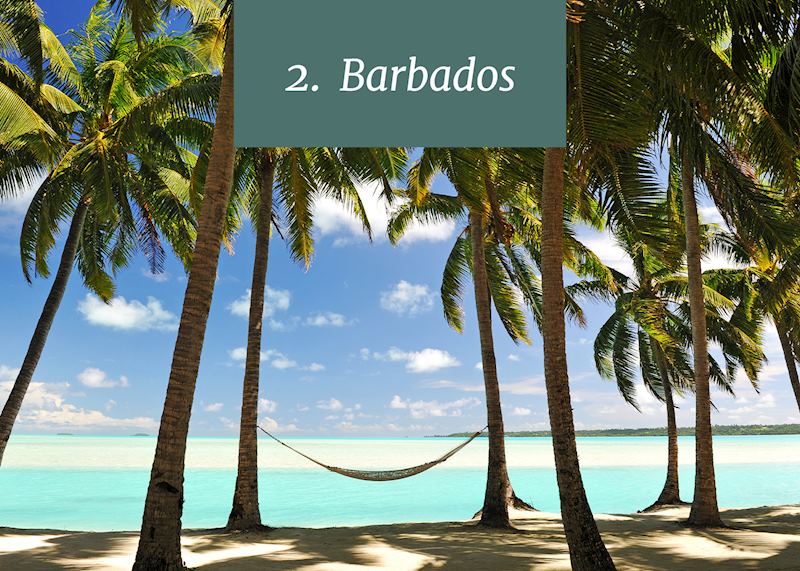 Barbados: Caribbean atmosphere & bath-warm waters
Friday night fish fries, botanical gardens humming with wildlife, and some of the best beaches in the Caribbean all make Barbados one of our top destinations for families with young children. You can swim alongside turtles on the island's Caribbean-facing west coast, where you'll find long stretches of soft sand shaded by palm trees.
For a break from the sun and sand, you can explore Andromeda Botanic Gardens, which is packed with monkeys, hummingbirds, and butterflies. On Friday nights, head to Oistins for the traditional fried mahi mahi fish.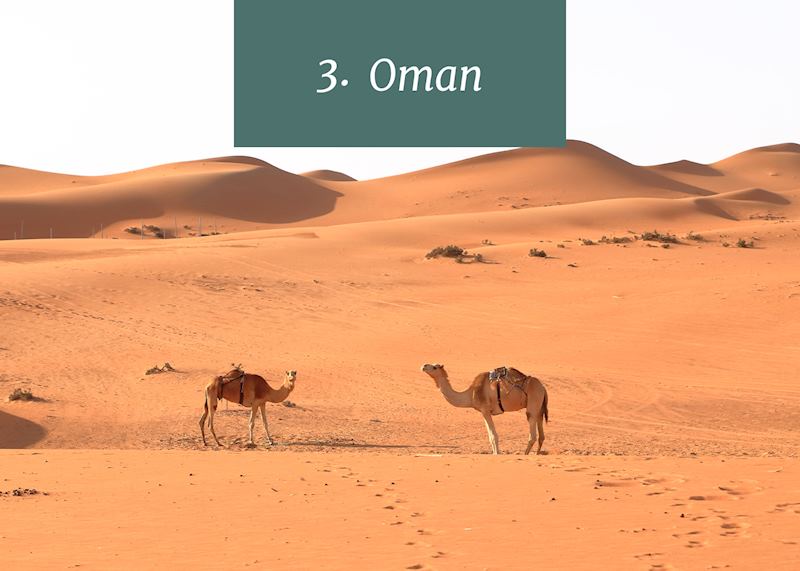 Oman: camel rides in a golden desert
Widely regarded as the Middle East's best-kept secret, Oman is one of our top destinations for a family desert adventure. Just a few hours from the capital, you can explore the Wahiba Sands, a vast ocean of golden dunes that shift in the wind. A stay at a luxury camp here gives your whole family the chance to play in this enormous sandbox.
A highlight is taking a camel ride to the top of a dune to watch the sun sink into the horizon, followed by a traditional meal around a crackling fire as you watch the stars wink into view overhead.
Top 3 best places for winter sun for families with teens
When we asked our specialists to choose the best winter sun locations for families with teens, they suggested more adventurous options. From zip-lining through rainforests to climbing a rock fortress, the activities in these destinations accommodate teens' broader interests and high stamina, while still including plenty for the adults.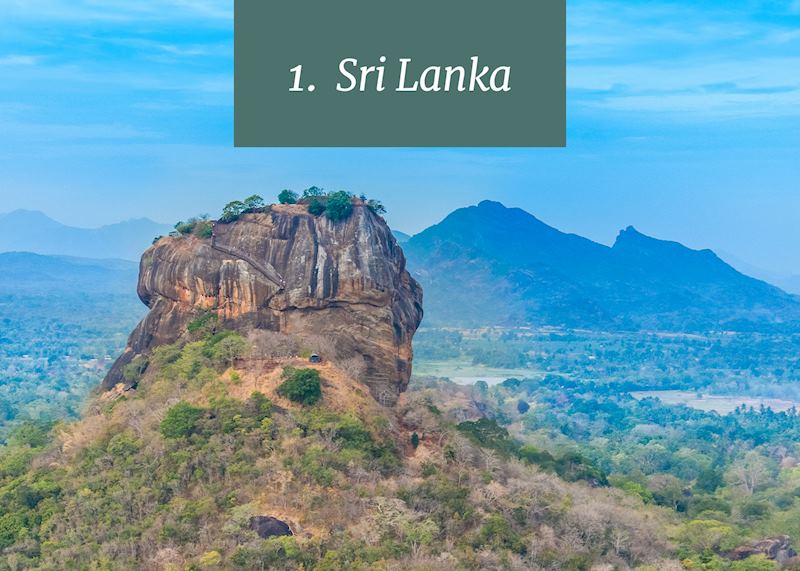 Sri Lanka: wildlife & cave temples
The southwest of Sri Lanka is warm and sunny in the winter months. Depending on your teens' interests, you might delve into the ancient cave temples of Dambulla, take a sunrise hike to the top of Sigiriya's rock fortress, or look for wildlife in one of the country's many national parks. This is also a great time to look for marine life off the south coast, where you might see dolphins or turtles from the shore, or we can arrange a whale-watching trip to spot migrating blue and sperm whales.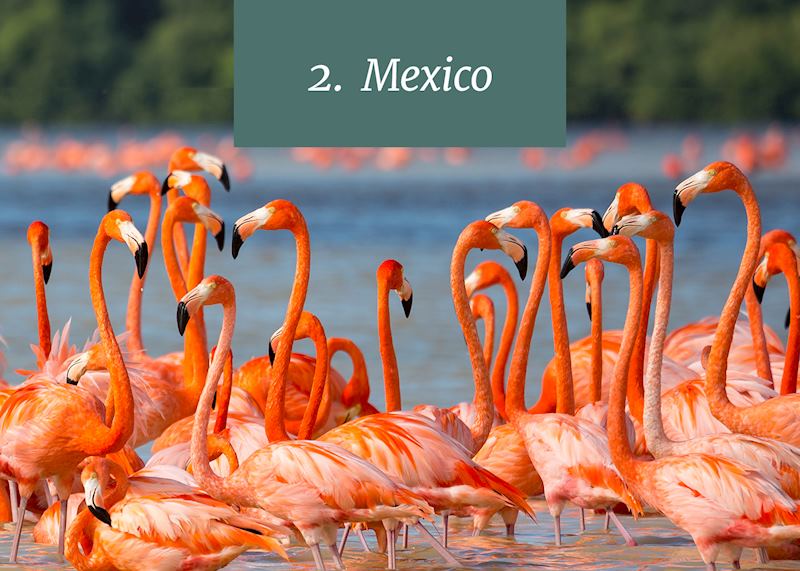 Mexico: beaches, cenotes & Maya ruins
Mexico's wealth of beaches and abundant winter sunshine make it an ideal destination for almost everyone from November to March, including families with teens. In addition to the three different coastlines, your family can also explore the inland cenotes — water-filled sinkholes in the limestone bedrock of the Yucatán Peninsula. The Yucatán is also where budding archaeologists might want to explore the ruined Maya cities of Chichén Itzá and Uxmal. In nearby Celestún, you can delight in the flocks of bright fuchsia-plumed flamingoes that gather here from December to February.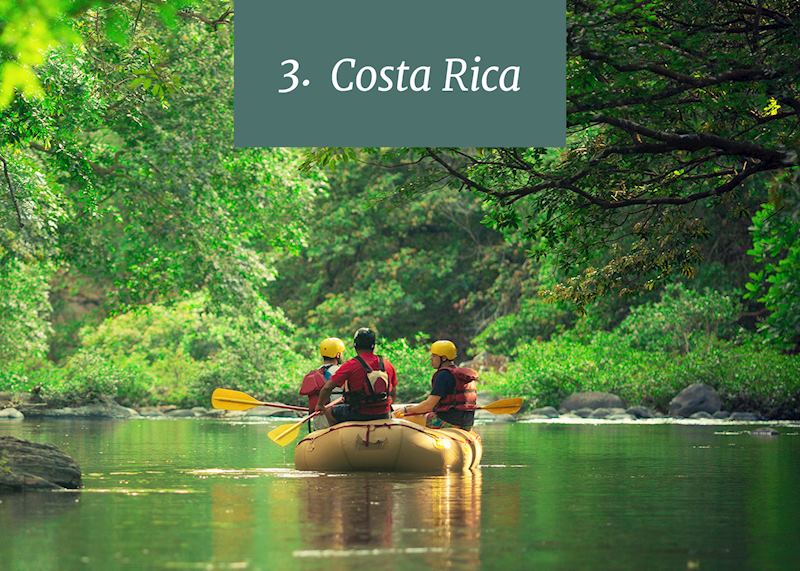 Costa Rica: outdoor adventure
Ideal for adolescents with energy to burn, Costa Rica is one big playground for adrenaline-seeking teenagers. Active pursuits like zip-lining, horse riding, kayaking, hiking, and river rafting all take advantage of the country's wild volcanic and jungle-clad landscapes.
Costa Rica is also a great destination for teenagers interested in wildlife or the natural world. The rainforests and cloud forests here have been carefully protected and there are more than 900 bird species, including the shockingly green resplendent quetzal. After tiring themselves (and their parents) out, teens can rest under the shade of a palm tree on the west-coast beaches.
Top 3 best winter sun locations for culture lovers
We know that one the primary reasons people travel is to immerse themselves in another culture, which is why we've compiled our top three cultural destinations. For this analysis, we gave extra weight to the country's native wildlife and cuisine, which is, after all, the tastiest way to experience another culture.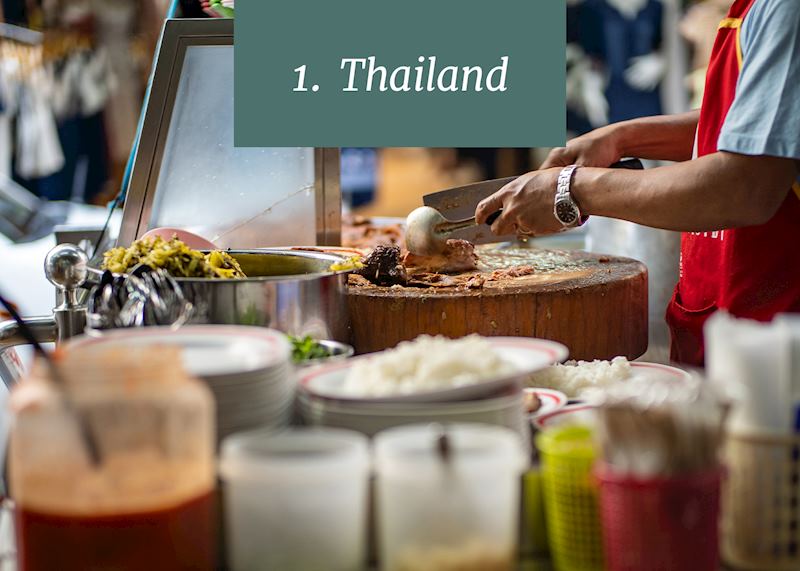 Thailand: sour, sweet, salty & heat
Thanks to a preponderance of eateries around the world, you're likely familiar with Thailand's cuisine, which balances sour, sweet, and salty, with a spicy kick in almost every dish. However, as good as your local Thai restaurant is, there's no better way to explore the country's food scene than with a visit. We can arrange street food tours in bustling Bangkok, market tours in Amphawa, or cooking classes almost anywhere you visit.
You can also expand your explorations of culture beyond the plate with a visit to a Lahu village in the countryside. We also suggest rising early one morning to hear the monks chanting at Wat Pho, and taking a city 'safari' in Chiang Mai that lets you explore via bicycle, boat, and tuk-tuk.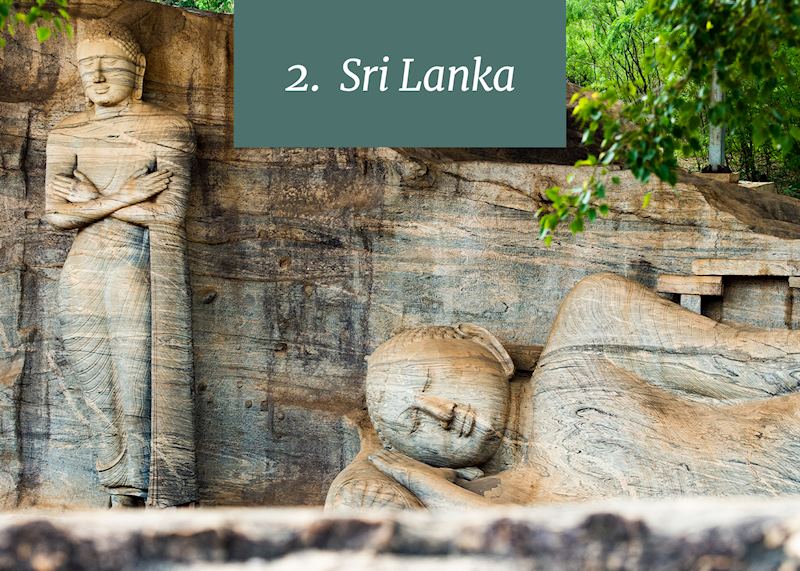 Sri Lanka: temples, fortresses & curries
This relatively small island nation is dense with history, especially in the aptly nicknamed Cultural Triangle. This inland area includes many of the major sights, among them the ruins of the Sinhalese Kingdom at Anuradhapura, the one-time capital of Polonnaruwa, and the sacred cave temples of Dambulla. A visit here gives you a chance to soak up the ancient stories that define Sri Lanka. If you prefer tasty treats over temples, we can also arrange plenty of experiences with Sri Lankan cuisine. You might try ice-cream bananas (which taste like their namesake), sample beetroot curry cooked for you in a local home, visit a women's cooperative for fried snacks in Kandy or learn to strip cinnamon bark off the tree in Galle.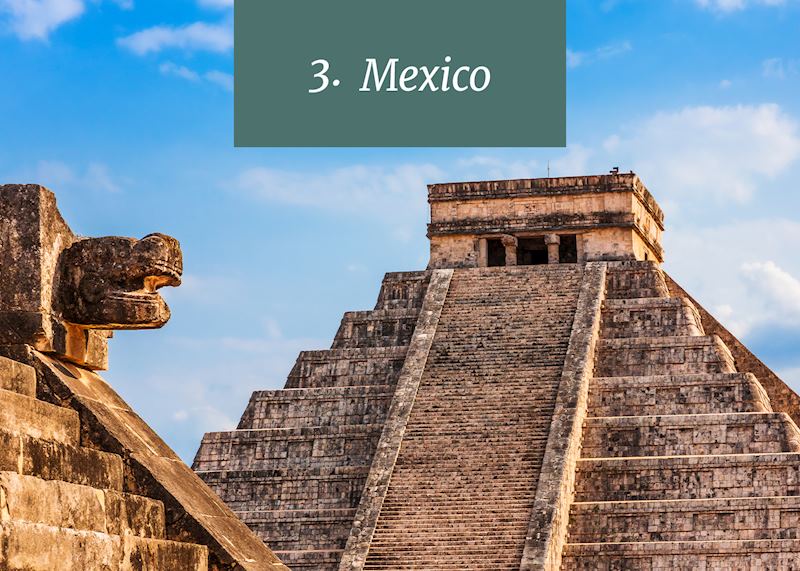 Mexico: more than just tacos
While Mexico made our list for families because of its familiar menus, there's more to Mexican cuisine than simply tacos. We can arrange a wide array of culinary adventures, like a street-food or market tour in San Juan, and a private cooking class with a professional chef in Oaxaca. If you like, we can also set you up on a taco-tasting cycle tour in the capital.
Away from the cities, you can explore how indigenous traditions and Spanish invaders have blended to shape modern Mexico. Ancient cultures abound, and we'll help you explore not just Mayan cities like Chichén Itzá but also Zapotecan temples in Monte Alba and Tolec ruins in Tula.
How was the best winter sun locations index created?
The best winter sun destinations travel index has been compiled by the Audley Travel specialists. Analysing and scoring 27 different winter sun locations across 14 different winter sun metrics. A score for each location was then created based on the results from the index.
Full list of metrics analysed:
Avg. temperature
Avg. sunlight hours
Avg. rainfall
Avg. sea temperature
Avg. humidity level
Longest coastline
Seasonality (Is the country in season during winter months yes/no)
No. Instagram hashtags (number of times destination is hashtagged on Instagram)
Ideal for young families (Score out of 10)
Ideal for older families (Score out of 10)
Romantic destination (Score out of 10)
Activities & adventure (Score out of 10)
Native wildlife (score out of 10)
Traditional cuisine (score out of 10)