By Italy specialist Brandon
A land of gentle hills dotted with cypress trees, sun-gilded vineyards and medieval hill towns, Umbria closely resembles better-known Tuscany next door. Yet, this rustic region is rarely included in well-trodden Italy routes.
The cities and towns can be busy, but once you step away from the main sights, you're likely to meet more Italians than visitors. An easy two-hour car or train ride from Rome or Florence, the region has enough to keep you busy for a week or more.
One of Italy's finest duomos in Orvieto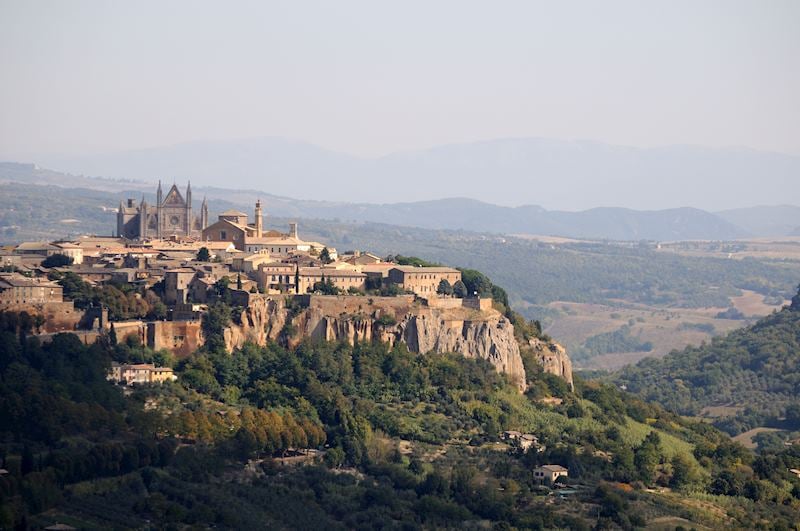 Perched on a hill, Orvieto can seem intimidating if you don't want to deal with the steep stairs and streets you'll find in many hill towns. But the town is built on a plateau and the well-preserved medieval city core is a pleasing tangle of level cobblestone streets lined with stone buildings.
Wandering through the pedestrian-friendly old town with a private guide is the best way to get a sense of the city's history, which dates from the Etruscan era. My guide, Paolo, was an energetic man with a passion for Baroque architecture. As we walked around, locals would greet him with cries of, 'It's Paolo, the genius of Orvieto!' — a nod to his exhaustive knowledge of the city.
That expertise was on full display when we visited the duomo. The town's spiky Gothic cathedral is, in Paolo's opinion at least, one of the most stunning in all Italy. The extraordinary façade glitters with golden mosaics and carved bas reliefs that frame the brilliantly hued frescoes. Paolo pointed out Biblical stories from the Creation to the Last Judgement, as well as Mary being crowned at the pinnacle.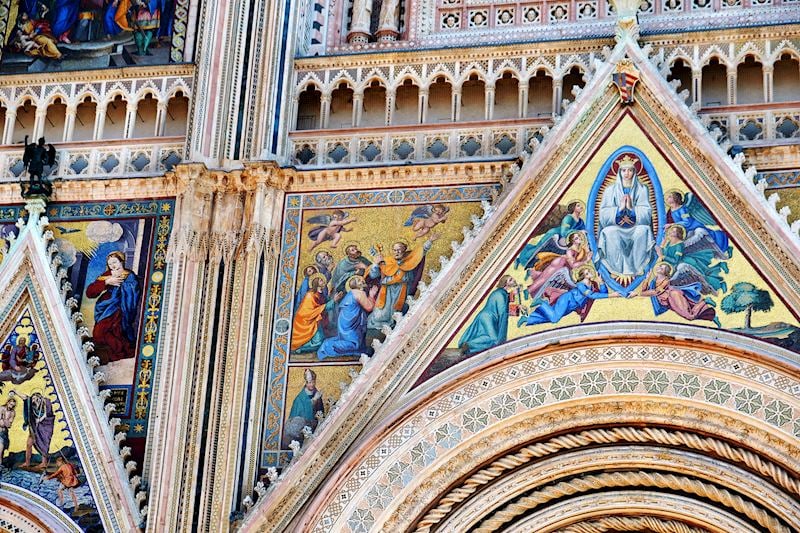 In the Chapel of San Brizio, painter Luca Signorelli created kaleidoscopic ceiling frescoes that rival those in the Sistine Chapel. In fact, Signorelli's expressive, narrative style and anatomical exactitude inspired his younger contemporary Michelangelo.
The paintings depict Biblical scenes in eye-catching detail, but Paolo explained they also represent a commentary on the city's turbulent politics in the 1400s. For example, the antichrist looks very like Savonarola, a divisive but charismatic figure of the time.
Chocolate, jazz & an underground city in Perugia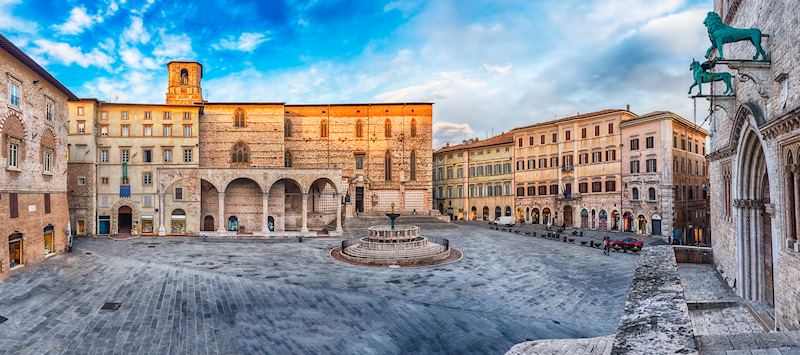 At first glance, Perugia might seem like an open-air museum. The medieval centro storico is a nearly perfectly preserved, helter-skelter of cobbled alleys, Gothic palazzos and steep steps framed by arches. I can spend hours meandering through the narrow side streets, discovering hidden squares and tucked-away churches. You can also delve more deeply — literally — into Perugia's history with a visit to the 'underground city' via a gleaming modern escalator.
An extensive network of underground passages was covered over by a Renaissance fortress and, today, you wander through the original Etruscan and Roman city. My guide, Cincia, pointed out the small raised doors next to the houses' main entrances. Known as porta del mortuccio, or doors of the dead, these were intended for coffins leaving the house. Once, all the best houses in Umbria had a door like this, and you can still see them (usually bricked up) in older homes across the region.
Despite all this history, this university city feels lively thanks to a huge number of university students from around the world. You'll find them lounging in the neoclassical Piazza IV Novembre, strolling through the streets in stylish groups and adding a fillip of youthful energy to the ristorantes and cafés.
That energy really explodes each October, when the annual Eurochocolate festival is hosted by local chocolatier, Perugina (best known for its Baci kisses). A million visitors flock to the festival to enjoy cookery classes, giant chocolate sculptures, exhibitions and enough free samples to satisfy all but the most dedicated chocoholic. If you visit any other time of year, you can explore the city's chocolate shops and cafés on a guided tour.
In July, the Umbria Jazz Festival is a ten-day celebration that has featured jazz greats like Dizzy Gillespie, BB King, Miles Davis, Herbie Hancock, Natalie Cole and Diana Krall.
Pilgrims, a saint & a frescoed basilica in Assisi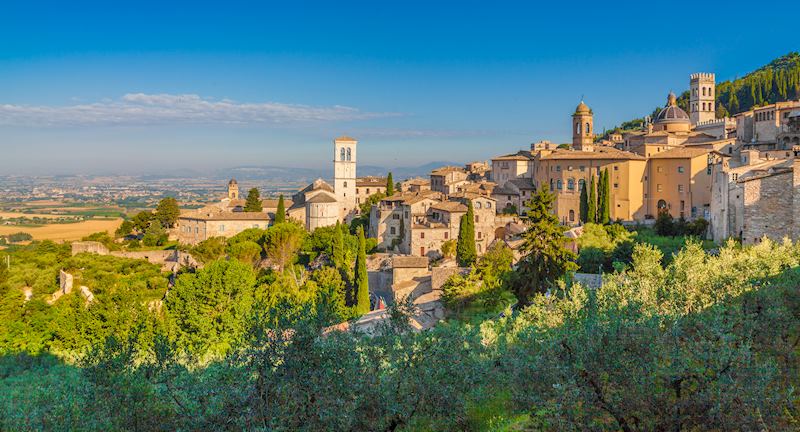 Standing on the edge of Perugia, you can see Assisi. The goldenstone town rises from the green plains on a hill, glowing warmly in the sun against a backdrop of wooded mountains. A drive there from Perugia takes just 30 minutes.
Assisi is a spiritual place. During warm weather, seemingly countless flower boxes overflow with cheerful blooms and the streets are filled with devout pilgrims and flocks of nuns and monks in simple brown robes.
This was the birthplace of Saint Francis, a friar who was canonised in 1228 and today is one of the patron saints of Italy. His philosophy of material simplicity, peaceful contemplation and gentle compassion, as well as his love of nature, still define the city. For 800 years, pilgrims from around the world have flocked to visit his basilica.
The basilica is a dramatic departure from the bright duomo in Perugia, with a plain, almost austere, white façade that reflects the modest man buried inside. The building consists of two levels, both covered in frescoes that seem to almost glow thanks to their translucent jewel tones.
The frescoes in the upper church, by proto-Renaissance painter Giotto (and his assistants), depict scenes from the life and ministry of Francis. Cincia, my guide here too, explained to me that, unlike most of his 13th-century contemporaries, Giotto's figures showed distinct emotions. You can clearly see the befuddled look on Francis's father's face when the not-yet-saint flings away his fine clothing for a life of poverty.
The lower church is frescoed with biblical scenes by Giotto and other great artists of the 13th century. The portrait of Francis himself, by Cimabue, is considered the most accurate likeness of the saint. It depicts a lean-faced monk standing beside the Madonna, Christ child and four angels.
From the lower church, you can descend into the Francis's tomb. Like the man, the basilica and the town, it's a humble place made of local stone. Hidden for centuries, it was rediscovered in 1818 and today is filled with pious pilgrims who come to pay homage to one of Christianity's best-known thinkers.
Those pilgrims and other visitors crowd the town's main streets during the day. That's especially true along the high street, which, like any pilgrimage destination, is full of shops selling souvenirs. However, there's always a quiet alley or little piazza where you can find a moment of quiet. In the evenings, once the day trippers have all left, Assisi settles into a contemplative quiet that always seems to sink into my bones.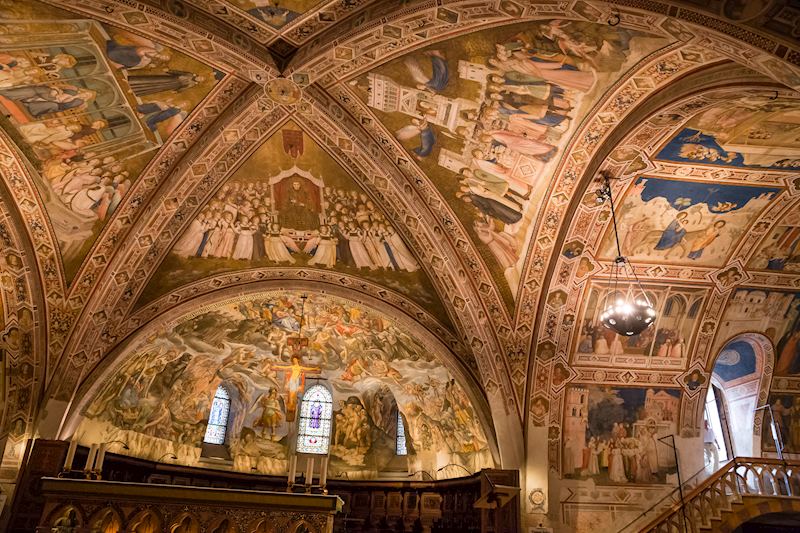 Truffle hunting & tasting
The similarities between Umbria and Tuscany include the regions' cuisine. Both use olive oil instead of butter and rely on simple preparations of local ingredients, including truffles. The elusive fungi grow abundantly in the stony soil under the short oaks that thrive among the hills.
On my last visit, I tried my hand at truffle hunting at a family-owned farm, under the expert guidance of Mac, a New Zealand transplant to the Umbrian countryside. Along with a handful of other hopeful hunters and a small pack of trained dogs, I climbed into an open-top 4x4 to jounce my way up into the hills.
Once we arrived, Mac opened the doors and the dogs erupted from the vehicles in an explosion of wriggling, tail-wagging canine enthusiasm. At his command, they darted into the sparse undergrowth, their snuffling noses close to the dark earth. Humans followed at a less frantic pace, walking along a narrow track worn into the grass by generations of the same family, who have owned the farm since 1486.
It wasn't long before one of the dogs came bounding back, something dark held loosely in her jaws. Mac traded a treat for the truffle and held out a knobbly chunk of something that looked like a clod of dirt. But when he held it out for us to all take a whiff, the earthy scent of a freshly dug truffle uncoiled into my nose.
Once the dogs had collected enough, Mac gathered us all round for a quick field meal of softly scrambled eggs cooked with shaved truffle. Eaten at the top of a hill under the golden morning light, the pillowy golden curds were rich and tender and perfumed with the fragrant fungi.
Because this was just a snack, we each only got a few bites before adjourning back to the farm, where we took a seat at a long wooden table outdoors. There, we tucked into heaping plates of bread, cheese, sausages, more eggs and local vegetables, all infused with that unmistakable taste.
When to go to Umbria
We suggest visiting Umbria from April to June or during September and October, when the weather is warm and dry. Winters are quieter but colder, and religious holidays can be uncomfortably busy in Assisi.
Read more about trips to Italy

Start thinking about your experience. These itineraries are simply suggestions for how you could enjoy some of the same experiences as our specialists. They're just for inspiration, because your trip will be created around your particular tastes.
View All Tours in Italy
Further reading