Stretching from Alpine peaks in the far north to the sunny southern heel of the boot, Italy is a big and varied country, and each region has its own distinctive history, culture, and cuisine. Deciding where to go on your trip can be daunting when faced with so much choice. Here, we share what we think are the top 15 places to visit in Italy, from renowned cities like Rome, Venice, and Florence to small, lesser-known coastal islands like Ischia and glamorous outposts like Capri and Lake Como.
1. Rome, the Eternal City
Why visit: ancient ruins, medieval churches, Renaissance art & Baroque fountains
Home to the Sistine Chapel, the Colosseum, and the Trevi Fountain, Rome earns its sobriquet as the Eternal City. The streets here seem paved with European history and you can barely turn a corner without stumbling on an ancient ruin or Renaissance masterpiece hanging, unremarked, in a small empty church.
If you're interested in the earliest Romans, we can arrange a guided tour of the Forum and Colosseum or you can visit a church built on one of the earliest Christian churches — built, in turn, on a Mithraic temple.
The Renaissance restored Rome's classical glory and you'll find examples of the era's masterpieces everywhere — Raphael and Michelangelo in the Vatican Museums, yes, but also the Galleria Doria Pamphilj, an oft-overlooked private museum.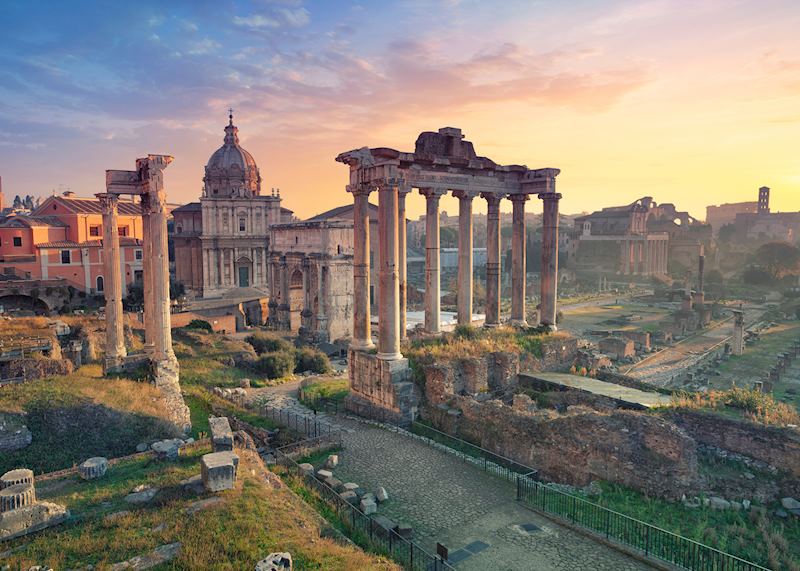 Dig deeper: Learn to fight like a gladiator with a hands-on class that trains you (and your children) in the methods and weapons of these ancient warriors.
Don't miss: Roman cuisine is, perhaps, less renowned than that of other cities, but it's a gutsy gastronomy that includes cacio e pepe and the indulgent supplí (deep-fried rice balls filled with cheese). For a glimpse into the city's Jewish heritage, you can take a food tour through the Jewish Ghetto.
2. Venice, La Serenissima
Why visit: Romanesque & Renaissance masterpieces, Carnevale & canal-side bars
Spread over more than 100 islands linked by canals and bridges, Venice is arguably the most romantic Italian city. The Grand Canal, Doge's Palace, and St Mark's Square and Basilica are the highlights here, but there's much more to see besides.
You can take a private tour through the bacari — canal-side bars that serve aperitivi and cicchetti, the Venetian version of tapas. For something a bit more energetic, we'll arrange a lesson on the city's distinctive rowing style, developed by gondoliers.
In the ten days before Lent, the city erupts in a bacchanalia for Carnevale. Today's celebrations rival those of the festival's heyday in the 18th century, and you'll find merry makers in costumes along the canals. The city's also known for its rich artistic tradition, which you'll find reflected in the many museums and galleries. Highlights include the Accademia, which features masterpieces ranging from the Byzantine to the Baroque, and the Peggy Guggenheim Collection, which focuses on more modern works. And, held every other year, the Biennale is Europe's most prestigious exhibition of large-scale installations.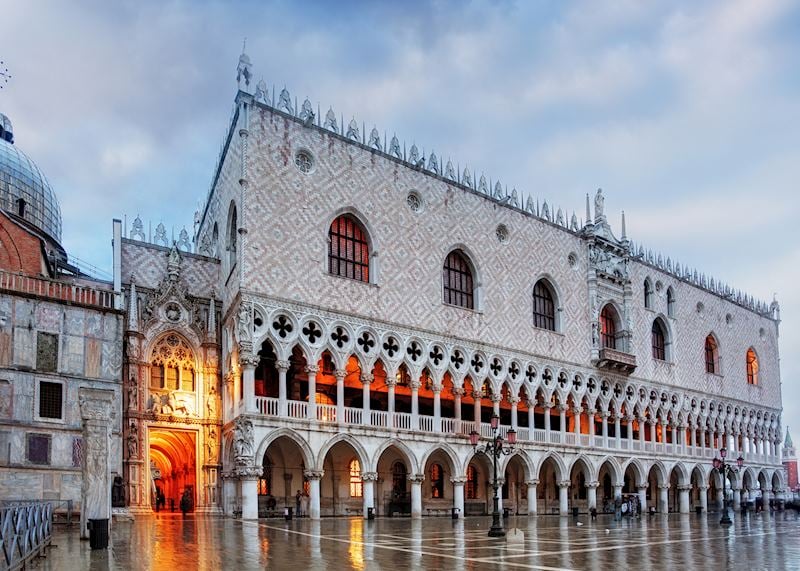 Dig deeper: The Carnevale's signature masks are created by master artisans who draw from a rich history. You can take a mask-making class with a long-time expert in the craft and create your own mask to take home.
Don't miss: Venetian blown glass and lace were status symbols throughout the Renaissance — you can still visit workshops where experienced artists continue the tradition on the islands of Murano and Burano.
3. Florence, birthplace of the Renaissance
Why visit: Renaissance art, history & architecture
A living gallery dedicated to the era that it helped to fuel, Florence embodies the European Renaissance in every aspect, from the Duomo's ochre dome to the elegant palazzos to the storied collections hanging in the city's many museums and galleries.
At the Bargello, Uffizi, and Accademia, you can spend days inside their grand halls, exploring works by artists who were the superstars of their day (and ours): Michelangelo, Botticelli, Da Vinci, Titian, and more. Outside, you can admire the same genius at work in the churches, palaces, and piazzi.
If you're interested in food, Florence is a great place to sample all of Tuscany's renowned cuisine, at eateries or through a cooking class. It's also a good base from which to explore the vineyard-laced Tuscan countryside.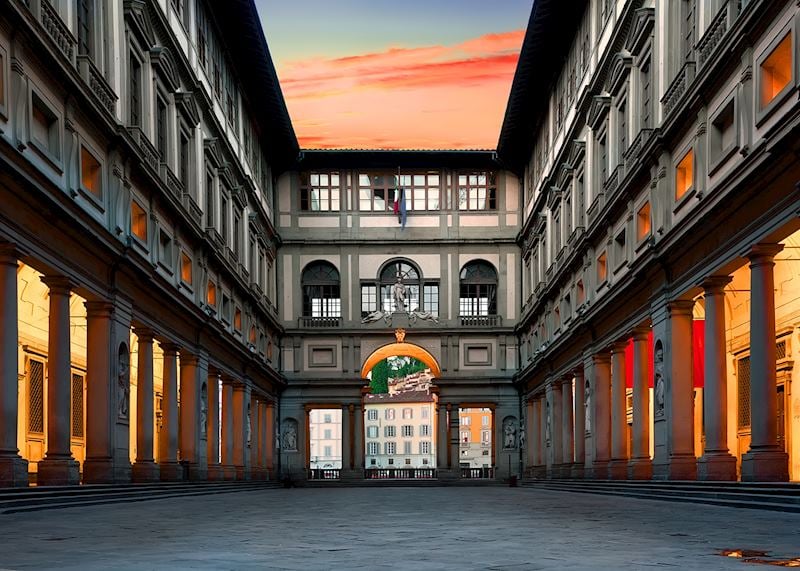 Dig deeper: The outlying cities of Siena and San Gimignano are less renowned than Florence, but also reflect the same flowering of culture and wealth that made Florence so compelling. We can arrange a driving tour to visit these nearby cities.
Don't miss: The Pitti Palace was home to the ruling families of the Renaissance, including the Medicis at the height of their power. Everything — from the architecture to the paintings on the wall to the formal gardens outside — recalls when Florence was the cultural nexus of the world.
4. Positano, the Golden Mountain
Why visit: sun-drenched coastal views & charming piazzi
If, for some tragic reason, you can only get to one village on the Amalfi Coast, make it Positano. Clinging to a steep sea-side cliff, this one-time fishing village embodies the charms of the Amalfi with its fashionable waterfront, bustling beaches, and chic boutiques.
Planning a lot to do in Positano undermines the point of visiting Positano. Instead, we suggest you spend your time meandering through the town, popping into chic shops, visiting the pretty churches, and pausing periodically for a cup of coffee, a scoop of gelato, or a glass of limoncello, the Coast's trademark liqueur.
And, of course, you can pause to take in the sweeping views of the Mediterranean, glittering under the sun.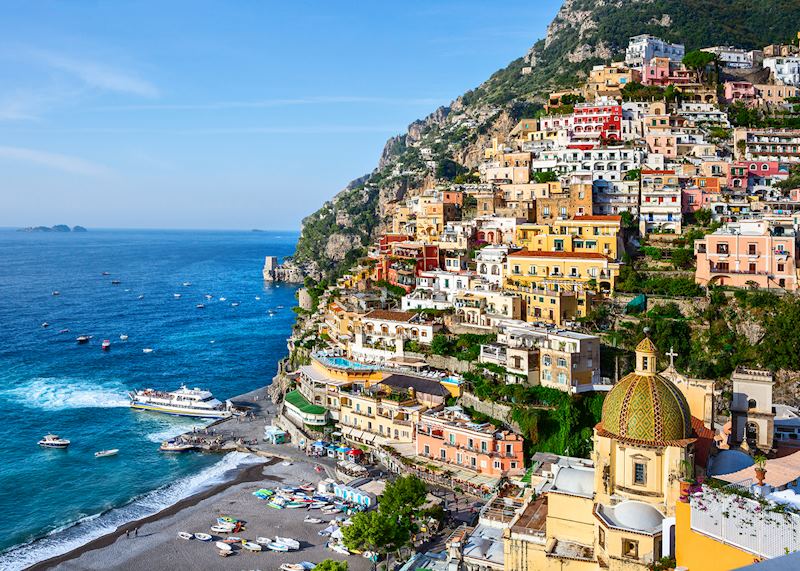 Dig deeper: For a different perspective on the village — and the whole coast — you can explore from a private boat. You'll get to soak up the views from the water, relax in the sun, and pause for occasional swims.
Don't miss: Nearby Ravello is a stylish village that's perched high on a hill overlooking the coast — the views here are even better than in Positano, especially from the Infinity Terrace of Villa Cimbrone.
5. Tuscany, a sun-gilded landscape
Why visit: vineyard-covered hills, agritourismos & truffle-scented dishes
The sunlight in Tuscany is buttery yellow and seems to have a syrupy quality as it rolls over the countryside's gentle hills, vineyards, cypress trees, and sleepy farmhouses. For many, this is the quintessential landscape of Italy.
That sun and those hills support farms and wineries that produce everything from fragrant truffles to blockbuster wines like chianti. You can easily spend your entire time in Tuscany simply wandering from one transcendent meal to another, with pauses for wine tastings while you admire the views. If you prefer to get more hands on, we can arrange truffle hunts, cooking classes, and guided tours with a culinary slant.
The gastronomy also influences where you stay in Tuscany. There are plenty of elegant hotels and stately palazzos, if you like, but most visitors stay in an agritourismo — traditional farmhouses where you can eat meals that give a whole new meaning to farm-to-fork. Many have their own small vineyards attached, too.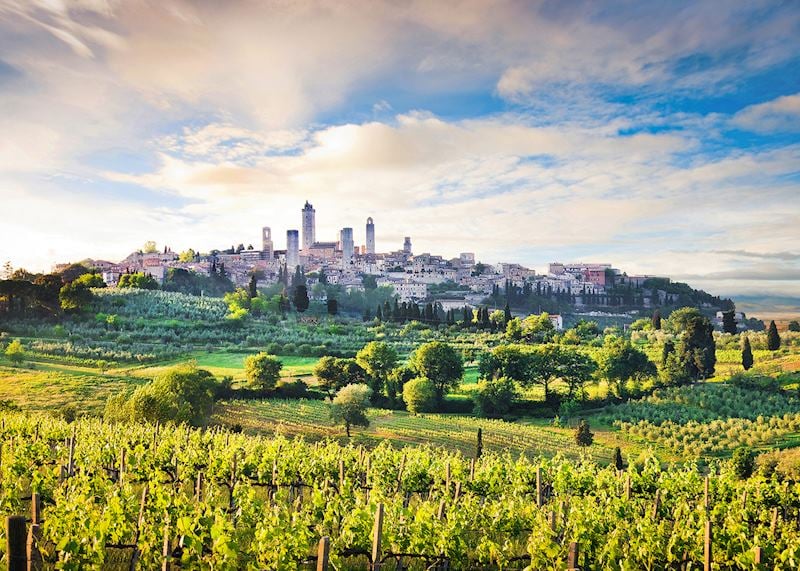 Dig deeper: Today, Pontremoli is a quiet city with few visitors, but during its heyday, it challenged Florence for wealth and prestige. A guided tour will help you unlock the secrets of this little-visited city.
Don't miss: A well-preserved medieval city, Lucca is a pleasant place to while away a day, wandering among the tight cobbled alleyways and promenades lined with restaurants and cafes.
6. Sicily, crossroads of the Mediterranean
Why visit: Mount Etna, Baroque villages & ancient ruins
Sicily is a land apart from mainland Italy. Its language, cuisine, wines, and history have all been influenced by the waves of traders, invaders, sailors, and empires that have passed through this island over the millennia.
Home to the largest volcano in Europe, Sicily is big enough that you can spend two weeks here and just scratch the surface. Gritty Palermo offers Byzantine mosaics and street food that ranges from familiar to startling. Outside the capital, you can visit both Roman and Greek ruins, explore three flamboyant Baroque cities, and enjoy wine grown on the fertile slopes of Mount Etna.
A cooking class with a local anthropologist can help you start to unlock the island's complex history and how it's influenced the local culture and cuisine.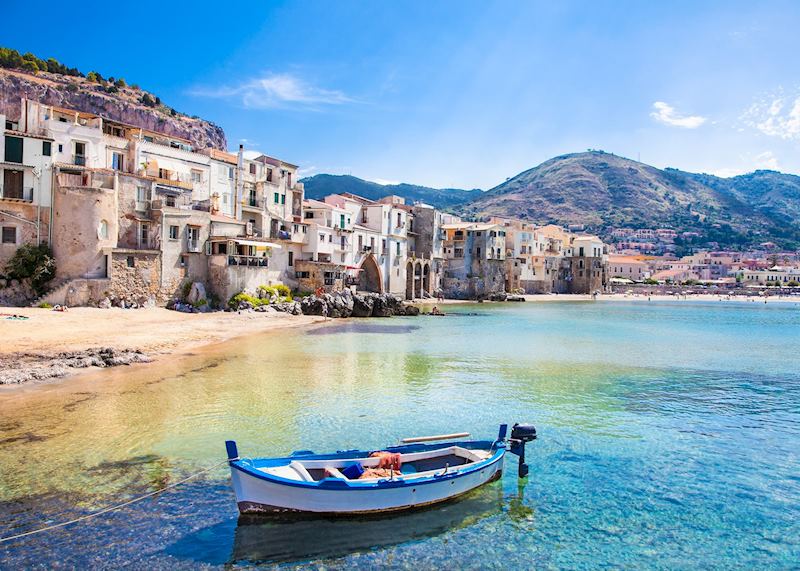 Dig deeper: Dating back to the 5th century, the hilltop village of Sant'Angelo Muxaro gives you a glimpse into the past.
Don't miss: Few visitors make it to Zingaro Natural Reserve, on the northwest tip of the island, but a guided hike here lets you see the island's coast, riddled with rocky coves, as well as the Grotta di Uzzo, a Paleolithic shelter that housed humans as long as 10,000 years ago.
7 Puglia, the bread basket of Italy
Why visit: sandy beaches, whitewashed villages & nearby Matera
The sunny heel of Italy's boot, rural Puglia is quieter than many other Italian regions, with low hills covered in green olive groves and fields of wheat blowing in the sea breeze. Along the shore, you'll find sandy beaches lapped by crystal-blue water as well as the port city of Otranto, where you can see Byzantine mosaics that depict a dark chapter in the town's history.
Inland is Lecce, known for its showy Baroque architecture, and Ostuni, a hilltop town renowned for its whitewashed buildings. This region is also home to some of the highest concentrations of trullo houses — dome-shaped stone buildings that dot the countryside, clustered in whimsical villages you can explore with a guide.
While you're here, you can also visit nearby Matera, an ancient troglodyte town built into the side of a limestone cliff. You might remember it from 2021's No Time to Die — James Bond tore through the narrow streets here on a motorbike in the film's opening scene.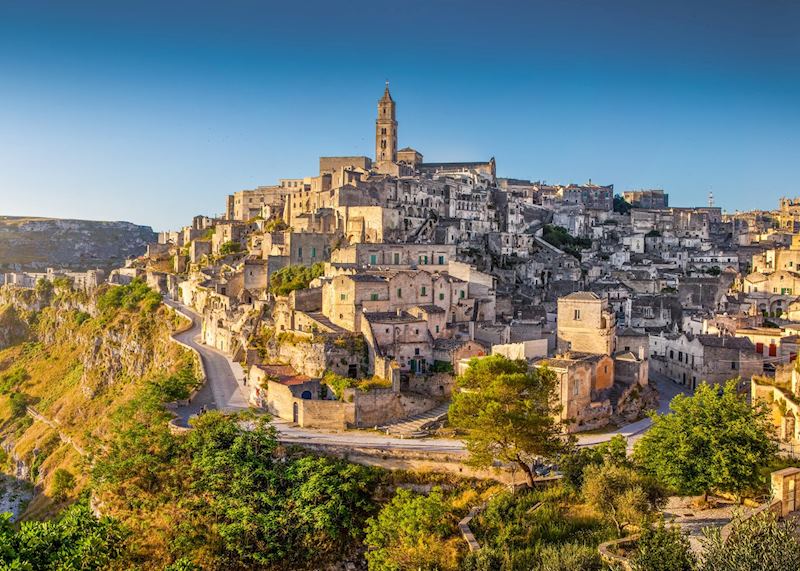 Dig deeper: Puglia's known for its exceptional bread. In Altamura, you can take a baking class with a fifth-generation baker to try making one of the DOP-protected loaves.
Don't miss: The same landscape that's good for wheat is also excellent for groves of olives to press into oil. In the village of Presicce, you can visit underground olive mills to learn how locals made (and protected) this precious liquid.
8. Amalfi Coast, the Divine Coast
Why visit: glamour, cliffside villages & incomparable views
With its vertiginous cliffs, sweeping views, and rocky shores, Amalfi's coastline has attracted everyone from Roman emperors to Hollywood stars. Today, it's home to elegant boutiques and cafes, citrus-scented orchards, and pastel-painted coastal villages draped in wisteria.
You can explore with a guide, your car meandering along the windy road that closely hugs the rocky, rugged shoreline. Or you can visit on your own, wandering through the narrow alleys (which are often so steep they turn into steps), pausing periodically to admire the views.
A guided hike along the Path of the Gods gives you a chance to really soak in the views and discover how the region earned its divine nickname.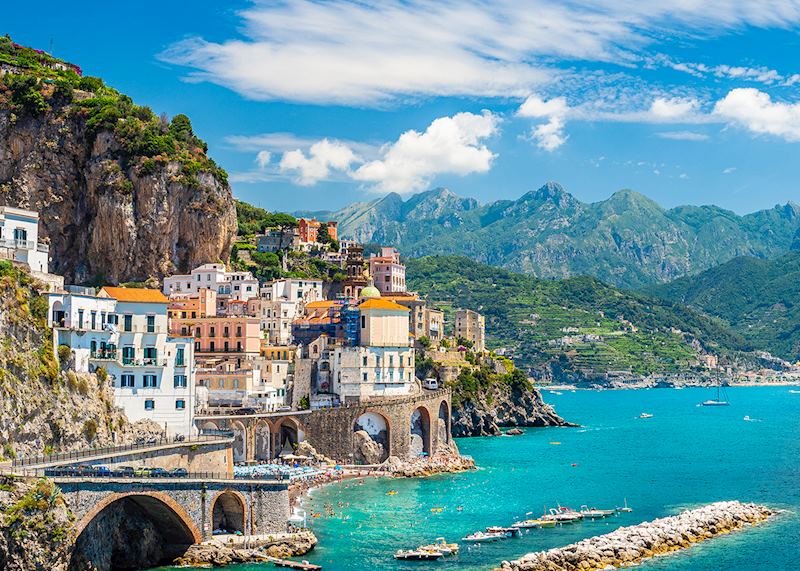 Dig deeper: The region is known for its gargantuan lemons, which grow in terraces along the steep mountains. To learn more about the role this fruit plays in the local cuisine, we can arrange a tour of a family-owned grove and a limoncello distillery.
Don't miss: In the waters just off the coast, Capri distils Amalfi glamour into its purest form — whitewashed houses draped in bougainvillea, rocky coves of azure water, and towns packed with the glitterati. Circumnavigating the island in a private boat will get you away from other visitors and let you appreciate the island's underlying natural beauty.
9. Lake Como, the jewel of the Lakes Region
Why visit: Alpine views, elegant villas & Bellagio
A three-armed lake nestled amid the forested peaks of the Italian Alps, Como is a glittering destination in every sense of the word — the deep-blue water shimmers in the sun and the elegant visitors shine in diamonds and Ferraris.
But, you needn't be a member of the elite to explore Lake Como. With a local guide, you can kayak along its waters and admire the posh villas that line the shores, or you can relax on a private boat and sip a glass of wine while you cruise past the many fishing villages that still thrive here.
The city of Bellagio is known as the Pearl of the Lake for good reason — it's easy to sink into the luxe loveliness of the manicured streets, stone staircases, tile-roofed buildings, and lovingly tended gardens. We can arrange a walking tour or a food tour on an e-bike (to help you deal with those steep streets).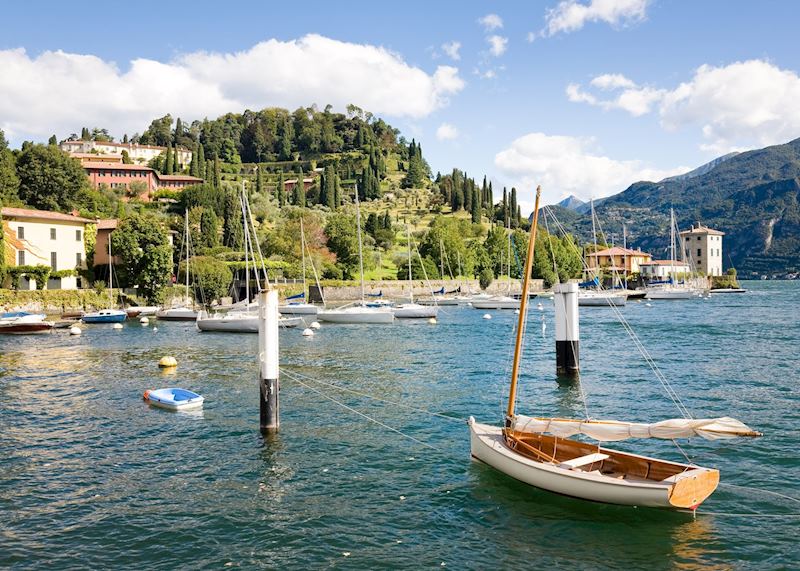 Dig deeper: Visiting Villa del Balbianello, you might find it familiar — films like A Month by the Lake, Casino Royale, and even Star Wars: Attack of the Clones were shot here to take advantage of the glorious Renaissance gardens, Italianate architecture, and sweeping views of the lakes and mountains.
Don't miss: Como's allure sometimes overshadows the other lakes, but they're just as worth your time. Lake Maggiore and its Borromean Islands are less busy than Como, but share the same Alpine beauty.
10. Umbria, the green heart of Italy
Why visit: all the pleasures of Tuscany, with fewer crowds
Tucked between Florence and Rome, Umbria's landscape is similar to what you'll find in Tuscany — medieval hilltop villages, Roman ruins, Baroque villages, and, of course, farms and vineyards draped over fertile hills, producing some of Italy's best food and wine. But, fewer visitors reach Umbria, giving it a quieter atmosphere.
Highlights here include the hill town of Assisi, birthplace of Saint Francis, and the walled town of Oriveto, with its massive Gothic duomo. You can explore Oriveto and the surrounding countryside on an e-bike to take in the gentle rural scenery.
Umbria is also home to Perugia, a city that's often as overlooked as the region. Visit for the Gothic palazzos, National Gallery, medieval churches, and to sample the city's renowned chocolate.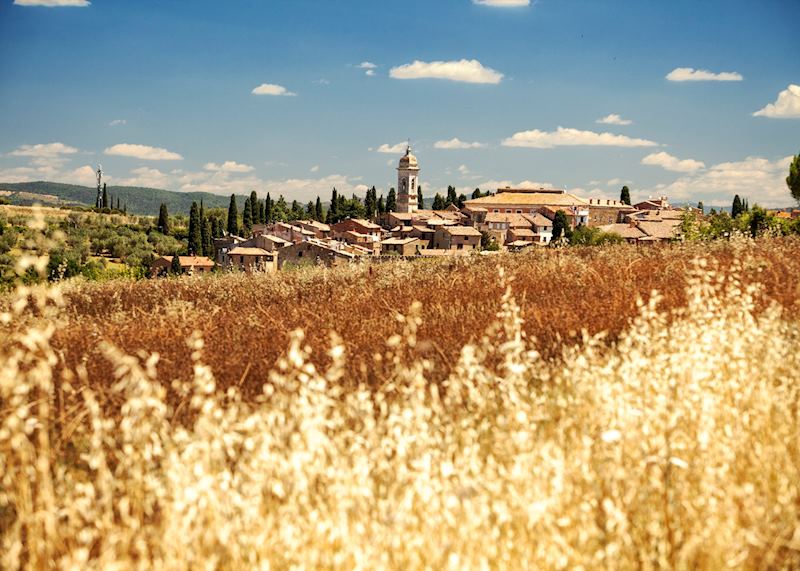 Dig deeper: Very few people visit the medieval town of Gubbio, but it's entirely worth a visit for the basilica, which you can reach via funivia (a glorified chairlift) for panoramic views of the city's terracotta tile roofs and surrounding green valley.
Don't miss: Umbrian wines lack the name recognition of their Tuscan counterparts, but they're every bit as delicious. You can opt to include a wine tasting (or three) in your visit and even stay at an agritourismo with its own vineyard.
11. Ischia, the most beautiful island in the world
Why visit: thermal spas, a languid atmosphere & Elena Ferrante
Dotted with volcanic springs and lush gardens, Ischia was recently named the most beautiful island in the world by Travel + Leisure. The island is also the setting for Elena Ferrante's popular series of novels, which starts with My Brilliant Friend, as well as the TV series of the same name.
Italians often come here to unwind, lazing about in warm water from the thermal springs, sipping coffee in serene piazzi, and relaxing in the sandy beaches, and you could absolutely do the same. If that sounds too indolent for you, there are botanical gardens to explore and a guided hike through the island's chestnut forest.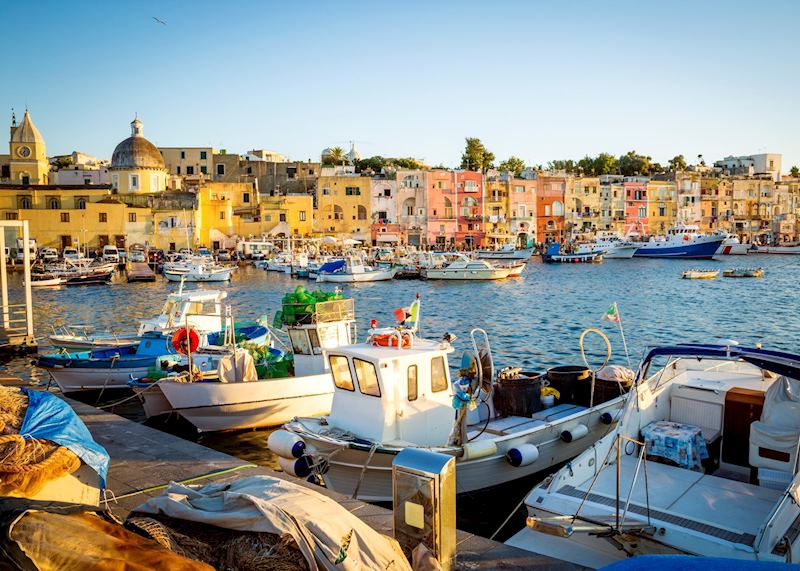 Dig deeper: There are only a handful of towns on the island, including historic Forio and traffic-free Sant'Angelo — a guided tour can help you get your bearings.
Don't miss: Giardini la Mortella is a sprawling botanical garden in two parts — The Valley and The Hill. Both can command your attention for hours, with looping paths, cleverly designed beds, and a profusion of glossy green foliage, peppered with bright blooms from a huge variety of plants.
12. Bologna, the Fat City
Why visit: a medieval old town, Europe's oldest university & world-renowned ragù
Nestled in the fertile Po Valley, Bologna is home to both Europe's oldest university and some of its most renowned cuisine. In the heart of the city, the well-preserved medieval Piazza Maggiore reflects the region's historical wealth with its grand red-brick buildings, many balconies, and porticoed streets. A guided walking tour offers insights into how the architecture reflects the city's history.
To its east, you can wander through Quadrilatero, a grid of narrow streets packed with traditional food stalls and restaurants. The city has many nicknames, including La Grassa, or The Fat One, thanks to Bologna's rich cuisine, which is a result of the agricultural wealth of the surrounding countryside.
Bologna's many restaurants reflect its culinary tradition. But if you want a more hands-on approach, you might consider a cooking class or a gastronomic tour to meet some of the farmers and artisans who create renowned ingredients like Parmigiano-Reggiano, balsamic vinegar, and air-dried prosciutto.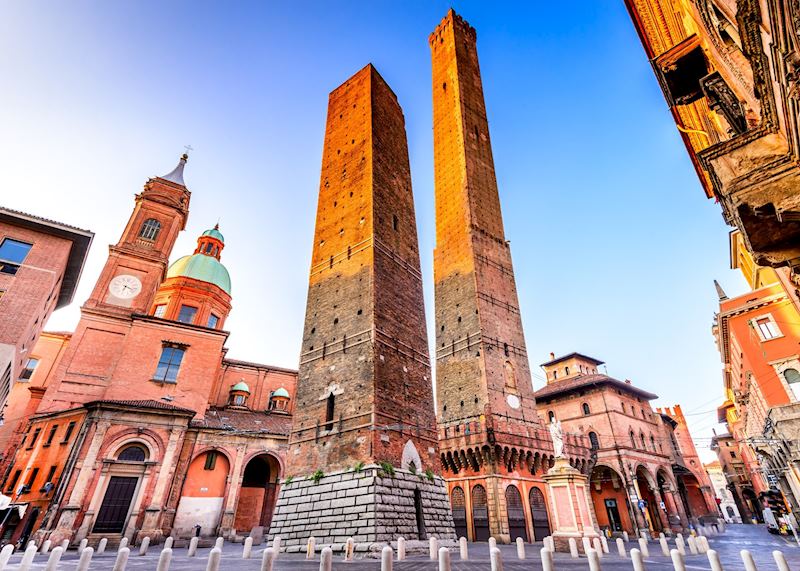 Dig deeper: The best balsamic vinegar — Aceto Balsamico di Modena — is DOP protected and must come from Modena, a small historic city northwest of Bologna. A guided tour of the city includes stops to taste this remarkably complex condiment.
Don't miss: The area between Bologna and Modena is known as Motor Valley thanks to its automobile production. Car enthusiasts will want to take a trip to visit the nearby Ferrari and Lamborghini factories and museums.
13. Piedmont, at the foot of the Alps
Why visit: chocolate, wines, Alpine lakes & Slow Food
Overshadowed by Alpine peaks, Piedmont is the heart of the Slow Food movement, and home to two of Italy's most renowned wine regions, Barolo and Barbaresco. Oenophiles and gourmets can spend their whole visit sampling the local cuisine, which features lots of cheese fondues, a nod to the influence of nearby Switzerland. In the hilly, rural countryside, you can visit local vineyards that produce the renowned vintages.
It's not all bucolic landscapes, though. Alba is a pretty medieval town that acts as the regional capital for wine production. When you visit, don't be surprised if you smell chocolate and hazelnuts — this is the home of Nutella and Ferrero Rocher. It also hosts a truffle fair each autumn, adding to the sensory delights.
Cosmopolitan Turin is a handsome city with wide boulevards, arcaded walkways, and a plethora of palaces. You can spend several days here visiting the many museums, art galleries, opera houses, and libraries, indulging in a food tour, and visiting the Renaissance-era duomo that houses the renowned Shroud of Turin.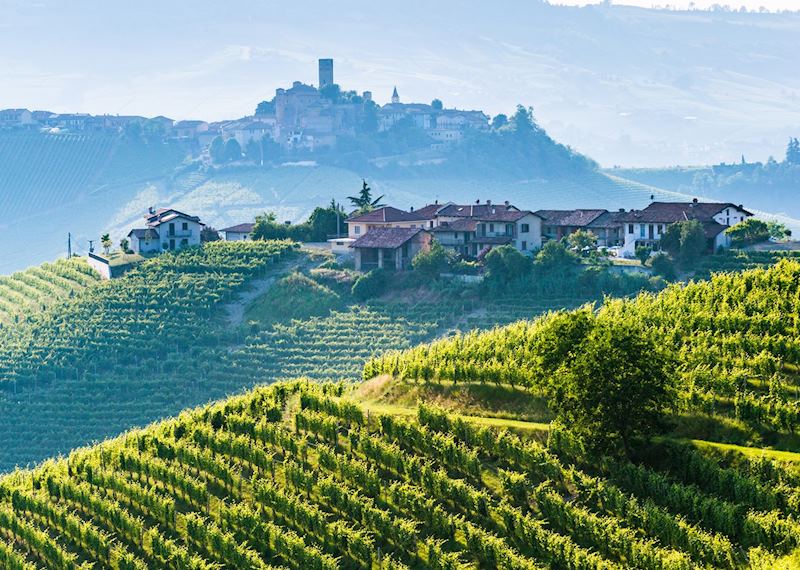 Dig deeper: Alba's truffle fair, which runs weekends in October and November, celebrates the legendary white truffles that grow under the oaks in the countryside around the town. You can join the hunt on a guided truffle tour with a local expert.
Don't miss: Get to know the people behind the food on a gastronomic tour that will introduce you to a hazelnut farmer, a shepherd, and a cheesemaker, as well as local vintner.
14. Sardinia, a world apart
Why visit: white-sand beaches, Bronze Age ruins & mountain villages
Sardinia is just off Italy's coast, but it feels like a different world. The soft-sand beaches seem lifted from the tropics rather than the Mediterranean and even the local dialect, Sardo, is almost unintelligible to mainlanders.
In the south, you'll find long, empty stretches of sand — some pastel pink — and the photogenic village of Pula. This is also where you can explore the capital city of Cagliari, a busy modern city built around an agreeably decaying medieval old town, and visit Su Nuraxi di Barumini, a UNESCO World Heritage Site packed with prehistoric ruins that remain an enigma to archaeologists.
In the north, the Costa Smeralda is a popular pleasure ground, with yacht-packed marinas, sprawling super villas, and pastel-painted resort towns stretched along wide, flat beaches. The water here shifts from turquoise to emerald, giving the coast its name.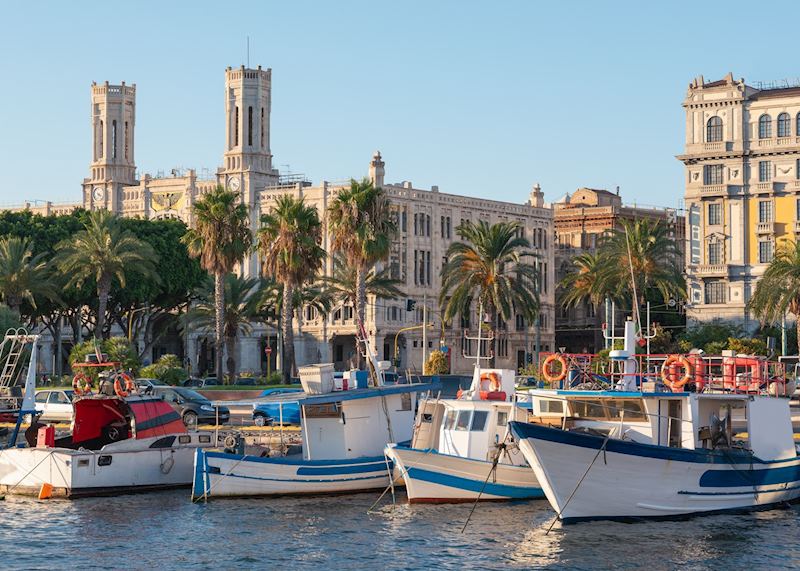 Dig deeper: Sardinia's rugged interior is home to villages that time seems to have passed by. If you'd like to explore, we can arrange a guided tour of Oliena, a small craftsmen's commune with roots that date back to the Romans.
Don't miss: The Maddalena Islands are a clutch of seven islands (and dozens of tiny islets) off Baia Sardinia, with white-sand beaches and Caribbean blue waters. You can explore these deserted coves and uninhabited islands on a private boat tour.
15. Sorrento, land of mermaids
Why visit: a historic heart, atmospheric ruins & fragrant citrus groves
Overlooking the Bay of Naples, Sorrento is a well-established resort town with a charming historic core, elegant hotels, and precipitous cliffs that seem to tumble down to the glimmering water. You can easily spend a day wandering through the old town, a tangled warren of tiny streets where you'll see lovingly restored townhouses and palazzos from the 19th century, charming trattorias, and a lively collection of bars.
To get away from the busy town, you can take a guided kayak trip along the whole peninsula. As you paddle through the crystal-clear waters, you'll see cave-riddled cliffs, secluded beaches, and quiet coves where there are no other visitors.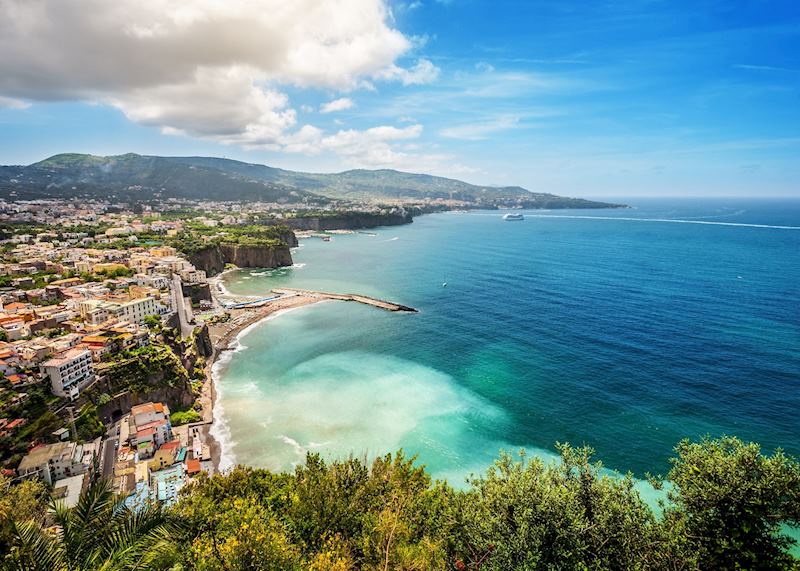 Dig deeper: For a glimpse into Sorrentine cuisine, you can take a cooking class with Laura, a classically trained chef who teaches visitors her traditional family recipes in her own family kitchen, just outside Sorrento.
Don't miss: Sorrento is a great base if you want to visit Pompeii, the renowned doomed city covered by Vesuvius. However, we suggest going instead to Herculaneum, a smaller site that's been better preserved.