A graceful city that elegantly blends tradition and modernity, Modena is known for its high culture, fast cars and gastronomic delights. It sits in the Emilia-Romagna region of northern Italy, about half an hour from Bologna, and boasts a historic core as well as a reputation for cutting-edge design and engineering.
Along with a celebrated Romanesque cathedral and vast collection of art, it's home to many of Italy's leading car manufacturers, including Ferrari and Maserati. This combination of traditional values and contemporary glamour make it a fascinating place to explore.
Modena's old town is a tightly packed core of narrow medieval streets bisected by an ancient Roman road, Via Emilia. At its heart is the Duomo, Modena's celebrated Romanesque cathedral which was consecrated in 1184.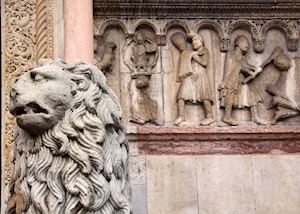 Unlike most other churches of this era, Modena's cathedral was never reconstructed and so is one of the purest examples of Romanesque architecture style in Italy. It's now protected as part of a UNESCO World Heritage Site. The façade is punctuated by detailed bas-relief sculptures, while inside, the dark brick arches lead to a Gothic rose window — one of the only additions from the 13th century.
Across the grand square from the cathedral is the Palazzo Comunale, the seat of the civic rulers since the 11th century. Its cluster of medieval municipal buildings was unified in the 17th and 18th centuries behind a marble colonnade. Visitors can explore the historic rooms and see the elaborate artworks which adorn them.
Elsewhere around the old town you'll find many Baroque churches, erected in the 16th century by the ruling Este family who did much to promote music, the visual arts and the performing arts in the city. They instilled in their citizens a great love for culture that continues to this day. As you wander the streets today, you'll notice a large number of libraries and cinemas.
At the Palazzo dei Musei, where many of the city's museums and galleries are gathered, you can visit the Galleria Estense with its rich collection of northern Italian art, which includes works by Correggio, El Greco and Velázquez. You'll also find the city's archaeological and civic museums here.
For live performances, the Teatro Comunale, recently renamed after local hero Luciano Pavarotti, hosts a varied selection of classical concerts, operas, ballets and recitals. Perhaps more interesting, however, is a visit to the tenor's home. A much more intimate experience, here you can see his personal belongings and a build a picture of his personality and interests, which go far beyond his international stage reputation.
Along with high culture, Modena is known for its links to the automotive industry and particularly to the world of high-performance racing cars. Ferrari, Lamborghini, Pagani, Bugatti and Maserati are, or were, all linked to the town. Enzo Ferrari was born here and his childhood home is now a superb museum tracing his life and work and displaying many of his most famous cars in a striking new building next door. A little further away in Maranello you can also visit the Ferrari factory museum.
For many visitors though, fine food and superb wine are the highlight of a visit to Modena. The flat, foggy nature of the Po Valley makes it ideal for agriculture and balsamic vinegar, Parmigiano-Reggiano (parmesan cheese), lambrusco (a sparkling red wine) and an array of smoked meats have been produced for centuries. You can visit many of the producers to sample their wares first-hand, or simply wander the lanes of the old town to find a humble trattoria for lunch.
Speak to someone
who's been there
Start planning your tailor-made trip to Modena by contacting one of our Italy specialists
Places & hotels on the map