An unassuming city home to eight UNESCO World Heritage Sites, Ravenna flourished during the early Middle Ages and briefly became one of Europe's most important cities.
The glories of these centuries remain in Ravenna's magnificent early Christian monuments, some of Europe's most important examples of Byzantine art. Dante and Lord Byron wrote of the city's treasures, and Oscar Wilde penned a lengthy poem celebrating its magnificence. The Ravenna Festival, one of Italy's most prestigious classical music gatherings, is held there in June and July each year. Top orchestras and performers from around the world play in the city's buildings, including its mosaicked basilicas.
Ravenna has eight UNESCO World Heritage Sites, yet I never tire of seeing the gold and teal early Christian mosaics. Easily navigable, with a main street that's closed to cars, it's no wonder Ravenna has been deemed Italy's most livable city.
Italy specialist Lindsay
Things to see and do in Ravenna
Basilica di San Vitale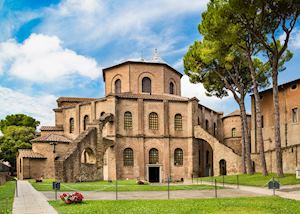 From the outside there's little suggestion of what treasures lie within the Basilica di San Vitale, an octagonal church consecrated in 547. Inside, however, it's hard to know where to look. Every surface is covered in mosaic work in a glittering array of greens, blues and golds. The intricacy and detail of the mosaics is spellbinding, with vivid Old Testament scenes and depictions of Byzantine emperor Justinian and his consort Theodora.
The soaring roof adds to the overwhelming impression of opulence and glory, which would have left medieval churchgoers with no illusions about the power and wealth of the Church. In the grounds stands the small Mausoleum of Galla Placidia, half sister of Emperor Honorius. It's decorated with mosaics described by UNESCO as being the earliest, best preserved and most artistically perfect in Ravenna.
Archiepiscopal Museum and Neonian Baptistery
Ravenna's Archiepiscopal Palace houses a small museum with two outstanding exhibits amid its collection of early Christian artworks, mosaics and relics. The first is Emperor Maximilian's superbly carved ivory throne, which was crafted in the 6th century by Byzantine artists. The second is the 5th-century Cappella di Sant'Andrea (chapel of San Andrea), the bishop's private chapel, which contains some extraordinary mosaics.
Nearby is the Neonian Baptistery, which was built over a Roman bath complex in the 4th century. Although its associated church has long since disappeared, the intricacy and complexity of the mosaic work in the octagonal baptistery, which depicts Jesus's baptism in the River Jordan, suggests it was a highly significant site.
Dante's Tomb
Italy's most renowned poet, Dante Alighieri was exiled from his hometown of Florence in 1302 for political reasons and finally settled in Ravenna. When he died in 1321, he was buried in a simple tomb in the grounds of the Basilica di San Francesco. By 1519, Dante's works had been declared masterpieces and Florence had conveniently forgotten the feud with its now most famous son.
Pope Leo X ordered that Dante's bones should be returned to Florence, where a stately memorial had been built. Not willing to comply, the Franciscan monks entrusted with looking after Dante's remains removed the bones from the tomb, hid them in a wall of their church, and an empty coffin was sent to Florence. It wasn't until 1865 that the bones were found during renovations and returned to the original tomb, now protected by a marble mausoleum on a quiet side street in Ravenna.
Basilica di Sant'Apollinare Nuovo
What appears to be a modest church in eastern Ravenna shelters yet another hoard of golden mosaics dating back to the late 5th and early 6th centuries. The mosaics here vividly show a fusion of eastern and western styles and are some of the most significant in the city.
Legend has it that Pope Gregory I wanted the mosaics covered so they wouldn't distract the parishioners during services. Although some mosaics were removed from the apse during renovations in the 16th century, the vast majority remain intact. On the south wall 26 white-robed martyrs approach Christ and his apostles, while on the north wall a procession of virgins brings offerings for the Madonna.
Speak to someone
who's been there
Start planning your tailor-made trip to Ravenna by contacting one of our Italy specialists
01993 838 960
Places & hotels on the map
Our expert guides to exploring Ravenna
Written by our specialists from their own experiences of visiting Ravenna, these guides will help you make the most of your time there. We share both our practical recommendations and the best ways to appreciate Ravenna at its best.
A guide to the regions of Italy

A guide to the regions of Italy

A guide to the regions of Italy

A tour of a private palazzo, or a cooking class with a Sorrento grandmother? We highlight the major sights and unearth lesser-known attractions for some of our best-loved Italian regions, spotlighting tours that really explore their character.