Before the Risorgimento in the 19th century, Italy was less a nation and more a loose collection of kingdoms and city states that, even today, retain a distinctive character, cuisine and culture. Our regional guide bypasses the showstopper art cities and instead looks at Italy's equally rewarding but often less familiar regions, as well as the activities that showcase their personality.
You can choose to take a grand tour of Italy to explore a number of the regions we talk about all in one trip, or do a deep dive into just one. Many of the experiences we talk about are in the company of a local guide, who can make all the difference no matter where you are.
Piedmont
Why visit: Tuscan-style gastronomic pleasures, without the crowds
Main highlights: Turin, Barolo and Barbaresco
But don't miss: Alba, known for its autumn truffle fair
Get to know the area with: A private tour to meet a local vintner, farmer, shepherd and cheesemaker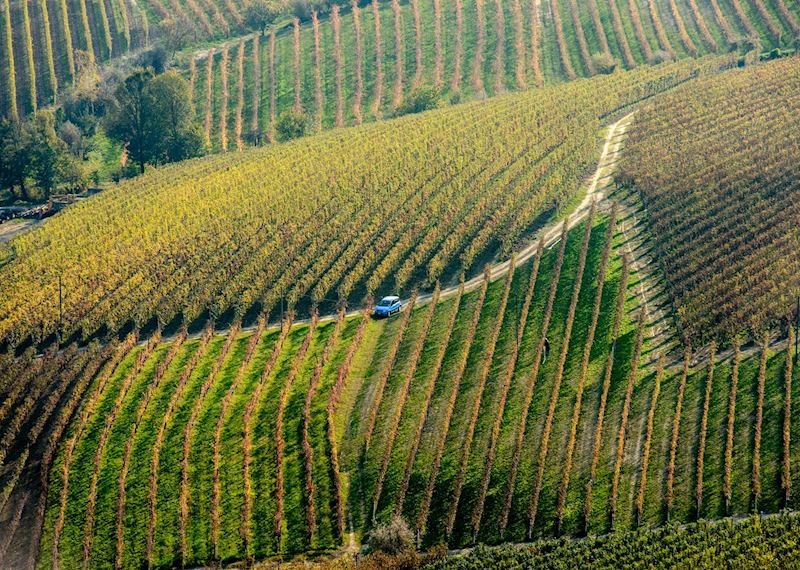 With hilly, pastoral landscapes and a culture that revolves around food and wine, Piedmont offers many of the same attractions as nearby Tuscany, without the crowds. Its capital, Turin, is best known for its architecture and palaces, as well as a vibrant arts scene. In the nearby countryside, two of the region's small villages loan their name to the vintages that define the region's cuisine: Barolo and Barbaresco.
On a tour of Barolo and its winemakers, a private guide will steer you away from the crowds that can form here, and point you to some of the quiet viewpoints that overlook the patchwork of green vineyards and hazelnut fields. Then you can explore meandering medieval streets and the 11th-century castle that houses the Barolo Wine Museum before you indulge in a wine tasting at one of Piedmont's small, family-run wineries.
A short drive to the north, Alba is better known for its white truffles than its wine. Each autumn, the town celebrates the fragrant fungus on weekends throughout October and November, with tastings, workshops, exhibitions and a market.
To discover the region's produce beyond truffles, we suggest a tour that gives you a chance to connect with three of the area's artisan producers. Visit a shepherd who tends a flock of heirloom sheep and makes cheese from their milk, bake a cake with the owner of a hazelnut orchard, and enjoy a tasting at a family-owned winery.
Where to stay: Villa Beccaris is set in an 18th-century family manor and overlooks a patchwork of green vineyards set against the backdrop of the Alps.
The Lakes
Why visit: Alpine scenery, lakeside villas and elegant gardens
Main highlight: Lake Como
But don't miss: Lake Orta, a smaller and quieter option
Get to know the area with: A tour of a century-old cheese shop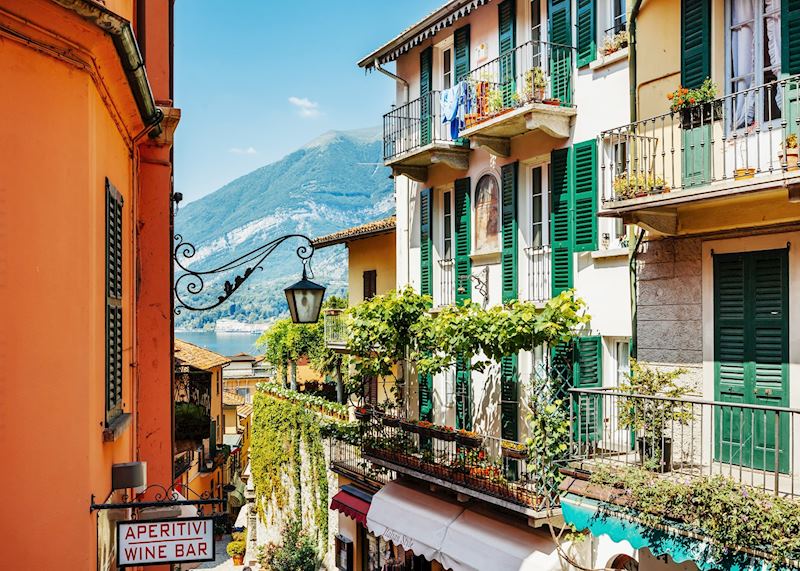 The glittering waters and Alpine backdrop of Italy's lakes have drawn visitors for more than a century. Historic villas and formal gardens line their shores, especially at Como and Maggiore.
A private boat tour of Como allows you to explore by land and on the water. Set off from Como and cruise past the lakeside towns as your captain recounts the area's history and tells you about the aristocrats and Hollywood stars who stay here. Then disembark at the lakeside village of Bellagio, known as the Pearl of the Lake for its villas, bright-painted houses and steep cobblestone streets.
Alternatively, conquer the hills with an electric bicycle on a tour, stopping to stroll through the little villages and hamlets that are found near Bellagio. You can also visit some of the lake's historic villas, including Villa del Balbianello, whose formal gardens and terraces have featured in movies like Casino Royale and A Month by the Lake.
If you prefer to relax rather than explore, we'd recommend Lake Orta. The most westerly of the lakes, it's just as lovely as Como but much quieter, so you can simply take in the scenery.
On your drive between Como and Orta, stop at Luigi Guffanti's cheese shop, a local institution since 1876. You can tour the storage rooms and taste cheeses drawn from the vast selection of well-aged varieties.
Where to stay: Because Orta is so small and peaceful, there are just a handful of hotels there. We suggest Hotel San Rocco, a small lakeside villa with a jetty over the lake where you can sit.
Tuscany
Why visit: The wine, food and art
Main highlights: Wineries and Florence, jewel of the Renaissance
But don't miss: The well-preserved medieval cities of Siena and Lucca
Get to know the area with: Truffle hunting with a trained dog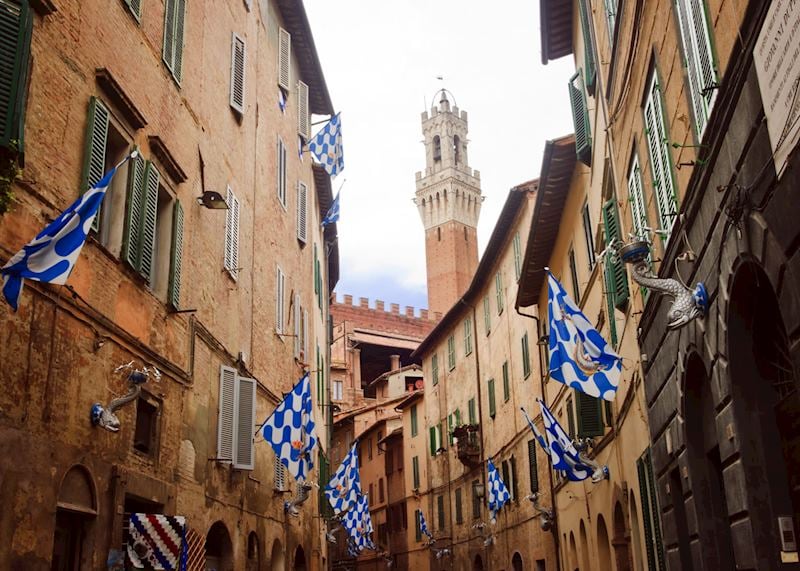 People having been waxing lyrical about Tuscany since visitors on the European Grand Tour discovered its vineyards and food, and the Renaissance beauty of Florence. But, you can still find hidden delights in Tuscany, including truffle hunting in the countryside.
It's also well worth getting out of the city and exploring beyond just Florence. You can sense a similar weight of history in the smaller cities of Lucca and Siena.
Siena is a UNESCO World Heritage Site thanks to its nearly perfectly preserved Gothic architecture. The whole city seems like a living museum, from the striped marble bell tower of the Duomo to the stone-paved medieval streets lined with red-brick buildings.
What really brings Siena to life, though, is a private tour with a city-born guide who can explain the significance of the city's rivalrous contrade (districts). The contrade are almost all named after creatures, and your guide will point out badges of dragons, owls or porpoises on the buildings that mark the boundaries. Your guide will tell you how the centuries-old rivalries play out during the twice-a-year Palio horse race and point out Nannini, one of the city's best bakeries, which is known for its ricciarelli, a chewy macaroon-like confection made from almonds.
Where to stay: Founded in the 8th century, Borgo San Felice was a small hamlet that's been converted into an indulgent hotel, with rooms in each of six different historic buildings. The grounds encompass the chapel, small piazza, vineyards and a working winery.
Emilia-Romagna
Why visit: The food
Main highlights: Bologna
But don't miss: The Byzantine mosaics at Ravenna
Get to know the area with: A countryside tour to visit the small-scale artisans who make the region's signature foods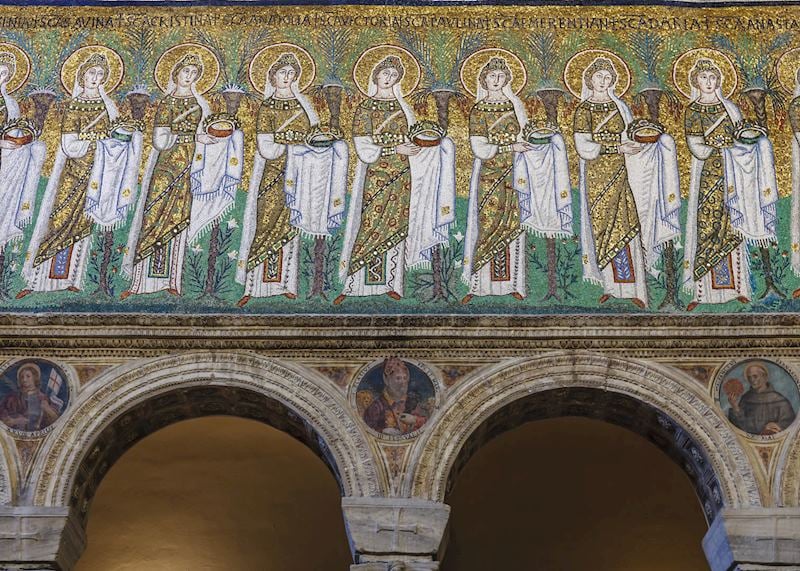 Many of the foods associated with Italian cuisine are local to the Emilia-Romagna region. Parmigiano Reggiano cheese, aceto balsamico tradizionale di Modena (balsamic vinegar) and prosciutto di Parma are all produced in the fertile Po Valley.
Small-scale producers continue to create these traditional foods, and you can meet some of them on a gastronomic tour through the countryside (which we detail in our food guide to Italy).
You'll find Europe's oldest university in Bologna, Italy's self-proclaimed 'Pasta Capital'. The city's well-preserved medieval core is lined with portici, colonnaded passageways that cover routes between the grand Gothic churches and Renaissance palaces.
You can learn to make ragù, the authentic version of what's known outside Italy as pasta Bolognese, at a cooking class with a local chef. Your chef will enlighten you on conventions of local cooking, such as how the meaty sauce is served with tagliatelle, not spaghetti, as you select your ingredients at the city marketplace, the Mercato delle Erbe, and then prepare your Bolognese meal back at the cooking school.
An hour east of Bologna, Ravenna is by first appearances a small, modern-looking city. But, this belies the fact it's home to eight UNESCO World Heritage Sites due to its early Christian mosaics. Extravagances in gold, cobalt blue and crimson, the mosaics depict scenes from the Old and New Testaments in basilicas and mausoleums across Ravenna. Tour on foot with a private guide to see the mosaics in their original settings and visit the tomb of poet and philosopher Dante Alighieri, and the courtyard where his remains were hidden for some 350 years.
Where to stay: The oldest hotel in Bologna, Grand Hotel Majestic già Baglioni is set in an 18th-century palazzo at the heart of the city. It also has a preserved Roman road in the basement.
Campania
Why visit: Art, food, history, landscapes
Main highlights: The Amalfi Coast and Capri
But don't miss: Naples, birthplace of pizza and home to many Caravaggios
Get to know the area with: A private cooking class with a local grandmother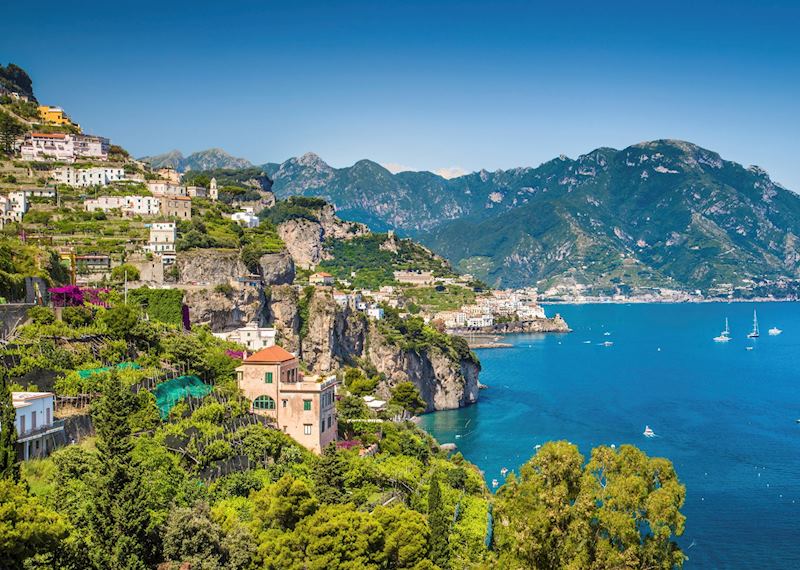 UNESCO lauds the Amalfi Coast as an 'exemplar of a Mediterranean landscape'. Dangling just off its tip, the isle of Capri also offers sun-drenched cliffs and cobalt waters, with a reputation for attracting glamour seekers. Undeniably the region's biggest attractions, they're also crowded for much of the summer season. That said, they're places that beckon you to relax, which you can read more about in our expert guide to exploring the Amalfi Coast and Capri.
Over on the northern face of the same peninsula, Sorrento is the roomier, more down-to-earth incarnation of Amalfi Coast villages like Positano. It has its share of the region's visitors, and the same natural scenery.
Near here, you can take a cooking class with Laura, a Sorrento grandmother who'll invite you into her home in a rural village. A Michelin-trained chef, she'll teach you her family's recipes, from rolling out your own pasta to cooking the daily catch. You then share your multi-course meal on the terrace of the family's home.
Across the bay from Sorrento, Naples has a historic core that rivals that of Rome or Florence, without the visitor influx. It's also a good, if gritty panacea to the glitz of the Amalfi Coast. On a guided tour of central Naples, a UNESCO World Heritage Site, you can explore the city's Roman ruins and catacombs, medieval cathedrals, Renaissance art museums and 18th-century palaces. Your guide can also take you into the Bourbon Tunnel, an escape route built in 1853 by Ferdinand II and used as shelters during World War II.
Naples is also where you'll find Giuseppe Sanmartino's Veiled Christ, which locals believe rivals Michelangelo's David. It's a masterwork in marble, the recumbent figure draped in myriad folds that seem too delicate and translucent to be carved from cold, hard stone.
For a glimpse at a more contemporary side of the city, we can suggest a street art tour of Naples' graffiti. A private guide can help you make sense of the scrawl and point out the most interesting works, including pieces by Banksy, Alice Pasquini and Jorit.
Where to stay: Perched high on a hill above Positano, Villa Franca is a breezy, elegant boutique hotel that offers sweeping views from its rooms and rooftop terrace.
Puglia and Basilicata
Why visit: To get away from the crowds
Main highlight: Lecce, the 'Florence of the South'
But don't miss: Matera, Europe's 2019 Capital of Culture
Get to know the area with: A bread-baking lesson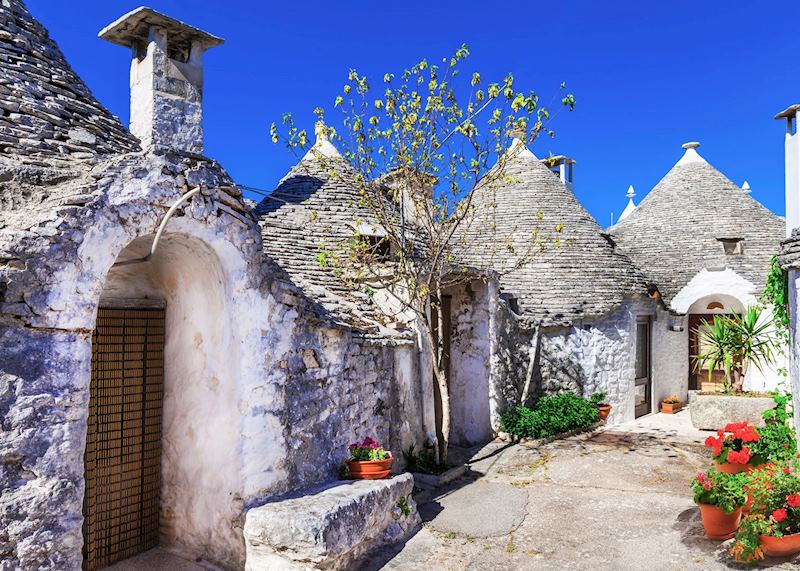 Lecce's piazzas and churches boast a florid architectural style that's so distinctive it has earned the name Lecce Baroque and lent the city the nickname 'Florence of the South'. Despite this, the city doesn't attract nearly as much attention as its namesake, making it a good option for a quiet city break.
An hour south of the city, you can take a tour with a local to explore a hidden facet of the region's history: underground olive oil presses. In the town of Presicce, workers once milled olives in the security of subterranean caves, where the precious oil was easily defended.
Farther north, you'll start to see trulli appear about the sun-baked countryside, distinctive dry-stone dwellings made with conical roofs, and almost unknown outside Puglia. The highest concentration — about 1,500 of them — is in the town of Alberobello, which has been converted into something of a theme park. Instead of fighting the crowds there, your driver-guide can point them out as you drive through the region's vast wheat fields.
Those wheat fields are also the source of some of Italy's most renowned bread, especially in the town of Altamura. The process is protected by a DOP designation, and only certified bakeries, using durum wheat flour, wood-fired ovens and traditional methods, can make and sell it. Roll up your sleeves and learn to make this exceptional loaf during a cooking class at a fifth-generation bakery.
To the west, Matera — the European Capital of Culture in 2019 — is a city built into the caves in the side of a ravine. Cave dwellings that were once home to an impoverished community are now being re-imagined as hotels or restaurants. Many caves were used as churches during the Middle Ages, their frescoes preserved first by the cool, dark atmosphere and now by careful regulations. We can arrange a private tour for you, the only way to see these unusual sites.
Where to stay: Once a working citadel, Masseria Montenapoleone is a casual, rural hotel nestled in a working farm and surrounded by its own olive groves, almond trees and citrus orchards.
Read more about trips to Italy

Start thinking about your experience. These itineraries are simply suggestions for how you could enjoy some of the same experiences as our specialists. They're just for inspiration, because your trip will be created around your particular tastes.
View All Tours in Italy