By Jordan specialist Emma
A secluded resort under a blanket of desert stars, one-to-one experiences that invite you deeper into the culture, and a private driver who chauffeurs you around, sharing local wisdom along the way. Though there aren't many opulent hotels or world-renowned restaurants in Jordan, I believe it's the personal touches that elevate a typical trip here into a luxurious escape.
During a luxury Jordan holiday, you'll have the opportunity to go beyond well-trodden paths and get to know the country and its people away from the crowds. Throughout my own travels, I've discovered how best to explore this desert country, so here are my suggestions for you.
A private driver for your journey through Jordan
Having a chauffeur who'll whisk you from place to place is, no doubt, a luxury, but even more so when they share stories, traditions, and local knowledge with you en route. In most cases, our drivers stay with you for your whole trip (except for Wadi Rum where you'll need a change of vehicle to tackle the tough desert terrain). As such, I find many people build up quite a rapport with their drivers.
Aside from cultural insights, having a driver who knows the roads like the back of their hand also helps you make the most out of your trip. They can advise on the best times to travel so you have more time to explore — or more time to rest. And they'll let you know where best to stop off during long drives, such as a little cafe only the locals know or a tucked-away viewpoint where it feels like the sun is setting just for you.
Two or three days exploring Petra instead of one
Many people try to devour Petra in a day, but I don't think that's enough time to fully soak in all that it offers. I find that the first day is all about the wow-factor and only on subsequent days are you able to scratch the surface and appreciate the details, from the bullet holes in the Treasury left by relic-hungry tomb raiders to the way the light dances off the Siq's multi-hued sandstone walls. So, if you have the luxury of time, I suggest spending at least two — if not three — days there.
There are a couple of private tours I can arrange for you that go hand in hand, so if you're there for more than a day, I suggest taking both. The first will take you on the classic route through Petra, starting with a stroll through the narrow Siq canyon at dawn, before the mid-morning rush of group tours begins.
Here, you'll find small rock-cut tombs that whet your appetite for what's to come. From there, the Nabatean city of Petra slowly reveals its dazzling array of intricately carved tombs and temples that appear to break free from the weathered rocks.
The next day, I recommend hiking to the ancient metropolis the 'back way', starting near Little Petra, a smaller-scale complex of ruins thought to be a suburb of the main city. You won't have time to explore these comparatively quiet temples and caves before your early-morning hike, but the site is well worth a visit if you have an extra day in the area or as a stop-off on your way to Wadi Rum.
The hike to Petra requires a good level of fitness, but along the way, you'll be rewarded with far-stretching mountain views with few others around and a guide you'll help you unravel 2,000-year-old mysteries as you go. You'll also get to see the huge living-rock façade of the Monastery before it gets too crowded — and, unlike those who've come from the Siq, you won't have to climb up the 800 or so steps to reach it.
To add a final touch of luxury, I can arrange for you to have a private Jordanian dinner in a small cave near Little Petra once home to local Bedouins. There, you'll dine like the locals do, perched on patterned floor cushions with a spread of sharing platters prepared just for you.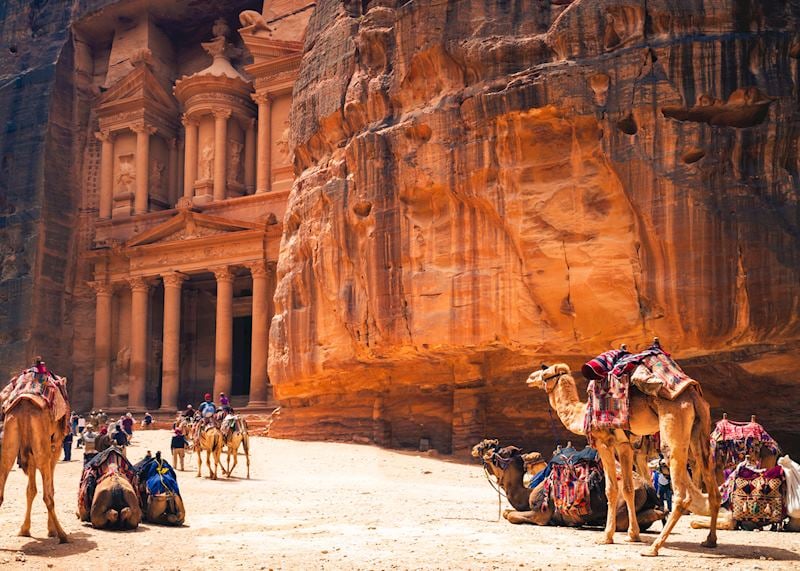 Expert-led cultural experiences in Umm Qais & Pella
Becoming immersed in another culture in a way that's completely authentic is a luxury few get to experience. As such, I encourage you to get away from the main visitor hubs and head to the north of Jordan, where you'll find a selection of sustainable, community-driven experiences that aim to preserve and share the country's rich cultural heritage.
Your first stop will be Pella. Nestled within the shrubby foothills of the Jordan Valley, this ancient city has been occupied almost continuously since the Neolithic period. Here, you can take a tour of the archaeological site with two of the first female guides in Pella who, outside of guiding, devote their time to excavating the site and uncovering further truths about the area's history.
For the more adventurous, I also recommend heading up into the hills with a local shepherd accompanied by his lively flock of 100-or-so sheep and goats. Along the way, you'll catch your breath at a meadowy plateau and learn more about his trade over a glass of refreshing tea. Then, back in the village, you can dive into his family's art of cheesemaking. After a hands-on class, you'll sit down to sample fresh slices with pillowy homemade bread.
Further north in the equally hilly Umm Qais, there are a host of other experiences to give you a further glimpse into the Jordanian way of life. You can suit up and harvest honey with a local beekeeper, forage for native herbs and plants with a guide who grew up on a homestead, or try traditional stone masonry within the Gadara archaeological site, once a popular retreat for Roman scholars, writers, and artists.
After working up an appetite, you can learn how to make local dishes like cha'cheel, lentil dumplings in a creamy yoghurt sauce, and maqloubeh, a layered rice dish made with local vegetables. And, then, all that's left to do, is feast.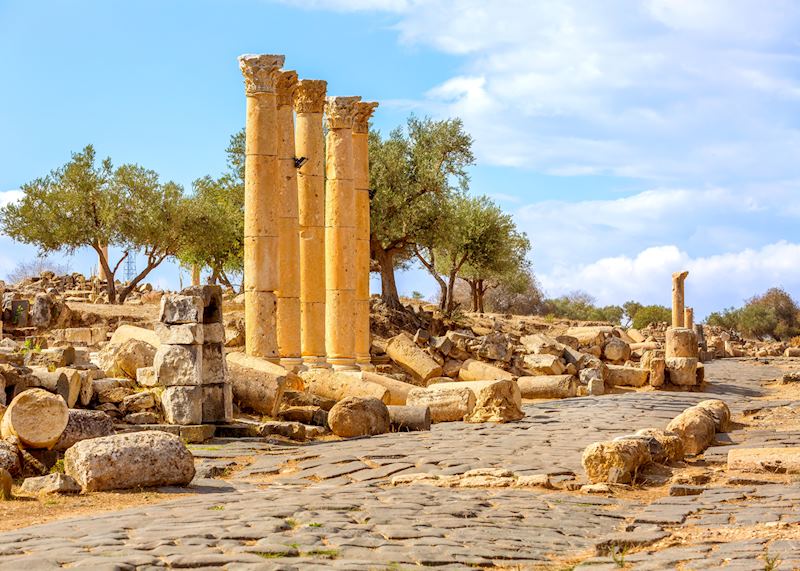 Desert relaxing at a remote resort in Wadi Rum
With just six tented suites dotted along a secluded stretch of Mars-like desert, Discovery Bedu Resort offers one of the most exclusive stays in Wadi Rum. And yet, its understated canvas camp blends into the rustic desert ambience. Inside, the tents are deep-sleep sanctuaries, and outside, you'll find endless dark-red sands, wind-sculpted dunes, jaggy rock formations, and cloudless azure skies.
Waking up in the middle of the desert with just a handful of other people around is a surreal feeling, one that's so far removed from everyday life. Here, luxury means peace. It's sitting on your private porch and catching rays glinting off rippled copper sand by day and gazing up at an unbroken veil of shimmering stars by night. Or hiking through quiet mountain passes in the morning before settling in for an authentic earth-cooked Bedouin barbecue. And all of this comes with impeccable service that you simply can't find in Jordan's many international hotels.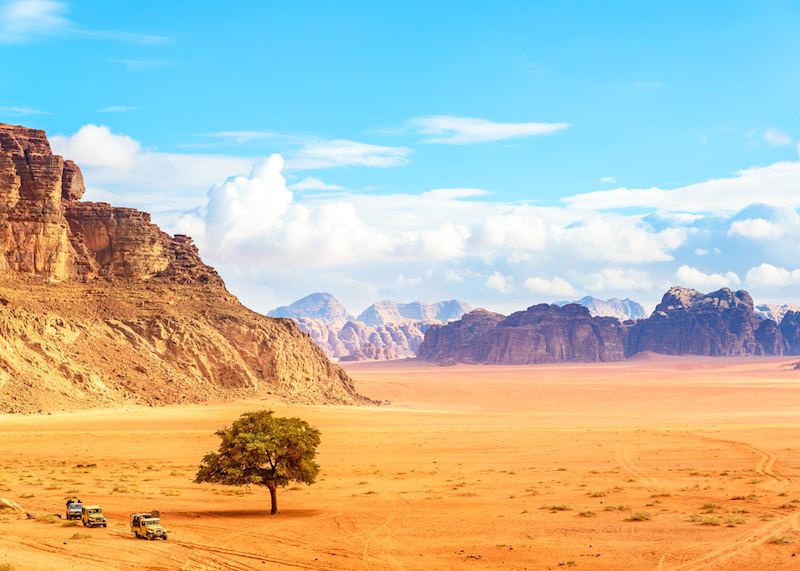 Dead Sea luxury at the Kempinski Hotel Ishtar
Many visitors tend to end their trip to Jordan with a stay at the Dead Sea, and for the most luxurious experience, I recommend staying at the Kempinski Hotel Ishtar. The Dead Sea in general is quite a busy place, but this shorefront resort provides a more intimate and tranquil way to experience it.
In between floating weightlessly on salt-saturated waters, you can lounge by lakeside pools, relax into a massage or Dead Sea mud bath in the spa, and tuck into wine-paired haute cuisine as you watch the horizon shift into the blush glow of sunset.
And if you need a greater dose of classic luxury, I suggest adding on time in Egypt as part of your trip, which is just a short flight away. There are many more lavish hotels to choose from there, but, for the ultimate treat, I suggest cruising along the Nile on a boutique ship with around-the-clock butler service.