When is the best time to visit Mongolia?
Mongolia's landlocked location gives rise to an extreme continental climate, with summer and winter temperatures varying widely. Ulaan Baatar is the world's coldest capital, and across the country winter temperatures regularly drop to -30°C (-22°F) and below.
Only the southern Gobi is truly hot in the summer months, though this is also when you're more likely to encounter the little rain that does fall each year.
It's possible to travel to Mongolia on the Trans-Siberian Railway at any time of year, although certain months can be much more rewarding than others. Given the severity of the winter months, travel to the areas around Ulaan Baatar is only feasible between May and October.
Speak to someone
who's been there
The Naadam Festival is a real experience, but unless you're planning to attend it, I suggest visiting Mongolia in September. It's quieter than the summer months of June, July and August, so you can really explore Ulaan Baatar away from the crowds.
Matt, Indian Subcontinent & South Central Asia specialist
Mongolia Climate Guide
Destination
Jan
Feb
Mar
Apr
May
Jun
Jul
Aug
Sep
Oct
Nov
Dec
Ulaan Baatar

-16°C

2mm

-12°C

2mm

-2°C

4mm

8°C

10mm

17°C

16mm

22°C

50mm

23°C

69mm

22°C

63mm

16°C

30mm

7°C

8mm

-5°C

4mm

-14°C

3mm
Month-by-month guide to travelling in Mongolia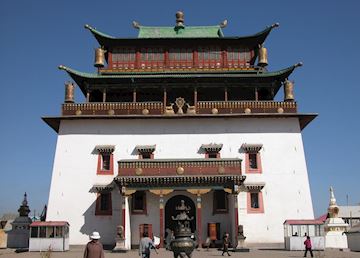 Visiting Mongolia in January - March
Mongolia's wintertime is fierce — Ulaan Baatar becomes the world's coldest capital — so we advise against all travel during this period.
Visiting Mongolia in April - May
Mongolia starts emerging from its arduous winter (although you may still see snow on the ground well into June). The countryside outside Ulaan Baatar is dotted with wildflowers and the landscapes are generally greener. Ger camps are open all year round, but springtime can be a particularly good time to visit when the nights aren't quite as bitingly cold.
Visiting Mongolia in June - July
Mongolia's summer months of June and July see the country at its busiest. Visitors arrive in droves to attend the Naadam Festival, so availability can be non-existent (if you plan to visit in July, we recommend booking your trip well in advance). The days are longer and warmer, making for generally more comfortable travel conditions.
Events & Festivals
The Naadam Festival is a major tournament celebrating Mongolian culture and its national sports (archery, horse racing and wrestling).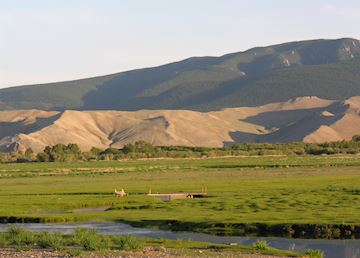 Visiting Mongolia in August - September
The weather is still warm, although Ulaan Baatar and its surrounds can experience a little more rain. The country quietens down and can become a little colder, especially toward the end of September.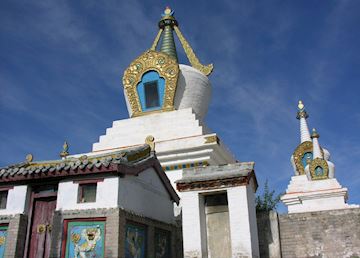 Visiting Mongolia in October - December
October sees winter close in on Mongolia again. The cold temperatures last until April, making travel anywhere in the country unadvisable during the final months of the year.
Why travel with Audley?
100% tailor-made journeys
Fully protected travel
Established for 20 years
Trip ideas and travel guides to exploring Mongolia