The ger has remained at the heart of Mongolian family life, with about half of the country's population still choosing to live in these traditional tents. A stay in a ger offers the opportunity to experience this traditional way of life and is an ideal base from which to explore Mongolia's incredible landscapes and wildlife.
Made of felt, lightweight and well insulated, this remarkable home can be quickly dismantled, packed away and moved to better grazing lands as needed and when the seasons change.
The trappings of modern life have been adapted into this historic way of living – you will often see a ger tent sporting a satellite dish even in the remotest parts of the country.
Several generations of the same family often still live together, meaning that many superstitions and beliefs have also been preserved as they are passed from generation to generation.
It is this juxtaposition of the old and new, combined with the unfailing hospitality of all Mongolian hosts, that makes staying in a ger camp such a highlight of any trip to the country.
Staying in a ger camp
Travellers to Mongolia who venture outside Ulaan Baatar generally stay in visitor ger camps. Anything up to 30 tents can be clustered together around a larger central ger, used for meals and entertainment. Long evenings can be spent enjoying the atmosphere and sharing stories with fellow travellers.
Accommodation and facilities are simple, although most camps are equipped with a toilet and shower block and have electricity running from a central generator. Individual gers are simple but always cosy and comfortable, usually kitted out with two, three or four wooden beds with bedding, table and chairs and flasks of hot water.
The ger is heated by a central wood-burning stove, excellent for keeping out the night chill, which will be started for you each evening and usually replenished the following morning before you wake.
A typical evening in a ger camp
Evenings in ger camps are the perfect opportunity to enjoy the superb natural scenery and relax in the peaceful wilderness. However, dinner, which is usually a meal of mutton and potatoes or filled dumplings, is more of a communal affair as it is served in a large central ger.
Many camps also have a traditional Mongolian throat singing performance after dinner, and you may even find that one of your hosts is a national throat singing star.
Ger accommodation options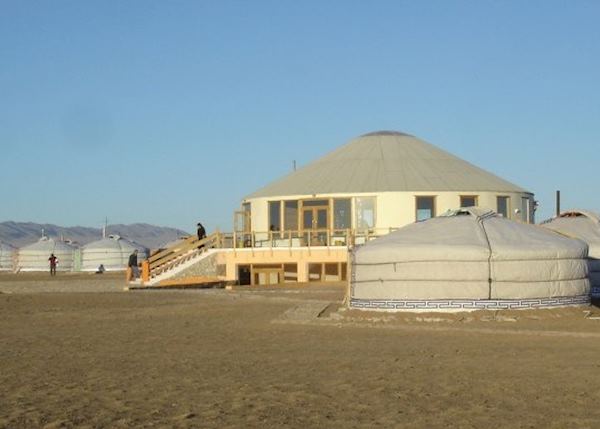 Located in the Gobi Gurvansaikhan National Park, the Dream Gobi ger camp is traditionally furnished and authentic Mongolian cuisine is served daily.
One of our favourite camps in the Terkhiin Tsagaan Nuur National Park, Khorgo Ger Camp is located in the volcanic valley to the east of White Lake, a short drive from the lakeshore.
A traditional Mongolian Ger camp, Khustai is the only camp in the Khustai Nuruu National Park allowing you to enjoy a flavour of traditional Mongolian life.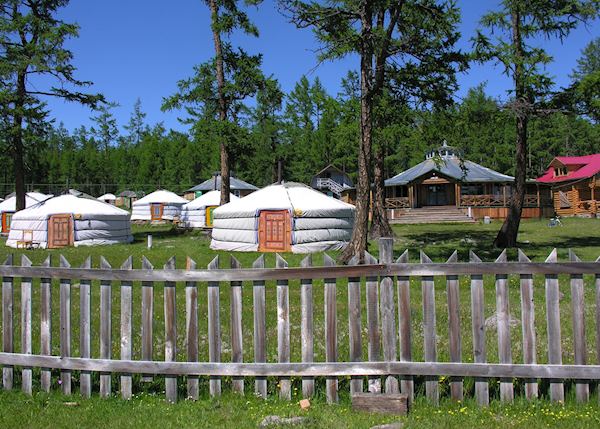 Surrounded by larch forest, Toilogot Ger Camp is idyllically situated beside the Toilogt lagoon on the western shore of Lake Khuvsgul.