Our most experienced Indochina specialists help you choose the right experiences across Vietnam, Cambodia and Laos, whether you'd like to sample culinary delights, learn more about the region's history or travel to the remotest of villages.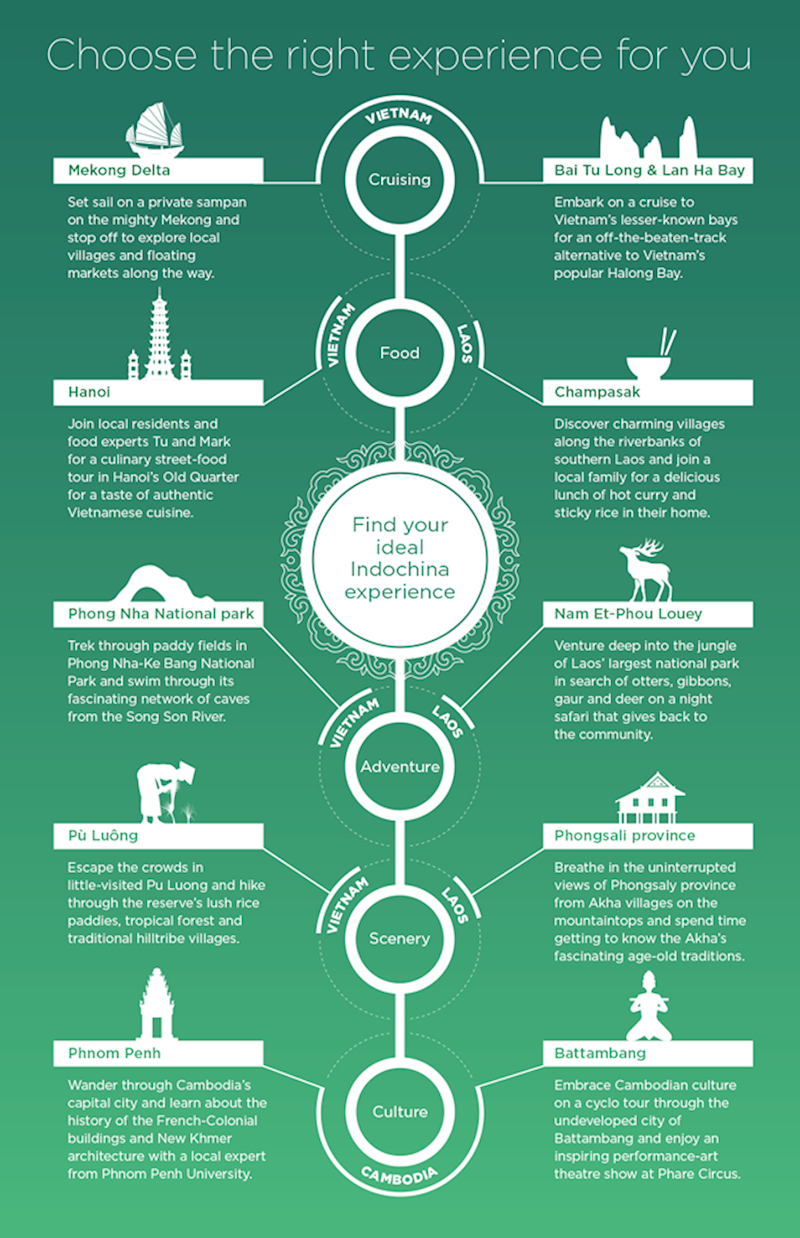 Food experiences in Indochina
Touring Hanoi with a food blogger, Vietnam
By Georgina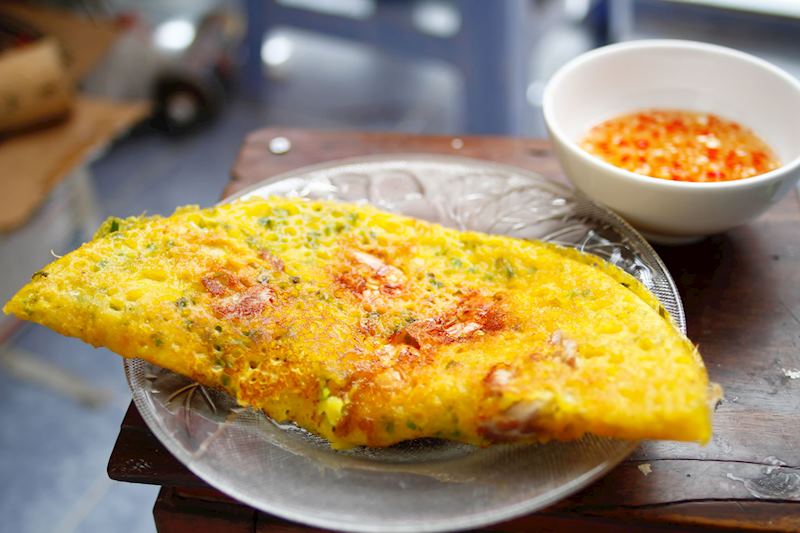 Veteran food bloggers and residents of Hanoi, Tu and Mark are street-food aficionados. Joining one of their group food tours guarantees you some delicious mouthfuls, as well as an insight into Vietnam's lively culinary scene, which is as vital to the city as the motorbikes and pagodas. And, in a city that can be relentlessly chaotic, it's a great way to get your bearings.
I suggest taking the evening tour, when you're joined by locals after work. We started in the Old Quarter, where the vendors line up along the main thoroughfare, a portion of squid noodles here, a bowl of beef and green mango salad there. The Vietnamese eat six or seven times a day, so meals are small and light.
As the light begins to fade, you plunge into a labyrinth of dark, covered alleyways, which I'd have been wary to navigate alone.
After a few twists and turns, we veered off along an alley that opened into a bright little restaurant crammed with patrons, there for the trademark chicken satay. It turns out that down these unlit passageways, some of the best restaurants hide.
Some vendors make just one dish. I was served bánh xèo, a rice-batter pancake filled with mushrooms and bean sprouts, from a tiny serving hatch illuminated by a couple of naked bulbs. Farther on, we were ushered up a small set of stairs into a coffee shop furnished with low stools (these, my guide explained, mimicked a custom to squat while eating instead of sitting).
We finished the evening drinking egg coffee. This traditional drink is made with strong coffee powder, condensed milk, boiling water and a raw egg. The result is a thick, sweet liquid that's more like a pudding than a drink (and didn't taste anywhere near as good when I tried to recreate it at home).
Lunch with a Laotian family in Champasak, Laos
By Georgina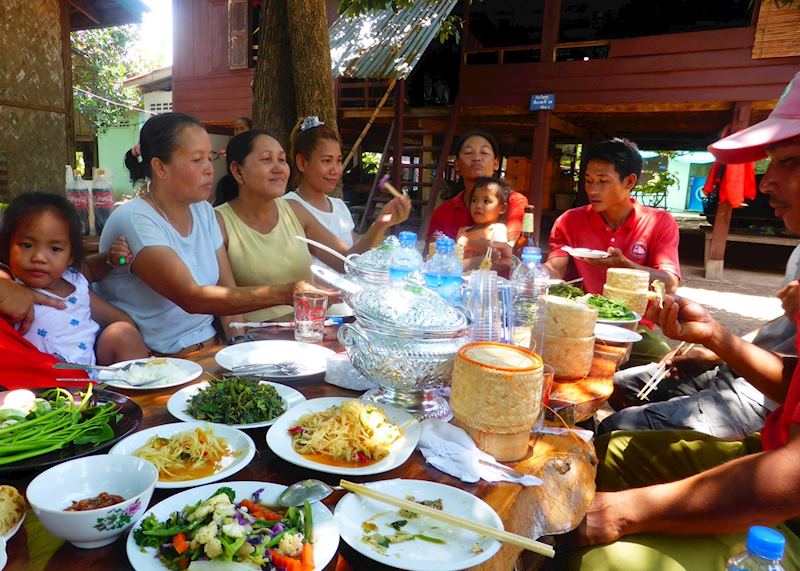 While scooters and cars clamour for space on Hanoi's streets, in Champasak you're more likely to meet a meandering chicken or cow. This southern Laos town was once the seat of royalty for the Kingdom of Champasak, but it's now a sleepy backwater that displays its past through its architecture.
You can take in the town's jumble of Laotian wooden stilted houses and French-colonial brick mansions on a guided walking tour along the riverside road, where most of the town is spread.
The tour finishes in the home of a local family. Mine had prepared a platter of dishes for lunch: so many that I could hardly see the table underneath. My guide and I sat together with the family and were served steaming-hot curries, papaya salad and sticky rice.
Many of the dishes had a fragrant Thai influence of lemongrass and galangal and were served alongside yaws (pork rolls), which are popular across the border in Vietnam. Our hosts didn't speak English but, with my guide acting as translator, conversation still flowed. I ate so much of a roasted aubergine (eggplant) dish that they carefully explained the recipe for me.
Places to visit for the scenery in Indochina
Walking through the valleys of Pu Luong, Vietnam
By Ross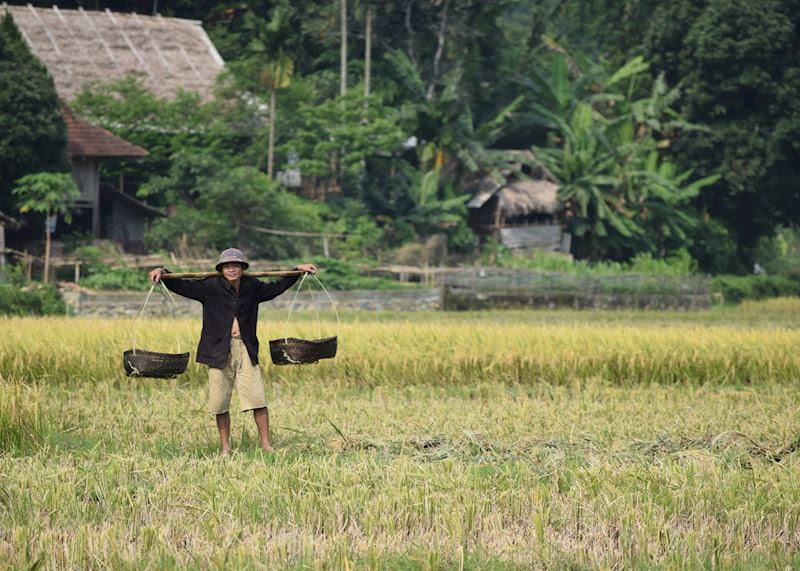 Look up Pu Luong Nature Reserve in a guidebook and you might find the slimmest entry: and therein lies its beauty. You're likely to be one of the only visitors to this northern region of primary tropical forest, terraced paddy fields and ethnic minority villages.
Stay in the town of Mai Chau and you can take a guided day-hike through the reserve, which is a two-hour drive away. I walked an 8 km (5 mile) route — the distance can be tailored — that took me along the bottom of a mountain pass. The scenery is a thousand shades of green, from the crisply hewn rice terraces to the wild tangle of forest that clings to the steep valley walls. Dotted in-between are traditional rattan-roof houses of the Tai Dam people, an ethnic minority whose ancestors settled here from Thailand. As we walked, the farmers working their paddy fields were eager to say hello.
The hike leads you toward a tributary of the Mekong, where an awaiting bamboo raft will return you to your starting point.
Trekking to remote Akha villages in Phongsali Province, Laos
By Craig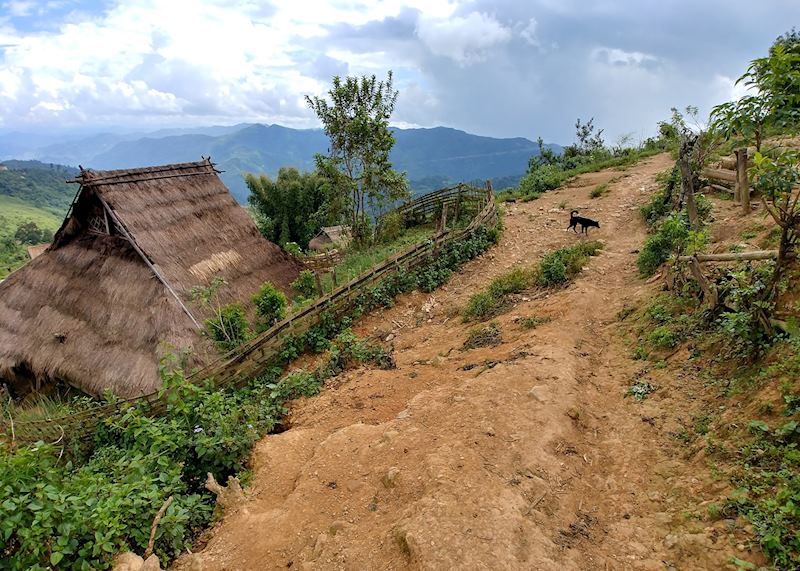 Entering my first Akha village felt like I was on an expedition for the National Geographic. It's a 12-hour drive from the nearest city, Luang Prabang (you can overnight in Muang La or Muang Khua to break the journey). From there (Phongsaly town), you travel by road for one hour and then for 35 minutes by longtail boat upriver then trek for two hours.
The Akha build their villages on the mountaintops, so when you finally arrive, you're rewarded with a mountainous landscape that's so undeveloped it feels like it's from another time.
Phongsaly town, the capital of the province, makes a good base (it was briefly a French hill retreat, but has since fallen far from the radar). I stayed at Viphaphone Hotel, which is basic but clean and maintains remnants of its once grander aspirations with a massive dining room and dusty chandeliers in the ballroom.
From the town, you can hike up into the mountains. As you walk you'll pass spring-green rice terraces, leading up to neat tea plantations, which have gradually replaced opium cultivation. You'll know when you reach an Akha village by the wooden statue at the gate to scare evil spirits.
The Akha people have dwindled down into Laos and Thailand from southern China. They speak Akha and, to communicate, a local guide will translate Akha to Lao, which is translated into English by your guide.
I carried a large packed lunch of rice, raw vegetables and pork with me, which I shared with a local family. I joined them as they cooked over an open fire. As we ate together, my translating team were on hand to guide me on local etiquette (the Akha are superstitious people). I drank two glasses of rice wine (one for each leg, and to refuse is rude), rice isn't allowed on the table (it sits to one side on the floor) and chopsticks can't be put down.
Indochina's culture
Architectural tour of Phnom Penh, Cambodia
By Mark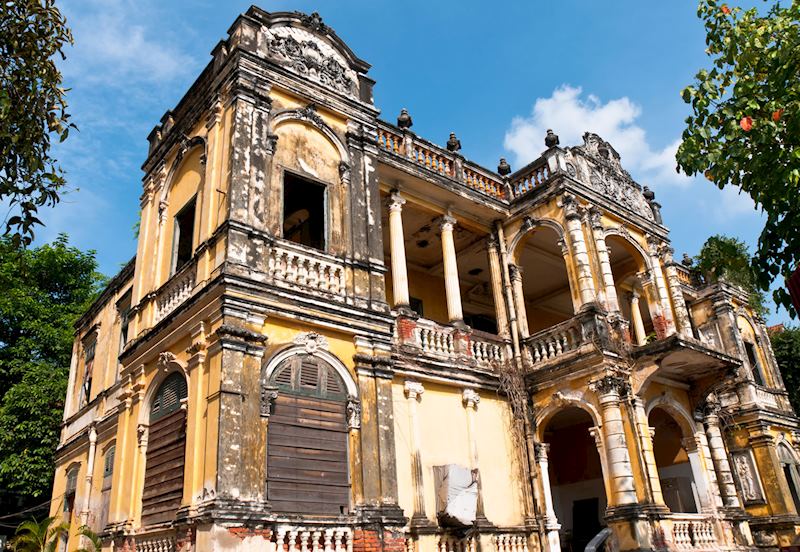 Phnom Penh was once the darling of French Indochina, its carefully designed, leafy avenues compared to the Champs-Élysées. Its grandeur has waned somewhat, but a new generation of Cambodians now value the importance of the city's buildings, and efforts are being made to preserve them.
On a tour with an expert from Royal University of Phnom Penh, and you'll find that studying the city's architecture tells the story of its past.
You'll walk past identikit Chinese shophouses, where merchants once traded out the front and slept in the back. French colonial mansions line wide boulevards, some decorated with scrollwork and friezes, others with Art Deco curves and metalwork. You can step inside the faded-yellow Royal Railway Station and the National Library, which was used as stables by the Khmer Rouge.
The New Khmer Architecture might come as a surprise. Cambodian Vann Molyvann was a disciple of Le Corbusier, and he used his knowledge of modern construction to design contemporary buildings that pay homage to Cambodian heritage. The Institute of Foreign Languages is an angular concrete ode to Angkor Wat, with a concertinaed concrete roof and crisp, angular lines.
Exploring the history of Battambang, Cambodia
By Mark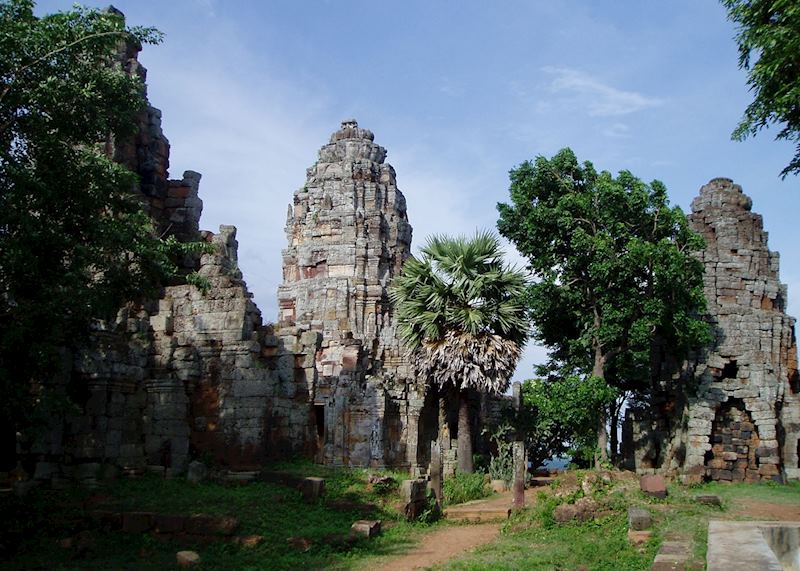 When I first visited Battambang in 2002, I stepped into the land that time forgot. Although officially Cambodia's second city, it's probably the most laid-back town in Indochina. Hugging a curve of the Sangker River, Battambang is a low-rise spread of dilapidated French-colonial buildings and alfresco cafés.
You can tour the town by cyclo (a three-wheeled bicycle with a large bucket seat at the front). An audio tour will narrate the history of the city (cyclo-drivers tend to speak very little English), as you pass the early 19th-century Governor's Residence, the gilded roof of Wat Damrei Sa and the imposing statue of Ta Dumbong (a farmhand who, legend suggests, tried to usurp the king with a magic stick).
Southwest of the city, the limestone outcrop of Wat Phnom Sampeau juts up from the horizon. This was the site of the Killing Caves, now reclaimed as a place of pilgrimage. Halfway up to the summit, a staircase leads into a gaping cavern where a golden Buddha reclines beside a pile of bones and skulls. These are the remains of some of the people who were thrown to their deaths through the sinkhole above by the Khmer Rouge. At the summit, you'll find a beautifully painted temple and views across the fertile plains.
Nearby, you can visit Wat Banan, an 11th-century temple complex that locals might tell you was the inspiration for Angkor Wat. Archaeologists aren't quite so confident, but its five towers still have some impressive bas-reliefs and huge serpent sculptures stand guard.
Adventurous experiences in Indochina
A night in the jungle at Nam Et-Phou Louey, Laos
By Alex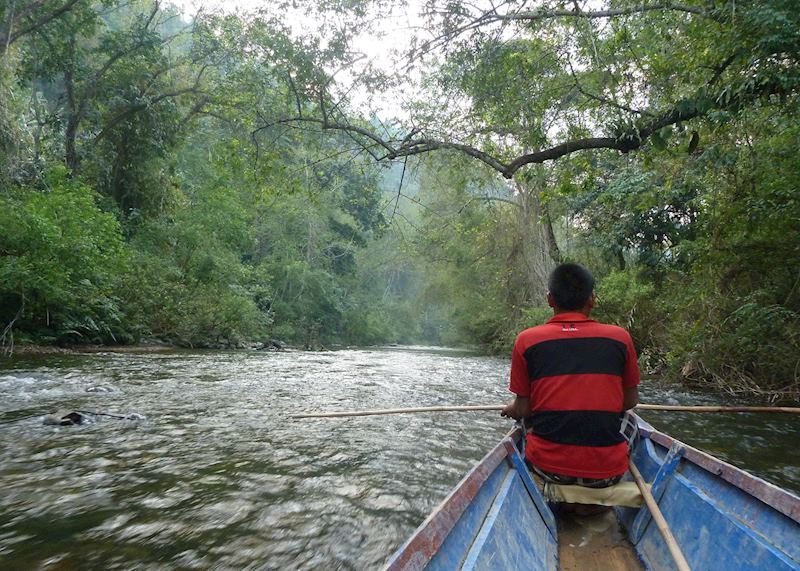 Tucked right into the northeastern corner of Laos is a crumpled landscape of jungle-cloaked mountains and lowland scrub, intersected with slow-flowing rivers and patches of primary forest. A five-hour drive from Nong Khiaw, Nam Et-Phou Louey is the largest national park in the country. There's wildlife here, too, but you'll need to spend the night in the park to stand the chance of seeing any.
There are no roads here, and you enter the park via the Nern River, which gradually narrows as you journey deeper. Home for the night is a small jungle camp, set up with a bathroom and an open-sided hut (furnished with a comfortable bed and mosquito net).
At dusk, we — my guide, the cook and several porters — climbed back into the boat and cruised for an hour farther upriver.
On a wide bank on a curve of the river, we disembarked. The porters built a fire, over which sticky rice, a green bamboo-shoot stew and spicy fish curry were cooked. We were joined by some of the rangers who live in the park. As well as deterring poachers, they monitor the animal population using a series of camera traps, which you can visit in their company and watch any footage. Otters, gibbons, gaur and deer are the main focus, although it's possible that tigers remain in the area (the last sighting was a few years ago).
Once the sky was inky-black, we went onto the river and floated back to camp silently with the current, the boat's engine turned off and the sky wide with stars. My guide began to shine a torch, looking for eyes reflecting back in the darkness. We saw the beady eyes of a sambar deer coming down to drink and, after a series of rustling, a wild fox skulking around in search of food.
Phong Nha-Ke Bang National Park's cave system, Vietnam
By Melissa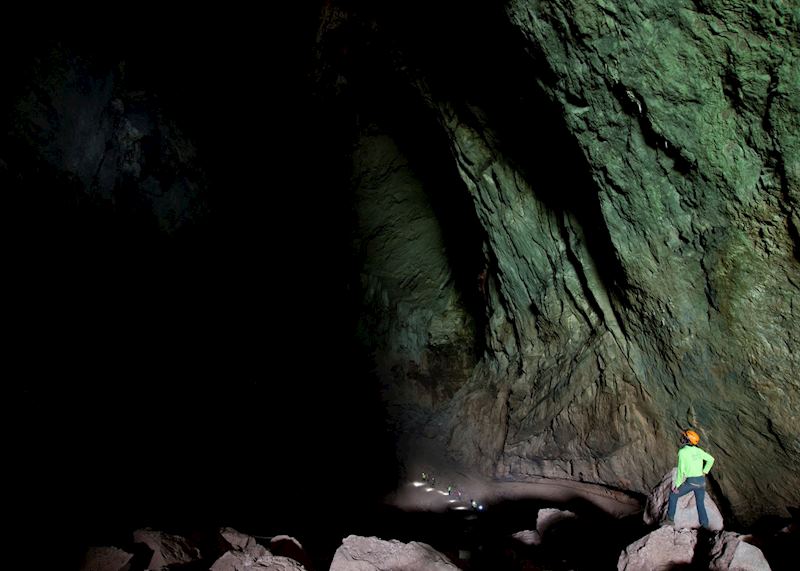 Vietnam might see far more visitors than next-door Laos, but there are still areas that linger largely off-radar. In fact, the Tu Lan Cave system lay hidden in central Vietnam until 1992 and it's estimated that only 15% of the network has been mapped since.
We work with a professional team of experts on Vietnam's caves — who in turn work with the British Caving Association — to offer overnight treks to explore Tu Lan.
After staying in Phong Na, the nearest town, the night before, you're driven a half hour into Phong Nha-Ke Bang National Park to base camp where you join your team — up to twelve fellow adventurers, an experienced guide and a team of porters.
From here, there are no roads: it's a two-hour trek past paddy fields and grazing buffalo to reach the cave mouth. It's just outside this black, yawning hole that you'll camp, on a little beach by the Song Son River.
This is where the hiking stops. To get into the cave mouth you clamber over and squeeze between an assortment of boulders. From there, the caves are accessed by swimming through the river that formed them.
The water was surprisingly tepid, and, as I swam into the cavernous black, my head torch gave the water an ethereal turquoise glow. As we explored a series of caverns, we dragged ourselves out of the water periodically to point our torches up at the stalactites dangling from caverns big enough to swallow a six-storey building.
Cruising in Indochina
Veer from Halong Bay to lesser-known Lan Ha Bay or Bai Tu Long Bay
By Craig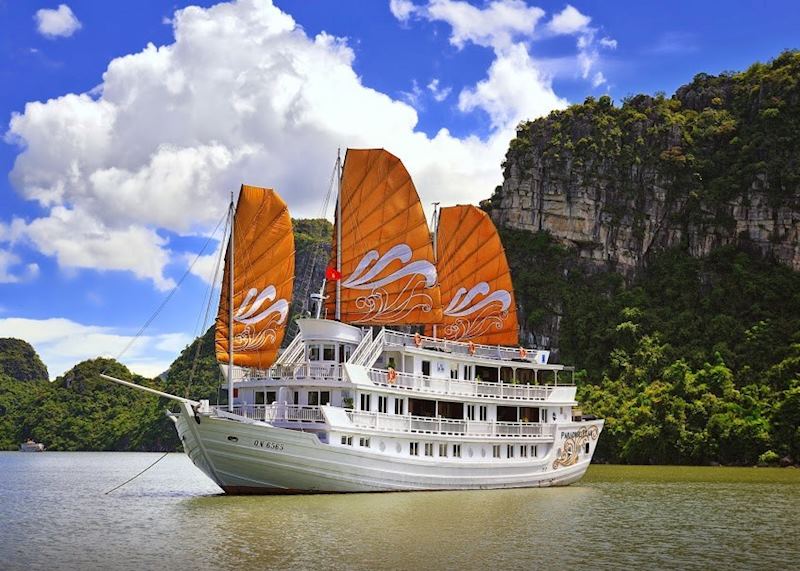 You don't have to join everyone else sailing on Halong Bay to admire the towering limestone columns off Vietnam's northern coast. The Paradise Prestige cruises from Halong City heading northeast, on a three-day, two-night itinerary to Bai Tu Long Bay and the same towering karsts and jewel-toned waters as Halong Bay with one key difference: very few boats.
A refurbished traditional junk, the Prestige has 15 spacious cabins, and a restaurant, spa — two complimentary treatments per guest — and polished wooden sundeck. It's from this deck you can spend most of your time basking in the surrounding scenery.
The cruise is focused on leisurely exploration, with time for you to swim from gently shelving beaches, kayak around the limestone formations and walk up into the jungle that tops the islands for views across the bay. Cooking classes and cultural talks take place on board.
The Orchid Cruise was the first boat to explore Lan Ha Bay, to the south of Halong Bay. Running alongside Dao Cat Ba Island, the bay invites more active pursuits, including walking and cycling. The boat itself had some of the largest suites on any vessel I've boarded.
Private sampan cruise through the Mekong Delta
By Ross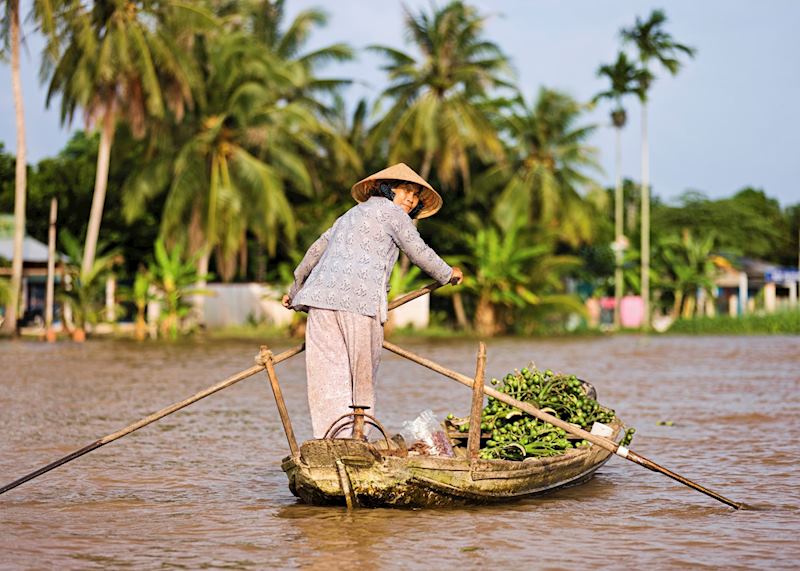 Nicknamed the 'rice bowl of Asia', the fertile Mekong region produces more rice than anywhere else in the world. As you travel along the tributaries on the Dragon Eyes, a traditional polished-wood sampan you'll see rice paddies fading to the horizon, interspersed with crops of sugarcane and maize. You'll slip by rice farmers working the land and fishermen preparing their catch for market.
You can disembark and explore the villages on foot. My guide helped to interpret as we walked along the riverside: everyone was curious to find out why I was there. A squat man, smoking, sweating and yelling orders profusely beckoned me into his house. He managed a rice paper company and carefully talked me through the production process, although he had no interest in making a sale.
In the villages we encountered the occasional French-colonial mansion: some were original remnants of French occupation, others had been built in their image by wealthy farmers.
At the waterside you might find a floating market, with boats tucked so tightly together that you can't see the water beneath. Dinner is cooked with some of the fresh produce (I can recommend the grilled catfish).
The one-cabin boat is suitable for couples, with a little kitchen at the back and a sitting area on the front deck. It runs private one- or two-night cruises from Chau Doc, manned by a small crew, which give you the flexibility to choose your own experiences.
Start planning your trip to Indochina
Laos, Vietnam and Cambodia

Laos, Vietnam, Thailand and Cambodia

Vietnam, Thailand, Laos and Cambodia
Start thinking about your experience. These itineraries are simply suggestions for how you could enjoy some of the same experiences as our specialists. They're just for inspiration, because your trip will be created around your particular tastes.
View All Tours in Southeast Asia