By Spain specialist Allan
Every evening, Madrid's residents (the Madrileños) spill out into the city's narrow streets and little plazas to talk and drink and share tapas. Unless you're on the thoroughfare of the Grand Via, you don't feel like you're in a big national capital. Instead, it's as if you're visiting a collection of Spanish pueblos, warm and welcoming but also distinct from one another. I lived and worked in Madrid for years and what I still love best about the city is its lively street life. But, despite its village ambience, Madrid boasts some of Europe's best museums and urban parks, as well as grand boulevards designed along the same principles as those in Paris.
What to see and do in Madrid
The Golden Triangle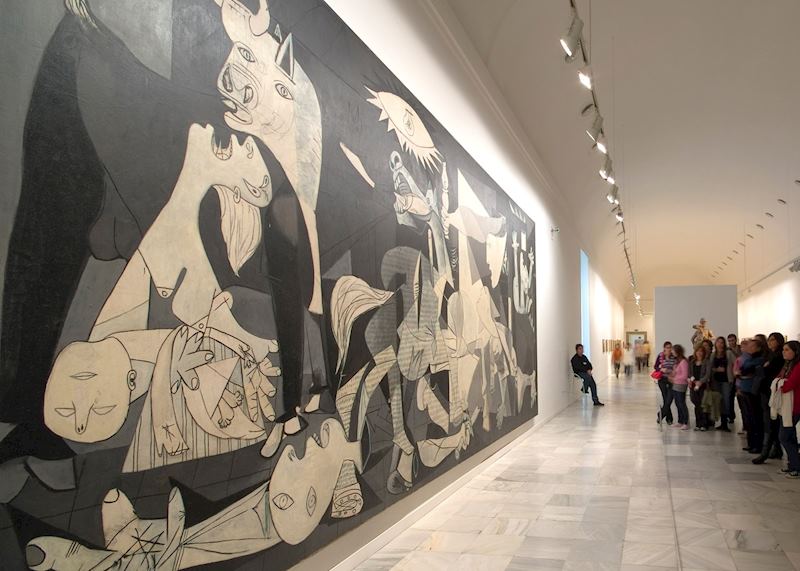 Just a short walk apart, the Golden Triangle is the local nickname for Madrid's three premier museums: Museo del Prado, Museo Thyssen-Bornemisza and Centro de Arte Reina Sofía.
The jewel in Madrid's crown, the Prado was created by the Spanish Bourbons to rival the Louvre. The sprawling neoclassical building holds one of the world's biggest art collections, with works from the late medieval period through to the early years of the 20th century. It shines a spotlight on Spanish artists like Velázquez, Goya and Francisco de Zurbarán, but also includes blockbuster names from around Europe — Hieronymus Bosch, Fra Angelico, Tintoretto, Titian and Rubens, to name a few.
It's a dizzying assemblage of masterpieces and worth a stop no matter how many times you've been before. I was a guide at the Prado for years and I still return often.
Though it's cliché, the piece I love best at the Prado is Las Meninas by Velázquez. A very large painting within a very large painting, it puts you in the place of the supposed subjects — the royal couple, who are only seen dimly through a distant mirror. Unusually casual and spontaneous for a royal portrait, its complicated arrangement of subtle glances provides a nuanced commentary on court life.
The Prado can get busy in the evenings — admission is free after 5pm — so I suggest going early in the day. I also suggest a guide, who can steer you through the overwhelming collection.
For more recent art, the Reina Sofía focuses on works created between the late 19th century and the 1980s. Even more than in the Prado, Spanish artists feature here, including many works by Picasso, Dalí and Joan Miró.
Picasso's massive masterpiece Guernica hangs alone in one room at the Reina Sofía. Picasso painted it in 1937 and insisted that it shouldn't be displayed in Spain until liberty and democracy had been established. Subsequently, Guernica toured the USA for decades before returning home in 1981. It was installed at the Reina Sofía in 1992.
The third point on the triangle is the Museo Thyssen-Bornemisza, a private gallery that rivals many public museums. Its relaxed atmosphere invites close, lingering inspection of the works.
You'll find plenty of Spanish artworks, including the richly crimson Camp of Gypsies by Ignacio Zuloaga y Zabaleta. The collection also features works from around Europe, including substantial displays of German and Italian Gothic art and 20th-century German Expressionism. I'd also point you toward rooms 32 and 33, which display pieces by Pissarro, Manet, Monet, Cézanne, Gauguin, Toulouse-Lautrec and Degas.
Royal Palace of Madrid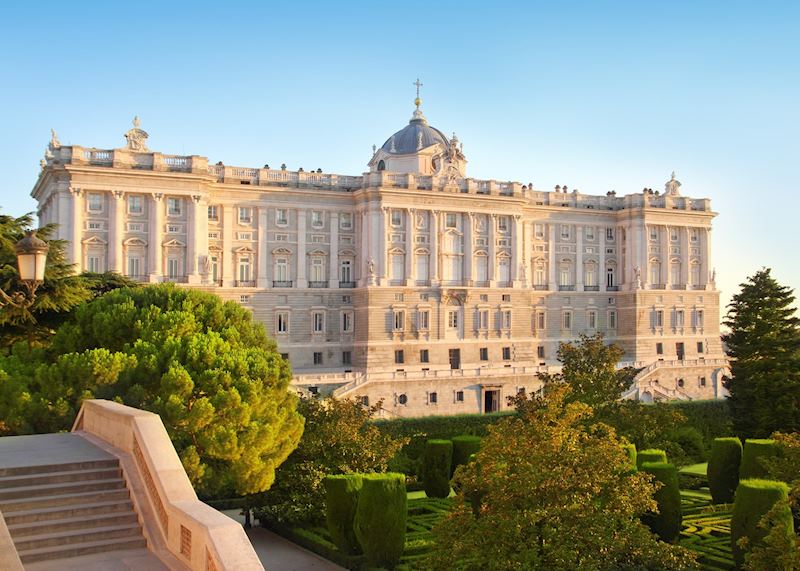 A fortress has stood on this spot for thousands of years — a Roman fortification, a Moorish alcázar and then a dark, dank Habsburg castle. Felipe V, the first Spanish Bourbon king, didn't want a dour castle, however. He wanted a grand palace, something to outshine even the excesses of Versailles. When the original building succumbed to a conveniently timed fire, Filipe commissioned the largest palace in Western Europe.
Massive as it is, the final Palacio Real (Royal Palace) is just a small fraction of the king's design, construction cut short at a mere 2,800 rooms by his death in 1746. A tour spotlights the Bourbons' unabashed love of ostentation, and you'll see a tumult of ornamentation: diamond-studded clocks, gilt curlicues, crystal chandeliers, grand staircases and endless stretches of brocade and damask.
You can also see paintings by some of Europe's great artists, including many pieces by Goya as well as the world's largest collection of works by the Italian Baroque painter Luca Giordano.
El Retiro Park
Originally a royal hunting ground, El Retiro is now a public playground of manicured lawns, grand monuments and a small lake where the king once staged mock naval battles. Today, couples rent bright-blue rowboats and enjoy lazy afternoons out on the water.
The curved marble colonnade behind the lake is a monument to King Alfonso XII. It's one of a smattering of sights in the park, including the Crystal Palace, a glass-walled Victorian birdcage of a structure built for the Exposition of the Philippines in 1887. Crowds often gather near the lake and buildings, but the park is so large you can always find some quiet space.
Best views in Madrid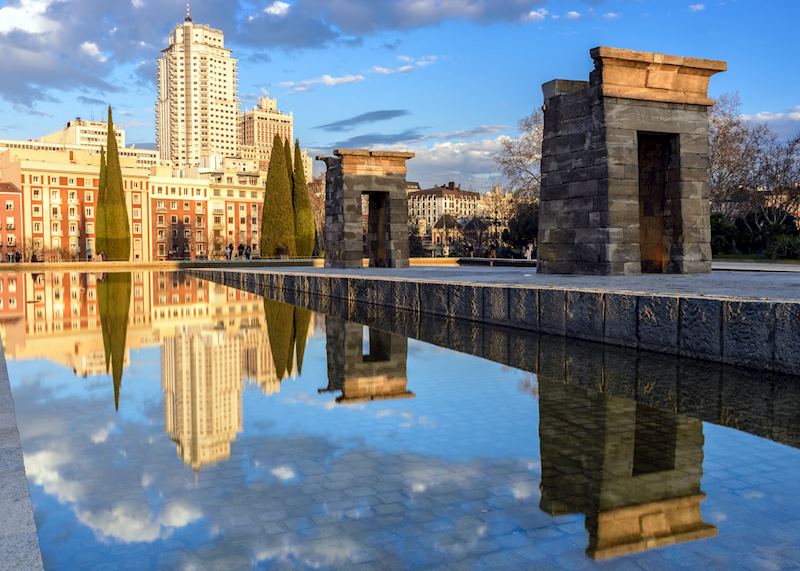 At street level, Madrid is a city of narrow streets filled with bright buildings, grand streets and sometimes grungy sidewalks. To appreciate the city's breadth and beauty, I recommend finding a viewpoint to admire it from high above.
The rooftop terrace at the Círculo de Bellas Artes (itself an arts space) offers probably the best view in the city. From here, you can see down the long lines of the boulevards and over the sweep of the white buildings and tiled roofs out to the countryside and snow-capped Sierra Nevada mountains. There's a small cover charge to get into the (slightly overpriced) tapas bar, but I think the views are worth the cost.
If you prefer not to pay for your view, I suggest an evening visit to the Temple of Debod. This ancient Egyptian temple once stood just south of Aswan and was disassembled and transported to Madrid in 1968, a gift of thanks from the Egyptian government for Spain's assistance in saving the Abu Simbel temples.
It stands on a hill in the Parque de la Montaña, reflecting into a long, narrow pool. From here, you can enjoy sunset views over the southwestern barrios and Roma enclaves, as well as the grandeur of the Palacio Real, its gilded touches bright in the evening light.
Day trips from Madrid
Toledo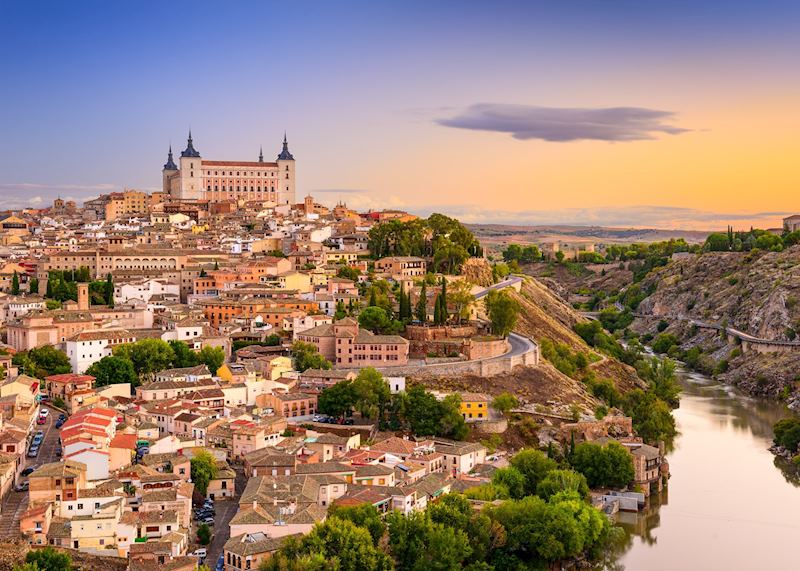 The historic capital of the Castilian kingdom, Toledo is a well-preserved medieval stronghold, perched high on a promontory and protected by the Tagus River on three sides. An hour's drive south of Madrid, its pedestrian-friendly layout makes it a good place to wander for a day.
Christians, Muslims and Jews once lived here side by side, and all three cultures have left their mark on the city. You can still see the Moorish influence in the layout of the streets, a maze of narrow passageways that resemble a Moroccan medina.
The vibrant Jewish quarter has two of the only synagogues to survive the Inquisition — Sinagoga de Santa María la Blanca and Sinagoga del Tránsito. The latter is part of the city's important Sephardic Museum, which examines the Jewish experience in Spain.
The city's monumental cathedral, one of Spain's biggest Gothic buildings, was constructed on the site of the main mosque after the Reconquista. The interior is veritably stuffed with great works of art, including pieces by Velázquez, Goya and El Greco.
Segovia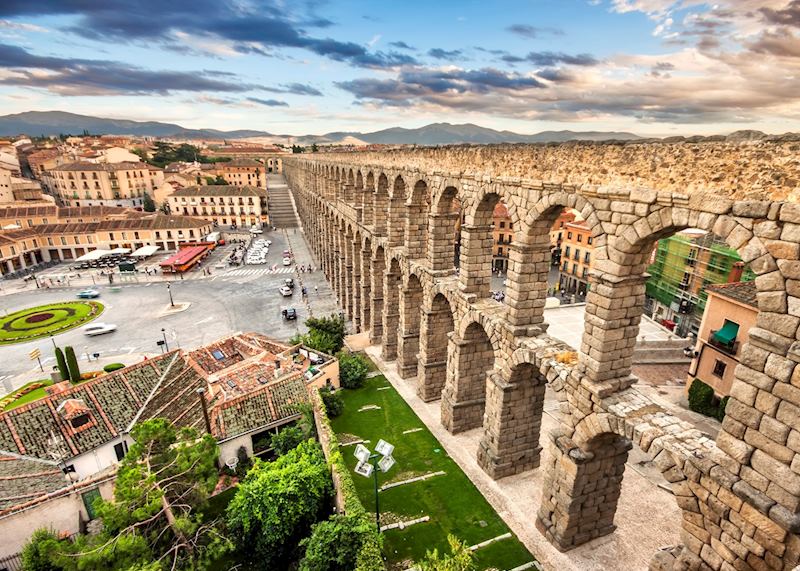 A UNESCO World Heritage Site, Segovia is dominated by a Roman aqueduct that arrows out from the heart of the city. A slender and soaring construction that dates from the late 1st century, it's an exemplar of Roman engineering brilliance, with 700 arches that span half a mile (800 m), all built without a speck of mortar.
There's more to Segovia than just the aqueduct, though. The turreted alcázar, topped with blue conical roofs, is another dominant presence on the skyline.
This is also the home of cochinillo asado — roast suckling pig. A milk-fed piglet is slowly cooked in a special oven until its flesh turns meltingly tender and the skin is crackling and thin, deep brown and dripping with golden juices. The piglet is served whole on a large platter and presented with great fanfare when the waiter chops it with the edge of a plate. It's a popular meal among locals and takes time to prepare, so I'd make reservations if you want to sample this local delicacy.
Ávila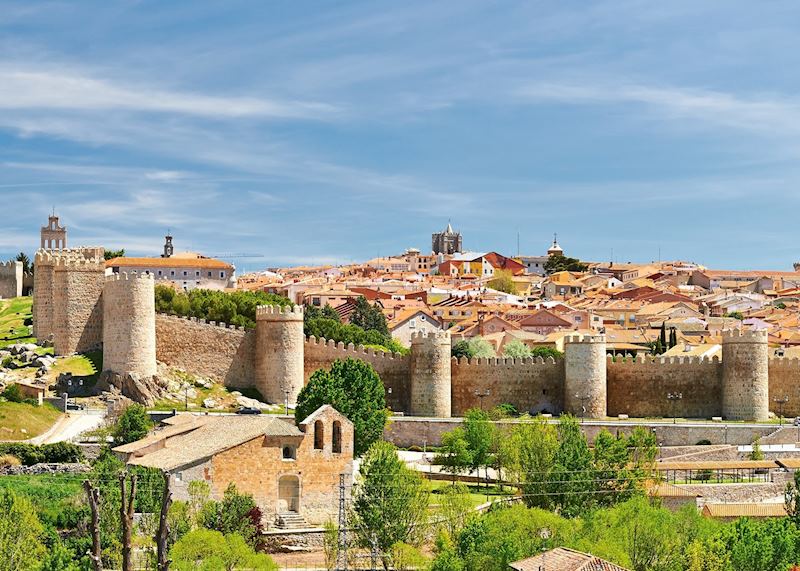 Even more than Toledo, Ávila preserves the feeling of a medieval city. It's a jumble of low clay-tile roofs and Romanesque churches, wholly surrounded by an intact 11th-century wall and battlements. It's so well conserved that it looks storybook-like, especially when the pale-yellow walls and crenellated towers are lit up at night. Declared a UNESCO World Heritage Site, the compact city is an hour northwest of the capital and it's easy to see all its sights in one day.
The city was the birthplace of Saint Theresa, a 16th-century mystic reformer and political leader. Many of Ávila's sights are associated with her, making it a popular destination with pilgrims.
I suggest visiting Ávila's cathedral in the morning — the early sun slanting in through the stained-glass window gives the interior a rosy, celestial light.
Read more about trip ideas to Spain

Start thinking about your experience. These itineraries are simply suggestions for how you could enjoy some of the same experiences as our specialists. They're just for inspiration, because your trip will be created around your particular tastes.
View All Tours in Spain