While many people opt to visit Spain in the late spring (April–May) or early autumn (September–October), attracted by pleasant temperatures and lighter crowds, the country's diverse offerings mean you can find something to enjoy at any time of year. Spain has a relatively mild climate, staying mostly dry year-round and with winter temperatures rarely dropping below 10°C (50°F). Summers can be quite hot, especially in the south and see a greater influx of European visitors heading to the popular beach resorts. While it can get cold and wet in the north during the winter, the south remains very pleasant. Equally, temperatures in the north make it a great option during the summer if you are worried about the heat.
Speak to someone
who's been there
Start planning your tailor-made trip by calling one of our Spain specialists on 01993 838 450
I love Spain around September time, when both the temperatures and the crowds wane a little. The air turns crisp, especially at night, and the sky darkens to a deep, rich blue, without a hint of haze. It's still warm enough to go swimming during the day and, at night, you can enjoy the street life with just a lightweight jacket. It's also a good time to see the harvest fairs, religious celebrations and fiestas de pueblos (town festivals) that seem to crop up in almost every village.
Allan, Spain & Portugal Specialist
Spain Climate Guide
Destination
Jan
Feb
Mar
Apr
May
Jun
Jul
Aug
Sep
Oct
Nov
Dec
Barcelona

13°C

39mm

14°C

36mm

16°C

45mm

19°C

48mm

22°C

52mm

25°C

42mm

28°C

25mm

27°C

51mm

25°C

73mm

21°C

92mm

17°C

58mm

14°C

48mm

Madrid

8°C

43mm

11°C

44mm

15°C

36mm

18°C

45mm

21°C

44mm

27°C

29mm

31°C

12mm

30°C

11mm

25°C

30mm

19°C

51mm

13°C

58mm

9°C

50mm

Seville

15°C

76mm

17°C

73mm

20°C

66mm

23°C

53mm

26°C

34mm

32°C

14mm

36°C

1mm

36°C

3mm

32°C

18mm

25°C

69mm

19°C

87mm

15°C

83mm
Month-by-month guide to travelling in Spain
Visiting Spain in January - February
The beginning of the year can be rather quiet in Spain, with thinner crowds and less activity, though most businesses are still open. This time of year, especially January, is known as 'rebajas' season, when items at most stores are heavily discounted after Christmas, offering great deals.
Events & Festivals
Three Kings' Day (6th January): Spaniards celebrate the Feast of the Epiphany, or Three Kings' Day, with street parades where public figures dressed as the Three Wise Men throw treats to the children.
Carnaval (February): leading up to Lent, Spain's carnival sees some Spaniards celebrating with large parties involving lots of sangria and fancy dress.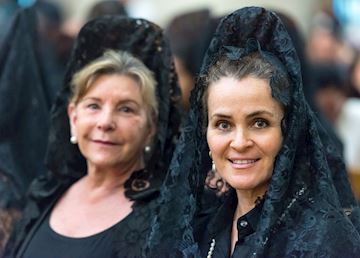 Visiting Spain in March - April
As the weather starts to warm up, the streets of Spain begin to buzz with more activity, though they aren't as crowded as the summer months. Many people venture out for Semana Santa, Holy Week, to watch the parades that take to the streets. The warmer, but not overly hot, temperatures make it a very pleasant time to visit.
Events & Festivals
Semana Santa (March/April): Holy Week is celebrated with parishes joining together throughout the week for elaborate parades featuring glittering statues carried by hooded men.
Festival de Jerez (March): over a couple of weeks, people flock to Jerez for one of Spain's largest celebrations of flamenco music and dance, to learn from masters as well as watch some of the best dancers in the business perform.
Feria de Abril (starts two weeks after Easter in April/May): Seville hosts its annual fair, filled with carnival rides, dancing, along with plenty of food and drink. Men traditionally sport a traje corto (long tight pants and a short jacket), while women don flamenco garb.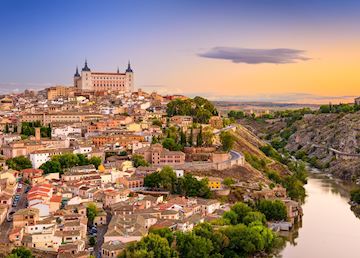 Visiting Spain in May
Temperatures continue to rise in May, when the country comes alive with vibrant flowers and locals begin spending more time outside in the sunshine. May is a great time for outdoor activities such as hiking or heading to the beaches before they're overrun with visitors. Temperatures are warm and tend not to have reached the uncomfortable levels of high summer.
Events & Festivals
Feria de Abril (starts two weeks after Easter in April/May): Seville hosts its annual fair, filled with carnival rides, dancing, along with plenty of food and drink. Men traditionally sport a traje corto (long tight pants and a short jacket), while women don flamenco garb.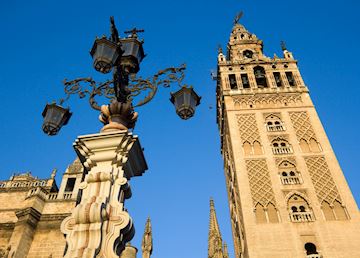 Visiting Spain in June - August
The summer months can be hot and crowded and, like many other Europeans, Spaniards will flock to the coast to enjoy cooler weather and relax on the beach. Despite the heat, this time of year shouldn't be avoided altogether. Buoyed by the longer days, Spaniards look for ways to unwind at night, so these months see a greater number of lively festivals and more evening revelry. Many festivities surround Spain's food and wine and can be a real highlight of the summer.
Events & Festivals
Batalla del Vino, or 'Battle of Wine' (29th June): in a lighthearted 'battle', locals in La Rioja douse each other with the province's red wine.
International Festival of Music and Dance (June/July): Granada hosts one of Spain's largest and most important arts festivals, dedicated primarily to flamenco but showcasing other forms of music and dance, with several events taking place against the backdrop of the Alhambra.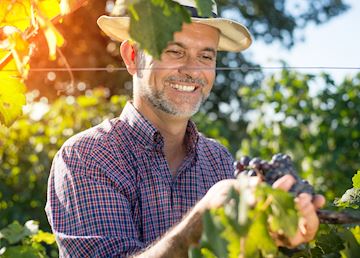 Visiting Spain in September - October
Spain begins to quieten down after the rush and crowds of the summer. Temperatures return to pleasanter levels and most visitors have gone home, leaving the country in a more peaceful state, though still vibrant with daily Spanish life. Taking advantage of the pleasant weather and smaller crowds, this is a recommended time for exploring the country.
Events & Festivals
Bienal de Flamenco (September): held every other year in Seville, this festival is one of Spain's largest and most important celebrations of flamenco and attracts professional performers from all over the country.
Fiestas de San Mateo (September): a week of parades and concerts in La Rioja as the Feast of Saint Matthew coincides with the grape harvest.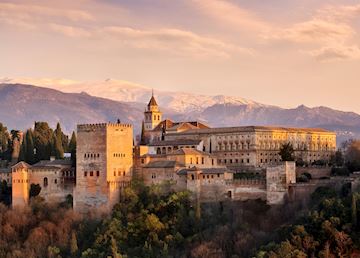 Visiting Spain in November - December
Spain becomes cool again as winter approaches, but there is still plenty to enjoy. In November, jazz festivals are held in many major cities while in December, Spain's streets are decorated for Christmas.
Why travel with Audley?
100% tailor-made journeys
Fully protected travel
Established for 20 years

98% of our clients would recommend us to a friend
Trip ideas and travel guides to exploring Spain