By Thailand specialist Mary
There are lots of beaches to choose from in Thailand, where the sand ranges from caramel to pearly white, and the water is so clear you can study the seabed. Thailand is also a year-round beach destination, as when one part is wet, invariably another will be dry.
However, Thailand's beaches are one of Southeast Asia's worst-kept secrets. Such are their reputation that many have become swamped and Westernised as word has spread. But, even the busiest islands and stretches of coast have quieter, authentic pockets, as I've discovered.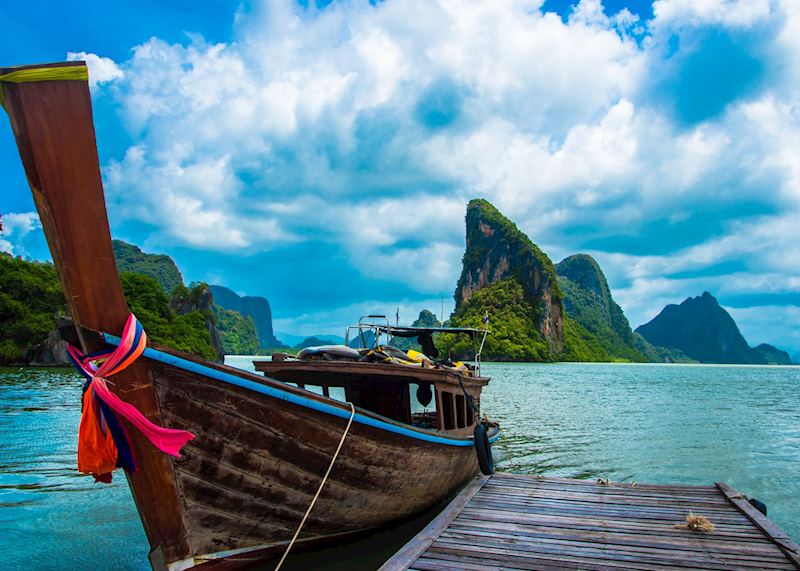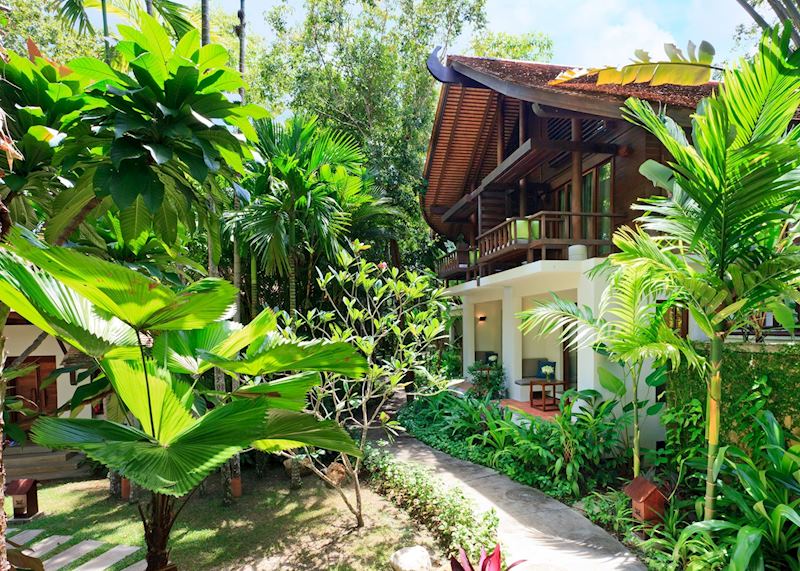 Krabi: classic Thai beach with the best views
The coast at Krabi easily rivals Vietnam's Halong Bay for spectacle. Monolithic limestone karsts form curves of natural protection around a succession of bays and lagoons. Away from the sea, the beaches are backed by tropical rainforest.
The island shines in its quieter corners and is suited to getaways or as the relaxation fanfare of a wider cultural tour around Thailand. This is lazy-days beach time, with trips by longtail boat over the calm water to limestone islands for a private lunch — if you prefer a more active stay, there are better choices.
Tubkaak is my choice of Krabi's beaches, where one of my best-loved resorts in Thailand stands on the edge of the sand in gardens that merge into the jungle surroundings.
The Tubkaak Krabi Boutique Resort is small enough to feel personal. It's set on one of Krabi's more out-of-the-way locations, but there are a couple of little restaurants within an easy walk that give some local choice of where to eat. From my table, I watched the dipping sun catch the sky alight as it sank behind the limestone islets into the Andaman Sea.
When to go to Krabi?
Between mid-October and April. I tend to avoid the region's green season between June and August, though the rains never hit monsoonal proportions.

Phuket: easily accessible beaches with a range of hotels
It's hard to talk about Thai beaches and ignore Phuket. The largest island in Thailand, it dangles off the west coast just across the map from quieter Krabi. With an international airport, it's ideal if you're short on time.
A big, bustling island where large, anonymous hotels are a reality, it still has untainted beaches if you know where to look. It also has the widest variety of places to stay, from good-value hotels to swanky resorts.
Palm-fringed Pansea Beach is one of the best locations in Phuket that I've experienced. Only two hotels service the entire bay, built in a tactical fashion to prevent any further development from slotting in alongside. If you're staying as a family or a couple, The Surin is top class. Its series of spacious cottages are staggered across the hillside facing the ocean.
The Surin's black-tiled swimming pool sounds like a minor detail, but pools with black tiles reflect the fiery oranges and deep indigos of sunset with an almost mirror-like effect. And, looking straight out over the Indian Ocean, you're treated to flaming sunsets nightly.
The next cove is a 20-minute walk away and has a selection of restaurants, markets and bars. Set back from the beach is Twinpalms Phuket, a good-value resort with an air of luxury. I was welcomed with a glass of champagne and referred to the beach butler for my sunbathing needs.
The hotel owns a number of restaurants and beach clubs along the coast, with shuttles running late into the evening.

Heritage in Old Phuket Town
You can still find the island's original charm in Old Phuket Town. Now swallowed up into modern Phuket City, it was a thriving Portuguese trading port in the early 1900s, as its gloriously dilapidated buildings will testify.
Not many visitors make the effort to come here, but I assure you it's well worth it if you do. I got to know the town better on a guided street-food tour, which takes you between side-street stalls, food courts and shophouse eateries. You'll sample a medley of Indian-, Chinese- and Malaysian-influenced food, the recipes descended from the town's original inhabitants.
When to go to Phuket?
From mid-October to April, when the west coast basks under clear-blue skies and the sea is calmest.

Khao Lak: a lesser-visited coast with plenty to do
Around an hour's drive north of Phuket, on the west-coast mainland, Khao Lak doesn't have the tropical-island looks of Krabi or Phuket's trading heritage. At its core, it's a traditional fishing village with a strong Thai identity, evident in its markets.
Remoter and more spread out than some of the busier beach destinations, Khao Lak has so far avoided becoming one of Thailand's next big resorts. For the time being, it's a rarely visited beach spot.
The coastline is less contoured along this stretch, and the water is a little more ruffled when compared with some of Phuket's sheltered bays. It's still an appealing beach destination for families heading to Thailand, which is reflected in a broad range of places to stay.
I'm fond of The Sarojin. It has an air of exclusivity but service so personable that it feels more like a private estate. I can highly recommend the restaurant and there are enough activities to keep you holed up on the quietest coast I've come across.
The nearby Similan Islands make up a marine national park and are consistently voted as one of the best 10 dive sites in the world for the richness of marine life and coral. Zipping over the Andaman Sea to the islands by speedboat takes about one and a half hours.

Visiting the Khao Sok National Park
One of the biggest strings to Khao Lak's bow is its proximity to Khao Sok National Park, and the world of activity this opens up. The park is the largest area of tropical rainforest in southern Thailand, with karst scenery and many orchids, birds and rare mammals, including elephants and deer.
If you find, as I do, that beach fatigue can set in, the park is a tonic of activity and exploration. You can kayak through the mangroves, mountain bike along well-laid tracks, or tackle the hiking trails.
The park is roughly an hour inland and easy to explore in a day from Khao Lak. Alternatively, you could stay overnight, and I recommend the Elephant Hills floating camp over Cheow Larn Lake.
When to go to Khao Lak?
The dry season runs from November to February, when you'll experience comfortable temperatures and little rain.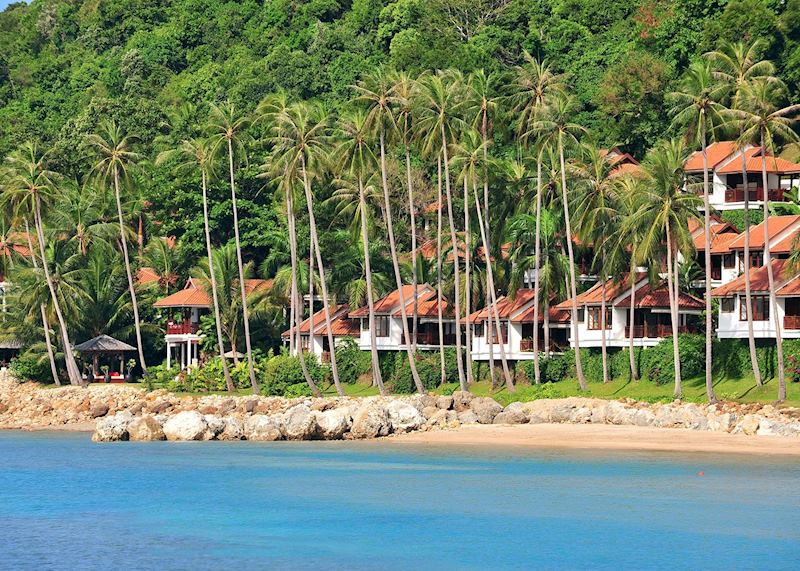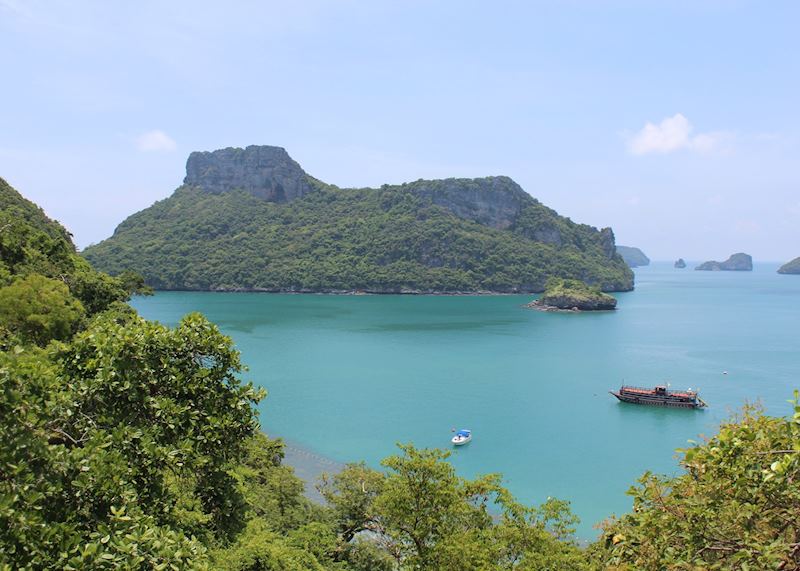 Koh Samui: a castaway island with optional cocktail hour
Moving over to Thailand's east coast and the Gulf of Thailand, if I had to be a castaway anywhere it would be on Koh Samui. Even the airport — essentially a wooden hut — emits that feeling of a quintessential tropical island. You'll arrive by propeller plane from Bangkok or Phuket.
Until a few years back, coconuts gave Koh Samui its main income, and plantations cover the island. You can hardly move for a palm tree and, flying in, the island appears as a mass of green, held in place by the azure sea.
The busiest beaches are on the east side of Koh Samui. They're also the most beautiful, but, like Phuket, overrun with international hotels and food chains. Instead, I'd stay somewhere secluded, like the Belmond Napasai on the north coast.
This way, you'll make the most of the island's duality. You can spend time relaxing on the Belmond's quiet white-sand beach and enjoy peaceful candlelit dinners in the sea-facing restaurant (steamed snapper is a specialty). But, you're only a 20-minute drive from Bophut village, where Portuguese stilt houses run along the sand, containing lively local restaurants and bars.
From Koh Samui you can also travel out for a day to the Angthong National Marine Park, a protected mini archipelago with no development, where you might spot dolphins, green turtles and macaques.
When to go to Koh Samui?
From February to September. If you can travel outside the Easter and summer breaks, you'll find quieter beaches and better value for money.
Thailand's smaller islands: secluded luxury escapes
If you're simply seeking somewhere to relax in seclusion — without the niggling guilt that you should really get out and explore — Thailand has a sprinkling of smaller islands to choose from.

Koh Samet
This T-shaped, 8 km (5 mile) long island has two chief boasts. It holds the accolade as the driest island in the country. And, secondly, it's the easiest to reach quality beach from Bangkok.
A two-hour car journey, followed by a 10-minute speedboat ride, takes you from the streets of Thailand's capital to the Paradee Resort's beach. You'll need to slip off your shoes and wade through the waves onto the sand — and, with no other hotels in sight, it feels like a private island.
There are other resorts on Koh Samet, which for the most part has stayed relatively undeveloped, but the Paradee is in its own remote, shallow-watered cove. It's an adults-only retreat (with few activities, I wouldn't recommend the island for families) with 40 villas, even the smallest of which has its own terrace and alfresco dining area.
When to go to Koh Samet?
Year round. Any rain usually lifts after a couple of hours, and torrential rain is unheard of.

Koh Kood
Soneva Kiri was built as Thailand's challenge to the out-and-out luxury of island resorts in the Maldives or Indonesia. And, I'd say it has succeeded.
It's an hour's seaplane flight from Bangkok to the jungle-covered island of Koh Kood, which lies close to the Cambodian border. A handful of simple hotels run along one coast, with Soneva Kiri tucked into a tiny peninsula to the north. Each of its private villas is bigger than your average small hotel and set around its own pool and gardens.
This is barefoot luxury in a resort made from eco-friendly bamboo, where your personal host will answer every whim. There's a long list of experiences, if you do leave your villa or the white-sand beach, including a help-yourself chocolate room and bamboo observatory.
When to go to Koh Kood?
You can go year-round, with the driest season from October to May. Even outside this period, showers rarely last long.

Koh Yao
In the waters of Phang Nga Bay, between Phuket and Krabi, sits Koh Yao, an undeveloped hideaway on this busier side of Thailand's coast. A one-road village inhabits one side of the island, and a few hotels the other, including Six Senses Yao Noi.
You reach the island by flying to Phuket, before taking a 15-minute speedboat trip across to Six Senses' jetty. The resort's pièce de résistance is its view of Phang Nga Bay's limestone pinnacles from the infinity pool, as well as the peaceful ambience that comes with its secluded location.
You can expect luxurious experiences, including candlelit beach dinners and a comprehensive spa menu. But, they've also been creative with ways to spend your time — Muay Thai boxing lessons and picking your own farm-fresh eggs for breakfast being two examples.
When to go to Koh Yao?
With clear wet and dry seasons, Koh Yao is at its best from October to March, when temperatures are comfortably warm and there's little rain.
Plan your beach holiday to Thailand

Start thinking about your experience. These itineraries are simply suggestions for how you could enjoy some of the same experiences as our specialists. They're just for inspiration, because your trip will be created around your particular tastes.
View All Tours in Thailand