A guide to choosing the right island for you
By Maldives specialist Tracey
If you're looking for barefoot luxury and sun-drenched indulgence in a remote tropical setting, a private island in the Maldives is hard to beat. However, with more than 100 options sprinkled among the archipelago's 1,000 islands, choosing where to go is a big question — albeit, a delightful one to ponder. On my recent trip to the Maldives, I visited some of the region's top resorts. Here, I've created a guide to help you choose the stay that's best for you, whether you're looking for a laid-back family getaway, a serene escape, or a chance to wrap yourself in complete opulence.
Huvafen Fushi: best for unabashed luxury
Also great for: wine-lovers
Don't miss: the underwater spa rooms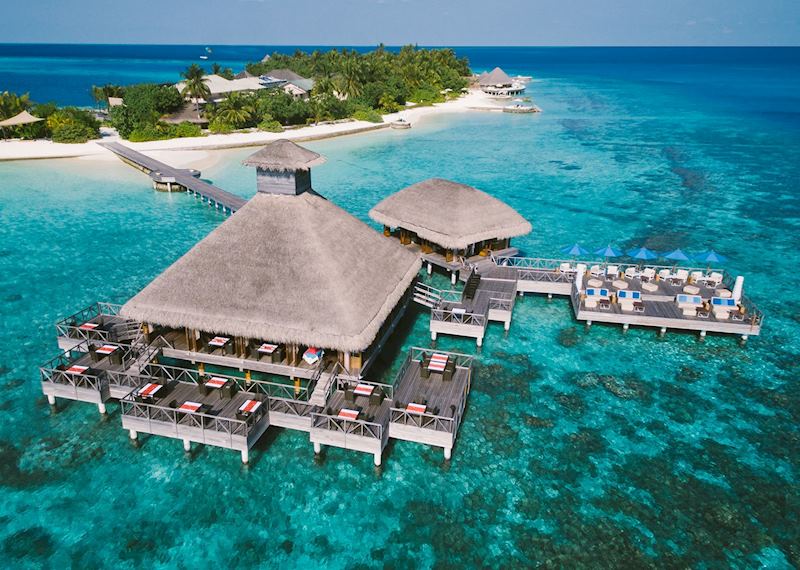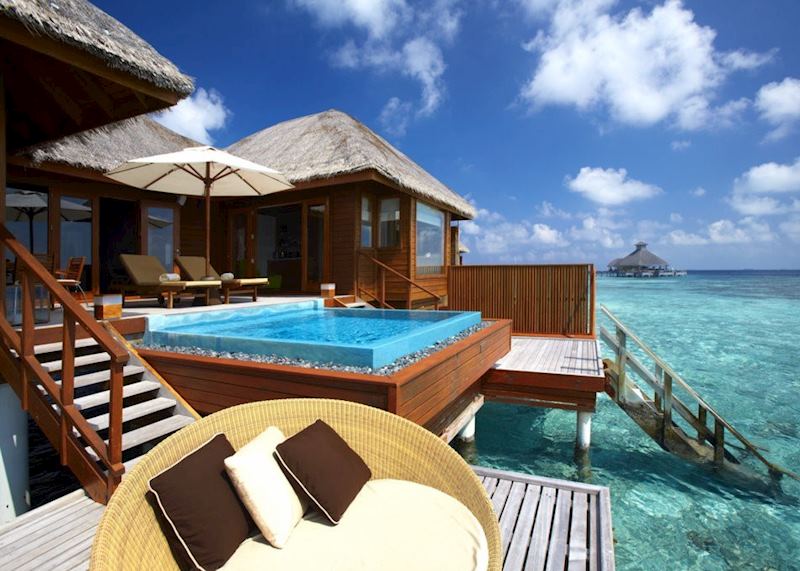 From the moment you step foot on the powder-soft sands of Huvafen Fushi, you're cocooned in absolute tropical indulgence with a glass of chilled Champagne. This is a tiny island, with just 44 bungalows or pavilions, each with its own private plunge pool.
For the duration of your stay, you'll enjoy the attention of your own personal thakuru — a person who'll get to know you and help you make the most of your trip. They can help you if you're interested in yoga on the beach, a treatment in the spa's underwater rooms, snorkelling, chartering a private yacht for a day cruise, or any of the other maritime adventures you can enjoy here.
You'll have your choice of five eateries including Vinum, which houses one of the country's most extensive wine cellar. I admit I tried to stump the sommelier with obscure vintages, but he could point to any bottle I could imagine.
Huvafen Fushi also prides itself on singular destination dining. You can have a romantic meal lit only by candles and starlight almost anywhere on the island — on the beach, on a sandbar in the surf, at a table on the infinity pool, even on an isolated rock off the shore. I was particularly fond of the LATITUDE 4°, an underwater restaurant with views into the lagoon and its thriving coral reef.
Baros: best for gourmet experiences
Also great for: snorkelling and diving
Don't miss: the Piano Deck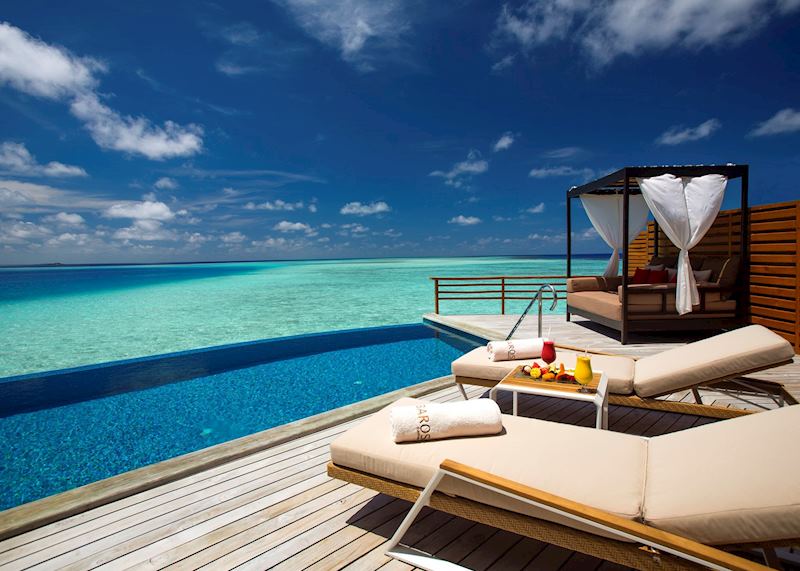 Baros is the uncontested grande dame of the Maldives. The service here is effortlessly elegant and self assured, and you always feel well cared for. It's just a short 25-minute speedboat ride from the airport, and the view as you come in to dock sets the stage for your stay — a velvety green canopy shading sugar-sand beaches lapped by turquoise waters.
Thatched-roof villas — both over water and on the beach — offer classic tropical elegance with creamy white interiors accented by gleaming bare wood and hints of gentle sea-foam green. Swathes of white canopies around the bed billow in the warm breeze through the windows.
The restaurants and bars offer exceptional dining — the highlight is the Lighthouse, arguably the best restaurant in the entire Indian Ocean. Perched at the end of a long wooden pier, it offers horizon-skimming views of the surrounding lagoon as well as a menu featuring the finest of fine dining. For an exceptionally special occasion, I suggest opting for one of the degustation menus — an ever-changing prix fixe meal designed by the skilled chefs.
You can also opt for dinner onboard the Nooma, or surrounded by waves on a sandbar, or in glorious isolation on the Piano Deck, a platform in the ocean from which you can watch the sun rise over a Champagne breakfast.
Velassaru: best for beaches
Also great for: night snorkelling
Don't miss: diving, cruises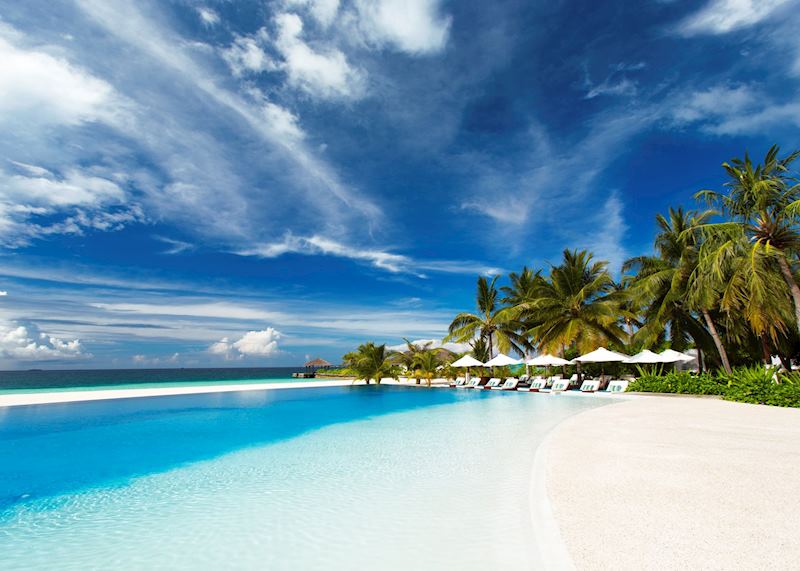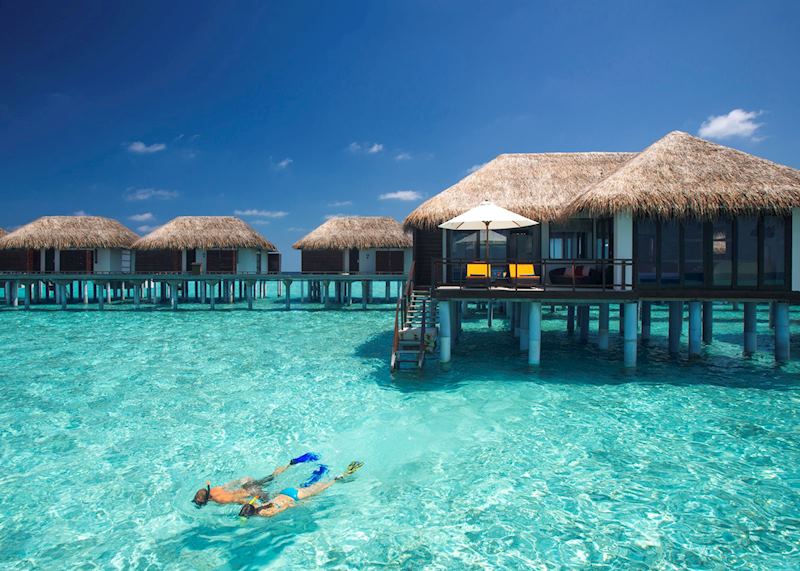 Ringed entirely by a ribbon of white sand, Velassaru is an excellent choice if you want to spend your time in the water or on the beaches.
For those who want to indulge in some resinous rest and relaxation, you can lounge under palms trees, float in a private pool, stroll from your bungalow to the water and back, or simply nap under an umbrella, lulled to sleep by the nearby waves.
If you're more interested in active pursuits, you can choose from a long menu of water-based fun. The most popular are diving and snorkelling in the archipelago's many healthy reefs, but you can also opt for wakeboarding, wind surfing, or just paddling around in a glass-bottomed kayak.
The villas here — both on the beach and over the water — have a more contemporary feel, giving the island a laid-back and modern feel. Evenings are lively with film screenings and music, though it's easy enough to find a quiet corner if that's what you're in the mood for.
Kurumba: best for families
Also great for: big-game fishing
Don't miss: the tour of Malé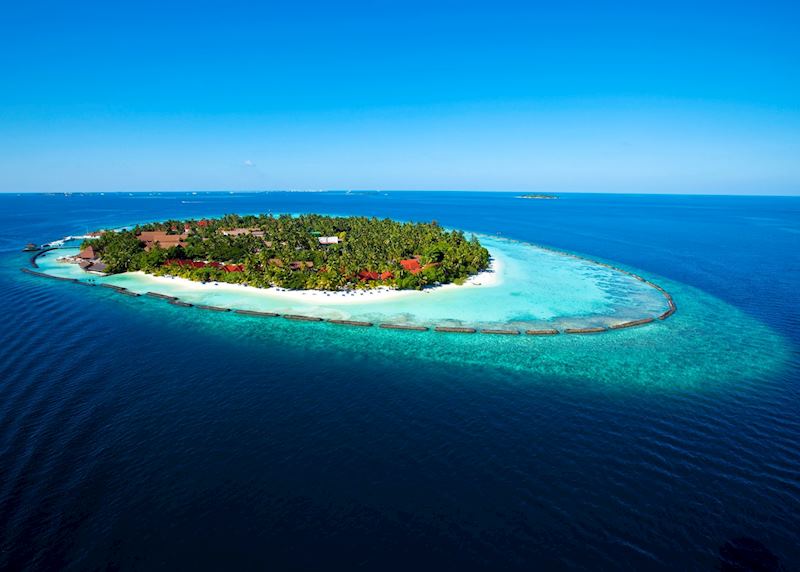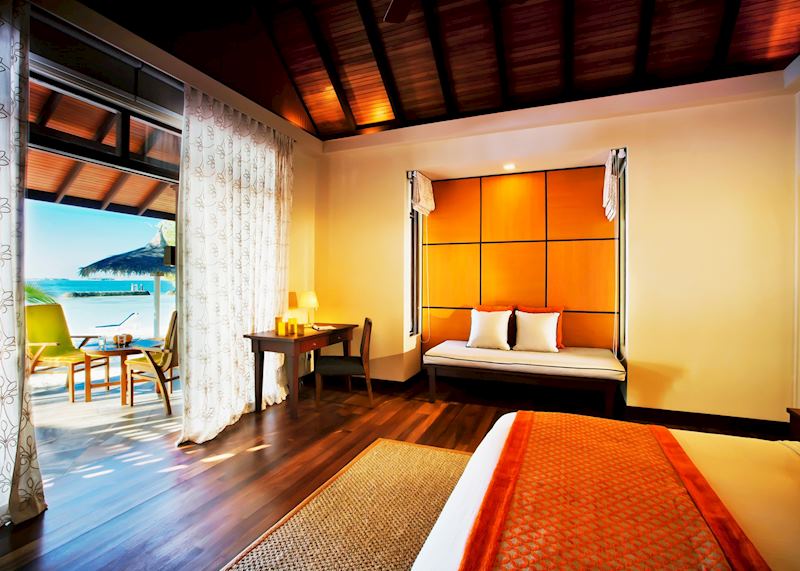 If you prefer your tropical trip to have more energy and less isolation, I suggest Kurumba. This stay offers a lively atmosphere that hums with visitors of all ages. The rooms are also easy to join up for a larger group, making it ideal for intergenerational trips. What's more, it's close to the airport, making it easy to reach even if you have small children (or grandparents) in tow.
The Majaa Kids' Club will keep those little ones occupied with sandcastle building, games, and even a trip to find Nemo and Dory. You can use that time to enjoy the extensive menu of activities, from fishing trips to sandbank picnics to glass-bottom boat tours. You can also delve into local culture — I suggest a tour of the nearby Malé, the Maldives' capital.
The Veli Spa combines clean, crisp contemporary styling with traditional Maldivian herbal medicine (called Dhivehi beys), providing a relaxing retreat. You might also opt for a treatment outdoors — there's little better, in my opinion, than a massage on the beach.
Seven eateries provide a huge range of dining options, from a casual barefoot beach bar to elegant Middle Eastern cuisine served under glimmering faceted lamps. You can also choose private dining in your villa or on the beach with just a thakuru to serve the food.
Dhigali: best for inclusive ease
Also great for: families
Don't miss: the food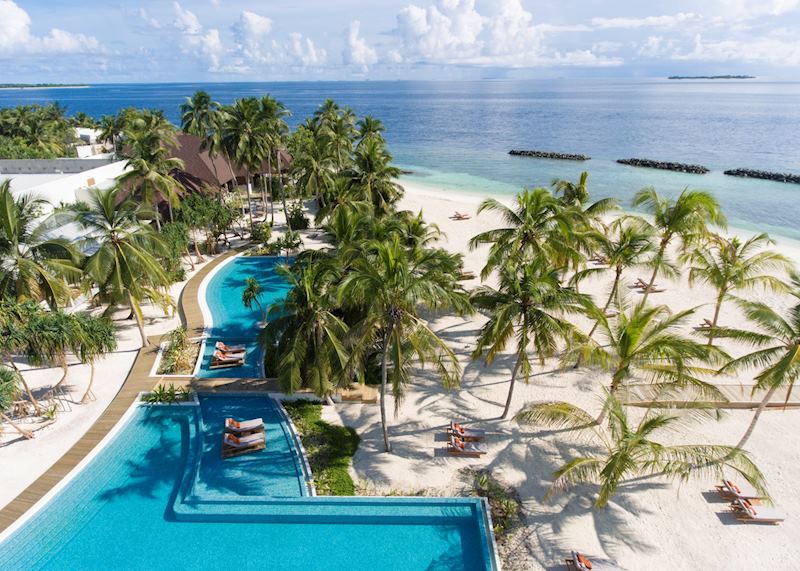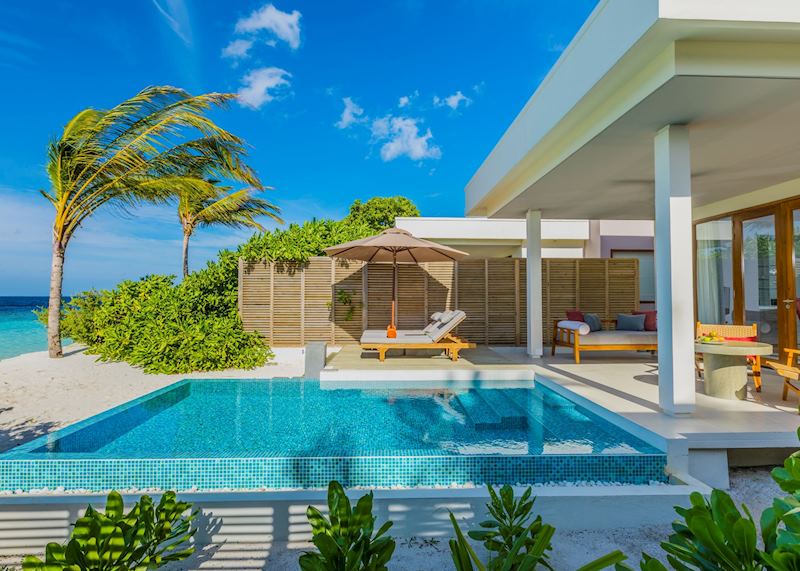 As much as I love the Maldives' classic thatched-roof rooms, I understand it's not for everyone. If your family prefers a sleeker, more contemporary design — which has the added benefit of being more sustainable — then I suggest a stay at Dhigali. Whether your villa is over the waters or nestled in a garden by the beach, it's been thoughtfully designed to reduce the footprint of your say and preserve the local ecosystem and community.
The environment isn't the only thing you can stop worrying about — this is an all-inclusive island and so every aspect of your stay is taken care of, meaning you can relax without a second thought.
This is also where I had the single best meal I've ever had in the Indian Ocean — a noodle stir fry cooked right in front of me by a chef at Capers, just one of the eight bars and restaurant on the island. All of them were excellent, from the sophisticated Middle Eastern and Asian cuisine at Battuta to the cocktails served at Haali Bar, where you can enjoy a drink as the sun sinks into the distant ocean horizon.
There's plenty to do here besides eat, of course. There's a Kid's Club, making it a great option for families with young children (4-11 years old). Adults and teens can take advantage of the daily roster of events, which might include a dolphin-watching trip, a glass-bottom boat tour of the house reef, or a sunset cruise.
And, of course, there's excellent swimming, snorkelling, and water sports. Experienced divers can take advantage of the PADI-certified facilities and aspiring divers can opt for classes.
Milaidhoo: sublime exclusivity
Also great for: nature lovers
Don't miss: the view from the seaplane as you come in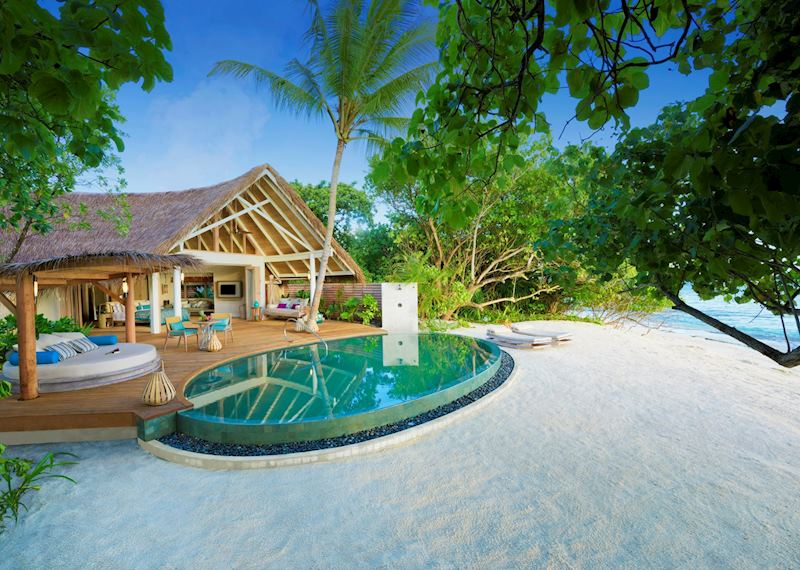 As you fly into Milaidhoo, be sure to look out the windows of the seaplane to admire the shifting shades of blue waters that surround the Baa Atoll's far-flung islands. This is a UNESCO Biosphere Reserve that protects one of the healthiest collections of coral reefs in the world — the bird's eye view is remarkable.
This tiny green fleck of an island, so far from everything, takes just five minutes to circumnavigate on foot and each of the 50 villas and residences is carefully constructed to foster a sense of isolation. During my stay here, the sounds I heard most often were bird song, ocean waves, and the wind through the trees.
The rooms themselves are spacious and airy, each with its own private infinity pool whether you're on the talc-like sand of the beach or on stilts over the water. The classic thatched-roof style is leavened with bright pops of tropical pinks and blues, light wood accents, and generous windows that let in the ocean breeze.
While you're here, you can indulge in treatments at the Serenity Spa, breathe deeply with yoga sessions on the beach, or enjoy guided meditation sessions. You can also sip drinks on the deck of a traditional dhoni (wooden boat) as you watch the sun set or take a dolphin-spotting cruise.
If you're looking for something that's more active than serene, you might choose from the many activities on offer that take advantage of the marine reserve. Whether you're on the house reef or further afield, diving and snorkelling at Milaidhoo is world class.
For something a bit more in depth — pardon the pun — consider being a Marine Biologist for a Day. You'll shadow the island's resident marine biologist and learn about the sea creatures that live and thrive in these waters as you contribute to their conservation efforts.
---
Get me there: You can visit any of these islands on our suggested Maldives trips.