Despite already being halfway through the year, it's not too late to think about a trip for this December. Many places still have good availability, offer greater value, or see fewer visitors at this time, particularly before the festive season is in full swing.
Below, we've chosen just some of the places you can still consider for a December 2019 break. You might want to safari in Tanzania, when the animals and landscape are at their healthiest, see Russia under a blanket of snow, or enjoy the warm sunshine that still glows over Oman's golden sands.
Serengeti and Ruaha national parks, Tanzania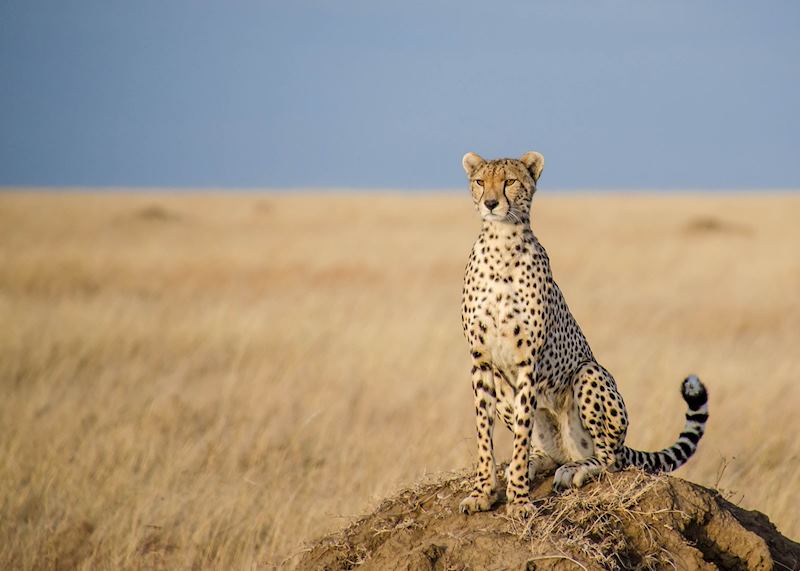 The green landscape teems with birdlife as migratory species flock to Tanzania's Ruaha National Park in December. Heading out on game drives, you'll see wading birds lining the riverbanks in large numbers, while eagles and falcons soar overhead or perch on wizened branches, their beady eyes constantly searching for prey.
Your safari doesn't end there. This is still a good time to see big cats, elephant, giraffe, hyena and a wide range of plains game both in Ruaha and the Serengeti. It's the start of the short rainy season, and with grass growing in abundance, you'll see animals in peak health. Grazing herds of impala, wildebeest and zebra have their young, which make easy meals for predators and their newborns.
The thicker bush means you sometimes have to work harder to spot wildlife, but your guides will be well trained in picking them out and will know the best places to look. You might also experience brief downpours, but they shouldn't disrupt your wildlife viewing.
Between game drives, you can spend time watching for passing wildlife from your private deck or around the pool of your camp. Then, in the evening, sit down to a festive dinner under the stars.
We suggest combining the north and south of the country for a more varied safari experience. You'll still find good value and availability for this December at Dunia Camp and Namiri Plains in the central Serengeti, where you're in prime position for seeing wildebeest as they migrate southwards. Then, stay at Kwihala, a secluded, intimate camp in the heart of Ruaha.
Russia's cities and Lake Baikal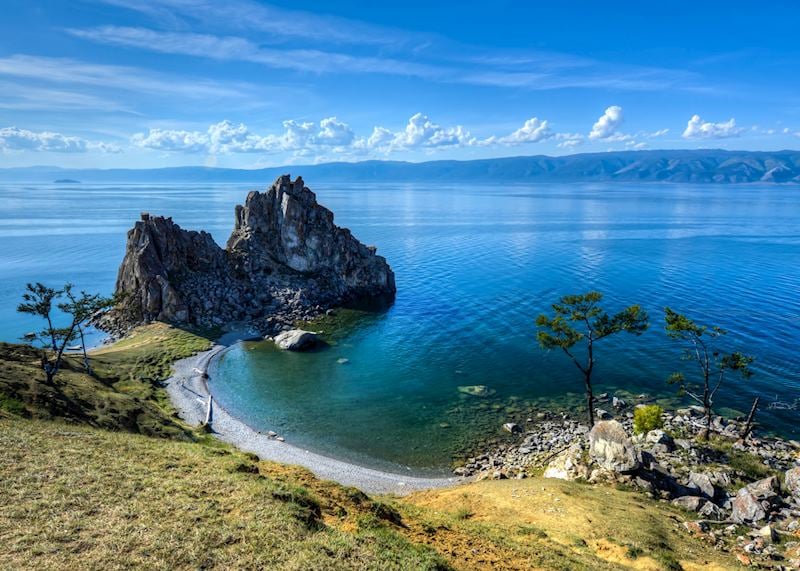 If winter sun isn't high on your agenda, perhaps a snowy Russia trip appeals? There's a strong argument to be had for visiting Russia in the winter. Your money goes further at this time of year, there are far fewer visitors to contend with when visiting sights of interest, and the snow-covered, festively lit palaces, churches and department stores get you in the mood for Christmas.
Join the throng of Cossack-hatted locals milling around the Christmas markets of Moscow and St. Petersburg, the smell of roasted chestnuts, mulled wine and cinnamon filling the air. Or, glide across the ice rink in the capital's Gorky Park, which is illuminated pink, green and blue after dark.
After taking in the snowy streets, you could warm up in a banya — a public bathhouse and sauna where attendants can exfoliate your skin with birch leaves.
Your trip could just focus on visiting Russia's classic sites in Moscow and St. Petersburg. But, if you have time, we also recommend visiting Lake Baikal in Siberia. You can take a five-and-a-half-hour flight (or a leisurely three-day train journey as part of the Trans-Siberian Railway) from Moscow to the world's deepest freshwater lake to see its sky-blue waters frozen solid, yet still perfectly clear in parts, framed by snow-coated mountains.
Myanmar and Vietnam, Southeast Asia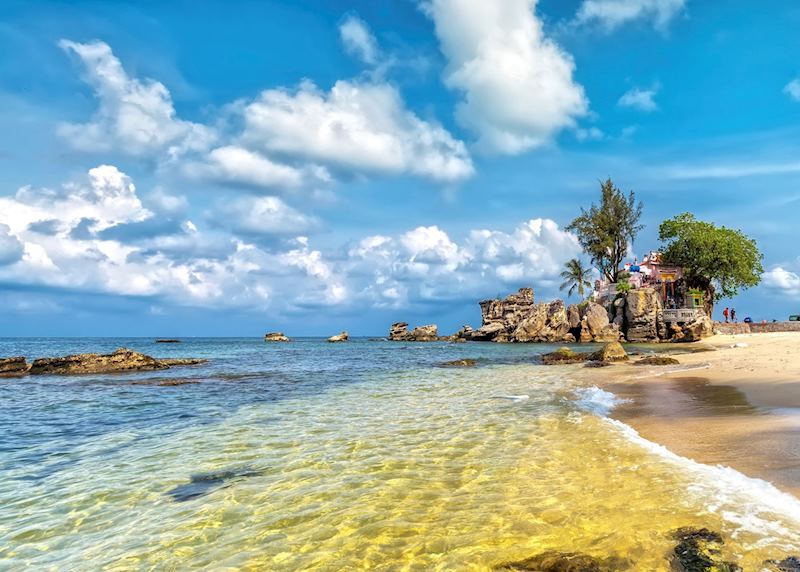 Across large parts of Southeast Asia, the weather is optimum in December, with little rain and temperate, sunny days. Unsurprisingly, it's a popular time to visit. However, there are still quieter patches to explore and good availability in some of the region's frenetic cities, riverside towns and beachside resorts.
If you're after a classic Southeast Asia experience, we suggest Vietnam. Most of the country is warm and dry, with cooling respite up in the north. Water lilies and flower fields begin to bloom across the country and are often picked to decorate temples and shrines.
It's a good time to stay in some of the country's best beach resorts. This includes Phu Quoc, which sits in the azure waters of the Gulf of Thailand, closer to Cambodia's shoreline than Vietnam's. The island's beaches surround tropical rainforest, interrupted by clusters of brightly painted fishing boats and peppercorn plantations.
If you're after an adventure, look to Myanmar. While December's one of the cooler months, temperatures still average highs of 30 C (86 F) across much of the country. This makes active experiences more appealing, including cycling around the temples of Bagan, kayaking across Inle Lake or trekking through remote villages in Loikaw.
There are around 135 distinct ethnic groups across Myanmar, each with their own complex calendar of festivals. Although it's tricky to pin down an exact date until close to the time of your visit, many fall in December so there's a good chance you'll happen across a celebration of dancing, music and ceremony.
And, if you're hankering after a beach stay, Myanmar has those too. Ngapali Beach, a short flight from Yangon, is an unspoiled stretch of coast in the Bay of Bengal. It has a selection of swish beachside hotels while retaining a relaxed, fishing-village atmosphere.
Muscat, Oman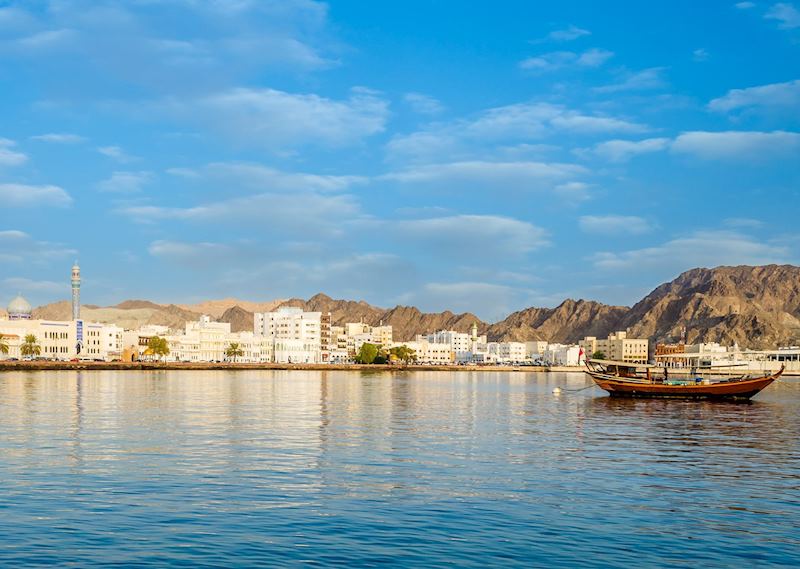 The ninth floor of Al Bustan Palace is not actually part of the hotel. Instead, it's owned by the Sultan and used to host his most prestigious guests, movers and sheik-ers from around the region and across the globe. There's a separate staff and entrance, as well as a private helipad.
However, the rest of the hotel is open to the public and is one of the premier hotels in Muscat, Oman's coastal capital. Run by the Ritz-Carlton and boasting a Six Senses Spa, it makes a luxe retreat for those who want some sun, sand and a chance to explore Arabian culture.
With almost endless sunshine and steady temperatures, December is a good time to visit Oman for a beach break. Located right on the Arabian Sea, the Al Bustan Palace boasts a long, private beach boasting soft golden sands and shaded by palm trees. If you prefer swimming in a pool, there are four for you to choose from.
While you relax by the water, children are likely to appreciate the Ritz Kids club, which includes a traditional Arabian storyteller, a henna-tattoo tutorial, and workshops on Omani culture. You can also take advantage of the hotel's five different eateries, yoga classes, tennis courts and water sports, among other amenities.
If you need a break from pampered indulgence and lazing in the sun, consider exploring the city on a guided tour or browsing through the bright and busy Muttrah souq. Alternatively, embrace a bit of adventure and spend the night in the Wahiba Sands, a vast dune desert that's just a three-hour drive from the capital.
The Douro Valley, Portugal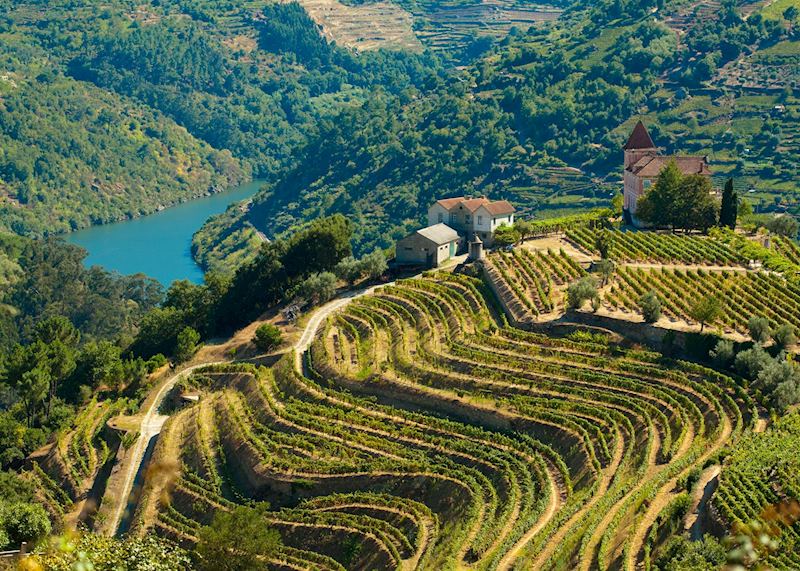 In the 1980s, the tiny village of Belmonte, in Portugal's Upper Douro Valley, shocked the world with a revelation. Though they had hidden their faith since the brutal Inquisition, there was a collection of families who had lived in Belmonte for centuries who were devoutly — if covertly — Jewish.
Today, the small town's Museu Judaico de Belmonte examines how the community strived to preserve its religion and culture in a country that was actively hostile to Jews. A visit here, to a town that improbably kept its light burning through long and dark times, might seem particularly appropriate during Hanukkah.
Weather in the Douro is, admittedly, sometimes cool and rainy at this time of year, but that means you're likely to have your hotel, spa and vineyard to yourself. Consider a stay at Casas Do Côro, an unusual retreat perched on a hill just an hour from Belmonte — a clutch of private houses has been converted into a hotel with a decadent spa.
Nearby, you can enjoy a wine-tasting lunch featuring paired courses of local treats at Ramos Pinto's tiny, organic Quinta da Ervamoira. You can also visit the prehistoric rock art at the Côa Valley, where paintings even predate the works at Lascaux, in Dordogne, France.
If you're spending a few days in Lisbon, we can also arrange a Jewish-themed walking tour there. Your local guide takes you through sights pertaining to the country's long Jewish history, which began during Roman rule and persisted through the Middle Ages and the Moorish period.
Costa Rica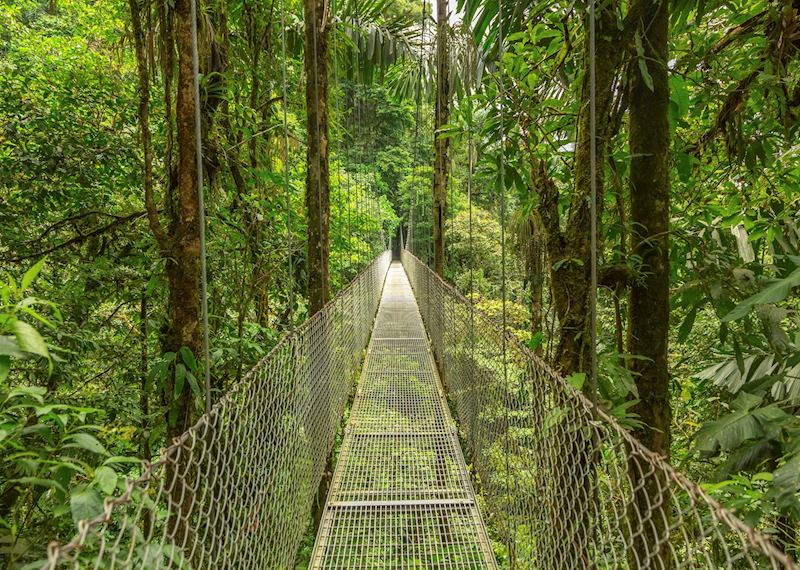 A winter break in the cloudforest? It's possible: Costa Rica has good availability for this December. Swap the cold for the balmy canopy walkways of the Monteverde Reserve, one of Central America's largest patches of primary cloudforest, and you can immerse yourself in an evergreen world of epiphytes, bellbirds and butterflies. There's zip-lining, too (should you require the occasional adrenaline rush).
One thing that never ceases to astonish us about this country is the sheer wealth of things to do in a relatively small surface area. Plus, you can get a feel for it all in only an 11-day Costa Rica stay.
There's a welter of activities in the area around Arenal Volcano alone, from hiking lava fields and frog-spotting to bathing in hot springs — good material, perhaps, for a family trip to Costa Rica. You just need to be prepared for larger group sizes in some places in December.
And, with astute planning, you can still seek out slightly quieter pockets. Puerto Viejo de Sarapiquí is an out-of-the-way birdwatching spot where you can often see showy species (we're looking at you, bare-necked umbrellabird). You could also forgo Manuel Antonio National Park and its ever-popular bronzed sands for the more low-key surf beach of Tamarindo.
Then, there's Pacuare, a secluded ecolodge with luxe touches that can only be accessed by white-water raft. We've waxed lyrical about it in our guide to honeymoons in Costa Rica, but it's a real treat for any time of year — and it has space in December.