The range of beaches to explore throughout this part of the world is quite incredible. There are beaches made up of white sand, black sand, yellow sand or even silvery-gray sand with pebbles, tiny shells, rolling surf or calm turquoise waters.
The multitude of hotels that have sprung up along these beautiful stretches of coastline provide an array of choice for the traveler and there really is something for everyone — small and boutique, activity based, those suitable for diving and snorkeling, friendly eco-lodge or plush resort-style.
Best beaches in Belize: Placencia and Hopkins
Good for: snorkeling, diving and sleepy beach resorts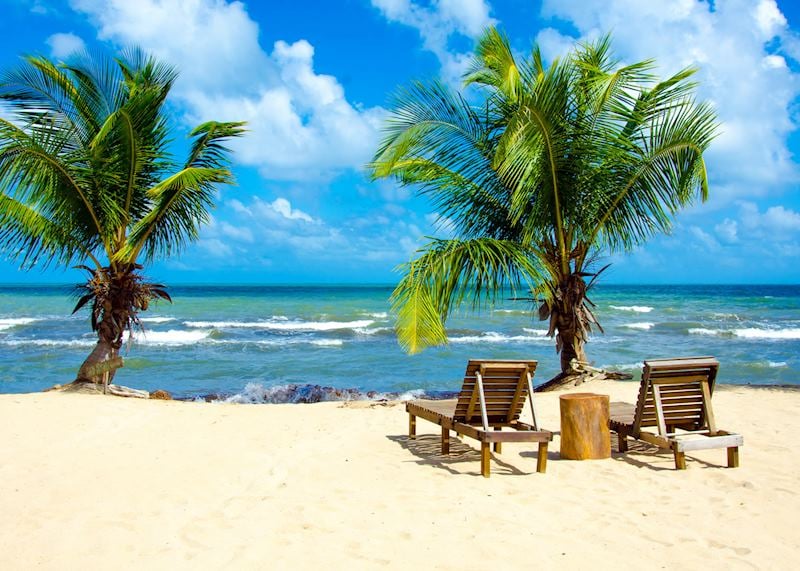 Most visitors to Belize who are intent on spending time on its beaches and observing its prolific marine life veer toward Ambergris Caye. If you're a diver eager to explore the vast sunken cave system of the Blue Hole, you'll need to spend a night or two here. But, if snorkeling is more your thing (and, take note — you can see an awful lot in Belize's waters by snorkeling alone), I'd be tempted to head south to the sleepy beach towns of Placencia and Hopkins.
Placencia has only one (extremely narrow) main street, and you'll rub alongside local fishermen busy at work. Hopkins is even less built up, more of a Garifuna village complete with simple beach-shack eateries rather than a purpose-built resort town. The beaches at both are full of soft white sand with a few slicks of seagrass, and they feel spacious. They're hit by small waves, and it's easy to walk from wherever you're staying to the shore.
Snorkeling-wise, small-group trips depart regularly from both Placencia and Hopkins to visit cayes including Bread and Butter Caye and the less whimsically named South Water Caye. Here, you could see manatees, lobsters, eels and groupers.
Best beaches in Costa Rica: the Pacific Coast and the Osa Peninsula
Good for: surfing, families, and castaway-esque beaches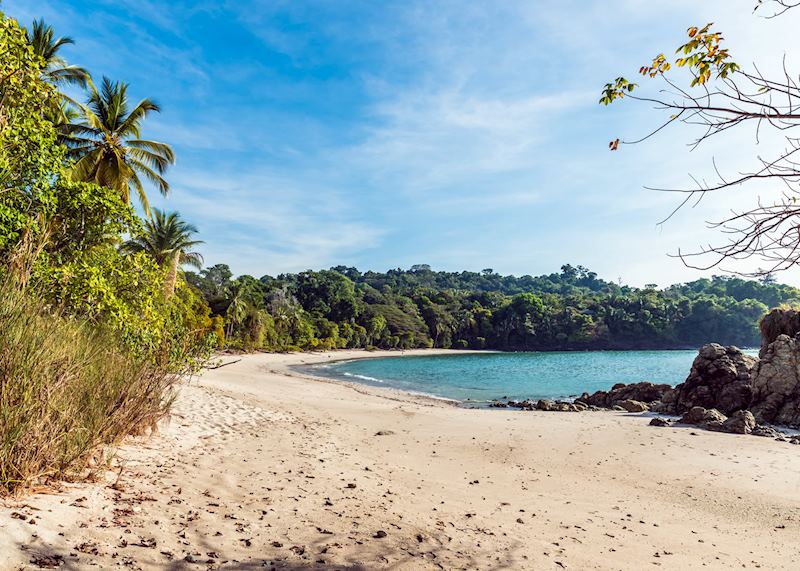 Costa Rica's beaches come in many guises. There's the Pacific Coast, which enjoys rolling, sometimes heavy surf, and the Caribbean, where the waters are more placid and a laid-back Afro-Caribbean ambience holds sway.
Many domestic and international visitors flock to Manuel Antonio National Park, a quartet of beaches of silvery-gray sand with tropical forest spilling right to the high-tide line. Two of the main beaches are connected by a tombolo — a natural sand bridge — and shallow rock pools lie just offshore. There are plenty of places to scramble and watch local wildlife (including several species of monkey).
Meanwhile, farther north lies Tamarindo, a popular surf town. The waves are smaller and the sea calmer than in the south, so it's a good spot for fledgling surfers. Our guide to family trips to Costa Rica talks in more detail about the country's child-friendly beaches.
Costa Rica also shines when it comes to really wild, empty, undeveloped stretches of sand — the kind that have never seen a lounger in their lives. In the far-flung Osa Peninsula, you can walk along beaches edged with unhampered tropical forest, ride horses in the scurf and spot whales off the coast. You can find out more about the Osa Peninsula in our guides to luxury stays in Costa Rica and Costa Rica's wildlife.
Finally, for an alternative beach break, you might like to try beachside glamping in the Nicoya Peninsula, as recommended by Michael in our guide to honeymooning in Costa Rica.
Best beaches in Mexico: the Mayan Riviera, Isla Holbox, and Zihuatanejo
Good for: both classic, white-sand beaches and calmer, off-the-beaten-track options
Mexico's most-vaunted beaches lie along the Mayan Riviera on the Yucatán Peninsula. They consist of a long wide strip of white sand, which is regularly and assiduously cleaned in places by the all-inclusive resorts fronting the sand. Lined with palms and facing a cyan sea, they're the most obviously photogenic of Mexico's beaches.
Tulum, to the far south of the strip, has succumbed to more development over the past few years, but it's still generally quieter than the beaches around brash Cancún. It has several properties that cater well to families, as we explain in our guide to family trips to Mexico.
Much farther north, just off the northernmost tip of the peninsula, there's Isla Holbox — an understated alternative to the glitz of the Mayan Riviera. A car-free island where you roam around by golf buggy (or simply barefoot), its beaches lack the polish of the Mayan Riviera.
You won't find any garish chain hotels here — just taco joints, brightly painted buildings, and lots of space. You can wade out a long way from the beach and sunsets are a main event, with locals and visitors alike gathering to watch the spectacle.
Over on the Pacific Coast, Zihuatanejo (affectionately nicknamed 'Zihua') keeps a low profile, aside from a passing appearance on the silver screen in The Shawshank Redemption. A fishing community that spreads up the surrounding hillsides, Zihua hugs a bay and its main beach, Playa La Ropa, is a curve of tawny sand that you can walk all the way along.
The waters are calm and the town feels authentically Mexican, unlike the Mayan Riviera. The national flag flies everywhere and you'll see plenty of fishermen and townspeople just going about their business. Come evening, there's a clutch of good seafood restaurants with views over the bay and the hillsides, which are lit up with a million points of light.
Best beaches in Panama: Bocas del Toro
Good for: snorkeling and experiencing laid-back islander life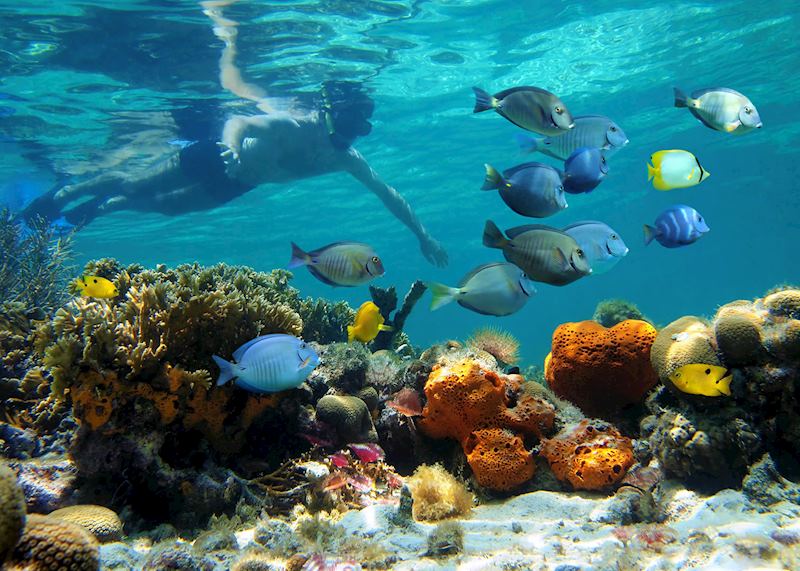 Bocas del Toro is a smattering of islands tucked in the far west of Panama, right on the border with Costa Rica. A community connected by water taxis and ferries, you can either beach-hop or stay put somewhere for a few days. Although traditionally popular with backpackers, the whole archipelago has a very mellow, Caribbean feel, and you'll find boutique-style hotels and locally owned restaurants rather than resorts and big-name chains.
The beaches are fine-grained, white-sand affairs, the sea bottle-green shading into bright turquoise. The coral reefs here are particularly healthy, and each snorkeling spot has its own star draws — literally in the case of Starfish Beach, where you're likely to see several large sea stars sprawled in the waterline.
Beach itinerary ideas in Mexico and Central America

Start thinking about your experience. These itineraries are simply suggestions for how you could enjoy some of the same experiences as our specialists. They're just for inspiration, because your trip will be created around your particular tastes.
View All Tours in Central America