Deciding on a visit to Myanmar can be an ethical conundrum, and after careful consideration, we've decided that the benefits of travel outweigh the negatives, which you can read more about in our discussion as to whether it is safe and ethical to travel to Myanmar.
Below, we've put together a more practical guide on responsible travel in Myanmar, ensuring that we provide the best possible experience for you, as well as having a positive impact on the people who live there. For more inspiration, take a look at our itinerary focusing on community and conservation experiences in Myanmar.
Where does my money go?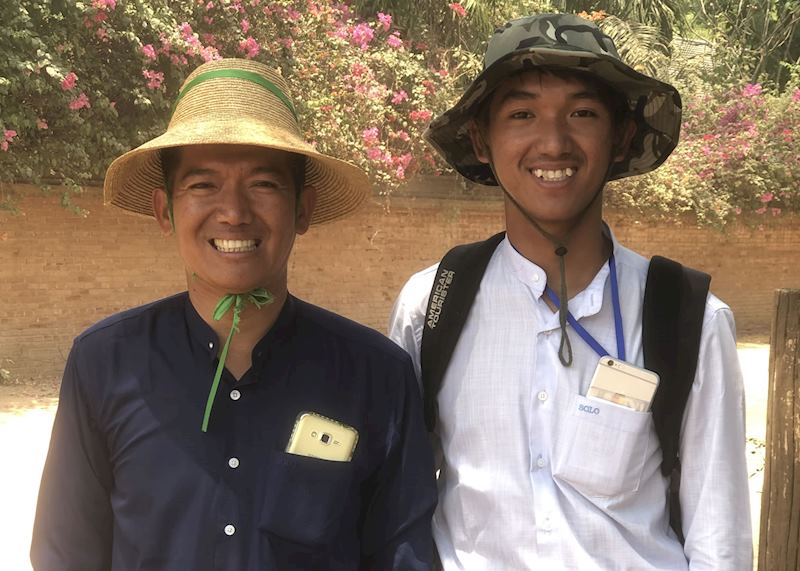 We have worked with our local partners since we began organizing trips to Myanmar. They are a family-run business, employing around 200 staff and are passionate advocates of Myanmar, leading the way on responsible travel in the country from a grassroots, community level.
An example of this is one of our guides in Bagan. Win Bo worked hard to become one of the best guides in the area (winning an award at our annual Asia Guide Awards) and, as a result, has been able to create a family business in his village and was able to send both his children to university.
His son is now following in his footsteps as a tour guide, and both are incredibly proud to hold jobs that are highly respected in their community, and meet so many different people from around the world.
Alongside this, we work hard to ensure as much money as possible goes directly to the local communities that you visit by recommending locally owned accommodation and community-led excursions.
Supporting the local community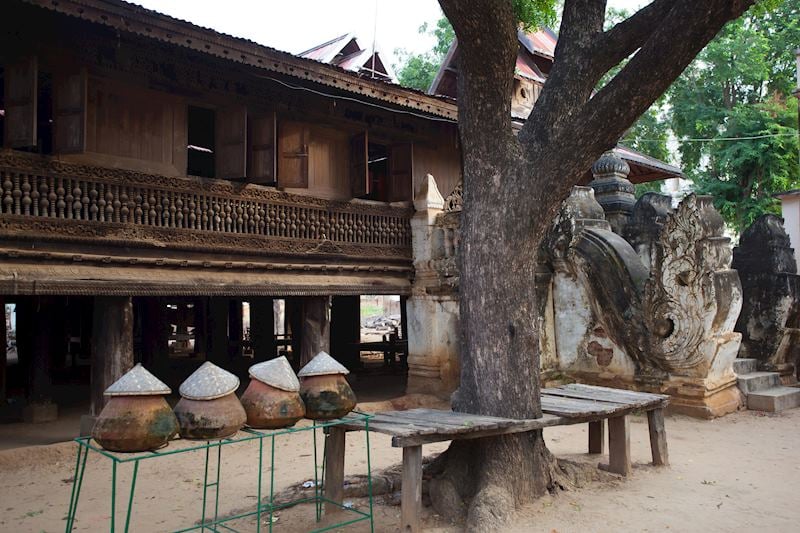 Alongside our local partners in Myanmar, we have developed and visited a selection of community-based tourism projects throughout the country, in order to develop responsible tourism further off the back of the Rohingya crisis in 2017. A country that was beginning to see a real boom in tourism saw a sudden economic decline, and this hit many communities very hard.
We are supporting a variety of UN and UK NGO-backed grassroots projects throughout the country. This provides an authentic, cultural experience for you, as well as ensuring that the generated funds go directly to the communities involved.
One example of this are the UN-backed projects in Loikaw. Kayah State has only very recently opened up to visitors and, as such, tourism is very much in its infancy. We visited these projects in April 2019 and were impressed by the work that the UN and the ITC are doing to help remote, rural communities create income through tourism in a sustainable manner that's directly managed by the villages themselves.
We work with a local Kayah operator and in each individual village you will have a separate community guide. This has a dual benefit of having a guide who speaks the local tribal language and provides employment and a stable source of income directly to those who need it most.
Community-based experiences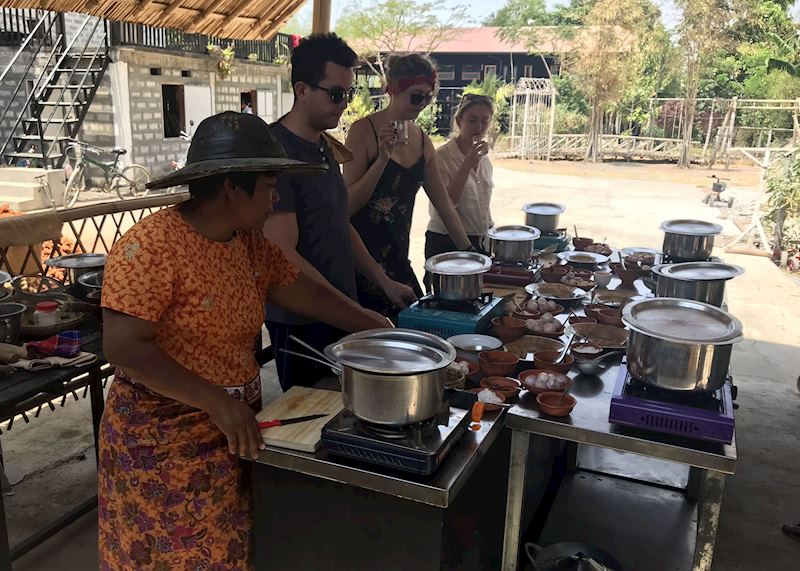 For those wanting to incorporate community experiences into a wider trip without stepping too far off the beaten path, there are many easily accessible trips which have a positive impact. One example of this is a cooking class in a small village close to Inle Lake. The 'Hide and Seek' cooking class tasks you to visit local houses around the village, armed with a sheet of Myanmar phrases, in order to ask for the ingredients you need.
This hands-on experience allows you into the homes of locals for an immersive interaction. As well as the financial benefits, the local villagers also get to interact with visitors and to learn about a world they would otherwise have no contact with.
This is beneficial directly to the local people, but also helps to prevent Myanmar from returning to an isolated state, which is when extreme political situations tend to gain popularity. It can easily be added into any Inle Lake itinerary and makes for an interesting contrast to exploring the waterside scenery by boat.
Supporting locally run, sustainable accommodations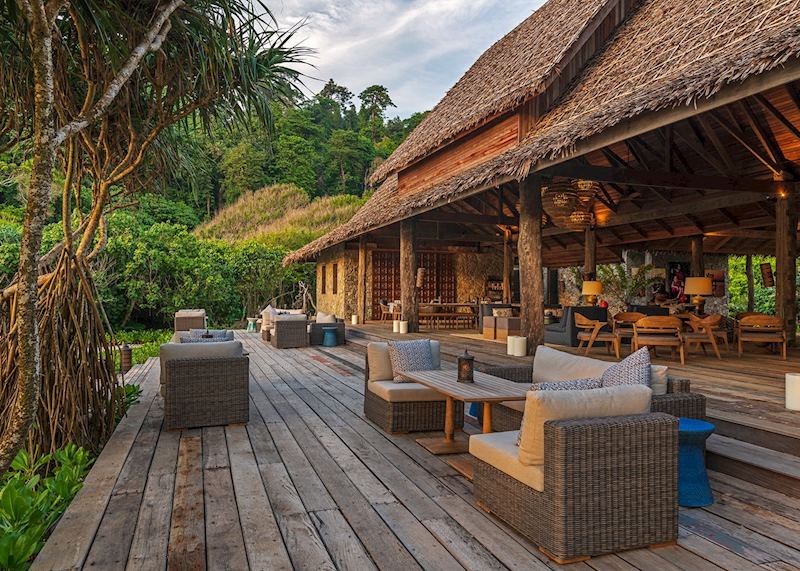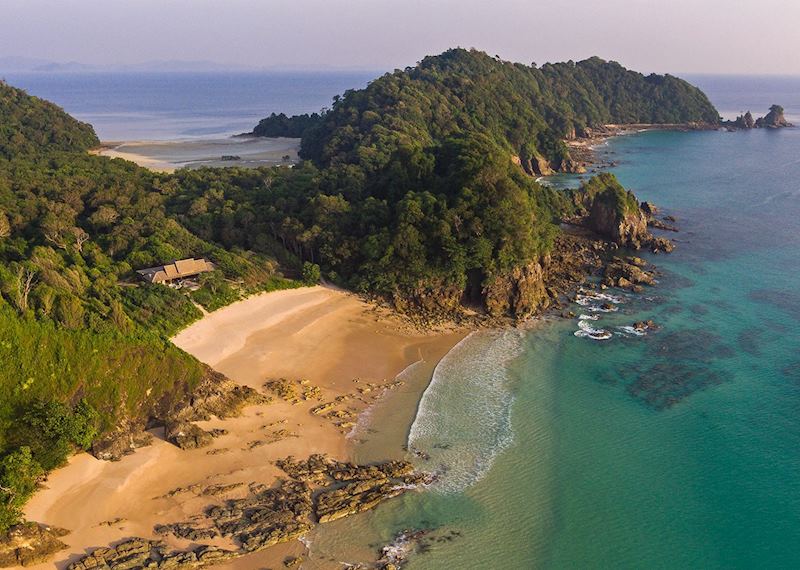 Wherever possible, we use locally run properties rather than government-run chains, to direct as much money into the communities as possible. Even better, many of these have their own green initiatives.
A notable new property with excellent sustainability and responsible travel initiatives is the luxurious Wa Ale Resort in the Myeik archipelago. Run by husband and wife team, Ray and Alyssa Wyatt, the resort offers true barefoot luxury in the middle of the Andaman Sea. Remarkably, the hotel manages to be low impact whilst still providing a top-class service — a difficult prospect on such a remote island.
Not a single tree was cut down in the building of Wa Ale's eleven tented beach villas or two treetop villas — much of the wood used for building is reclaimed and the hotel is run completely on solar power. Only refillable water bottles are provided to guests and single-use plastic is avoided throughout. All meals are provided during your stay and gourmet food is created using ingredients from the resort's organic garden.
Service here has a warm, personal touch, and all the staff at the hotel are considered part of the Wa Ale family. We recommend a stay at Wa Ale for those wanting to relax in comfort and isolation while having full confidence that the hotel is working hard to support the local community and to limit its impact on the environment.
Reducing carbon emissions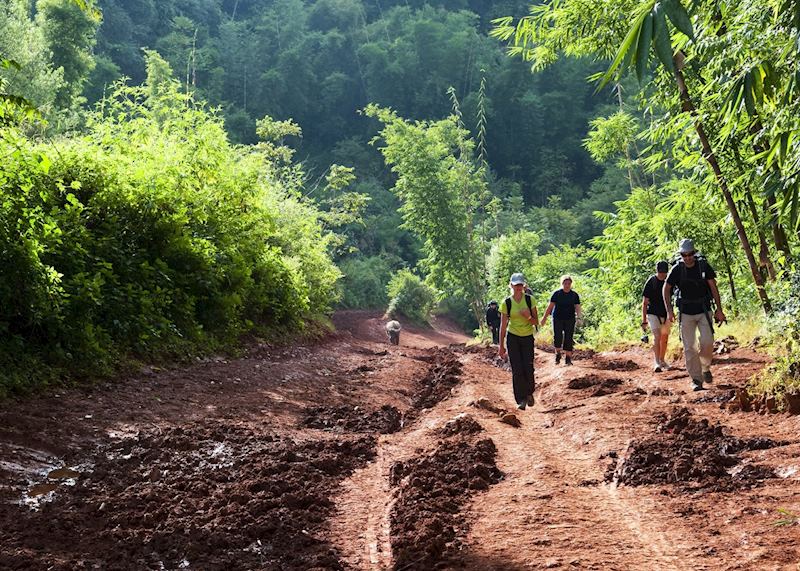 While no trip involving international air travel can be considered truly sustainable in terms of carbon emissions, we are doing our bit to reduce emissions on the ground in Myanmar where possible.
We provide a number of walking tours, particularly around Yangon where traffic is heavy and emissions are high. This has the added benefit of giving you a true sense of the city, rather than a view through the air-conditioned windows of a vehicle. In Bagan, we have a selection of guided cycling tours which explore the city's many pagodas from a different perspective.
For the more active and adventurous, there are longer treks, such as from Kalaw to Inle Lake, which has beautiful scenery and offers the opportunity to stay with a local community en route.
Supporting conservation efforts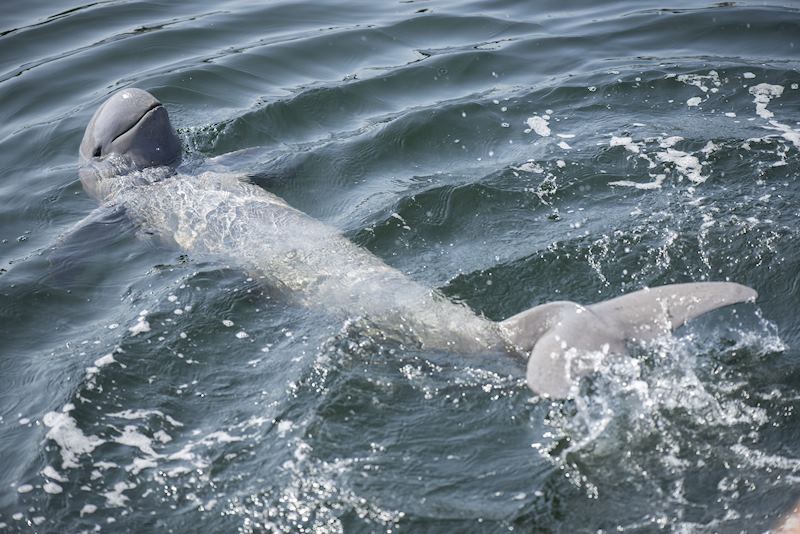 There are just 71 Irrawaddy dolphins left in the Mandalay section of the Ayeyarwady river for a variety of reasons, including electrofishing and disruption from dam building. At the same time, villages on the banks of the Ayeyarwady are suffering economically from depleted fish stocks, leading to communities needing a way to supplement their income.
As a result, the Harrison Institute — a UK based NGO — set up a joint project for the mutual benefit of the fishing communities and the dolphins. Around two and a half hours from Mandalay is the sleepy fishing village of Hsithe where the villagers have created a visitor's center and basic overnight accommodation for visitors.
The buildings are constructed out of recycled materials and fit in with the surrounding reeds and low-rise wooden homes. You'll be greeted warmly by local villagers and shown to your accommodation for the night: a simple, stilted room with excellent views out over the Ayeyarwady River.
Spend your time here learning how to cast a fishing net and exploring some of the cottage industries, including agriculture and cheroot-making. All funds generated here will be split between the village community fund, maintenance of the lodge and conservation of the Irrawaddy dolphins.
Minimizing the use of single-use plastic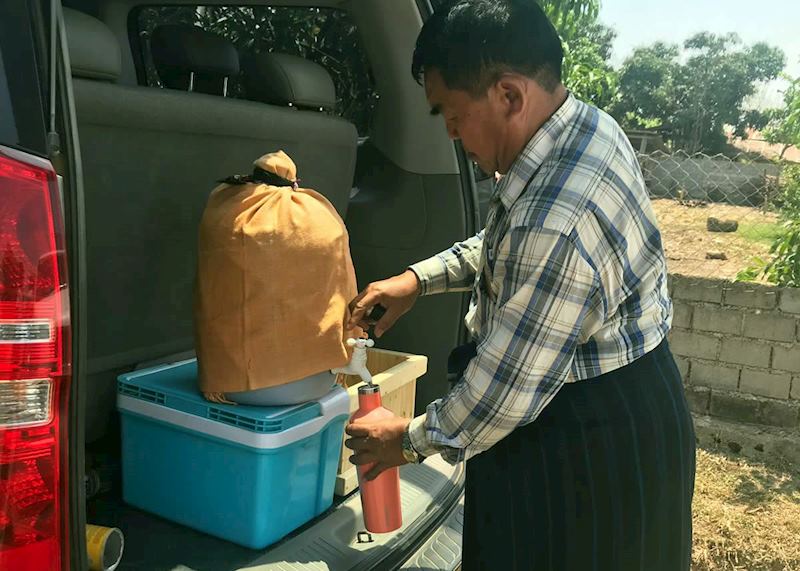 Plastics — notably single-use plastic and its disposal — are fast becoming a global crisis, and few places are as badly affected as Southeast Asia. Stand on any of the continent's iconic white-sand beaches and you'll see plastic waste in one form or another.
Keen not to further contribute to the crisis, we're doing our bit to cut down plastic use as much as possible. In the hot climes of Myanmar, plastic water bottles are one of the biggest contributors to this.
Our team recently trialed the use of refill bottles and found them to be a resounding success, and this is now something that we are able to offer to all clients. It's being supported proactively by well-established local hotels and restaurants, as well as by our drivers and guides. It's becoming a real grass-roots movement, with some guides setting-up plastic campaigns in their own villages.
Currently we are advising clients to take their own refillable bottles with them where possible. We are able to provide refill bottles but taking your own has a couple of advantages. Firstly, this means that bottles aren't made unnecessarily and thus disposed of, further contributing to the problem of waste. Secondly, bottles in the UK tend to be of better quality.
From personal experience we recommend the double-insulated bottles as these keep water colder for long periods of time, which is very welcome in the warm temperatures of Myanmar.
At this stage, it's all about reduction rather than eliminating the problem entirely, although this is an admirable goal that we are continuing to work toward. Our team saw a 97% plastic reduction rate on a two-week trip, estimating that a typical trip with two people traveling could save almost 200 bottles from landfill — an admirable goal indeed.
Responsible travel trip idea to Myanmar

Start thinking about your experience. These itineraries are simply suggestions for how you could enjoy some of the same experiences as our specialists. They're just for inspiration, because your trip will be created around your particular tastes.
View All Tours in Myanmar