By Indian Subcontinent & South Central Asia specialist Matt
What can you expect from a trip that crosses a third of the globe? After journeying along the Trans-Siberian Railway, I found that the answer is variety. You'll encounter European and Asian cultures — and the parts of the world where they collide. Landscapes that change from sea-like lakes and dense birch forests to grassy steppe strewn with unusual rock formations. And signature architecture, from the grandeur of Russian palaces to Mongolia's humble ger tents and Beijing's crumbling hutongs.
It's a journey where no two days are the same and time spent aboard your train is just as valuable as time spent off it. I've never known a route quite like it.
About the Trans-Siberian Railway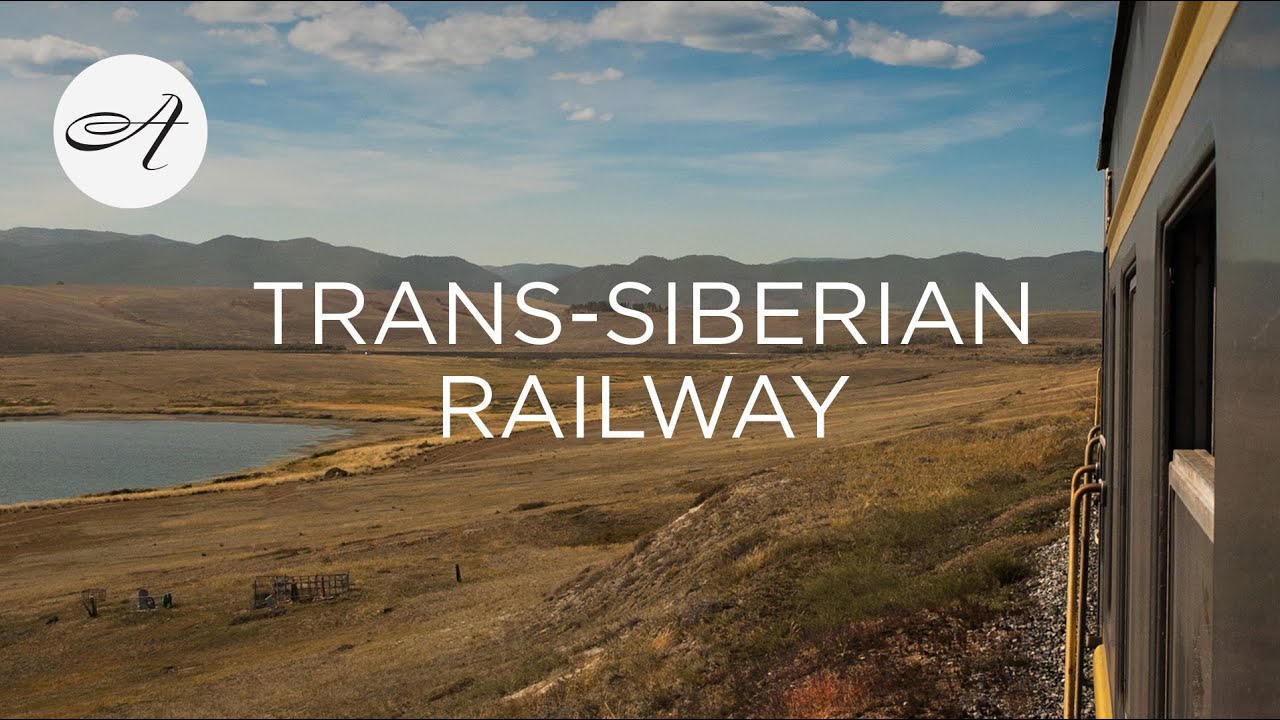 Trans-Siberian Railway
About the Trans-Siberian Railway
The main railway was constructed between the late 19th and early 20th centuries, primarily to ease access to Siberia's natural resources like coal, oil and metal ores. It could also move troops across Russia if war broke out on its eastern borders.
Other routes and branches have been added over the years, so what we know as the Trans-Siberian Railway is actually a network of lines stitching together the East and West.
The original Trans-Siberian route is the longest railway line in the world, running across Russia between Moscow and Vladivostok. An alternative route to follow (and the one I took) is the Trans-Mongolian, which travels from Moscow to Beijing or vice-versa, crossing Mongolia en route.
How long should I allow for the journey?
To do the route justice, I'd say you need at least two-and-a-half weeks. Some of the stops are days apart, so you need to factor in both your time on the train and how long you want to stay in each place. If you're short on time, you can fly between some sections or just travel part of the route.
Life aboard the Trans-Siberian Railway trains
A Trans-Siberian Railway journey is as much about life aboard the train as off it. You can opt to travel on public trains for a chance to mingle with everyday people or have a more exclusive experience aboard a private train.
Public trains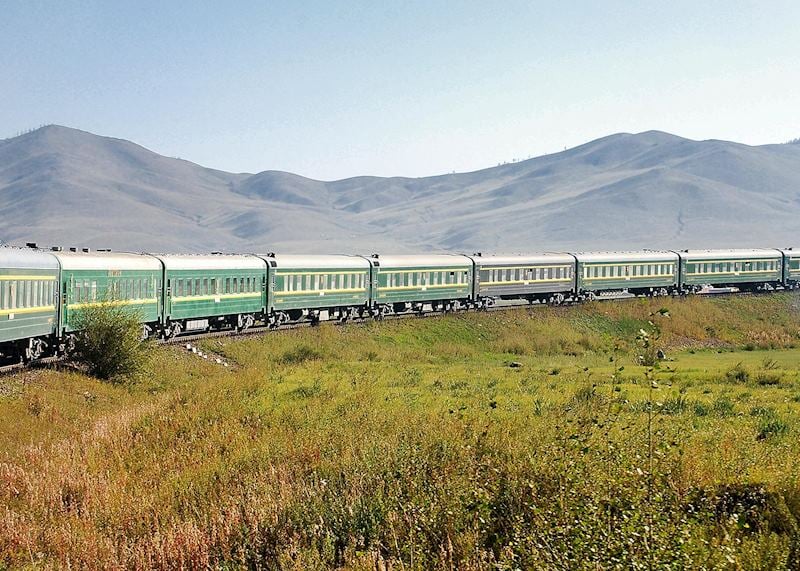 Most of the people who travel along the Trans-Siberian Railway are domestic passengers who flit on and off the public trains as a way of getting from A to B. Experiencing at least some of your journey on these trains means you get to rub shoulders with Russian, Mongolian and Chinese passengers who, in some cases, travel part of the route every day.
There's no question that the comfort levels on these trains are much lower than on the Golden Eagle, but nevertheless they were higher than I'd anticipated. You're greeted by your carriage's provodnitsa (train attendant), who checks your ticket before boarding and bring menus round once you're settled in.
Depending on which class you're in, you might have a cabin with one set of bunk beds or two, perhaps sharing with strangers. On one leg of my last journey, I shared a cabin with a Russian ice-hockey commentator and his cameraman, who were keen to practice their English with me.
The restaurant carriage serves hearty dishes such as stroganoff, Russian salads, solyanka (spicy meat soup) and pelmeni (stuffed dumplings). The service can be sporadic, but it's your best opportunity to mingle with fellow passengers. The hum of chat gets louder toward the evening as vodka is consumed — you might even witness a Russian singalong.
You're left to conjure up your own entertainment on these trains. I passed the time reading, playing cards, writing a diary and simply watching the passing scenery, which varied from miles of birch forest to rural farms and open steppe.
Every few hours the train halts to let passengers on and off, which can sometimes take 40 minutes or so. During these pauses, you can get off and stretch your legs, take photographs, or buy souvenirs from the hawkers who pace the platforms.
Golden Eagle private train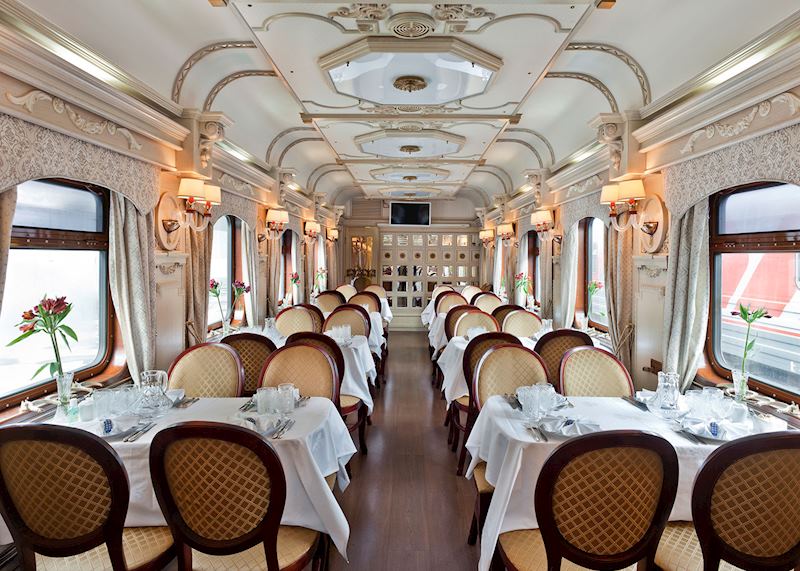 Even during the early years, wealthy passengers would use the Trans-Siberian to travel across the country in luxury. While this standard diminished during the Soviet years, you can get a taste of what it was like aboard the Golden Eagle, a private train that offers by far the most comfortable Trans-Siberian experience.
Scheduled stops allow you to explore each place with a guide. There are also various activities that take place on board, such as cultural talks and Russian language lessons. You're with the same passengers for the whole journey; evenings can be spent in the Bar Lounge Car, where a resident pianist plays jazz.
There are three categories of en suite sleeping cabins. Silver class cabins have a bunk bed with a double bed on top and a single underneath, whereas Gold and Imperial class cabins have a double bed of varying proportions (Imperial Suites also have a lounge area). Upgrading to Imperial will earn you additional perks such as a wider choice of complimentary drinks at the bar, a bottle of champagne and a private guide.
Meals are served in the Restaurant Car, where individual white-clothed tables are set out next to large windows. Many of the dishes reflect the countries you travel through and, where possible, ingredients are locally sourced. Some meals are also enjoyed in restaurants off the train — one that I particularly liked was at a dacha (Russian summer house) just outside Irkutsk, where I was served a traditional Russian salad with dumplings.
Highlights along the Trans-Siberian Railway
Russia: exploring the cities' history and architecture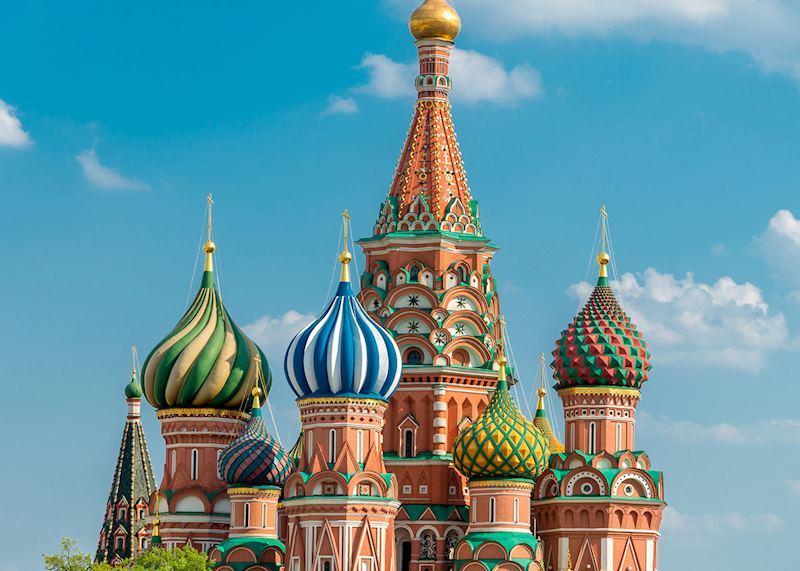 St. Petersburg
I was expecting to encounter fine architecture in St. Petersburg, but almost every building seemed to vie for my attention. Its grand imperial buildings, often painted in shades of pink, yellow and blue, cast vivid reflections in the canals that run alongside paved streets.
While St. Petersburg isn't part of the Trans-Siberian route, I recommend adding a couple of days here at the beginning or end of your train journey.
Read more about visiting St. Petersburg
Moscow
Before catching your train, it's worth spending two or three days in Russia's capital. To me, Moscow felt a lot more intense and frenetic than St. Petersburg. There are certain sights that instantly jump out at you, such as the Kremlin with its collection of palaces, churches and museums, and St Basil's Cathedral, whose distinctive domes resemble hard-boiled candy.
Good places to experience everyday life are Gorky Park, where you'll see locals at leisure, and Izmailovsky Market, where you can rummage through stalls selling Matryoshka dolls, winter shawls and hats, Soviet badges, religious artwork and a cornucopia of antiques.
Read more about visiting Moscow
Kazan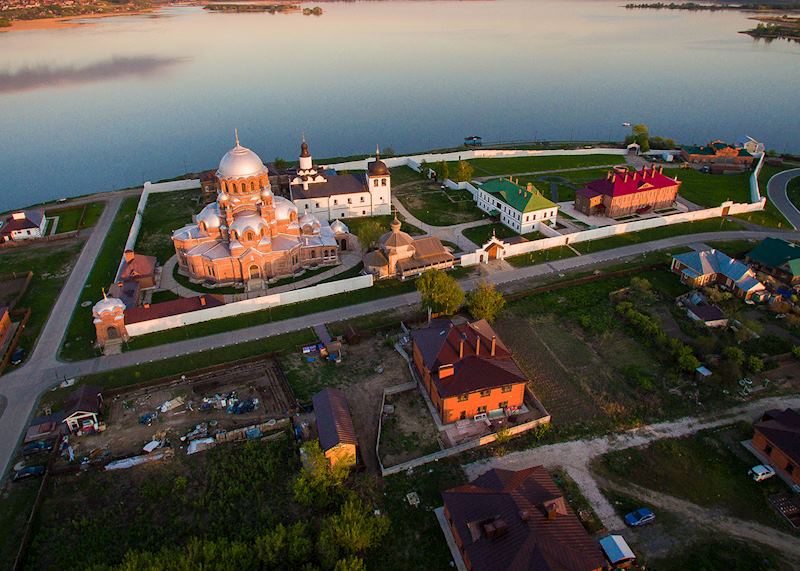 My Trans-Siberian train departed from Moscow's station right on time: something that was echoed throughout my trip. Around 13 hours later, I arrived into Kazan as the sun rose.
Known as Russia's third city, Kazan is where the West merges with the East. It was here I began to feel that I'd left Europe and arrived in Central Asia.
You typically spend a night or two here. I toured the city's kremlin, where the turquoise-domed Qolşärif Mosque rises alongside the blue and gold domes of the Annunciation Cathedral: evidence of how Russian Orthodox and Muslim Tatars have been living in harmony for centuries.
I also recommend taking a full day out to the 17th-century Raifa Monastery. During the Soviet years it became part of the Gulag, before being used to house juvenile delinquents, a technical school and dining facilities. It was restored and returned to the Russian Orthodox Church in 1991. Set beside a small lake, its white façade with green and gold domes is reflected peacefully in the blue water.
You can also spend a day at Sviyazhsk, an island in the Volga River connected by road to the mainland. Around an hour outside Kazan, it was constructed as a fortress in 1551. Today its Assumption Cathedral and Monastery is a UNESCO World Heritage Site.
An alternative — or additional — stop to Kazan is the city of Ekaterinburg. Steeped in history, it's from here that you can visit the site where Tsar Nicholas II and his family were murdered by Bolsheviks on 16th July 1918. Close by is the gleaming white-and-gold Cathedral on Spilled Blood, which was built out of respect to the family.
Read about Romanov Russia
Siberia: Irkutsk and Lake Baikal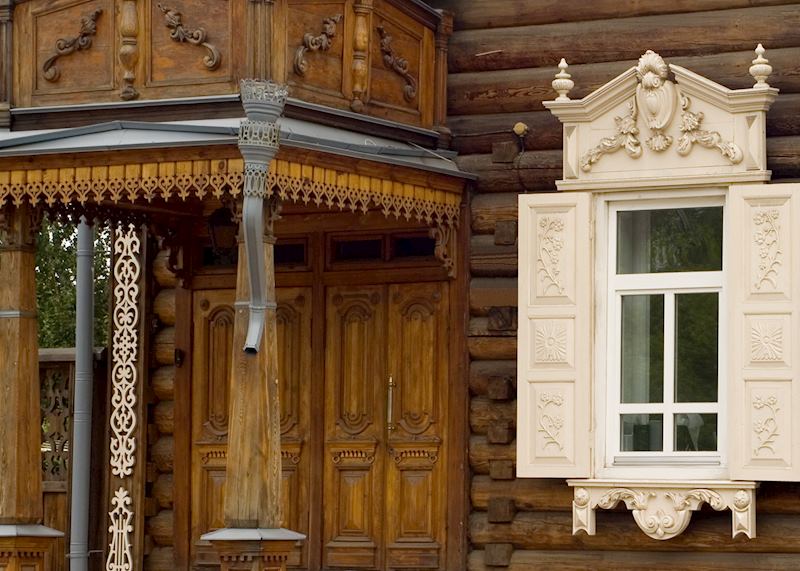 It takes three days to travel from Kazan to Irkutsk by train, so if you're short on time flying might be a good option here.
As you travel eastward across rural Russia and into Siberia, the landscape remains flat and little-changing, with birch forest seemingly on a loop, occasionally interrupted by clusters of brightly painted shacks that form remote villages.
Irkutsk
Irkutsk is the administrative and cultural hub of Siberia. Dating from the 17th century, the city straddles the Angara River and is surrounded by hills and dense taiga (boreal forest). Architecture here is completely different to western Russia — traditional wooden buildings have stood since the late 19th-century gold-mining boom, with little intrusion from the Soviet era.
Many of the one- or two-story houses are decorated with 'wooden laces' (handmade carvings), and the steeples and domes of Russian Orthodox churches poke up around the city like fairy-tale castles.
There are a few museums to explore, including the Decembrist Museum. Here, you can tour two preserved manors where members of the St. Petersburg aristocracy who attempted to revolt against the Tsar were exiled in the mid-19th century. They continued their European way of life, gradually earning the city its reputation as the 'Paris of Siberia'. You can still see some of their personal belongings and original furnishings.
I also experienced a local banya — Russian saunas comprising a hot room, cold room and resting area. You rotate between these rooms a few times, which purport to have a rejuvenating effect. This is followed by the traditional ritual of being lightly slapped with a cluster of small birch branches (more relaxing than it sounds).
Lake Baikal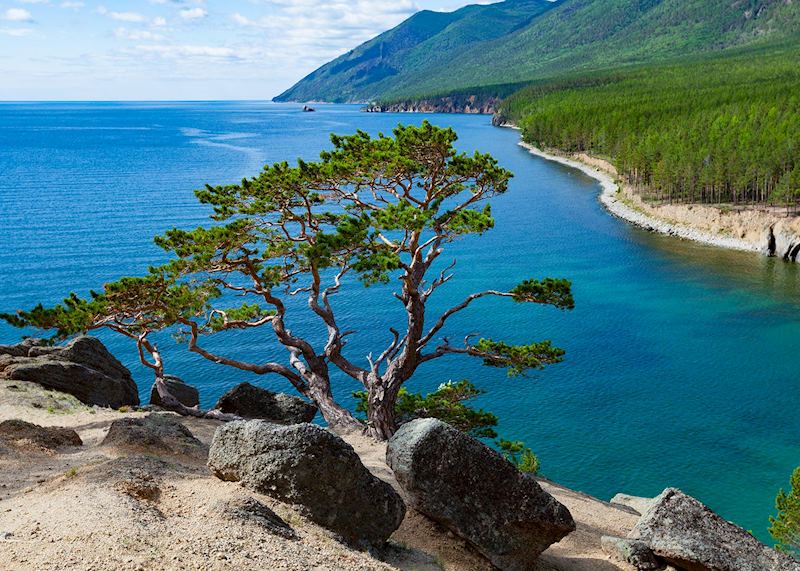 Known as the 'Pearl of Siberia', this vast expanse of water is the area's main draw. At 1,637 m (5,371 ft), it's the deepest lake in the world, containing more than a fifth of the planet's surface freshwater.
The lake's natural beauty makes it a popular place for hiking, horse riding, cycling and boat trips. You can also take a ride on the Circum-Baikal Railway, which stretches for 89 km (55 miles) along part of the lake's shoreline, giving you changing views over the water and the forested hills that slope into it.
I was told numerous mind-boggling statistics about Lake Baikal by my guide, such as if it flooded the Earth, every piece of land would be covered in 5 cm (2 inches) of water. Or if all other water sources on the planet disappeared, it would sustain the world's population for 40 years. Whether these statistics are true or not, they certainly get your imagination running.
Within the lake's waters are several endemic wildlife species, including the Baikal seal and more than 30 kinds of fish. I was amazed at the water's clarity — as if peering through a window into the underwater world, you can see to a depth of around 40 m (131 ft).
I stayed on Olkhon, the largest island in Lake Baikal. Here, you can visit small villages, meeting the aboriginal Buryat people, who have Mongolian ancestry and beliefs rooted in Shamanism.
Mongolia: Ulaanbaatar and the Mongolian steppe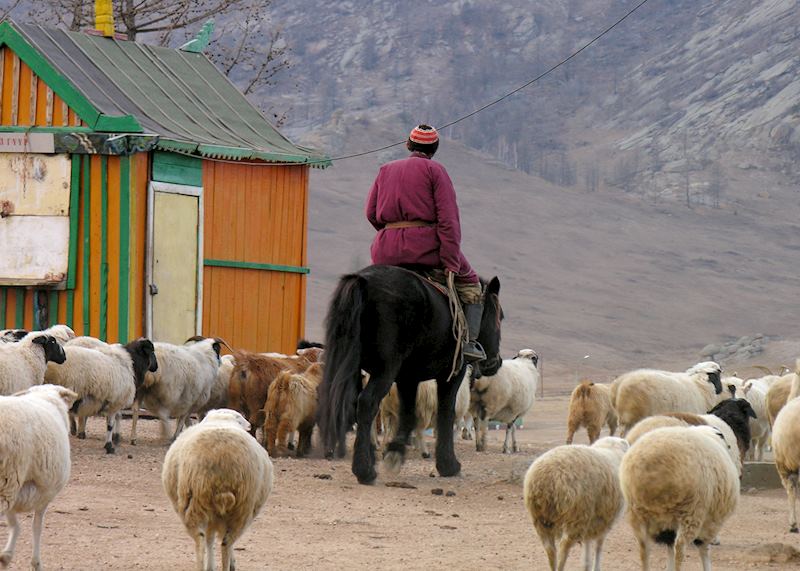 The Trans-Mongolian splits off from the Trans-Siberian route at Ulan-Ude, a couple of hours east of Lake Baikal. It heads south through Mongolia to the country's capital, Ulaanbaatar passing grassy steppe, glistening lakes and distant mountains. You usually cross the border at around midnight, when a Mongolian border guard will enter the train and ask for your passport.
Ulaanbaatar is gradually moving toward the modern world, but traditions die hard. Within its heart is a large ger district where circular tents traditionally used by nomads stud the landscape. Many of these had acquired modern touches such as satellite dishes but function without an indoor toilet.
There are several sights in Ulaanbaatar, including the Chinese-inspired Winter Palace of the Bogd Khan, who was enthroned in 1911 after Outer Mongolia became independent from the Qing dynasty. You can look around the palace's six temples and see some of the Bogd Khan's possessions, including his throne, a ceremonial ger and original artwork.
On the way to Terelj National Park, which lies around an hour and a half outside of the city, is a huge statue of Genghis Khan mounted on his horse, Gandan Khiid, which is Trojan-horse-like in its proportions. You can also stop to visit Mongolia's largest Buddhist monastery.
Once in the park I visited some nomadic families, including a lady who owned 40 cows and was skilled in making almost anything out of dairy, from vodka to a wide variety of cheeses. While most weren't to my taste, I liked to imagine that I was eating and drinking the same things that Genghis Khan would have survived on.
Staying in a ger camp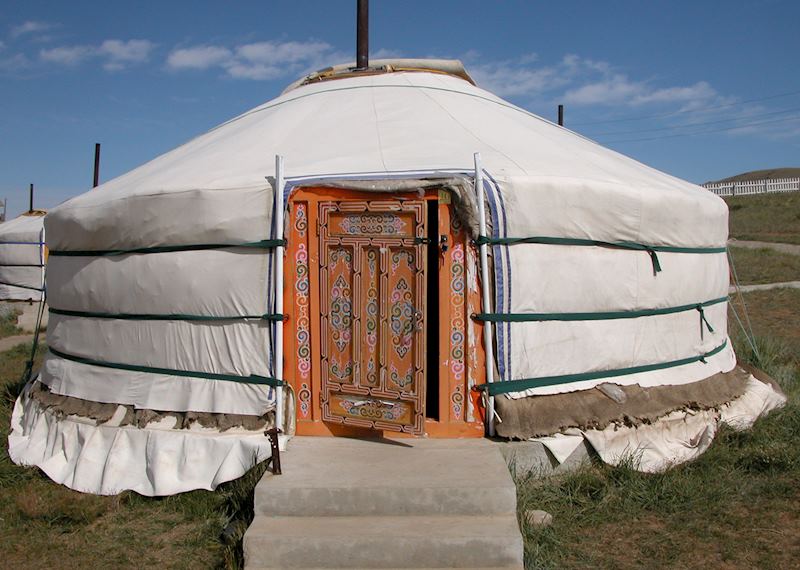 The real draw of visiting the 'Land of Blue Sky' is the chance to get away from everything and take in the vast steppe. Vivid-green grass and small hills stretch as far as you can see in every direction, swept by the shadows of fast-moving clouds and dotted with sheep, goats and wild horses.
One way to appreciate your surroundings, while sampling the country's nomadic culture, is to stay overnight in a ger camp. Around half of Mongolia's population is nomadic, living in these lightweight, well-insulated yurt-style tents, unchanged in design for centuries.
I headed to Khustain Nuruu National Park, just a couple of hours' drive west of Ulaanbaatar, to spend the night at Khustai Ger Camp. Each of the gers huddled here has an authentic design, made from felt with small hand-decorated wooden doors. Inside are two single beds, a small table and chairs, and a central stove; communal bathroom facilities are a few steps away. Electricity runs through a generator, so can be sporadic.
It's unlikely to be the most comfortable place you've ever stayed in, but I'd wager it will be one of the most memorable. Everyone gathers in the large central ger for a simple but hearty meal (mine was mutton and potatoes). I then joined a few others outside to take in the inky-black sky and what seemed like every star in the universe.
The next morning, I hiked through the park in search of takhi — the last truly wild horse species left on the planet, which was reintroduced here during the 1990s. I didn't have to wait long before a herd appeared in the distance, their manes blowing in the wind as they grazed.
China: Beijing and the Great Wall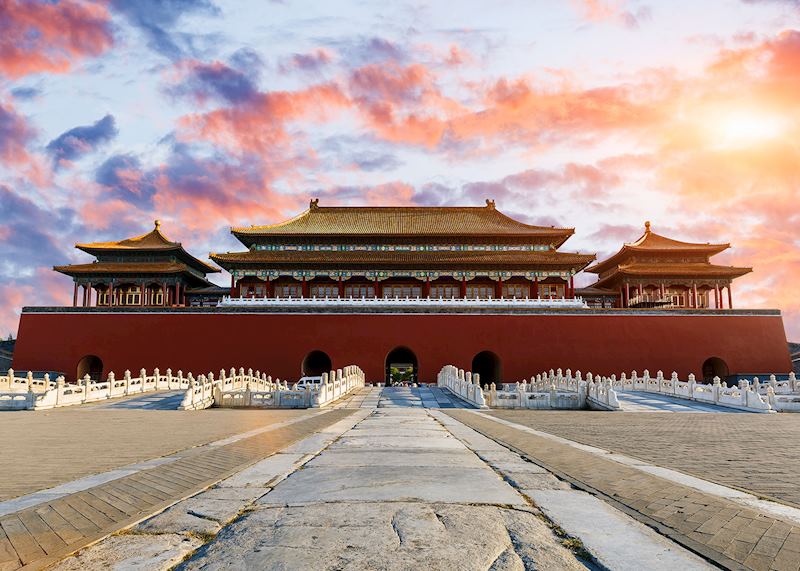 The journey to Beijing from Ulaanbaatar takes around 30 hours by train, though a direct flight gets you there in just a couple of hours, if needed. I chose to stay on the train, watching the scenery change dramatically from Mongolian steppe, the wide, arid expanse of the Gobi Desert, and towering mountains where I caught my first glimpses of the Great Wall of China. Eventually rural villages were replaced with the suburban outskirts of China's capital.
Beijing deserves at least three or four days of your time. I recommend visiting the 500-year-old Forbidden City — a cluster of nearly 1,000 buildings that once housed Chinese emperors, their families and their concubines.
You can also get an idea of what life was like at the other end of the social spectrum by strolling or cycling with a guide through the city's hutongs. A labyrinth of lanes and adjoining houses, close-knit communities have lived in them since the medieval Yuan dynasty.
Beijing's proximity to the Great Wall of China means you can visit one of the quieter sections, such as Jinshanling, in a day. While it takes a couple of hours to get there, it's worth the extra distance as there are far fewer visitors than at the sections within an hour of Beijing. When I visited I only saw around ten other people.
A huge highlight for me was also the food, which really stood out after the average meals I'd become accustomed to in Mongolia and aboard the public trains. The best meal of my trip was at Da Dong Roast Duck Restaurant in the city's Dongcheng district.
Known for offering the best Peking duck in Beijing, the award-winning restaurant serves duck in every imaginable way. The chef often carves your bird right in front of you, and I was shown the traditional way of making up a duck wrap, complete with soy sauce and spring onions.

Best time to travel on the Trans-Siberian Railway
I suggest any time between May and September, though the best weather conditions are generally from June to August. May and September can be colder, so you'll need a few extra layers, but are usually quieter.
Mongolia's annual Naadam Festival takes place in Ulaanbaatar during mid-July. While this means it's busier, you can witness people competing in national games such as horse riding, archery and wrestling.
Practicalities on the Trans-Siberian Railway
You need to plan a Trans-Siberian trip well in advance, as three different visas will need to be arranged and your journey must be planned around train schedules.
We recommend taking a variety of clothing to suit the heat of Beijing, the cooler climes of Siberia and the windy conditions often experienced in Mongolia.
Be prepared for schedules to change — train tickets can only be purchased 45 days in advance, so initial plans may shift.
Start planning your Trans-Siberian rail journey
Start thinking about your experience. These itineraries are simply suggestions for how you could enjoy some of the same experiences as our specialists. They're just for inspiration, because your trip will be created around your particular tastes.