South America can seem like an intimidating place to tackle: its size means that you invariably have to focus your explorations in a certain corner. Or, so you thought. As flight infrastructure improves across the continent, more and more routes are opening up between countries. We've found that it's now easier than ever before to combine different countries within the course of the same trip. Cuzco, in particular, has been blessed with several good flight connections. So, we asked our specialists: which destination would you fly onto after visiting Machu Picchu — and why?
All of their answers can be woven into a tailor-made itinerary for your trip to Peru, and beyond.
Machu Picchu and… Iguaçu Falls
For the chance to see two South American icons in the same trip
By Jess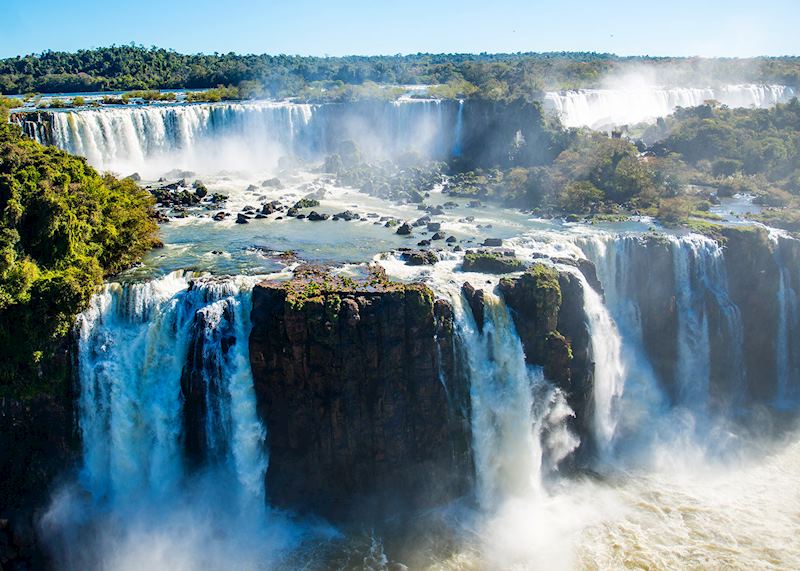 How does this combination work?
They may be a continent's breadth apart, but it's easier to reach Iguaçu Falls from Machu Picchu than you might think. From Lima, you fly to Cuzco (the gateway to the Inca citadel) then back again to connect with a direct flight (taking four hours) to Iguaçu. This flight departs almost daily at midday, depositing you on the Brazilian side of the falls in the evening.
Why Iguaçu Falls?
This waterfall (or falls, since it's made up of about 275 individual cascades) is, for me, the best sight in South America. It's a rewarding place to visit as a corollary to Machu Picchu. While the Inca citadel impresses with its setting — I always think it looks like it's hovering ethereally amid the surrounding peaks — it's the raw power of nature that astonishes you at Iguaçu.
I say Iguaçu (with a cedilla on the c), as opposed to Iguazú, because technically you'll fly into Brazil. But, you can also explore Argentina's portion of the falls. The Brazilian side gives you the wide-angle views, while the Argentinian side is all about getting up close and personal. You can pick your route over walkways to gaze down the watery gullet of the Devil's Throat, a chasm so deep and spray-whipped the indigenous Guaraní people thought it had diabolical origins.
You can spend two days here exploring the falls from all perspectives (including from the water: there are several boat trips, some of which involve getting a thorough soaking). But, you could also stay much longer, hiking the Atlantic Forest trails on each side of the border.
Machu Picchu and… Ecuador and the Galapagos
For a wildlife-focused sequel to a cultural or active trip
By Jonny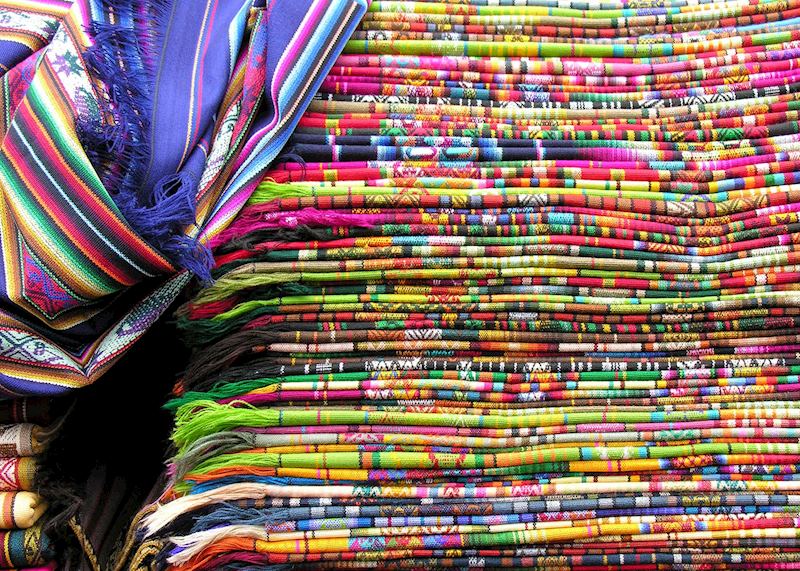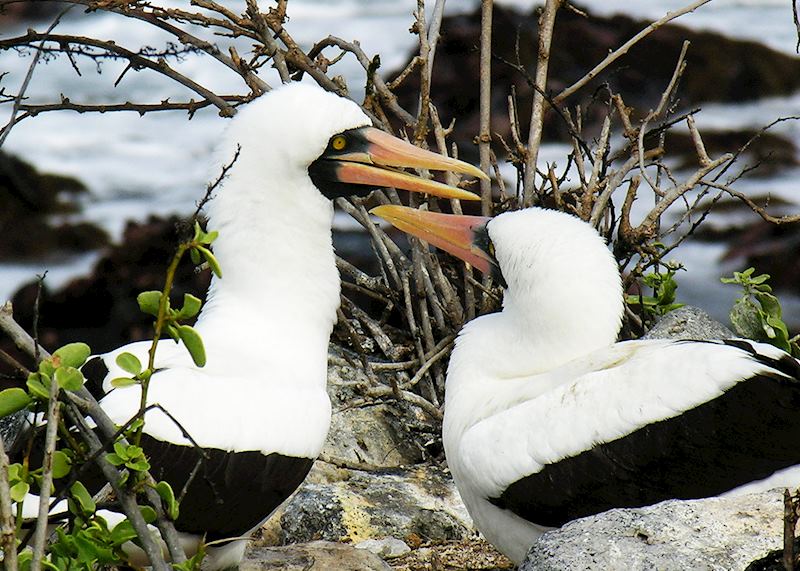 How does this combination work?
Fly from Lima to Cuzco (and Machu Picchu) then back to Lima to catch a connection to Ecuador's capital, Quito (a two-and-a-half-hour flight). From Quito, you can travel easily around mainland Ecuador, or use it as your launchpad for a trip matching Machu Picchu with the Galapagos Islands (roughly a three-and-a-half-hour flight away).
Why Ecuador and the Galapagos Islands?
For a start, I think it's interesting to compare Cuzco with Quito. The former's crazy-paving-style Inca stone foundations are offset by Quito's polished, sugar-white, blocky buildings and more magisterial-looking town planning. They're both colonial cities, but they're poles apart architecturally.
From Quito, you can head south to the Avenue of the Volcanoes, where the firepower of the Andes is really brought home in a way it isn't in Peru. Or, you could go north to the highlands, where you'll find the continent's best indigenous handicraft market at Otavalo. I'd say it's a particularly rewarding visit if your appetite has been whetted by some of the weaving and artisan objects you've seen in Peru.
The Galapagos Islands present a startlingly different landscape to Machu Picchu and the Sacred Valley. Outside of the green season, the western isles are all scarred volcanic rock and hardened lava — only in the central islands can you encounter hills reminiscent of the lower slopes of the Peruvian Andes.
You're here, of course, for the endemic wildlife that it's impossible to see anywhere else. For birdwatching, you should visit Genovesa Island as a priority, on a Galapagos expedition cruise, to see headliners such as masked or red-footed boobies. But, if (like me) mammals intrigue you more, I'd recommend spending time in the misty highlands of Santa Cruz Island.
It's here you'll see giant tortoises roaming freely around open fields: they look a bit like scuttling boulders. If one accidentally gets too close to you (and, although you must keep your distance, it does happen — they're everywhere), you might see it retreat into its shell with a hissing pop (the sound of air being expunged).
Machu Picchu and… Bolivia's Salar de Uyuni salt flats
For experiencing drastically different landscapes in the space of one trip
By Chloe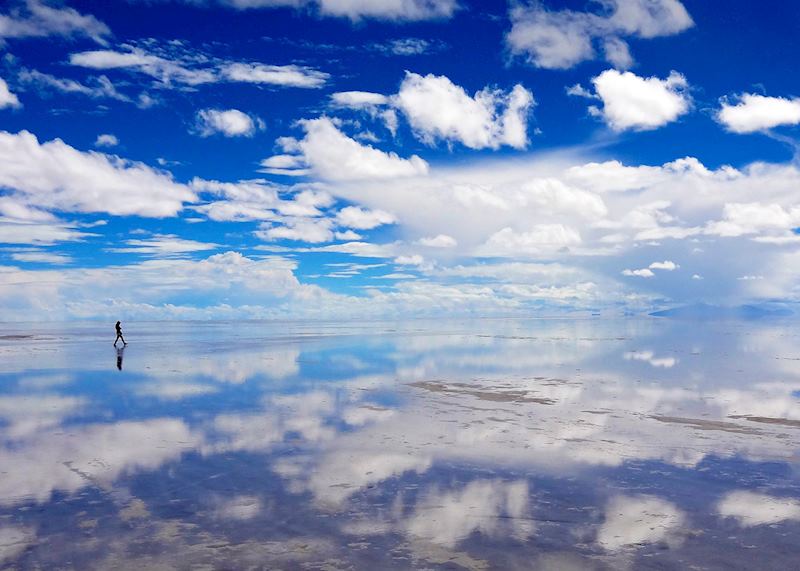 How does this combination work?
You only need to add a minimum of four days onto your Peru trip to take in both Machu Picchu and the Salar de Uyuni, the world's largest salt flat.
You fly direct from Cuzco to La Paz (a mere one-hour flight), spending the night there before taking an early-morning 45-minute internal flight out to Salar de Uyuni. You'll arrive at 8am and journey straight out to the salt.
Why Bolivia's salt flats?
I have a lifelong love for Machu Picchu and its muscularly mountainous setting, but I was similarly and unexpectedly entranced by the starkly flat, unbroken horizon lines and almost eerie whiteness of Bolivia's salt flats. In just two days, you can experience this otherworldly, beguiling environment in a variety of rewarding ways.
Driving across the pans on a 4x4 tour with your guide, you'll see how their hexagonally patterned surface is pierced with deep, dark holes called ojos de sal, or 'eyes'. Flags indicate them, and you might see gasses bubbling out of them. Near the outskirts of the flats, you'll find briny pools that create the most distorting reflections (pray for a cloudy day, which makes the reflections all the more dramatic).
You also can drive out to islands marooned in the middle of the flats. They're covered with cacti and petrified corals (the salt pans were once a lakebed), and hiking to the top of one gives you a 360-degree panorama of the salt field stretching out in all directions.
And, it's not just about the salt. Tunupa Volcano, near the edge of the flats, is streaked russet, pink, yellow and white, and immaculately preserved mummies have been found in a cave at its edge — they're still on display there.
Machu Picchu and… Colombia
For beach time (and more) after your Peru tour
By Anna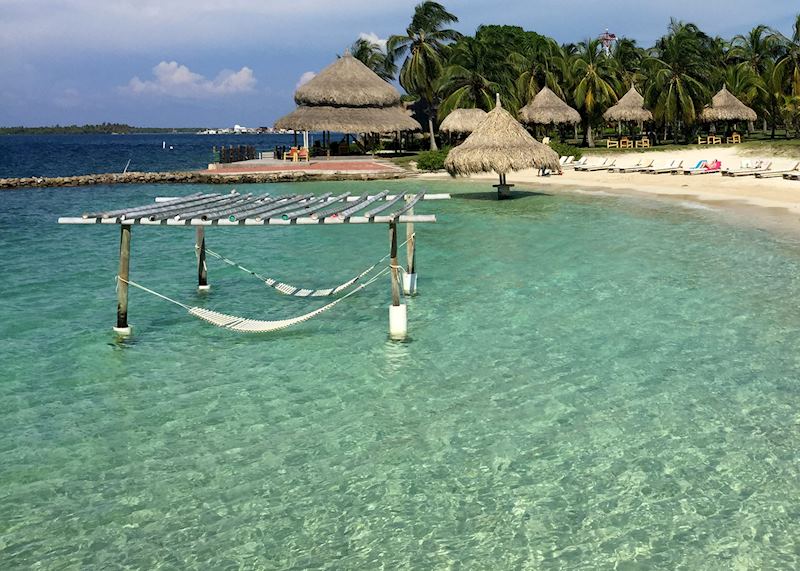 How does this combination work?
Direct flights of under three-and-a-half hours depart daily from Cuzco to Bogotá, arriving in the evening. From Bogotá, you can connect onto a range of internal flights for destinations including the Spanish colonial city of Cartagena on Colombia's Caribbean coast.
Why Colombia?
Colombia's star continues to rise, so now is an excellent time to see for yourself what all the fuss is about. The short (by South American standards) flight from Cuzco to Colombia's capital puts the whole of the country at your disposal, as many domestic flights pass through Bogotá.
You could, of course, spend weeks exploring. But, if you'd simply like to dip your toe into Colombia as a follow-on from Peru, I'd suggest spending a day investigating the capital, before heading to the languid Caribbean beaches.
Bogotá is closer to Lima than Cuzco: it's chaotic and rough around the edges. But, like Lima, it has a well-preserved heritage heartland, La Candelaría, which is awash with some of the most ambitious, politically astute street art in the continent (I recommend taking a private guided tour).
On a breakfast tour of the city's Paloquemao Market, you can try some of Colombia's exotic fruits. I like the caimito (star apple): cut it in half, and scoop out its sweet, tender pulp.
Cartagena (an hour and a half's flight from Bogotá) is a grand sea-facing city with conquistador-constructed ramparts and a distinctive Afro-Caribbean heartbeat. Spend evenings nursing a beer or a rum in the Plaza de los Coches, which bursts into life with spontaneous salsa performances and a more melancholic local folk dance called vallenato.
Cartagena's also your passport to beachside relaxing: a boat ride from the city is the island resort of Punta Faro. Here you can lounge on a crescent of sand or in a hammock suspended over the sea, and (when there's no moon) take a boat trip to witness the phenomenon of bioluminescence.
Machu Picchu and… Mendoza, Argentina
For downtime at the end of a busy trip
By Nick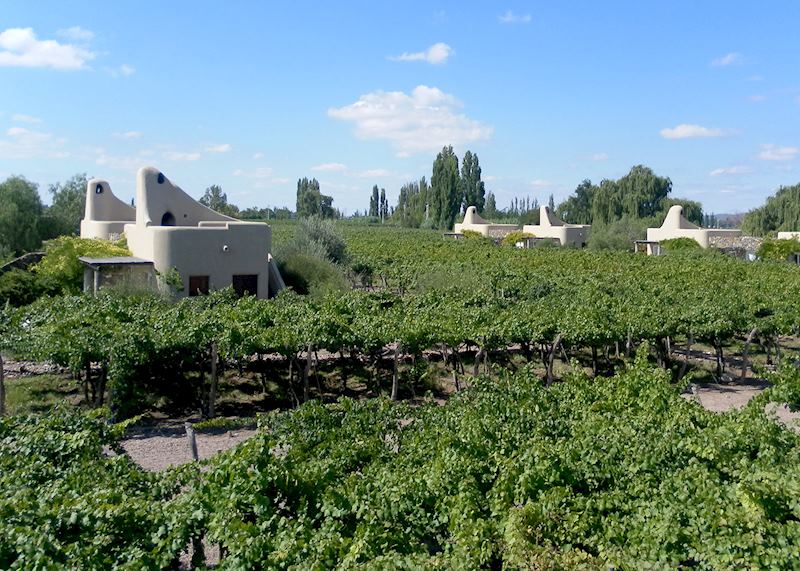 How does this combination work?
From Cuzco, you retrace your steps to Lima for an overnight flight to Mendoza, Argentina's principal wineland. Flights depart daily (apart from Wednesdays) and take just over three-and-a-half hours. I recommend getting out of the city of Mendoza itself (pleasant though it is) and staying among the vines, a 30-minute to one-and-a-half-hour drive away.
Why Mendoza?
Mendoza's easy on the eyes: fervently green, cosseted vineyards stretch out to meet Andean peaks whose tops often glow bright white with fresh snowfall. Even if you don't consider yourself an oenophile, I think Mendoza's a great coda to a Peru trip, especially if you've been on the go a lot or you're looking to relax after hiking to or around Machu Picchu.
It's a great alternative to beach-based relaxing for several reasons. Go at the right time of year, and the climate is warm and dry, rather than stickily humid. There are several excellent properties where you can cocoon yourself for a few days. I really like the extravagance of the Cavas Wine Lodge, where each room has a private plunge pool.
From your hotel, you can go for strolls among the vines or gentle horseback rides. Many properties are within walking distance of wineries, so you don't need a car.
You also have the option of exploring with a guide. My two preferred wineries to tour are Gimenez Riili, a small, independent place, or the bigger Renacer, which does one of the best malbecs in the region.
The food is also a highlight of Mendoza. I'd recommend eating at Siete Fuegos in the Uco Valley, where Argentina's acclaimed chef Francis Mallmann serves fine-dining dishes cooked using gaucho-inspired open-flame techniques.
Read more about trips to South America

Start thinking about your experience. These itineraries are simply suggestions for how you could enjoy some of the same experiences as our specialists. They're just for inspiration, because your trip will be created around your particular tastes.
View All Tours in South America