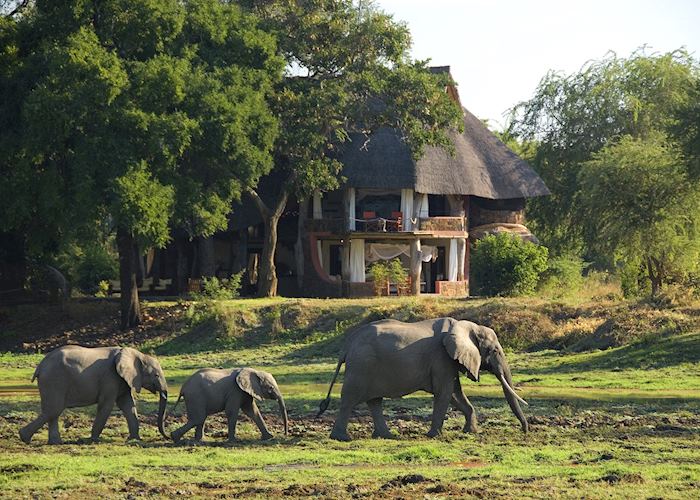 Stay at Luangwa House, South Luangwa National Park
This is one of the 'Houses of Zambia' which have been built to offer guests a superb luxurious and private safari experience. This is the ultimate in tailor-made with your own chef and safari guide to look after you.
Luangwa House, South Luangwa National Park, Zambia
This stunning private house is built approximately 1km from Nkwali Camp, on Robin's own land. Built on the edge of a lagoon and with a backdrop of the Chindeni Hills you feel instantly part of the surrounding landscape. Local stone, grass and wood have been used to construct the house, which outwardly has a traditional feel. However, venture inside and you find that each room has a totally individual style. The effect is almost castle-like with a wonderful feeling of space and size.
In front of the house is a beautiful tiled terrace with your own private sizeable plunge pool - the perfect place to cool off on hot afternoons! Extending from the terrace and built over the lagoon is a magnificent raised wooden walkway leading to a viewing deck surrounding two huge ebony trees complete with leather couches, dining table and chairs and bar. Returning from a drive to a candlelit dinner on the deck will be a memorable experience.
Inside the house you will find a spacious living room complete with large comfy sofas and a huge marble dining table. This impressive room stretches up two storeys to the thatched roof and is flanked by dramatic suspended leadwood stairways ascending to two upstairs bedrooms. There are also two bedrooms downstairs so you can take your pick! Each luxurious bedroom is uniquely designed using materials ranging from marble, glass and chrome to local woods and materials to reflect the names: the Sand Room, the Coral Room, the Blue Room and the Sea Room. The simple designs on the fabrics, made locally, all match the room colour scheme. Their spacious and airy confines have large wall to floor windows that open onto a large patio or balcony. Each room is en-suite with large shower areas.
During your stay all your game viewing activities are exclusively your own with your private safari guide and scout and it is therefore ideal for a small group or a family. You will be able to enjoy wonderful game drives in the South Luangwa park and walking safaris in the dry season. Your delicious meals will be cooked by the house chef and the menu planned according to your wishes.
If you are interested in responsible tourism, it is possible to arrange a visit to one of the projects that Project Luangwa, which the Robin Pope Safari camps work closely with, as part of your safari. These include schools which have been built, tree planting, and a new library. This needs to be pre-arranged and requires a donation toward the project, and is a wonderfully enriching experience.
Speak to someone who's been there
Start planning your tailor-made trip by calling one of our Zambia specialists on 01993 838 505
Places & hotels on the map
In & Around Luangwa House
Nestled in riverine forest in an exclusive area of the park, Bilimungwe is small and personal and specialises in walking safaris, but can also accommodate limited game viewing by vehicle.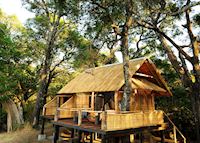 Chamilandu offers comfort, class and beauty in one of the Luangwa Valley's prime remote river locations. The the area is known for good leopard.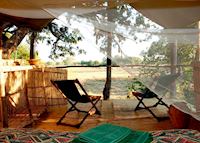 As there are no roads, Chikoko is a true walking camp on the bank of the Chikoko River. It is ideal for the real wildlife enthusiast who wants to explore with some of Africa's most experienced guides.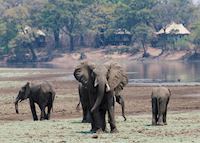 Chindeni is only six kilometre walk from Bilimungwe, so early morning walks between the camps provides an ideal opportunity to enjoy both of these camps. It is also possible to enjoy day and night drives.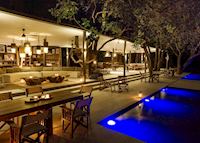 Back in the 1970's Chinzombo Camp was Norman Carr's base during the Green Season (November to May). Now this area on the banks of Luangwa River has been given a new lease of life and Chinzombo is offering a new and unique accommodation in the same pioneering spirit of Norman Carr.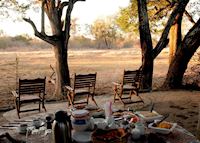 Crocodile Camp is a superb camp in a very wild area. As there are no roads it offers a true walking safari - its a wonderful area to explore on foot as it is very pretty with lagoons, dry river beds and forests.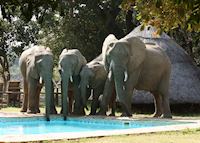 Once a camp known for its overland trucks and backpackers it has now changed direction slightly, offering accommodation for those looking for a more comfortable stay in the Valley.
Kaingo is a peaceful lodge in a prime position in the Luangwa valley. The addition of private outdoor baths and decking complete with comfy chairs in front of each chalet overlooking the river is a lovely touch.
Kakuli is never a quiet camp as over 400 hippo live in the stretch of the Luangwa River in front of camp. The guides and camp staff are superb and it's a wonderfully laid back and friendly camp.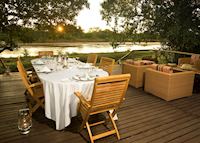 A stay at Kapamba gives you a chance to experience real Africa as you enjoy your dinner under the stars listening to the sounds of the bush after a satisfying day's game viewing.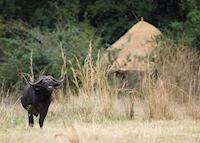 Kuyenda is a wonderful bushcamp situated in a very remote area of the park on the banks of the Manzi River. It is a wonderful walking area and activities are tailored to the client needs.
Hidden deep in the South Luangwa National Park, Lion Camp is a friendly, personal camp with a great sense of style. The views over open grassland and grazing varieties of antelope create a sense of calm which belies the population of local predators, making for great game viewing.
Located on the banks of the Luangwa River under an ancient ebony tree lies the Luangwa River Camp. The small size of the lodge means there is a lot of flexibility as regards game viewing activities.
Luwi is a very simple camp. The camp staff, guides and rangers are all very good and there's always a friendly relaxed atmosphere around camp. Its in a very wild location with a hippo pool nearby.
Mchenja is a real treat, boasting the most beautiful position high up on the banks of the Luangwa and the perfect combination of luxury with a real 'bush' feel.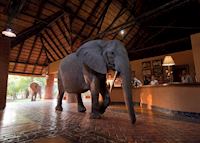 Mfuwe Lodge is a great place to stay as it has every comfort and yet it is still in Luangwa park. We particularly love the hippo pool in front of the lodge. You can sit on your balcony and there's always something to see from the hippos and birds to animals coming to drink from the waters.
Mwamba Bushcamp is a tiny camp beside the seasonal Mwamba River providing an opportunity for those of a more adventurous spirit to explore the Luangwa's heartland.
Nkwali Camp, located on Robin Pope's private land along the river bank and overlooking the South Luangwa National Park, has six open fronted chalets allowing you to fully appreciate the view.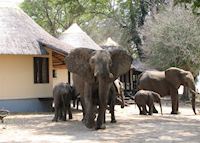 Nsefu Camp is beautiful and stylish. The views from the lawn of the river are lovely and when staying there we often saw elephant come to drink near camp in the early morning. Activities from Nsefu focus on the Nsefu Sector of the park - a particularly rich game area.
Nsolo is an excellent camp which has recently been completely rebuilt after a fire destroyed the old site. Guided walks from the camp, often following the course of the Luwi, are a real treat, and it is a great area for lion, buffalo and zebra.
Robin's House has been beautifully decorated but manages to be totally unpretentious and just feels like a warm family home. The staff are excellent and its a great place for families or groups of friends.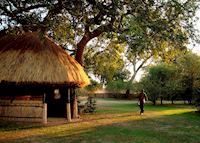 Tafika is located just outside the Nsefu Sector of the South Luangwa Park in a game management area. As it is a remote lodge, on walks and drives you will see superb game but few if any other vehicles.
There is no doubt that Tena Tena is a top notch safari camp. The tents are very luxurious and views of the river from camp stunning.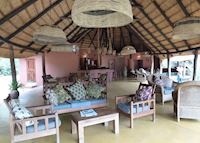 Thornicroft Lodge is situated just outside the main gate to the South Luangwa, on the banks of the Luangwa River.
Located just five minutes away from the main gate into the South Luangwa National Park, Track and Trail is a charming small lodge, offering good quality accommodation, friendly staff and high standards of guiding.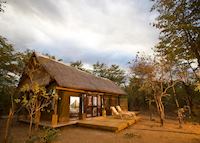 Zungulila is the latest addition to the Bushcamp properties. The tented camp is set on a raised knoll overlooking a plain, with the Kapamba River snaking across one side of the plain into the distance.