The best time to visit Africa is during the drier winter months, from May to September, when vegetation thins out and wildlife congregates around remaining water sources. The large southern game reserves are at their best during this time.
However, Africa is a year-round destination, its varying climates providing good conditions for a visit in one region or another at every time of year.
The green season, from November to April, offers lush vegetation, good birdwatching and often lower prices. While some areas see heavy rains during these months, it's a good time of year to see Victoria Falls, go diving in Zanzibar, or track chimpanzees in Rwanda.
Creating tailor-made tours for over 25 years
Excellent
TrustScore

4.7 | 3431 reviews
Month-by-month guide for travelling in Africa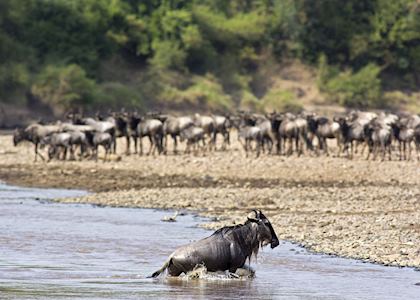 Visiting Africa in January
The migration herds give birth in the southeast of the Serengeti, making January a busy but dramatic time to visit. In Namibia's Caprivi Strip you can make the most of excellent birdwatching opportunities, with more than 450 species in the area. You could also see flamingos gathered on lagoons in their thousands in Swakopmund. Clear, calm seas in Zanzibar make January a great time for diving and snorkelling.
Events & Festivals
The anniversaries of the Battle of Isandlwana and the Battle of Rorke's Drift are commemorated in the South African Battlefields in KwaZulu-Natal.
Turtles come ashore to nest in Mozambique.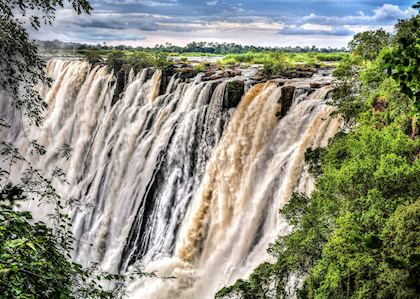 Visiting Africa in February
Although it's the rainy season in Zambia and Zimbabwe, Victoria Falls is in full flow with water thundering over the edge into the canyon below. In the rest of Zambia, large flocks of migratory species make it a good time for birdwatchers. Meanwhile in Uganda, it's a good time to go trekking in search of mountain gorillas and chimpanzees.
Events & Festivals
Sauti za Busara Music Festival (early February): An annual African music festival held in Stone Town's Old Fort, Zanzibar.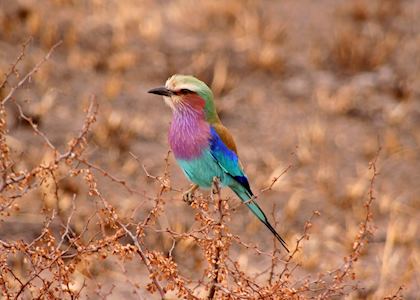 Visiting Africa in March
March is a changeable month across much of Africa, with rains disrupting travel in many places. Humidity is building in advance of the rains in Tanzania. Wildlife viewing is still good and migratory bird species arrive in their thousands, yet the camps are quiet and offer good deals, making this a more affordable time to visit.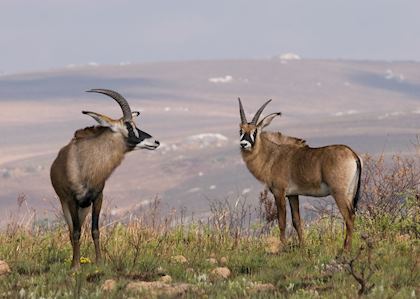 Visiting Africa in April
The breeding season for antelope is underway in Botswana and Malawi — you'll see males strutting around and butting heads in a show of force. As fruit ripens, chimpanzees come down to the lower branches to feed, so it's a prime time to spot them in Rwanda. In Mozambique, clear, calm water and great visibility make it a good time for diving.
Events & Festivals
Whale-watching opportunities abound as humpback whales make their epic annual migration from Antarctica to warmer waters off East Africa to have their young.
In Malawi's Liwonde National Park and Majete Game Reserve, the crocodile courtship season begins. You might see and hear males bellowing, blowing bubbles and fighting as they strive to establish dominance.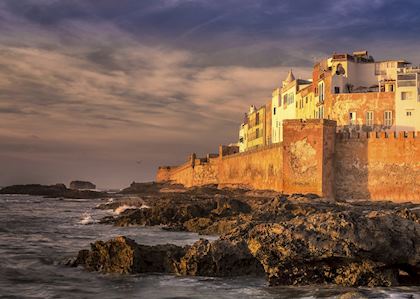 Visiting Africa in May
May is the start of the dry season across Southern Africa. It's a good time to visit as grass dries up, forcing herds to move from pastures to wetlands. This makes their whereabouts easier to predict — along with the predators they attract. However, peak-season crowds and rates have yet to kick in. Clear skies and warm weather make it a great time to visit Mozambique, while Egypt and Morocco see pleasant temperatures for exploring.
Events & Festivals
Dry, calm weather makes for great visibility for diving in Mozambique, especially in the Bazaruto and Quirimbas archipelagos.
Mana Pools, Zimbabwe's World-Heritage-listed national park, re-opens this month.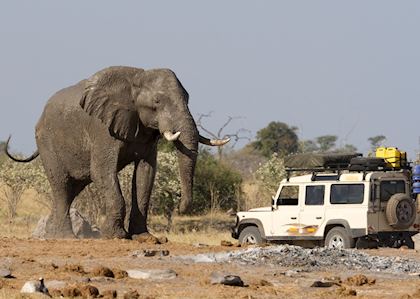 Visiting Africa in June
It's mid-winter in Southern Africa, so you'll experience warm days and cool nights. In Botswana and Uganda, the ground starts to dry out, the vegetation thins and the water holes shrink, making game easy to spot. Meanwhile, the Niassa Game Reserve in northern Mozambique and Zimbabwe's Hwange National Park, with its pumped waterholes, open up, attracting all manner of wildlife for photographers to capture.
Events & Festivals
Lake Turkana Cultural Festival (mid-June): A three-day celebration of tribal culture around Lake Turkana in Kenya
Knysna Oyster Festival (late June to early July): A feast of sport and oysters on South Africa's coast.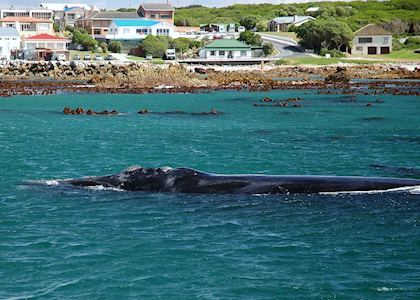 Visiting Africa in July
It's a good time for whale watching and game viewing in South Africa, with humpbacks migrating along the coast and animals congregating around waterholes in the game reserves. The Great Migration herds tend to be in the north of the Serengeti as they move toward Kenya, elephant start to gather in Tarangire, Tanzania, and cruises are possible on the Lower Zambezi in Zambia.
Events & Festivals
The floodwaters begin to rise in the Okavango Delta, making mokoro (traditional canoe) trips possible along the channels.
Knysna Oyster Festival (late June to early July): A feast of sport and oysters on South Africa's coast.
The first herds arrive into the Masai Mara from Tanzania.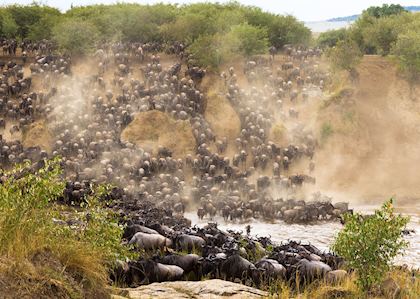 Visiting Africa in August
The Great Migration is at its height in Kenya's Masai Mara, with huge herds of wildebeest and zebra gathering to cross the Mara and Talek rivers. Walking safaris are at their best in Zambia and combine well with a visit to Victoria Falls. It's also a good time of year to visit Lake Malawi, where you can relax in the sun's pleasant temperatures.
Events & Festivals
Lillian's lovebirds congregate in flocks of hundreds in Liwonde National Park, southern Malawi.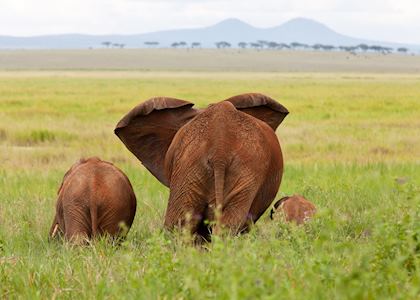 Visiting Africa in September
High numbers of elephant gather in Tarangire in Tanzania. While the country's northern circuit can be busy, its southern parks are quieter. It's a great time to visit Namibia thanks to low humidity and pleasant temperatures. In Zambia, you can look for thousands of carmine bee-eaters, which arrive to nest in the riverbanks, while snorkelling and diving are at their best in Mozambique.
Events & Festivals
Kwita Izina (early September): Rwanda's traditional baby gorilla naming ceremony with traditional music, dancing and performances.
Lake of Stars Festival (late September): A three-day annual festival on the shores of Lake Malawi featuring musical acts from Africa and the UK.
Hermanus Whale Festival (late September): Celebrates the arrival of both spring and migratory southern right whales to South Africa's shores.
Game count, Hwange National Park (late September to early October): Join a team of volunteers for the annual 24-hour census of Hwange's animal population.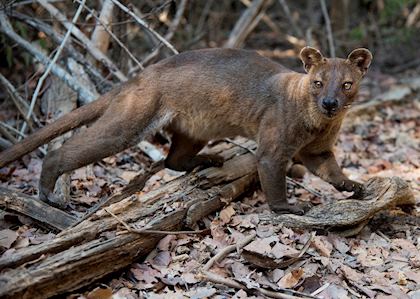 Visiting Africa in October
In Malawi, you can often see the world's largest antelope, the eland, in the Nyika National Park as herds start regrouping in their hundreds for the breeding season. It's the end of the dry season in Mozambique and wildlife viewing is at its peak. It's also a good time to sight fossa, a cat-like, carnivorous mammal, in western Madagascar's deciduous forests.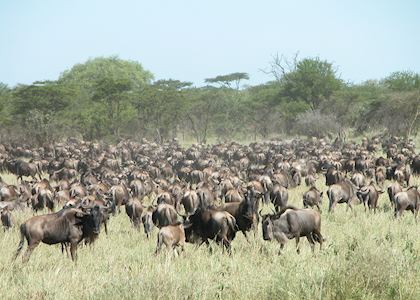 Visiting Africa in November
This is a great time to take advantage of low-season rates in Tanzania as overnight rains reduce visitor numbers. Migrating herds start to travel south from Kenya, so you can often see river crossings in the north of the Serengeti. It's also a good time for birdwatching in Zimbabwe, where parks have become quieter despite the presence of both resident and migratory bird species.
Events & Festivals
Bat migration in Zambia: the world's largest mammalian migration as millions of bats fill the skies.
Turtles come ashore to nest on the beaches of Mozambique.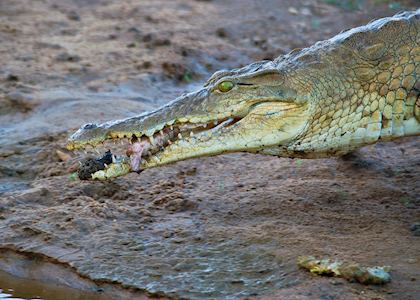 Visiting Africa in December
The festive season can be very busy in Tanzania and South Africa, so plan head to ensure availability. December is also a great time to visit Kenya — the rains are short and you have the chance to see newborn animals and migratory bird species. In Malawi, crocodiles begin to hatch, the mothers delicately transporting newborns in their mouths to the water's edge.
Our recommendations for when to visit Africa
Best
Good
Okay
Not recommended
Winter season
Destination
Jan
Feb
Mar
Apr
May
Jun
Jul
Aug
Sep
Oct
Nov
Dec
South Africa

climate guide

The best time to travel

The best time to travel

The best time to travel

The best time to travel

The best time to travel

The best time to travel

The best time to travel

The best time to travel

The best time to travel

The best time to travel

The best time to travel

The best time to travel

Tanzania

climate guide

A good time to travel, but there may be some factors to be aware of

A good time to travel, but there may be some factors to be aware of

A good time to travel, but there may be some factors to be aware of

Travel is not recommended

Travel is not recommended

A good time to travel, but there may be some factors to be aware of

The best time to travel

The best time to travel

The best time to travel

The best time to travel

A good time to travel, but there may be some factors to be aware of

A good time to travel, but there may be some factors to be aware of

Namibia

climate guide

A good time to travel, but there may be some factors to be aware of

A good time to travel, but there may be some factors to be aware of

A good time to travel, but there may be some factors to be aware of

A good time to travel, but there may be some factors to be aware of

A good time to travel, but there may be some factors to be aware of

The best time to travel

The best time to travel

The best time to travel

The best time to travel

The best time to travel

A good time to travel, but there may be some factors to be aware of

A good time to travel, but there may be some factors to be aware of

Botswana

climate guide

A good time to travel, but there may be some factors to be aware of

A good time to travel, but there may be some factors to be aware of

A good time to travel, but there may be some factors to be aware of

A good time to travel, but there may be some factors to be aware of

A good time to travel, but there may be some factors to be aware of

The best time to travel

The best time to travel

The best time to travel

The best time to travel

The best time to travel

A good time to travel, but there may be some factors to be aware of

A good time to travel, but there may be some factors to be aware of

Kenya

climate guide

A good time to travel, but there may be some factors to be aware of

A good time to travel, but there may be some factors to be aware of

A good time to travel, but there may be some factors to be aware of

Travel is not recommended

Travel is not recommended

The best time to travel

The best time to travel

The best time to travel

The best time to travel

The best time to travel

A good time to travel, but there may be some factors to be aware of

A good time to travel, but there may be some factors to be aware of

Zambia

climate guide

Travel is possible, but this is not the best time of year

Travel is possible, but this is not the best time of year

Travel is possible, but this is not the best time of year

A good time to travel, but there may be some factors to be aware of

A good time to travel, but there may be some factors to be aware of

The best time to travel

The best time to travel

The best time to travel

The best time to travel

The best time to travel

A good time to travel, but there may be some factors to be aware of

Travel is possible, but this is not the best time of year

Rwanda

climate guide

A good time to travel, but there may be some factors to be aware of

A good time to travel, but there may be some factors to be aware of

A good time to travel, but there may be some factors to be aware of

Travel is possible, but this is not the best time of year

Travel is possible, but this is not the best time of year

A good time to travel, but there may be some factors to be aware of

The best time to travel

The best time to travel

The best time to travel

A good time to travel, but there may be some factors to be aware of

A good time to travel, but there may be some factors to be aware of

A good time to travel, but there may be some factors to be aware of

Uganda

climate guide

A good time to travel, but there may be some factors to be aware of

A good time to travel, but there may be some factors to be aware of

A good time to travel, but there may be some factors to be aware of

Travel is possible, but this is not the best time of year

Travel is possible, but this is not the best time of year

A good time to travel, but there may be some factors to be aware of

The best time to travel

The best time to travel

The best time to travel

A good time to travel, but there may be some factors to be aware of

A good time to travel, but there may be some factors to be aware of

A good time to travel, but there may be some factors to be aware of

Zanzibar Archipelago

climate guide

A good time to travel, but there may be some factors to be aware of

A good time to travel, but there may be some factors to be aware of

Travel is possible, but this is not the best time of year

Travel is not recommended

Travel is not recommended

A good time to travel, but there may be some factors to be aware of

The best time to travel

The best time to travel

The best time to travel

The best time to travel

A good time to travel, but there may be some factors to be aware of

A good time to travel, but there may be some factors to be aware of

Zimbabwe

climate guide

A good time to travel, but there may be some factors to be aware of

A good time to travel, but there may be some factors to be aware of

A good time to travel, but there may be some factors to be aware of

A good time to travel, but there may be some factors to be aware of

The best time to travel

The best time to travel

The best time to travel

The best time to travel

The best time to travel

The best time to travel

A good time to travel, but there may be some factors to be aware of

A good time to travel, but there may be some factors to be aware of

Mozambique

climate guide

Travel is possible, but this is not the best time of year

Travel is possible, but this is not the best time of year

Travel is possible, but this is not the best time of year

A good time to travel, but there may be some factors to be aware of

The best time to travel

A good time to travel, but there may be some factors to be aware of

A good time to travel, but there may be some factors to be aware of

The best time to travel

The best time to travel

The best time to travel

A good time to travel, but there may be some factors to be aware of

A good time to travel, but there may be some factors to be aware of

Malawi

climate guide

Travel is possible, but this is not the best time of year

Travel is possible, but this is not the best time of year

A good time to travel, but there may be some factors to be aware of

A good time to travel, but there may be some factors to be aware of

The best time to travel

The best time to travel

The best time to travel

The best time to travel

The best time to travel

A good time to travel, but there may be some factors to be aware of

Travel is possible, but this is not the best time of year

Travel is possible, but this is not the best time of year

Egypt

climate guide

A good time to travel, but there may be some factors to be aware of

The best time to travel

The best time to travel

The best time to travel

A good time to travel, but there may be some factors to be aware of

Travel is possible, but this is not the best time of year

Travel is possible, but this is not the best time of year

Travel is possible, but this is not the best time of year

A good time to travel, but there may be some factors to be aware of

The best time to travel

The best time to travel

A good time to travel, but there may be some factors to be aware of

Morocco

climate guide

A good time to travel, but there may be some factors to be aware of

A good time to travel, but there may be some factors to be aware of

The best time to travel

The best time to travel

The best time to travel

A good time to travel, but there may be some factors to be aware of

Travel is possible, but this is not the best time of year

Travel is possible, but this is not the best time of year

The best time to travel

The best time to travel

A good time to travel, but there may be some factors to be aware of

A good time to travel, but there may be some factors to be aware of
Africa trip ideas and travel guides