The best time to visit Morocco is during spring (mid-March to May) or autumn (September to October). The weather is warm but pleasant, unlike the cold temperatures and snow of winter, or the scorching heat of summer.
The coastal regions can be visited year-round. In the winter they are pleasantly mild, while in the summer they bask in temperatures hovering around the mid-20°Cs.
The High Atlas Mountains can also be visited all year round, although it does get cold in winter. The summer may still be a bit hot to embark on any long-distance hikes, but if the heat doesn't bother you then conditions are fine any time between April and October. Outside these months, there is snow on the peaks, which makes hiking more dangerous, but creates some spectacular panoramas.
The Islamic festival of Ramadan will affect transport in Morocco. The dates vary each year, so it's worth checking what they are while planning your trip.
Creating tailor-made tours for over 25 years

Excellent
TrustScore

4.7 | 3287 reviews

Month-by-month guide for travelling in Morocco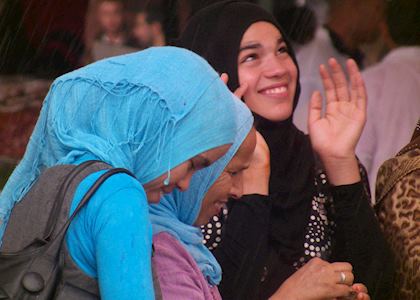 Visiting Morocco in January - February
A great time to visit if you prefer to travel away from crowds, allowing you to see Moroccans going about their daily life more authentically than during the hotter months. It is generally sunny and mild, but there is the chance of rain (good for wildflowers), and snow in the mountains. The desert is perfect for visiting now, but gets very cold at night.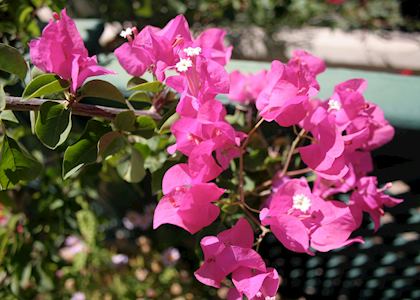 Visiting Morocco in March
The weather in March is much like the start of spring in any country. With flowers coming out and the sun shining, the weather is generally between 10°C and 20°C depending on the region, although it can become cooler. Snow and rain become rare at this time of year, but it would be best to pack clothing for all scenarios, as it can be unpredictable.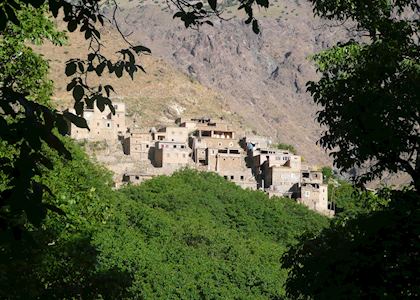 Visiting Morocco in April - May
This is a popular time to visit due to the favourable spring weather of between 15°C and 35°C from the High Atlas Mountains to the desert. Given the diversity of the landscape, weather can differ significantly from place to place and this is particularly true in spring when showers are common. Labour Day is held on the 1st May. This can lead to the closing of some shops, banks and local schools, which can mean the main sites are busier with locals.
Events & Festivals
Gnaoua and Sacred World Music festivals (May): Held in Essaouira and Fez respectively. The former unites historical Gnaoua musicians with modern day music, while the latter promotes spirituality and tolerance through music.
Ramadan (April to May): While it can disrupt your daily routine, if you are fascinated by different cultures and religions, the religious month of Ramadan is an exciting time to visit. The breaking of the fast at sundown is an electric experience.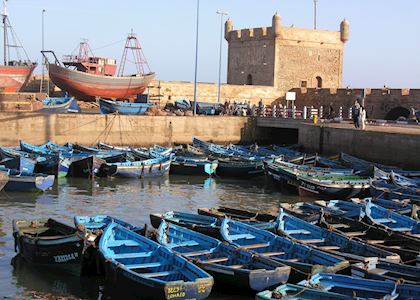 Visiting Morocco in June
June is one of the hotter months in Morocco, however, different regions like Essaouira and Tangier still stay relatively cool because they're situated on the coast. If you're looking for some peace and quiet, Morocco is great to visit in June because tourism is relatively low compared to some of the other months. This is the last month to visit the desert region before there's an influx of insects and snakes in July and August, as well as often unbearable heat.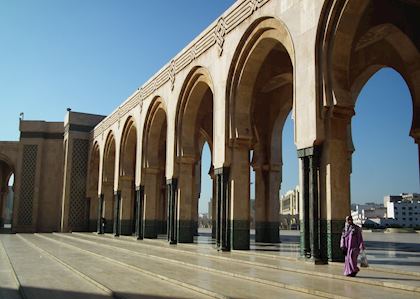 Visiting Morocco in July - August
July and August are the hottest months in Morocco so are not the ideal months to visit; however, they should not be ruled out. If you're looking to escape the unpredictable British summers then this is a great time to visit. Coinciding with the school holidays makes this a popular time for families; as such, many hotels and riads do get booked up in advance, particularly those with swimming pools.
Daytime temperatures can reach the mid-40°Cs, so exploring and sightseeing is best done in the morning or evening, making this is a good time to combine activities and relaxation. This is also a great time to visit the Atlantic coast, which at other times of year can feel on the chilly side.
Whether you are seeking water sports or delicious seafood, Essaouira is a summer highlight. The Atlas Mountains are cooler than the cities, although still very hot. While summer is not ideal if you're wanting to do serious trekking, it is great for short morning walks and lying by a pool with panoramic mountain views.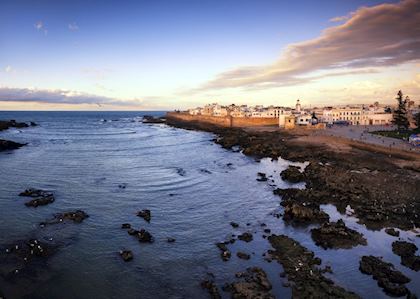 Visiting Morocco in September
Cooling down after the hot summer months, September is an ideal time to visit Morocco as you can enjoy the pleasant warm weather and clear blue skies the country offers as it heads into autumn. The beaches are not as busy from local holidaymakers, the cities welcome gentle breezes and exploring the desert becomes pleasant again.
Events & Festivals
Eid al–Adha (September): The 'Feast of Sacrifice' is celebrated by Muslims over three days. Animals are sacrificed in honour of Abraham throughout the country and shops shut down as families gather together, making it a different but interesting time to visit.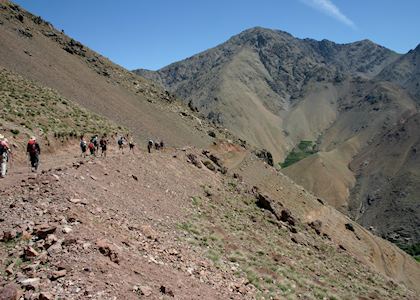 Visiting Morocco in October
October is one of the best months to visit Morocco, as temperatures are cooler and more comfortable for sightseeing. This is a great month for hiking in the mountains and visiting the Atlantic coast, with temperatures dropping in November and Essaouira becoming very windy. As such, October is a month that books up quickly, and trips for this time of year should be organised far in advance.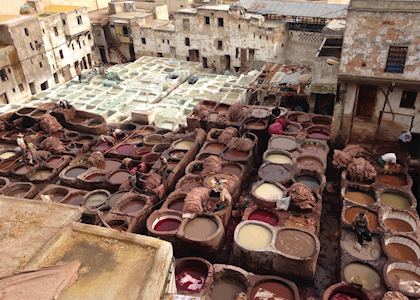 Visiting Morocco in November - December
The latter months of the year are a great window to explore the imperial cities of Morocco. The sunny but cooler days provide a comfortable climate to discover the colourful sights and sounds of Marrakesh and Fez. Other regional centres, such as the coastal town of Essaouira and the High Atlas Mountains, are not to be missed either, but coastal winds and potential snow in the mountains will naturally bring colder weather; particularly in the evenings. One thing to bear in mind when considering travelling during the winter months is that not all riads — particularly not those in the north of the country — have adequate heating, so it's advisable to bring warm layers of clothing.
Events & Festivals
The International Film Festival: Held annually to promote and celebrate all forms of cinema, the festival was established in 2001 by King Mohammed VI, and takes place in Marrakesh.
Morocco Climate Guide
Destination
Jan
Feb
Mar
Apr
May
Jun
Jul
Aug
Sep
Oct
Nov
Dec
Casablanca

18°C

64mm

19°C

53mm

20°C

48mm

21°C

36mm

23°C

17mm

25°C

4mm

27°C

1mm

28°C

2mm

27°C

6mm

25°C

33mm

21°C

65mm

19°C

81mm

Chefchaouen

14°C

162mm

14°C

155mm

17°C

165mm

19°C

71mm

22°C

41mm

27°C

10mm

32°C

1mm

32°C

3mm

28°C

16mm

22°C

58mm

19°C

112mm

15°C

146mm

Essaouira

17°C

44mm

18°C

40mm

19°C

35mm

19°C

28mm

20°C

9mm

21°C

2mm

22°C

0mm

22°C

1mm

23°C

5mm

22°C

26mm

21°C

42mm

19°C

53mm

Fez

16°C

61mm

18°C

72mm

20°C

75mm

23°C

65mm

26°C

37mm

32°C

15mm

36°C

1mm

36°C

2mm

32°C

12mm

26°C

47mm

21°C

70mm

16°C

80mm

Marrakesh

18°C

28mm

20°C

34mm

23°C

32mm

26°C

31mm

29°C

19mm

33°C

4mm

38°C

1mm

38°C

2mm

33°C

7mm

28°C

22mm

22°C

34mm

19°C

29mm

Rabat

17°C

77mm

19°C

67mm

20°C

61mm

22°C

55mm

24°C

21mm

26°C

5mm

28°C

0mm

28°C

1mm

27°C

7mm

25°C

43mm

21°C

80mm

19°C

106mm

Tangier

16°C

108mm

17°C

104mm

18°C

107mm

20°C

54mm

23°C

34mm

26°C

11mm

29°C

0mm

29°C

3mm

28°C

17mm

24°C

65mm

20°C

120mm

17°C

146mm

The Atlas Mountains

10°C

68mm

12°C

65mm

14°C

80mm

17°C

75mm

21°C

42mm

25°C

18mm

30°C

5mm

30°C

6mm

25°C

24mm

19°C

50mm

14°C

75mm

10°C

77mm

The Erg Chebbi

18°C

2mm

20°C

2mm

24°C

4mm

29°C

3mm

33°C

4mm

38°C

3mm

43°C

4mm

42°C

5mm

34°C

9mm

29°C

11mm

22°C

10mm

18°C

5mm
Why travel with Audley?
100% tailor-made tours
Fully protected travel
Established for over 25 years
98% of our clients would recommend us Travel advice
Practical tips for travelling to Morocco, from social protocols to guidance on money matters, with a link to the latest FCDO travel advice.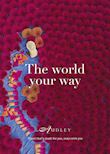 Request our brochure
Covering all seven continents, The world your way shows you how you can see the world with us. It features trip ideas from our specialists alongside hand-picked stays and experiences, and introduces our approach to creating meaningful travel experiences.
Trip ideas and travel guides for exploring Morocco