By Argentina specialist Iain
If I had to choose just one place to go walking in Argentinean Patagonia — in fact, in the whole of Patagonia — El Chaltén would be it. It's a riverside town that huddles at the base of two mountain ranges in the northern swathe of Los Glaciares National Park, a vast area located about a third of the way down Argentina's western flank. The ranges of El Chaltén are like great granite walls, hemming in the town from the Southern Patagonian Ice Field and the shrubby grasslands of Patagonian Steppe that stretch south to the larger town of El Calafate.
Hiking trails of all lengths and difficulties spider out from El Chaltén. Unlike the trails in Chile's Torres del Paine National Park, they can all be explored without the need for a guide.
You can get there by flying to El Calafate from within Argentina, and then driving or taking a bus transfer north. Alternatively, you can reach El Chaltén via a road transfer from Torres del Paine.
Hiking in El Chaltén

The Cerro Torre and the Fitz Roy Massif are the two largest mountain ranges that you can see from El Chaltén on a clear day, and all kinds of trails criss-cross their foothills. Some walks are circular, and those which aren't can sometimes be joined up with car journeys, so there's no need to walk straight back the way you came.
As soon as you arrive in town, my advice is to head for the centro de informes (information point) near the bus station. Its helpful rangers will talk to you about all the different hiking routes in the area, their relative altitudes, lengths and suitability for the day's weather forecast. They will also provide you with maps that pinpoint the trailheads.
I first arrived in the town after spending several days in Torres del Paine National Park just over the border in Chile, where I'd completed the guided five-day 'W' Trek. As thrilling as it had been, there was something relaxing, even freeing, about spending a few days just hiking by myself in El Chaltén — the paths are all so well-marked that you can simply explore at whim.
An easy walk to start with is the 2 km (1.2 mile) hike up to the Mirador de los Condores (Condor Lookout), a hill just outside the town where you can watch sunrise over the distant peaks and potentially spot condors riding the thermals. You can easily continue this walk to the Mirador de los Aguilas (Eagle Lookout), a farther 30 minutes away. It overlooks great, yawning expanses of steppe and Lago Viedma, whose water changes from sapphire to light blue to metallic grey depending on the sunlight.
The Cerro Torre trail

The Cerro Torre is one of the major peaks towering over El Chaltén. Instantly identifiable, it sticks up like a great granite index finger, its top covered by a thick ice mushroom that has caused controversy among climbers as to how it should be tackled. The 24 km (15 mile) trail begins to the southwest of the town and follows the Fitz Roy River upstream to its source. Freshwater glacial streams thread their way along the entire trail, their water so pure you can fill up your bottle as you go.
Following the river brings you to a lookout over a gorge where a waterfall ribbons downward to a mint-green river. You'll get your first glimpse of the Cerro Torre peak from here, but continue on over a rudimentary boardwalk that cuts through a plain of dry grasses and brittle-looking trees to the next viewpoint, Mirador del Torre. This gives you a panorama over Cerro Torre and the stumpier, surrounding peaks whose apexes are obscured by snow.
The boardwalk brings you out at the DeAgostini base camp, used by mountaineers attempting to reach Cerro Torre's summit, and 15 minutes' farther on, you come to Laguna Torre. Standing by its shingle shore, you look directly across to Cerro Torre and the Adela mountain range. You're able to admire an unbroken close-up panorama of the Cerro Glacier splurging down over the mountains to meet the olive-green lagoon, which often has fragments of calved ice floating on its surface.
The Laguna de los Tres trail

A bigger beast than the Cerro Torre trail (although it's possible to link them both), this hike brings you to the base of the peaks of the Fitz Roy Massif.
The trail's starting point is to the northwest of the town, and it's initially a fairly gentle hike. It takes you over flat, grassy plains, and then journeys through the base camp — Poincenot — used by climbers planning to scale the stark granite spires of the massif.
After crossing a few glacial tarns, the path starts to ascend. I'll be honest — the last 45 minutes of this trail represented some of the toughest hiking I'd ever done.
It's a steep slog over huge, slippery granite rocks. In terms of difficulty, it's easily on a par with the hike to the base of the towers in Torres del Paine — but it also rivals the Torres in terms of the scenic pay-off. Pause a while when you reach the eponymous Laguna de los Tres, a bright-teal lagoon with a backdrop of the (often snow-drenched) Fitz Roy Massif shooting up like great gnarled and twisted barren stalagmites.
When I first reached the Laguna de los Tres, the top of Cerro Chaltén, the tallest peak in the range, was smudged in mist — it was easy to see why the region's indigenous nomadic hunters named it the 'smoking mountain'.
Most people stop at the first lagoon, but if you walk on a farther ten minutes you come to another lagoon, Laguna Sucia, and an arguably even more impressive perspective over the massif and its hanging glaciers.
El Chaltén, the town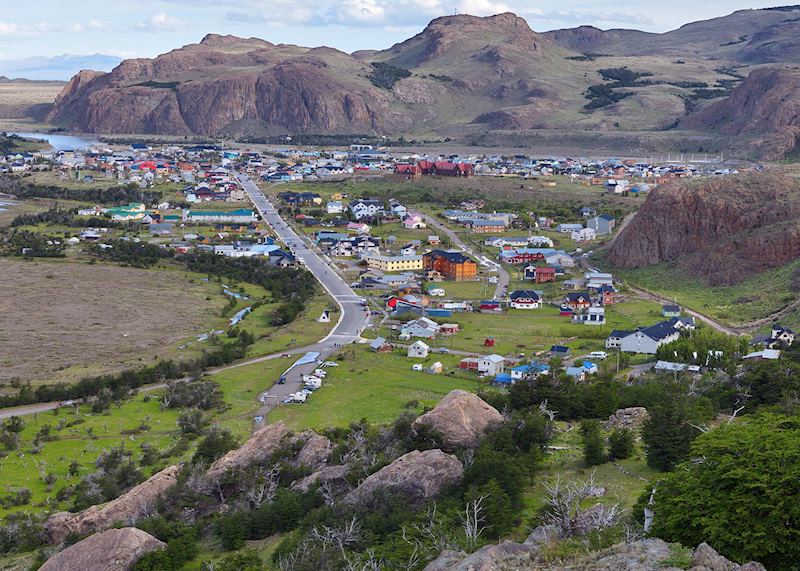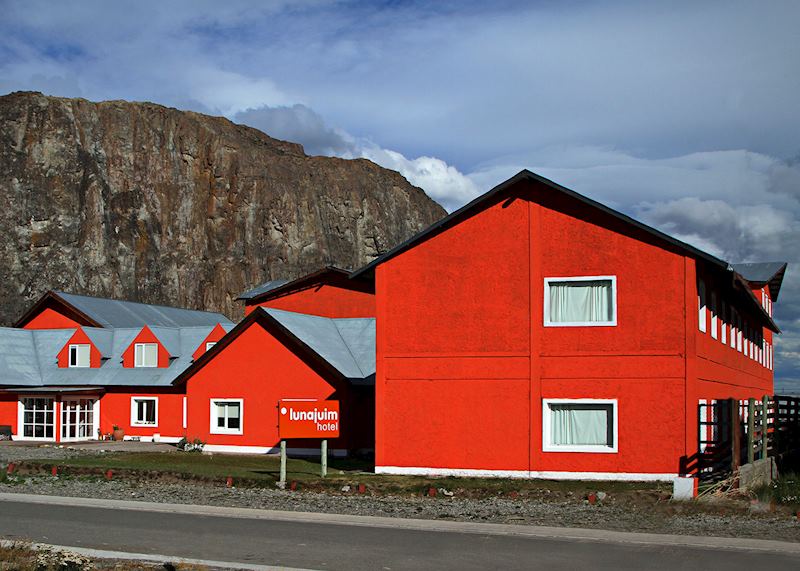 Thanks to an absence of building regulations, El Chaltén has a slightly ramshackle, patchwork feel to it, being made up of a motley group of buildings painted in clashing hues.
Hotels can be a little basic — you'll need to bring cash, for example, as their ATMs often don't work. However, don't let this put you off. There are several good bars and restaurants, and the overall town has, for me, a friendlier, more characterful feel than busier El Calafate down the road.
Where to stay in El Chaltén
The town has several decent three-star hotels such as Hostería Lunajuim, which has rooms with adjustable heating and a spacious lounge and library. If you're looking for real remoteness, consider spending a few days at Aguas Arriba, a luxury lodge around 40 km (25 miles) away from El Chaltén. Access is via a dirt track (a one-and-a-half-hour drive), then a 15-minute boat ride.
The lodge sits on the shores of Lago Desierto, ensconced by Nothofagus beech forest and overlooking Mount Fitz Roy's north face and the Vespignani Glacier. Numerous, barely explored trails fan out from the property, and you can also go fly-fishing on the lake.
Best time to visit El Chaltén
The summer months (November to January) see the largest numbers of visitors, although not quite the same volume of people as in Torres del Paine. Try springtime (October to November) for quieter trails and better weather, but be aware that Patagonia's weather can be very changeable (you're likely to hear the phrase 'four seasons in one day'). It can be very windy at any time of year.
Extending your trip: ice-trekking on the Perito Moreno Glacier

The town of El Calafate, a little over a three-hour drive away, is the access point to the vast shelf of the Perito Moreno Glacier. A few days in El Chaltén combines well with a boat trip to the glacier to trek on its mass. Winding your way through its crevassed surface, you'll be led to features such as ice caves and moulins (well-like shafts where meltwater swirls down into the depths of the glacier).
Start planning your trip to Patagonia

Start thinking about your experience. These itineraries are simply suggestions for how you could enjoy some of the same experiences as our specialists. They're just for inspiration, because your trip will be created around your particular tastes.
View All Tours in Argentina