By Patagonia specialist Ann
At Patagonia's northern end, green Chilean deciduous forests meet dry Argentinian open pampas. At its extreme south, the flat plains around Chile's Punta Arenas give way to the fjords and islands that mark the end of South America.
Patagonia's topography, like its borders, defies quick description. Covering a third of Argentina and Chile, it's an untamed vastness that extends to the southernmost edge of South America, partially bisected by the Andes. Its landscape is sculpted by glaciation: which created grassy plains, mountain ranges, deep azure lakes, and glaciers.
In places, Patagonia's a roadless wilderness. It's a destination for lovers of the outdoors; a place to be awed by the natural world on an epic scale.
Planning a trip to Patagonia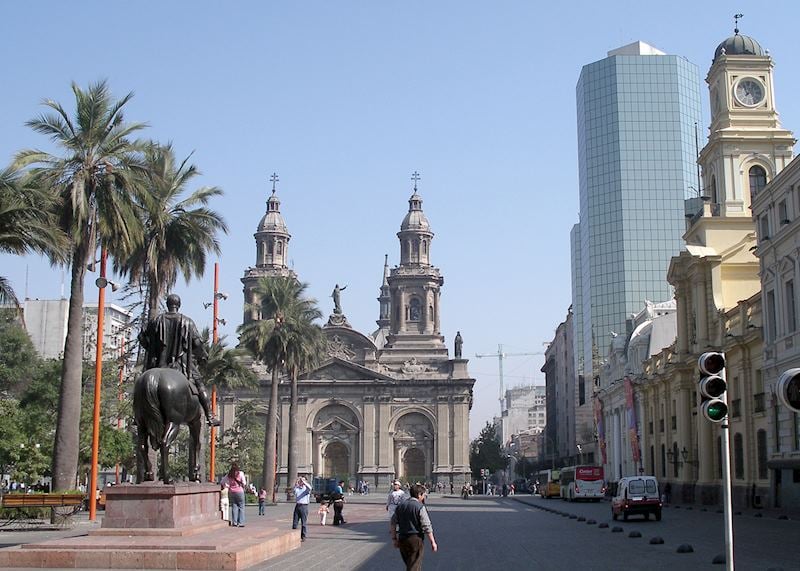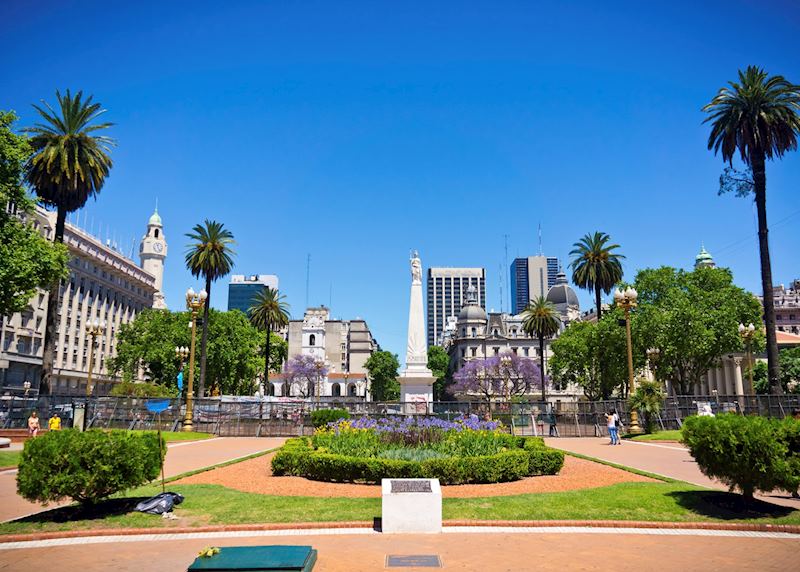 Patagonia straddles Argentina and Chile but is like a country in itself. Some visitors choose to bookend their visit with a trip to Santiago, Chile's capital, finishing with a few days in Argentina's Buenos Aires. Flying from Santiago to Punta Arenas, they work their way through Chilean Patagonia before crossing the border into the Argentinean side.
But this is only one option out of many. Your route depends on what you're looking to experience in Patagonia.
You could dip your toe in, spending three days at Torres del Paine National Park as part of a longer trip around South America. Alternatively, you could explore Patagonia for a fortnight, taking in the main highlights of both its Chilean and Argentinian regions. Those looking to deep dive and experience more isolated, lesser-known areas like Aysén, could travel in Patagonia for many weeks.
Visit Torres del Paine National Park

Though it's sometimes busy and crowded, and it's surrounded by places of equal beauty, I still say that the Torres del Paine is Patagonia's ultimate highlight. It's the region at its most intense: rolling, wind-battered, mostly treeless grasslands broken up by mountains, lakes and glaciers.
Three mighty granite spires, the torres (towers) of the Paine Massif are the crowning glory. They can be seen from virtually anywhere in the park. They're bordered by the black, twisted formations of the cuernos (horns) and the craggy summit of Paine Grande Mountain.
Don't despair if, at first, you can't glimpse the torres due to fog or rain. Patagonia is known for experiencing four seasons in one day. Summer (December-February), the best time to visit, is also the windiest time of the year. While this can make photography challenging, any inclement weather blows over quickly.
And yet the torres are impressive all year round. In winter (June-August), they transform into ghostly peaks shrouded in snow. At other times of the year, they're stark pillars of dark grey bare rock.
Hike to a viewpoint overlooking the Paine Massif

One of the best ways to get a closer view of the torres is by taking a two-hour guided hike to a lookout. After climbing a steep ascent up a gravel path, the route drops back down. It brings you to the foot of an emerald green lake with the towers looming behind it. Try to get there for sunrise or sunset. At these times, and in lower season, you might find you have the view all to yourself.
You can also go hiking on numerous longer trails, including multi-day circuits. Sightseeing by car, with a private guide taking you to the main viewpoints, is also possible.
If you have time, try to see the park's series of lakes: Lago Azul, Lago Verde, Lago Toro, Lago Sarmiento and Lago Grey. When the weather's fine, they turn bright turquoise, and reflect their backdrop of mountain ranges with a mirror-like precision.
See icebergs on Lago Grey

On the approach to Lago Grey, guides will typically take you across a rickety bridge over a fast-flowing stream, then through dense forest. You emerge from the trees onto what looks like a shingle beach overlooking the lake itself. Lago Grey is bordered by a moraine, the result of debris deposited by the glacier, and an iceberg graveyard. If the weather's fine, you can take boat trips out on the lake.
As you travel across the water, Glacier Grey comes into view in the distance beyond. A wide, bluish wall sandwiched between bare rock plateaus, its façade is a mass of jagged, eroding ice.
On one of the days I visited, the cloudy sky was casting immense shadows on the icebergs. I watched huge chunks of ice with deep hues of blue and green wash up on the shingle. The stillness was broken only by the occasional roar and splash of water as the icebergs out on the lake melted and shifted.
Spot Torres del Paine's wildlife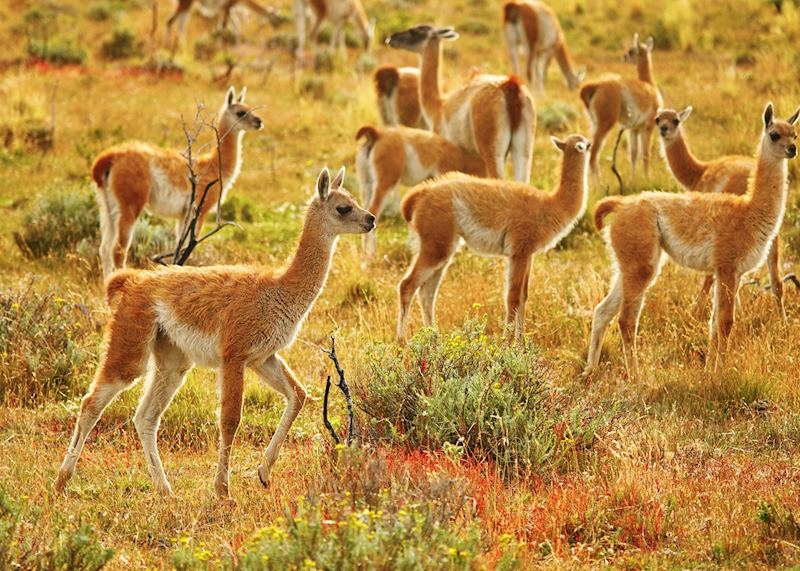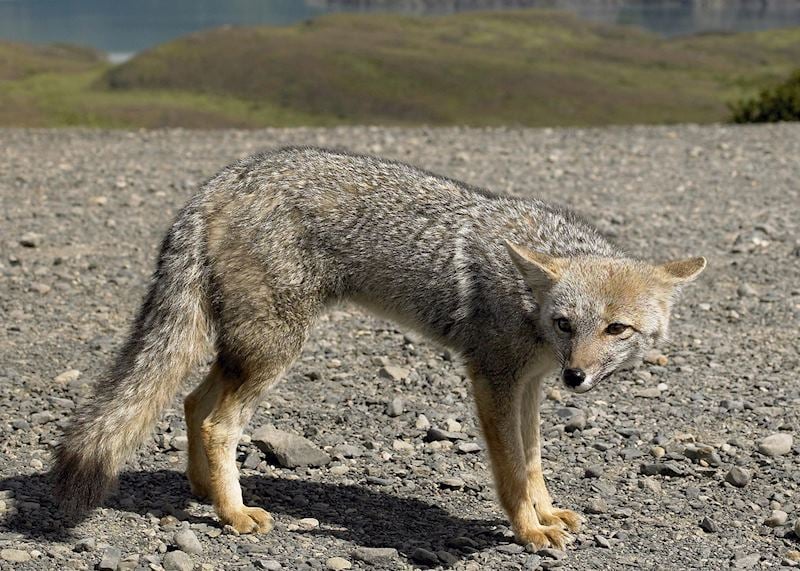 You'll see herds of sandy-hued guanacos, the llama's smaller cousin, running across the plains. Keep an eye out for what look like bundles of fluff on sticks popping up in the distance. These are rheas, one of the world's largest flightless birds.
The eastern side of the national park near the Awasi Hotel is a good place to see condors. Look out for them circling and soaring above you, riding on the thermals.
You may also see caracaras perching on fence posts. Highly intelligent birds of prey, they have jet-black heads and orange bills. They're also inquisitive. A juvenile came within an arm's length of me as I sat relaxing one day on a patch of grass.
Pumas are elusive, but you may see their tracks. One day, when I went horse riding, we came across several fresh guanaco carcasses, which meant pumas were close by.
Places to stay in Torres del Paine National Park

There are a number of hotels that offer a package of transfers, meals, and small-group activities with a guide and driver. These properties are located inside the park, as well as just outside it, and also in or near Puerto Natales.
Location comes down to what activities you'd like to experience. If you wish to explore Torres del Paine in depth, it can be helpful to avoid having to commute there each day from Puerto Natales.
There are advantages to staying outside the park's perimeter, too. It's much quieter and makes it easier to visit more far-flung areas of Patagonia, like Bernardo O'Higgins National Park, a full day's boat trip to the east of Torres del Paine. Here, you'll see glaciers spilling down through the fjords, breaking dramatically into Last Hope Sound. It's also a great place for sea kayaking.
Go ice trekking on the Perito Moreno Glacier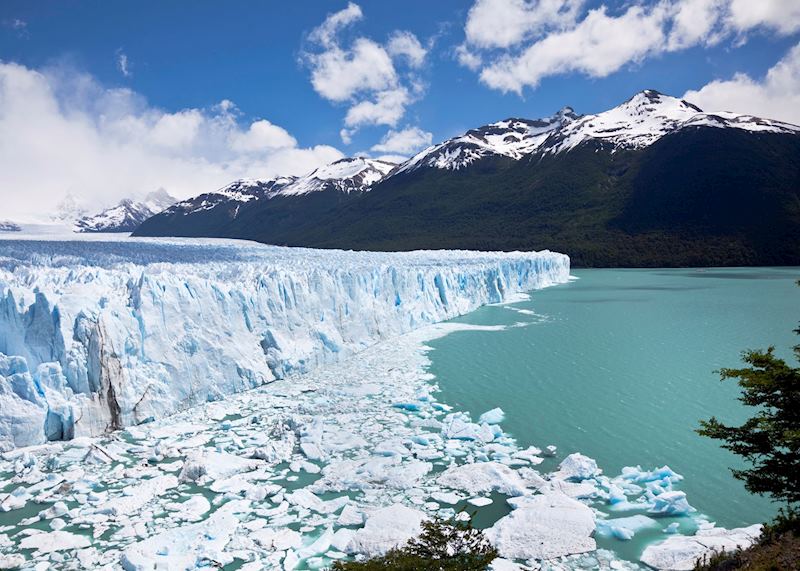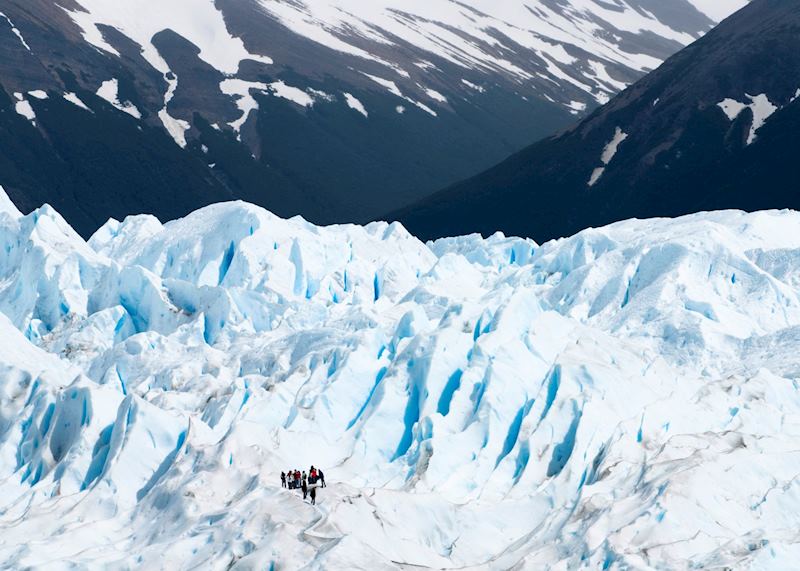 A 40-minute drive from El Calafate brings you to this highlight of Argentina's Los Glaciares National Park.
Spend some time in El Calafate first, if you can. The town is sleepy and underwhelming, but you can go for walks by the edge of Lago Argentino, a lake fed by glacial meltwater that's home to flamingos.
At the Perito Moreno Glacier, you're kitted out with crampons. Then you set out over the glacier with your guides, picking a way through mighty ridges of ice as it creaks and groans. Hearing it, you never forget that this is a dynamic, changing environment. Ice trekking routes, therefore, change daily.
Being able to see the glacier close up was completely different from seeing it across a lake. It was in parts pristine white, in parts littered with rocky, muddy debris that it had consumed as it moved. I could see how the ice had been carved and sculpted by gigantic runnels of water.
On the trek I took, after two hours we found ourselves looking across Lago Argentino and the Rio Brazo one way, up onto the Perito Moreno the other. We toasted our progress by drinking whisky with ice chipped from the glacier itself.
Experience gaucho life on an estancia

You can get a small taste of gaucho (Patagonian cowboy) life by visiting the Estancia Cristina on the way back from a boat ride on the Lago Argentino.
Founded in the 20th century, Estancia Cristina's low-lying cluster of ranch buildings have a homely feel to them. An afternoon of vigorous hiking and horse riding is on offer, but I took a 4x4 up to a viewpoint over the Upsala Glacier. This is Argentina's longest glacier at 60 km (37 miles). I saw huge icebergs here, changing shade depending on the slant of the sun's rays.
From this angle, I could fathom how the glacier morphs the landscape. You're able to see how far it has retreated and pick out geological features like roches moutonnée (rock outcrops smoothed by glaciers, with gradual, striated inclines and jagged faces). If you look closely, you could even identify traces of fossils in some exposed rocks.
If, however, you're strongly interested in the day-to-day life of a working Patagonian estancia, you'll need to venture much, much deeper into the countryside. At Don Jose GuenGuel, near the Rio Mayo, you can go horse riding and experience life with a family of guanaco farmers.
Monte Dinero, in the south near Rio Gallegos, is very much a modern, technologically progressive estancia that breeds and farms sheep. As well as getting an insight into modern farming practices like shearing, you can visit the large, nearby Magellanic penguin colony.
Cruise the fjords of southern Chile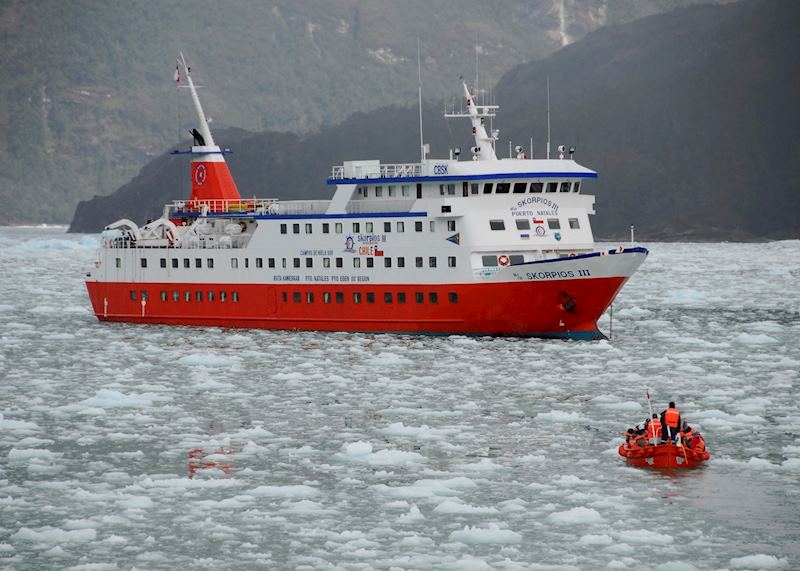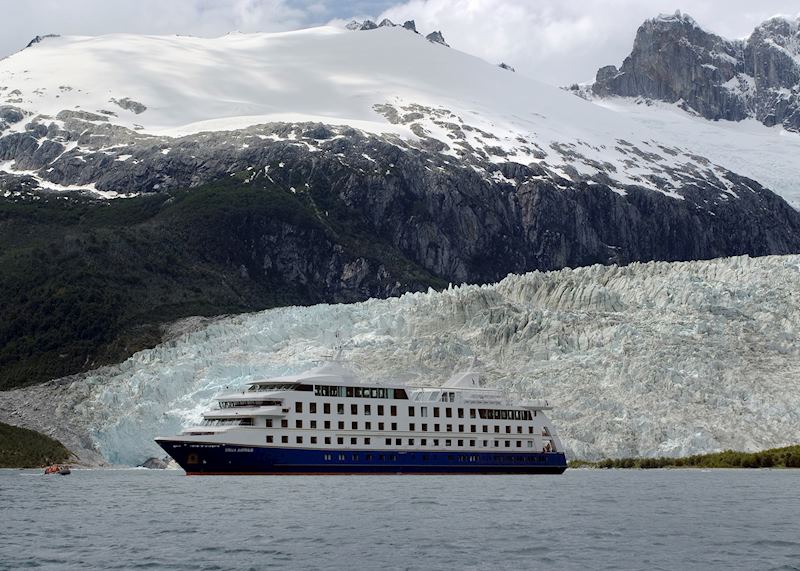 Here, in the southernmost part of Chile, you can take a number of different routes around a maze of fjords to witness an otherworldly ghost land of ice and water. You'll navigate icebergs the size of buildings and see remote fissured glaciers, sometimes interspersed with grey mountainsides of beech forest.
Skorpios III leaves from Puerto Natales to explore southern Chile's fjords, fringed by the southern Patagonian ice field. It weaves its way through small islands named after European countries. If conditions allow, you'll go ashore or on Zodiac cruises to observe Magellanic penguins and seal colonies.
The Stella Australis sails from Punta Arenas to Ushuaia in Argentina. It heads along the northern shore of the southern part of Tierra del Fuego.
You'll land on Cape Horn, weather-permitting. Here, at the point known as el fin del mundo ('the end of the world'), you'll see the planet's southernmost lighthouse. There's a small chapel and a moving monument to all the sailors who have been lost in the shipwreck-prone, hazardous waters of Cape Horn.
Get off the beaten track in Aysén and Parque Patagonia

Driving Chile's Carretera Austral (the Route 7 highway) from the capital of Aysén Province, Coyhaique to Caleta Tortel, the landscape changes dramatically. Patagonian steppe turns to deciduous and evergreen woodland, pine forest and mountains with hanging glaciers.
Further south is Parque Patagonia. In this new and privately owned, protected park that was once farmland, the scenery rivals the Torres del Paine in terms of theatricality and scale. Think snow-capped mountains and sweeping vistas across lakes.
But here's the thing: both these areas remain undiscovered, receiving few international visitors. You'll find the roads empty, and the views unspoiled.
Parque Patagonia has particularly excellent hiking. The marking of trails is a work in progress, so I advise having a guide.
On the drive to Parque Patagonia, I recommend taking a day trip from Puerto Rio Tranquilo to the San Rafael Glacier by boat. You'll slip through a number of icy inlets where you have a good chance of spying dolphins, sea lions and leopard seals.
Once you reach the iceberg-laden Laguna San Rafael, you'll approach the glacier terminus. Unlike, say, boat trips on the Lago Grey, you'll likely be the only boat to visit that day. You'll share the view with only a handful of fellow passengers.
The glacier is also striking for being flanked by a wooded, green moraine, instead of the barren rock you'll see at the Perito Moreno and Grey glaciers.
Start planning your trip to Patagonia

Start thinking about your experience. These itineraries are simply suggestions for how you could enjoy some of the same experiences as our specialists. They're just for inspiration, because your trip will be created around your particular tastes.
View All Tours in South America
Further reading