There are some meals you never forget, whether for the food, the service, the restaurant's decor or its location.
We've put together our suggestions of restaurants that are destinations in themselves — it's worth making that extra effort to visit. Many of these options are incredibly popular, but booking far enough in advance is usually rewarded.
Tuck into New York's juiciest steaks, enjoy fresh seafood from atop a rock off Zanzibar's shores, or dine on South American meat cooked in an Inca-style oven while surrounded by Uruguay's hills, olive groves and vineyards.
Bostonian Seafood and Grill, The Langham, Hong Kong
Oozing French flair and Boston charm, the recently renovated Bostonian Seafood and Grill has a modern urban style, featuring a craft brew bar, private champagne room and a steel and wood dining area.
The focus here is on serving fresh seafood with international influences, and the award-winning chefs prepare dishes such as black cod and clams in salsa verde, miso-glazed Norwegian salmon, and a contemporary take on fish and chips. This is alongside classics such as moules frites, grilled lobster and oysters with a variety of accompaniments.
For dessert, we particularly recommend the signature pavlova, made from dulce de leche ice cream and passion fruit sauce.
Alfresco, Lima, Peru
Lima has the feel of a place on the rise, a confidence that shines through in its food offerings. Restaurants such as Alfresco on Malecón Balta in the Miraflores district serve up sea-to-plate ceviche dishes in various guises.
This airy, glass-fronted establishment seems to be on a mission to prove just how varied and creative ceviche can be. It serves versions with shellfish and octopus, as well as a bewildering selection of sauces (we liked the vividly green cilantro, or coriander, one) and zingy seasonings. It's the ideal place to go if you have just touched down in Peru and want to taste its national dish at its very finest.
The Rock, Michanwi Pingwe Beach, Zanzibar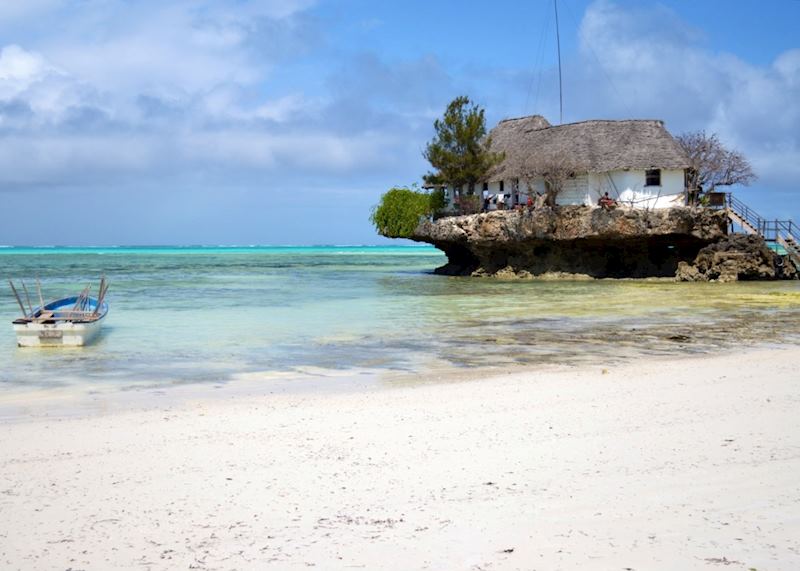 Perched on a lump of rock just off the white-sand shores of Michanwi Pingwe Beach on Zanzibar's east coast, The Rock is a tiny restaurant resembling a house from a fairy tale. Originally used as a fisherman's post, the thatched, whitewashed building features a terrace with cushioned sofas where you can sample the extensive cocktail menu, watch the sunset or gaze at the stars.
The Rock is accessible on foot at low tide or by boat at high tide, with wooden steps leading directly from the turquoise water to the front door. Inside, the airy dining room has a simple, laid-back local style, featuring wooden and canvas furniture and windows overlooking the ocean.
Homemade pasta dishes, freshly caught seafood and tropical fruits grace the menu, and the small team of staff are incredibly friendly. The restaurant also supports the Kichanga Foundation, which improves educational facilities for local communities.
Indian Accent, New Delhi, India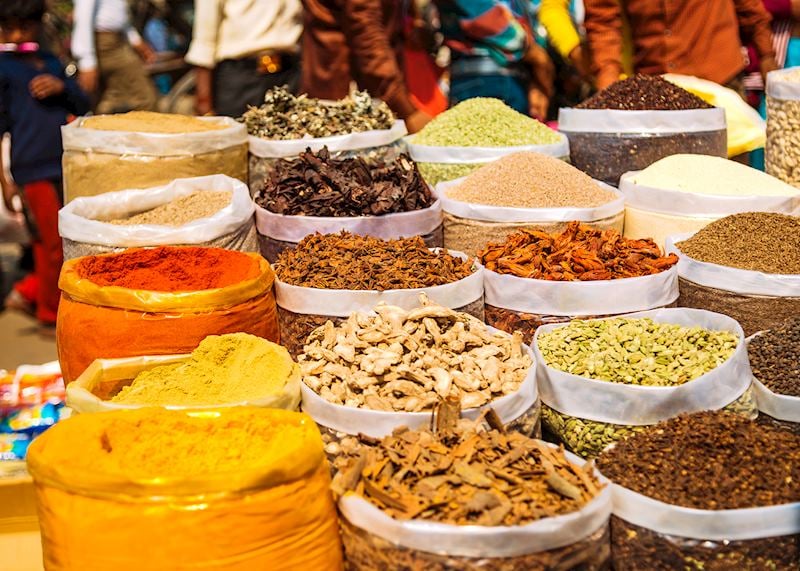 Chef Manish Mehrotra spent nine years exploring Asia, learning from as many fellow chefs as possible, before returning to Delhi to open Indian Accent in a quiet, residential suburb. Describing his cooking as 'inventive Indian', he fuses traditional Indian spices with modern techniques and international ingredients.
Neat rows of tables covered in crisp linen line the airy, whitewashed restaurant with arty black and white photographs of Delhi on the walls. The restaurant has collected a number of awards, including the coveted San Pellegrino Best Restaurant in India award, yet the atmosphere remains informal and friendly.
Choose the chef's tasting menu for a showcase of Indian-inspired recipes with a modern twist. Dishes include pulled pork tacos with Indian spicing and slow-cooked lamb shank with a mulberry korma. To finish, we nominate the black halwa tart — a striking dessert made from black carrots.
Pierre, Mandarin Oriental, Hong Kong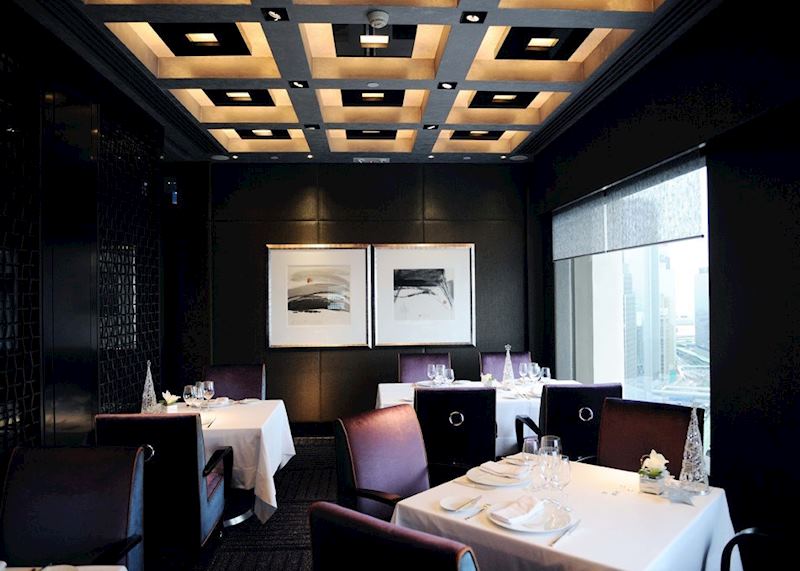 Situated on the 25th floor of the Mandarin Oriental, Pierre boasts floor-to-ceiling views over Hong Kong's skyline and Victoria Harbour. Dark cherry, indigo and black furnishings coupled with sparkling chandeliers create a feeling of grandeur, and the fine French cuisine has earned the restaurant two Michelin stars.
The owner is renowned French chef Pierre Gagnaire, but the current team is headed by his protégé, Jacky Tauvry. Dishes marry traditional and modern French cooking techniques and the evening menus, which include a six-course tasting menu, a three-course set menu and à la carte options, change seasonally.
During autumn, you can expect to be served anything from poached salted cod to roasted grouse, Iberico pork or a seafood broth featuring crab meat, scallops and razor clams. An indulgent chocolate soufflé or a selection of French cheeses from expert cheese-maker Bernard Antony rounds off the evening.
El Garzón, Garzón, Uruguay
South America's only Michelin-starred restaurant (and accompanying hotel) sits on an elevated plain — the highest point in Uruguay — amid hills covered in olive groves, vineyards and deciduous forest. It all started when renowned Argentinian chef Francis Mallmann converted the general store of a railway village that time forgot.
Even today, despite its newly acquired upmarket sheen, this hamlet still has the feel of a sleepy frontier town with a faded whitewashed church and stray dogs wandering its gravel streets. The food consists of creative, Italian-inspired takes on traditional South American meat dishes, cooked over the crackling flames of an Inca-style oven.
Getting there is straightforward — a two and a half hour drive from the capital, Montevideo, along a purpose-built coastal road, or a half hour drive from the beach town of José Ignacio. It could even be a gastronomic side trip from Argentina — the hydrofoil ferries from Buenos Aires to Montevideo take only three hours.
Peter Luger Steakhouse, New York, USA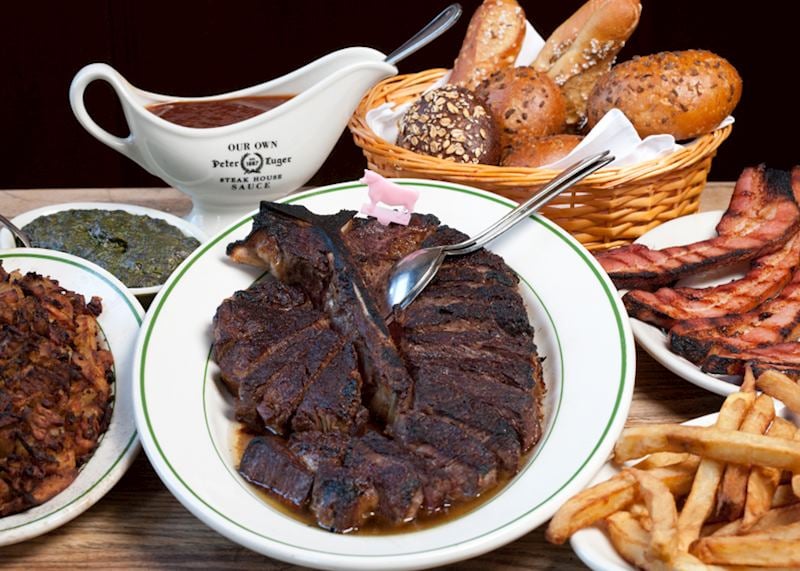 Open since 1867, this Brooklyn-based steakhouse is a city institution. Not only does it have a Michelin star to its name, it has also been ranked as one of the best steakhouses in New York City for 30 years running by the likes of Timeout. The Forman family have managed the restaurant since its doors first opened and are still involved in selecting the finest quality meat, which is all dry-aged in-house.
The restaurant has maintained its straightforward, unpretentious style, with well-trodden wooden floors, wood-panel walls and pane windows reflecting the no-fuss nature of the food. Waiters don waistcoats and bow ties in keeping with the steakhouse's heritage, and there's a well-stocked bar.
The menu is, of course, dominated by steak. It's laid on plates like slabs and accompanied by thick slices of bacon, onion rings and creamed spinach. Alternatively, tuck into roast prime ribs, 'home-style' chicken, lamb chops or grilled salmon.
Royal Mail Hotel, Grampians, Australia
One of Australia's most sophisticated restaurants is located on the edge of wilderness, close to the waterfalls, aboriginal art sites, sandstone peaks and sheep stations of Victoria's southern Grampians. This is the dining room of the Royal Mail Hotel, which has been awarded two Chef's Hats (the Australian equivalent of Michelin stars).
A light-filled, sleekly minimalistic space, it's particularly good for oenophiles and devotees of eating locally — its multi-million-dollar wine cellar is vast, and three quarters of its produce is sourced from the surrounding orchards and farmland. The five-course degustation menu is a treat, with wine pairings and dishes such as 'great ocean duck' and 'octopus's garden'.
The French Laundry, Yountville, California, USA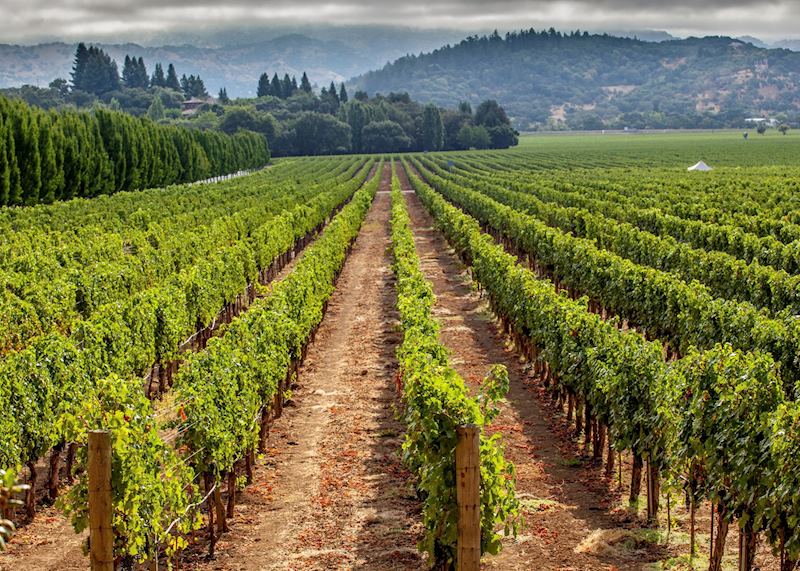 Achieving three Michelin stars every year since 2007, The French Laundry is housed in a historic stone cottage in the Napa Valley and was formerly a saloon and a French steam laundry. In 1994, top US chef Thomas Keller purchased it and transformed it into one of the world's leading fine dining restaurants.
Guests can choose from two daily tasting menus (one of which is vegetarian) of between 8 and 12 courses. The dishes are changed daily and no single ingredient is ever repeated on one menu, so everything you taste is new and different.
Each course showcases classic French cuisine elevated to a new level of sophistication, presented like a work of art on a plate. You can expect options such as oysters with white sturgeon caviar, Alaskan king crab, Pekin duck with Applewood smoked foie gras and white wine poached pears.
Shortmarket Club, Cape Town, South Africa
Opened in June 2016, Cape Town's Shortmarket Club is one of a flurry of restaurants recently appearing in the city. Its 'Roaring 20s' style with a modern twist is reminiscent of The Great Gatsby, yet the atmosphere is casual and sociable.
The restaurant is open for breakfast, lunch and dinner. You can begin with a drink in the bar while watching chefs at work in the open kitchen, which includes a braai-style grill. Classic dishes are reinterpreted for the 21st century, and the food's presentation is as impressive as its taste.
On the menu are dishes like petit poussin roasted with chestnuts and fynbos (flora endemic to South Africa), fresh oysters served with Asian garnishes, and a modern take on egg and soldiers featuring shitake brioche, pancetta and parmesan. Dessert-wise, try the beautifully presented 'rhubarb mess' with mascarpone crema catalana and rose and ginger meringue.
Sra Bua by Kiin Kiin, Siam Kempinski Hotel, Bangkok, Thailand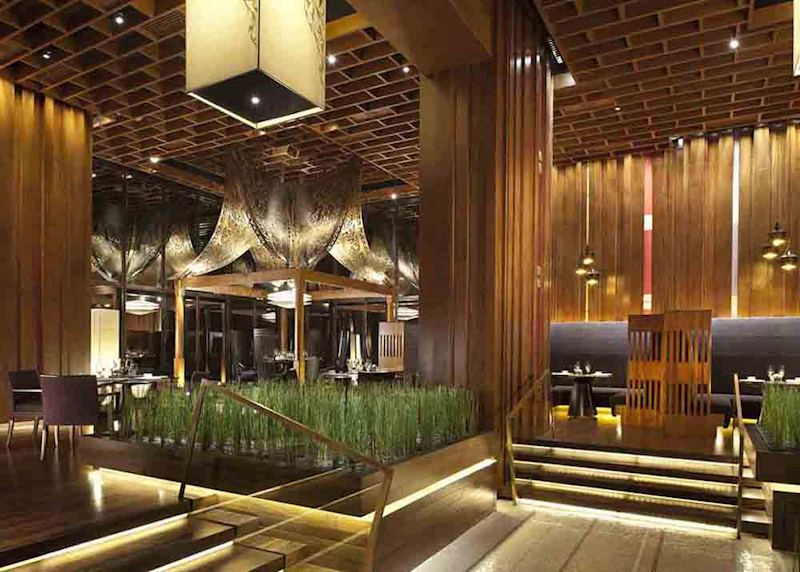 Sister restaurant to the Michelin star Kiin Kiin in Copenhagen, Sra Bua by Kiin Kiin is located on the Siam Kempinski Hotel's ground floor. Here, highly creative chefs use modern molecular gastronomy techniques to reinvent popular Thai street food, keeping the same tastes but transforming the texture, temperature and appearance.
The seasonal menus change every three months and include lunch and dinner à la carte options and a set course menu known as 'The Journey'. It can feature anything from tom kha (coconut soup) with baby corn and chanterelle mushrooms to beef massaman (curry) and peach with sticky rice. There's also the option of a vegetarian tasting menu and three- and four-course set lunch menus.
Sra Bua means 'lotus pond' in Thai, and the restaurant has one as a focal point, while the floors, walls and lattice-patterned ceiling are made from traditional teak wood.
Pacifica, Napier, New Zealand
Michelin-standard food in the relaxed but unlikely setting of a bright-blue wooden beachfront bungalow? Yes, it's possible and it's done with pizzazz and a total lack of pretension in the seaside town of Napier.
Local seafood, such as green-lipped mussels, is the star of the show, but the menus change regularly depending on Māori chef Jeremy's whims. There's an emphasis on seasonality and organic produce, with vegetables sourced from the restaurant's garden. The tasting menus, matched with wines from nearby Hawke's Bay, are highly recommended. One focuses on classic New Zealand meat and game dishes, if seafood isn't your thing.
Beige Alain Ducasse, Tokyo, Japan
Housed in the Chanel Ginza Building in Tokyo, Beige Alain Ducasse is a two-Michelin-star restaurant set up as a collaboration between the fashion giant and renowned Monégasque (formerly French) chef. Here, refined French dishes use fresh Japanese ingredients that change with the seasons, ensuring the best possible tastes.
You can choose from three-, four- or five-course menus with expert wine pairings. You may opt for nodoguro fish with crushed fresh herbs to start, followed by poached blue lobster with gnocchi, and a meat option such as pork medallion, beetroot, fig and mustard. For dessert, we recommend the chocolate praline Chanel square decorated with gold leaf.
It's possible to request a tour of the kitchen to see how the dishes are created. Another highlight of dining here is heading up to the Chanel roof terrace for incredible views of the city skyline and Tokyo Tower.